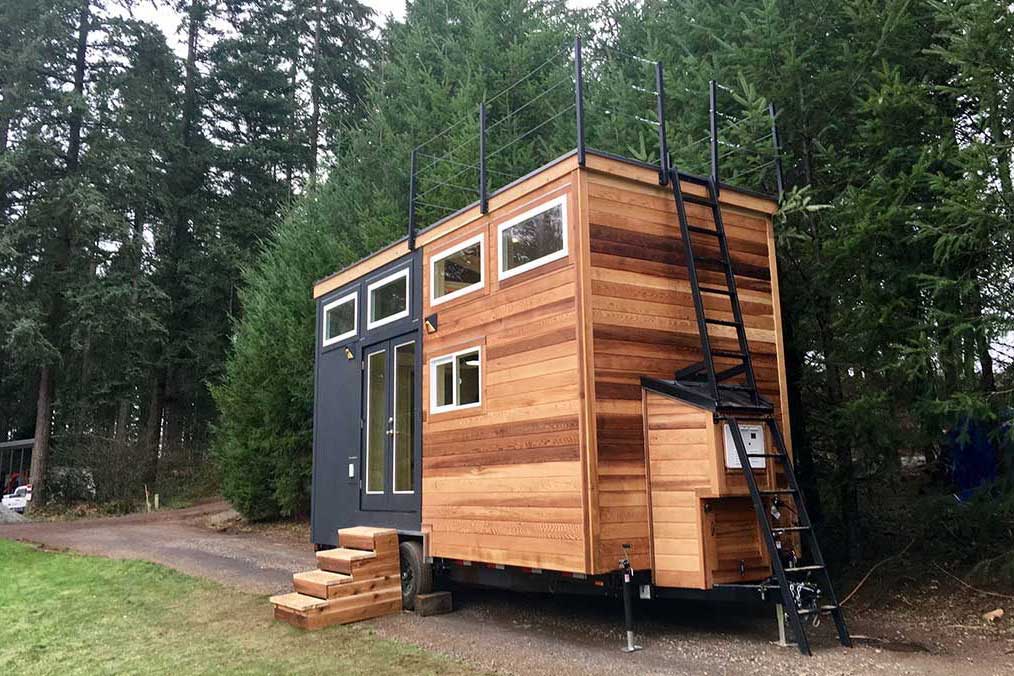 Average Cost Of Cladding A Tiny House in The UK
Author's Note: Did you know Tiny Heirloom can deliver tiny houses to international clients? This article is part of a series of internationally-focused articles to take luxury tiny homes all over the world!
Cladding is one of the most important parts of a house. Not only is it visually appealing, but it is also used to insulate against heat or cold.
There are several types of material you can use to clad a tiny house. The materials used and other factors determine the average cost you will spend on cladding a tiny house in the UK. Besides materials like aluminium and uPVC, most homeowners use composite cladding in the UK. This is because of their resilience and the reinforced quality they add to the home. Although the length of a tiny house varies, the height is restricted by the road. The average size dimension of most tiny houses is between 20 to 24 feet long and 90 inches wide. Before it can be road legal in the UK, it must not be larger than 2.55m and should have a 7m length on a standard car license. So you have an idea what your house size should look like.
With this size in mind, the average cost of cladding a house in the UK is around £20 to £30 per m2.
This price may vary depending on certain factors. The type of external cladding, size of the installation, material to be used, and labour costs will all affect the amount you may likely spend on cladding your house. Beyond the average cost, your preferences also determine the cost you will accrue.

Type of External Cladding
Surely it would be boring if everyone had the same type of cladding. This is why there are several types to choose from with different colors and varying finishes that you can choose to suit your taste. You may have to pay more for some types.
Composite Cladding
It is made from a special blend of recycled wood and polymers, creating a tough, resilient and durable material with remarkable performance benefits.
Composite cladding in the UK is becoming more popular in all types of homes, including tiny houses.
Although they may cost more than other types, their longevity (up to 25-year-service life) and durability makes them a cost-effective choice.
Other features like ultra-low maintenance, waterproof, fade and insect resistance, and eco-friendly nature make them somewhat preferable to most homeowners.
Composite cladding costs more than softwood, but not as much hardwood. It costs between £30-£40 per m2.
You should also note that the price is not fixed, and it may change depending on the brand and surface finishing you choose.
uPVC cladding
uPVC is also one of the many types of cladding for a tiny house.
Although it won't last as long as composite wood, uPVC can still last between 10-15 years before the need for replacement. It is also not blessed with the variety of colours and patterns that real wood comes in. It is relatively cheaper than other types of cladding.
On average, it costs about £10 per 5m length for white uPVC cladding, and other varieties like the Black ash effect or Rosewood effect can reach up to £20 and £25 per 5m, respectively.
Like other types of cladding, the prices are not constant and may change depending on the brand and accessories you wish to add.
Quality of Materials Used
This is another factor that determines the cost of cladding a property in the UK, whether it is a tiny, bungalow or storied house.
There are primarily three standards of quality materials; basic, medium, and premium. Basic materials are undoubtedly the cheapest but are disadvantaged in a number of ways.
There is usually a lack of freedom in choosing the customization of the design, and it has a shorter lifespan.
Prices for basic materials are usually around £20 per m2.
Medium quality materials can cost as much as £50 per m2. They have a longer lifespan, and you can customize the design to suit your taste.
Premium quality materials for cladding have a wide range of customization options and significantly high-quality finishes. It may cost between £60 to as high as £100 per m2, depending on the brand.
Labor Costs
Labor cost is another factor that affects the cost of cladding a tiny house in the UK. The duration of the project, type of tradesman, and of course, the size of the project will determine the cost of cladding your house.
A cladding specialist's labour price usually costs between £150 to £200 daily. If your tiny house can be completed in a day, then you may not have to spend on an extra day.
You can also hire a general builder. They will usually cost about £100 to £150 daily, depending on their skill level and experience.
If you choose wooden cladding for your home, you may want to hire a carpenter. They usually cost about £125 per day and also depends on their skillset and experience.
Laborers are the most inexpensive tradesmen and will cost you significantly less. Usually, a specialist provides their personal laborer, but it is ideal to know how much a laborer charges. Their day rate is usually between £50 to £60.
All these factors, including timescales and brand, contribute to determining the final costs of cladding your house.