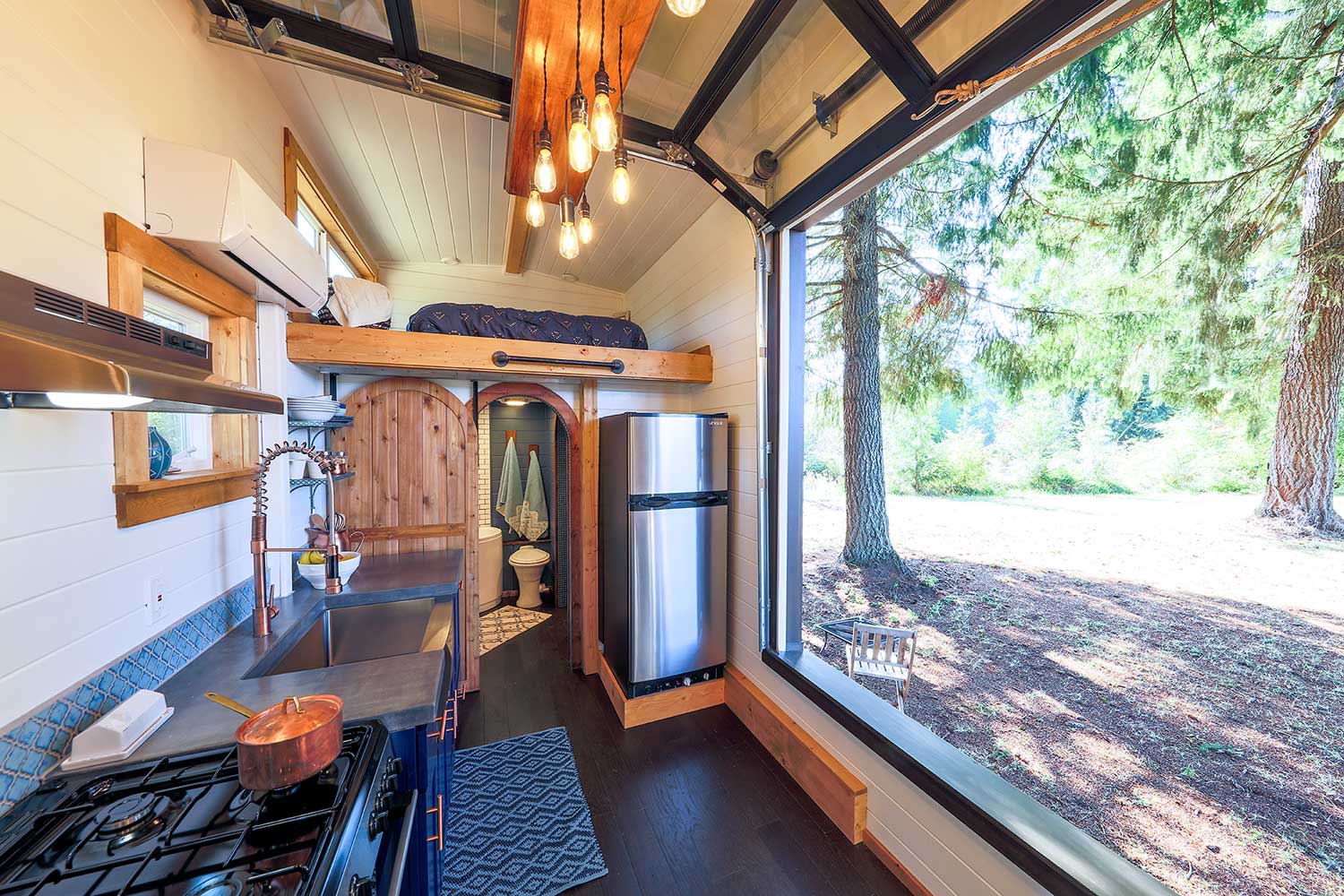 Cool House Plans for an Innovative Tiny Home
For those of us who are lucky enough to work in the world of tiny homes at this point in history, the galleries in our brains are always filling up with fresh ideas, expanding, and filling up again. With such low costs and so much creative energy all around us, we get to see, create and play with some pretty incredible house plans.
In fact, eye-catchingly cool house plans abound even for folks who don't fancy themselves home designers and just want to pick out an already-designed modern, environmentally friendly, innovative tiny house. Instead of having to create from scratch, they can find which overall design is most striking to them and customize it by essentially picking out options from a menu. Below, we'll take a look at two of our favorite little gems in Tiny Heirloom's Signature Series, highlighting some of the coolest features of their layouts.
The Goose
The Goose has an ideal layout for the porch dweller. With the kitchen, master bedroom, and a full-size bathroom indoors, the porch provides enough square feet to nearly double the living space. A few cozy outdoor seats, a barbeque, maybe a canopy, and whatever else you feel like adorning it with make the front porch practically a full-size living room.
Inside The Goose, creative–sometimes downright charming–storage options play a major role in making The Goose's outstanding layout. The area that has the most requirements for space-taking appliances, the kitchen, comes outfitted with so many nooks and shelves that you'll forget that it's even tiny!
The Emerald
By contrast, The Emerald is for living inside. It has a bonafide breakfast nook and then a whole dining/sitting/multipurpose room at the end of the kitchen. If you see yourself living in your tiny home in colder climates, The Emerald will keep you and your guests warm inside with plenty of seating and space for activities. That way, you can venture outside only when you absolutely want to.
But what makes The Emerald really special? All that space inside, and it's smaller than The Goose. Whereas The Goose is perfect for preparing a large meal and serving it al fresco, The Emerald sports a simpler–though by all means thorough–kitchen area to leave all that room to enjoy what comes out of it.
Cool House Plans to Create and Innovate
It's so fun to arrange all the necessary amenities for modern, daily living into a layout that makes for spacious, luxurious living in 500 square feet. It takes creativity, innovation, and a certain sense of practical whimsy. And when those things combine with expert carpentry, you get to see some super cool house plans.
To select the right one, you just have to look at your habits and your overall disposition. Do you like cooking for friends? Will you need a gourmet kitchen? How much time do you like to spend outdoors? And out of all your options, what just feels right?
Visit our website to see some more really tiny houses or to reach out with questions. And don't forget–have fun!