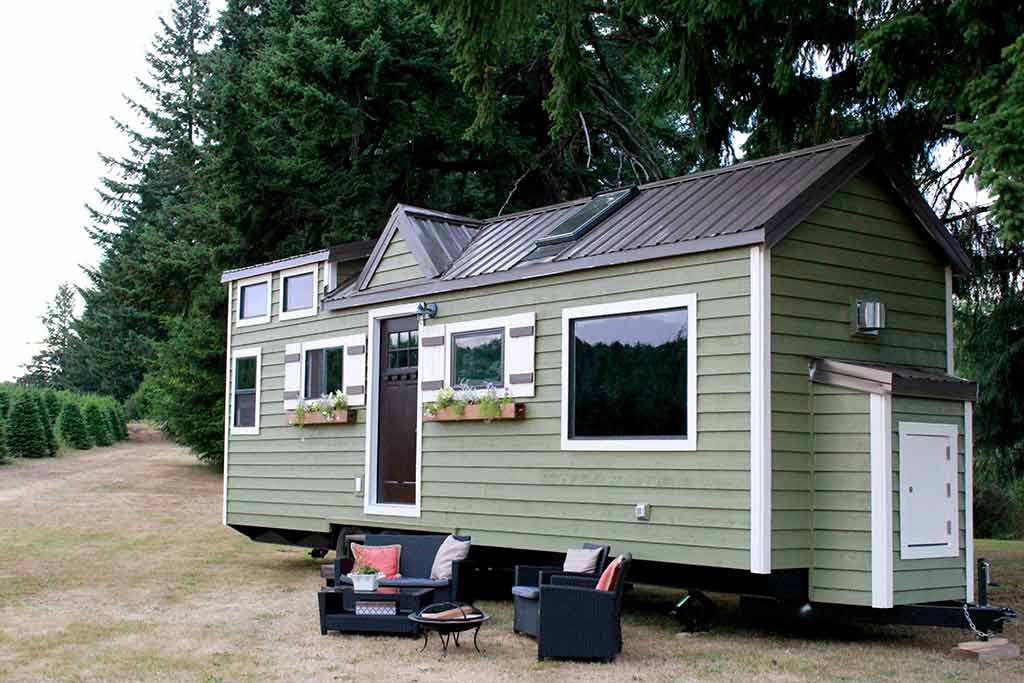 Tiny Cottage House: From Dream to Reality
Posted on
February 18, 2021
What do you picture when you close your eyes and think of a cottage house?
Although there's no standard architectural style, most people picture something small, cozy, and quaint. Maybe it's a simple home in the countryside or a tiny getaway nestled along a beach or lake. No matter the details, cottages tend to be full to the brim with character and charm.
In the sections below, we'll explore cottage plans, photos, and design ideas to get you inspired so that you can bring your cottage vision to life.
Tiny Living With Charm
If you're looking to settle down in a cozy cottage, going with a tiny house is a great option. Cottages tend to be smaller than average-sized homes anyway, so teeny tiny cottages just make sense. Plus, they're extra cozy!
Many benefits come with downsizing to a tiny cottage. When you go with a smaller home, not only can you save money on the cost of the home itself, but you'll also be able to pay more attention to the details and decor. After all, it's the little things that separate any old house from a warm and inviting cottage.
As mentioned above, there are no strict design "rules" or architectural style when it comes to cottages. Cottage exteriors come in many shapes and styles, from Tudor-style homes to English-style cottages, charming southern houses, beachy cottages, cozy cabins, and more. Cottage interiors also vary in terms of details, but they all tend to evoke the same feeling of warmth, comfort, and charm.
Overall, designing your dream cottage is an exciting process because you can use your imagination and have fun with it. Now let's explore some popular cottage design elements!
Cottage House Designs: All About the Details 
Working in a few of the design elements below will help transform a generic tiny house into a charming tiny cottage. In general, designing a tiny cottage is all about creating a warm and welcoming home that invites you and your guests to get comfortable, relax, and stay awhile.
Luxurious Loft: Lofts are not only functional and space-saving, but incredibly cozy and comfortable. Sloped ceilings are common in cottage bedrooms because they add dimension and make the space feel cozier. To make the space feel less cramped and more open, add a few windows and skylights. Finishing touches like fuzzy blankets, lots of pillows, warm lighting, bookshelves, hanging plants, or a breakfast tray will amp up the charm even further. Many cottage-style bedrooms aim to strike a balance between comfort and elegance.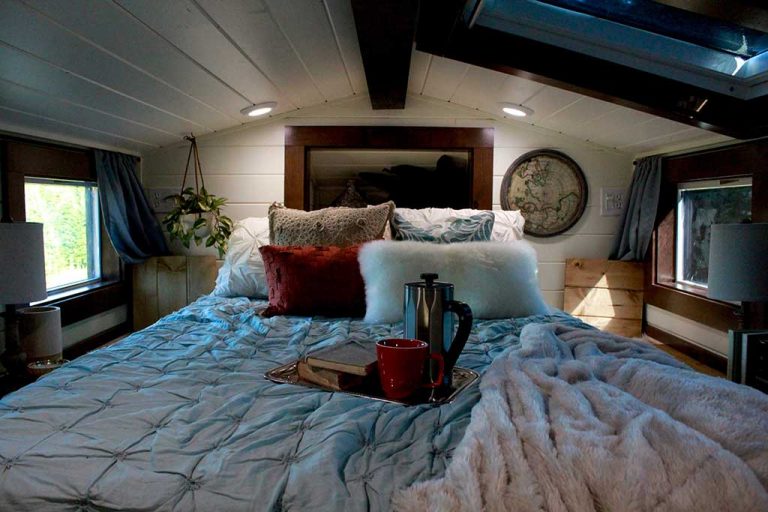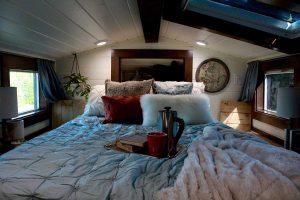 Breakfast Nook: A comfortable dining nook with plush seating and bright, sunny colors like the one pictured below is the perfect addition to any tiny cottage. You can even make a hybrid space with a table that lowers down and converts into another bed for guests! The space underneath the benches can also be used for extra storage.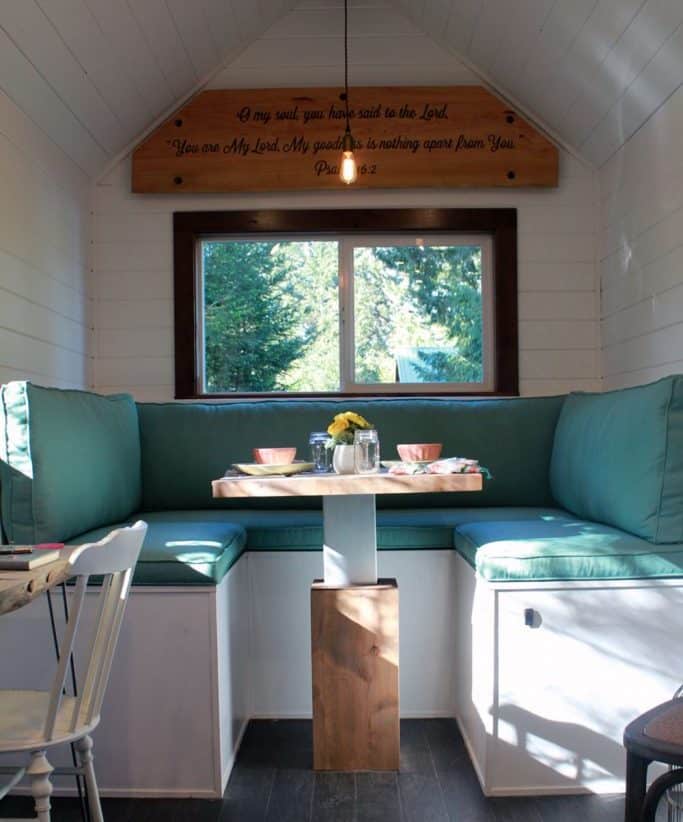 Rustic Fireplace: A warm fireplace is a quintessential aspect of a cozy cottage. The faux-rock fireplace pictured below adds a rustic, cabin-like feel without weighing down the tiny house on wheels it lives in.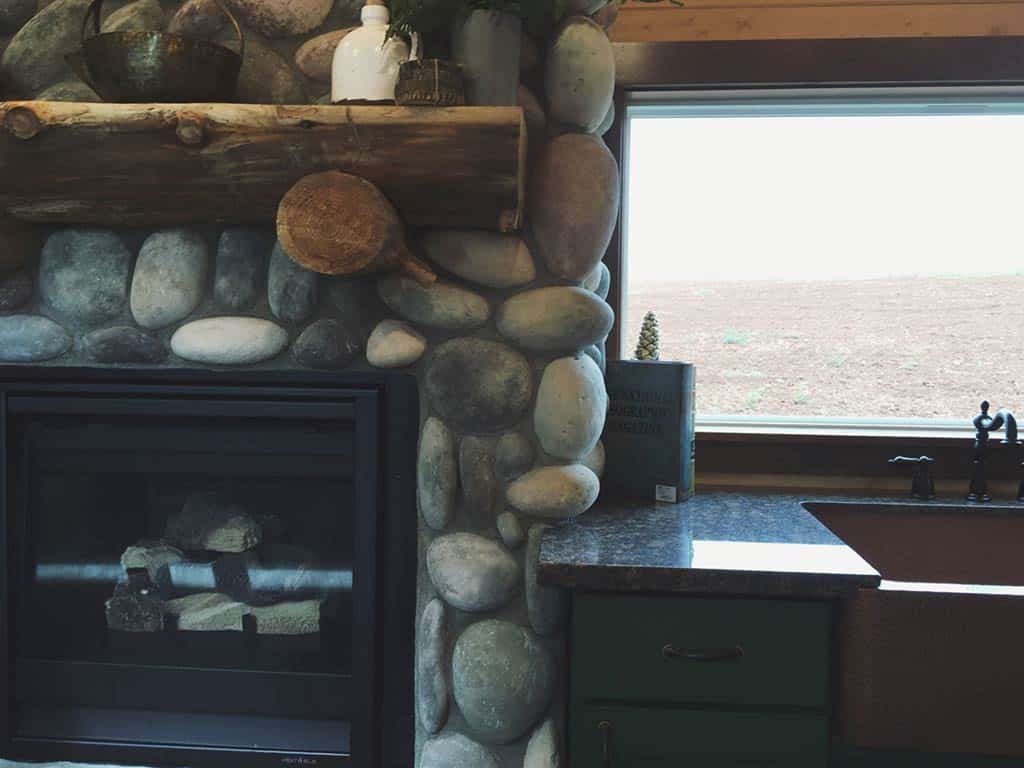 Flea Market Finds: Furniture that's made of weathered wood finishes, beadboard, wicker, and wrought iron come together to create a just-right cottage look. With a fresh coat of paint, flea-market finds often look even better than new and are the ideal match for a tiny cottage. Choose paint colors in light or bright garden shades, such as pale green, poppy, or pastel yellow. Then, use sandpaper to roughen the paint and create an antique appearance.
Comfortable Window Seat: Nothing screams cozy like curling up in a window seat with a blanket, a warm drink, and a good book. Adding little nooks and window seats in a tiny home help make the most of unused space and sprinkles in a touch of magic. Don't forget to use the space underneath the seating area for hidden storage!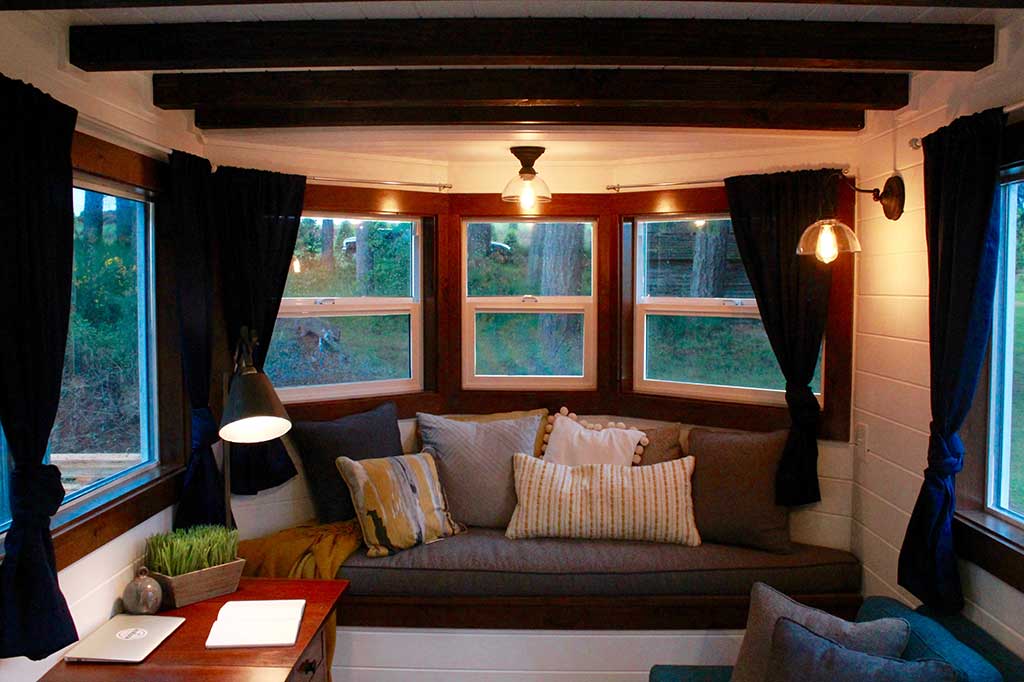 Relaxing Bathtub: Many people think that living in a tiny cottage means sacrificing some luxury items that tend to take up more space, such as a bathtub. In actuality, there are lots of clever ways to make bathtubs work in tiny houses!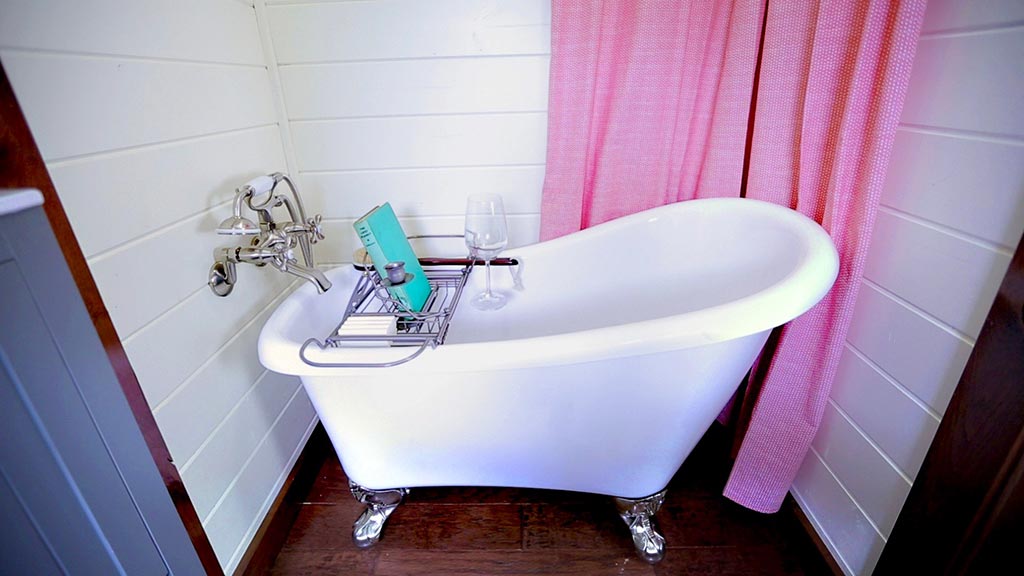 Whimsical Kitchen: A super simple or ultra-modern kitchen doesn't really fit the cozy cottage aesthetic. Instead, get creative and work in warm colors and patterns for a more unique and charming look. Consider a farmhouse-style sink or vintage-style appliances to give your cottage kitchen some extra personality.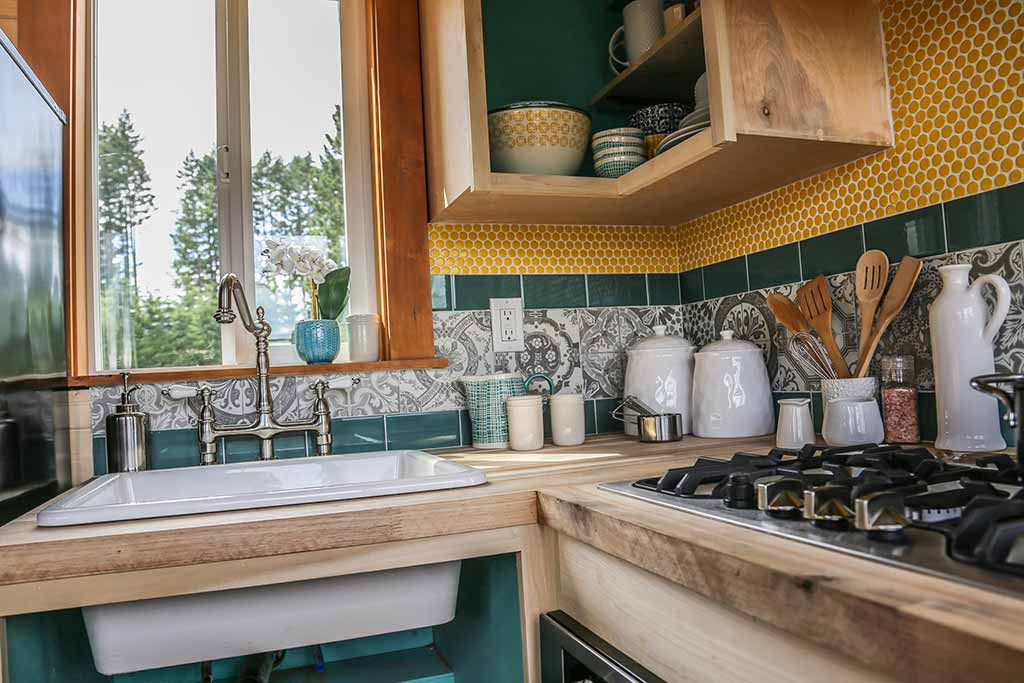 Color & Pattern: Cottage decor usually involves a mix of fabrics, some patterned, and some solid. Floral patterns and pastel colors tend to be a popular combination, especially for an English cottage aesthetic. If you're designing a cottage home by the beach, you might want to opt for soft blues and sandy beige colors. Rough-hewn or more rustic painted furniture can also help you achieve a cozy cottage look.
Charming Details: With tiny cottages, you can really pay attention to all the little details and make your home into something truly special and one-of-a-kind. Think about both the interior and exterior of your home and what you can do to make it even more quaint. For example, these painted window shutters and colorful flower boxes bring a cottage-like charm to the home's exterior.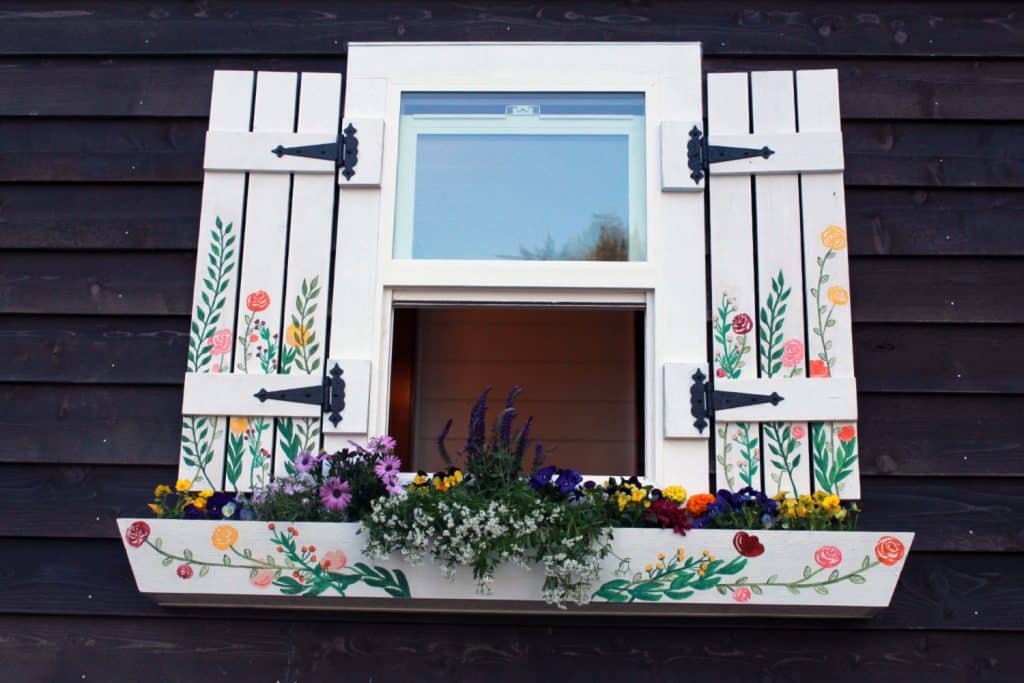 Romantic Garden: When designing your tiny cottage, don't just think about the house itself – think outside of the "box." No cottage is complete without a charming outdoor space, whether it be a cute front porch, garden, trellis, pergola, or otherwise. The best part of a cottage garden is that there are no rules! Cottage gardens are often overflowing with colorful flowers and exude a feeling of romance. Go for pastel shades and fragrant flowers, such as peonies, lavender, and old roses. Finish off the look with some winding pathways, secret corners, and whimsical details.
Key Considerations for Tiny Cottage House Plans
When working on your cottage house plans, you'll have to get creative in order to make the most of limited space and achieve the look you're after. Below are some key things to consider during the planning process:
Use Reclaimed Materials: Reclaimed materials have more personality and charm than brand-new materials, so think about how you can incorporate them into the house itself as well as the furnishings and decorations. Aesthetics aside, using repurposed or reclaimed materials can help minimize your environmental footprint and save you money. It's a win-win-win!
Prioritize Functionality: With limited space, functionality is key. Think about how you can incorporate dual-purpose features and furnishings and space-saving equipment and appliances into your tiny cottage.
Add Hidden Storage: Minimal storage is one of the biggest challenges of tiny living, so wherever possible, add in some extra storage space. Popular ideas include under-bench storage, under-bed storage, under-staircase storage, and storage lofts. Experienced tiny home builders can come up with many more innovative ideas to ensure you have ample storage space to meet your needs.
Create Outdoor Living Spaces: If you extend your living space into the outdoors, your tiny cottage will feel much more spacious. Including a small porch or patio in your cottage design can make a huge difference. Some traveling tiny cottages on wheels cleverly incorporate a fold-down deck that can be secured while on the road and conveniently set-up once you're parked.
Think Vertically: When designing small spaces, it's important to make the most of all the space available, including the space above you. That's why lofted sleeping areas or spaces for relaxing are commonly found in tiny cottages. If your tiny home has a flat roof, why not use that extra space? Add a ladder and some railings and turn it into a roof deck for sunbathing, yoga or sunset viewing, or maybe a rooftop garden full of veggies and herbs!
Go the Custom Route: One of the most exciting things about designing a tiny cottage is that there aren't strict style "rules," so you can get creative and put your own personal spin on things. To make sure the space truly represents you, go with a custom tiny house and hand-select all the details from inside out and top to bottom! With Tiny Heirloom, you'll work collaboratively alongside a team of experienced tiny house designers and builders who will do everything in their power to bring your dream cottage to life.
There's certainly more to consider during the planning stage, so it's a good idea to consult with a tiny house design expert and get more ideas specific to your taste and vision.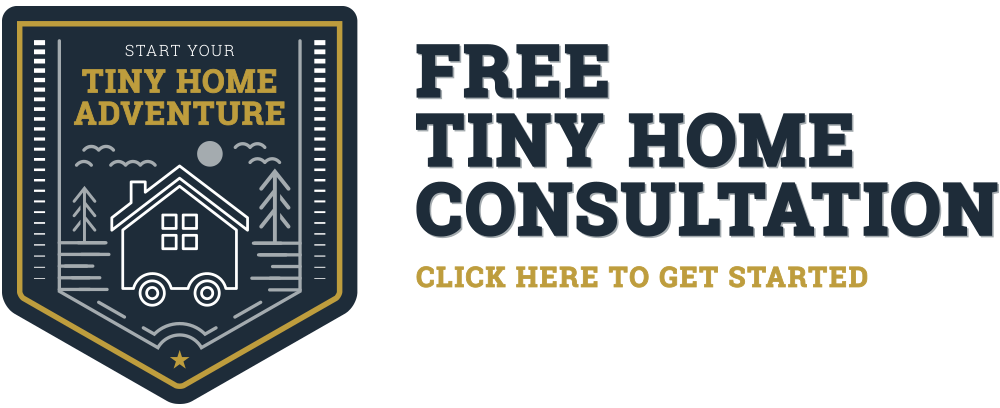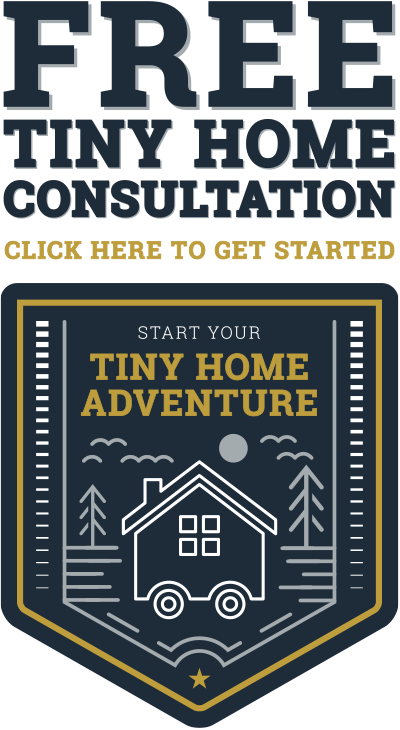 More Tiny Cottage House Photos for Inspiration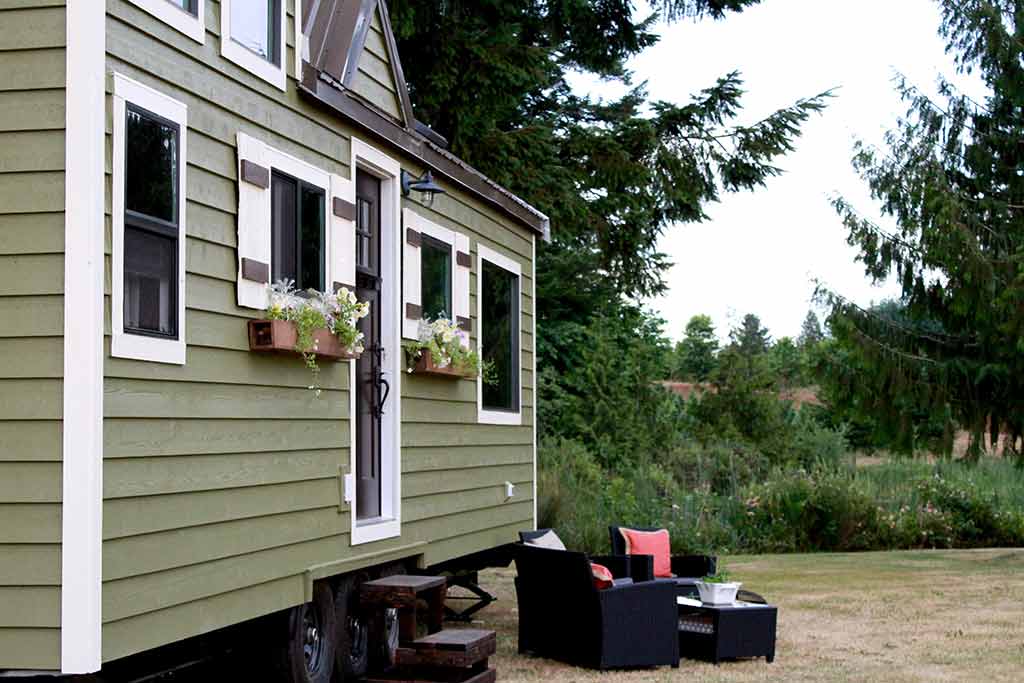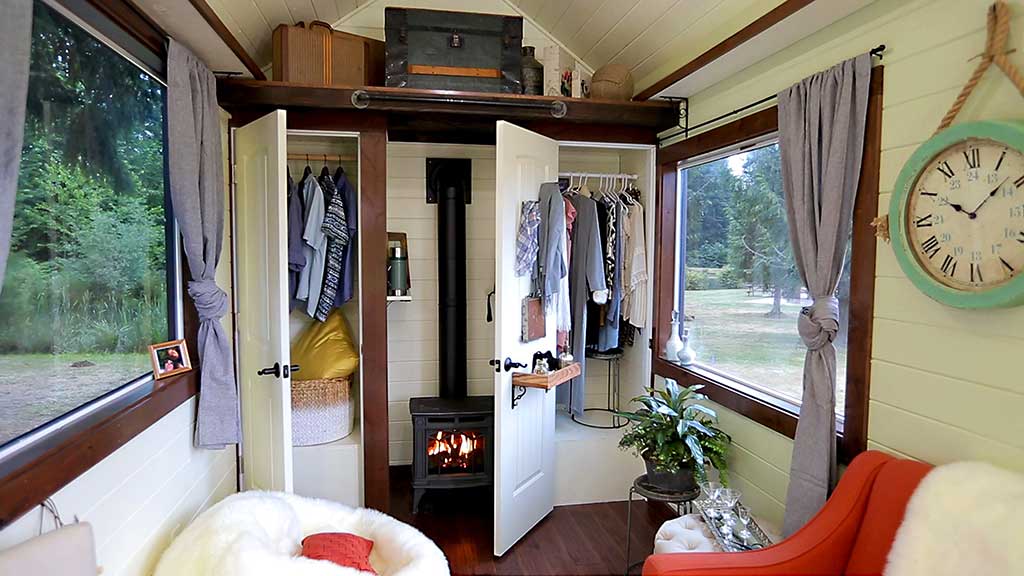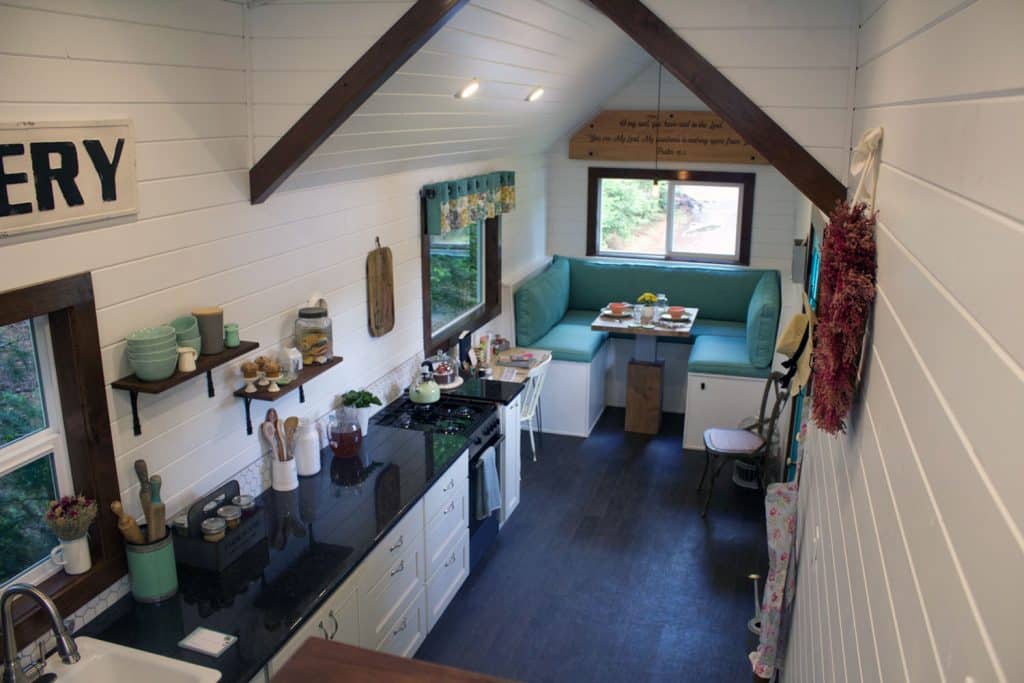 Tiny Cottage House Design: Wrapping Up
Let's try this again: Take a minute to close your eyes and imagine your dream cottage. Hopefully, after reading through these design ideas and key considerations, your vision is more complete and vivid.
No matter what style of tiny cottage you're picturing, our tiny house experts will apply their creativity and craftsmanship to make your dream a reality. We specialize in creating custom tiny homes that are functional, aesthetically pleasing, and truly one of a kind. Over the years, we've created many cottage-style tiny homes that are simply bursting with charm.
To get started or to explore your options in more detail, contact us for your free tiny house consultation today!