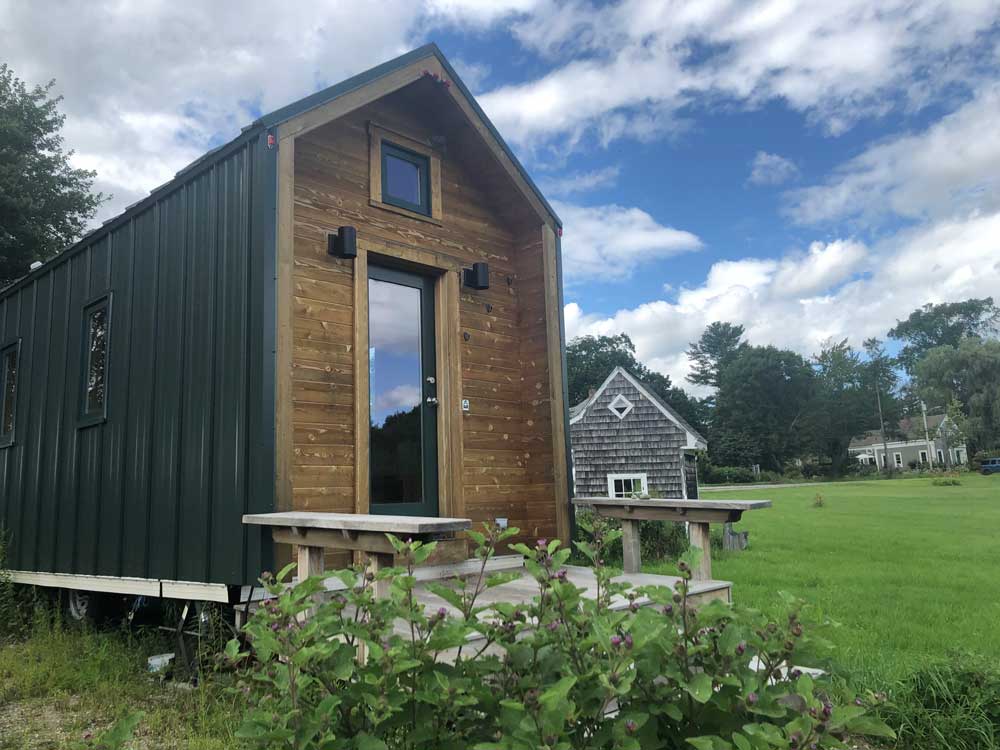 The Complete Guide to Eco Friendly Tiny Homes
Posted on
December 8, 2021
If you are looking to live a more eco-friendly lifestyle, downsizing to a tiny home is a great place to start. This "tiny" decision can make a big impact, drastically reducing your carbon footprint while improving your overall quality of life. 

Getting Started with Eco Friendly Tiny Homes
Tiny homes tend to be more eco-friendly than regular-sized homes for several key reasons. For starters, they are smaller structures and therefore require fewer materials to construct.
Once constructed, smaller homes also require fewer resources to run and maintain. Research found that downsizing from a regular-sized home to a tiny home reduces energy consumption by 45%, on average. 
Tiny homes also produce fewer emissions. The American home emits a whopping 16,000 pounds of carbon dioxide per year, while the average tiny house only emits 1,144 pounds— that's more than 90 percent less! 
Lastly, going tiny has been found to positively change behaviors and lifestyle habits. For example, tiny house dwellers tend to shop and purchase less than the average person. With less space for clutter, most people become more minimalist. 

What Makes an Eco Friendly Tiny House?
As mentioned above, tiny houses in and of themselves are already more eco-friendly than most regular-sized homes. That being said, some tiny houses are much more environmentally friendly than others. 
One of the most sustainable options is to go with a pre-loved, used tiny home rather than buy or build a brand-new one. That way, the entire home is recycled and won't go to waste. 
Another option is to go with a sustainably-designed, prefabricated tiny home, like our Signature Series of tiny houses. Modular or prefabricated homes like these are built according to specific measurements, so there's no need for excess material, which significantly reduces building waste.
If you do choose to build a new tiny home, there are many things you can do to make the home more eco-friendly and efficient though. You can design with sustainability in mind, incorporate recycled materials, and choose renewable energy. 
We'll explore more specific eco-friendly solutions in the section below, so read on! 

10 Eco Friendly Tiny House Must-Haves
Here are ten of our favorite eco-friendly tiny house ideas: 
1. Solar Energy
Solar energy is clean, green, and sustainable. If you're interested in a tiny house with a solar system, Tiny Heirloom can help you build a "load profile," or a list of your home appliances, how much energy they consume, and how long you expect to use them on any given day. This will help you determine the size of your solar components and how much roof space they will take up. Some of the most effective systems work in unison with batteries to store energy, propane appliances to reduce the electrical load, and a gas generator as a backup power source.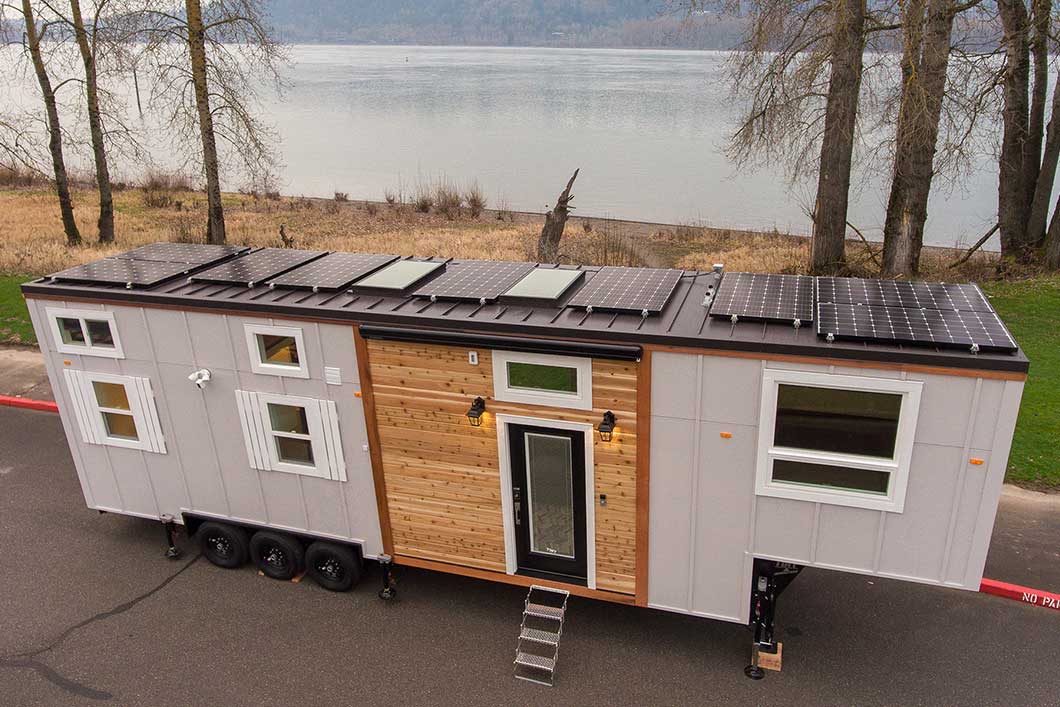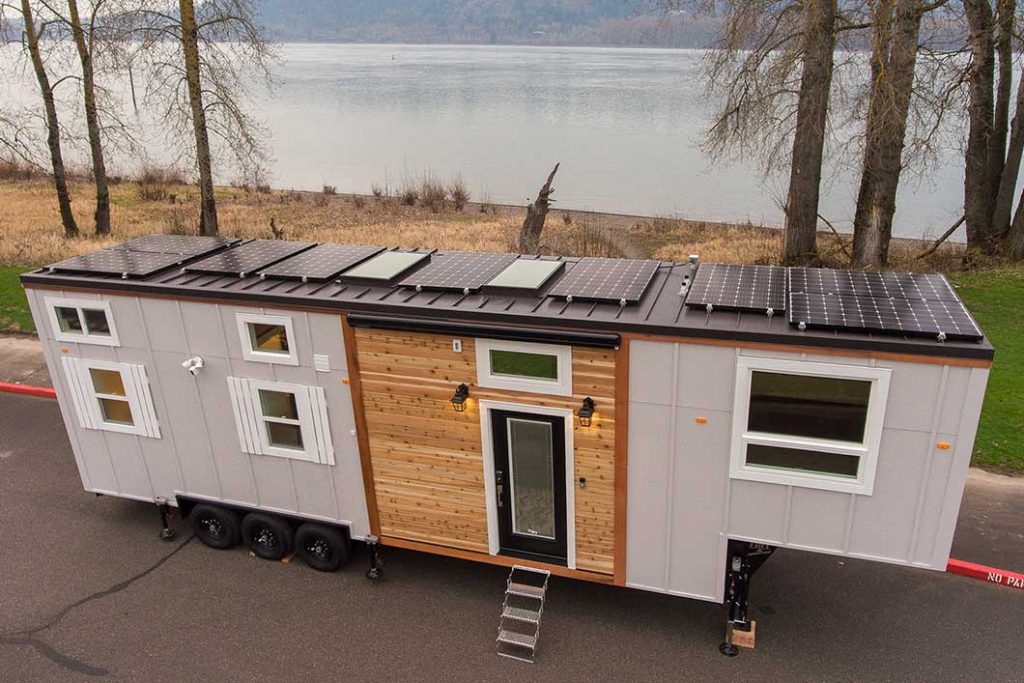 2. Composting Toilet
A composting toilet uses its own internal containment compartment within the unit to eliminate black water and prevent additional wastewater. They are eco-friendly because they use less than a pint of water per flush and rather rely on natural decomposition and evaporation to recycle human waste. What's more, they are inexpensive and can be used for off-grid living. 
3. Natural Lighting
Maximizing natural lighting in your tiny home can help make your home less reliant on electricity and more sustainable. When designing your tiny home, strategically placed windows and skylights to bring lots of bright light into your living areas. With a tiny house, a little natural light can go a long way!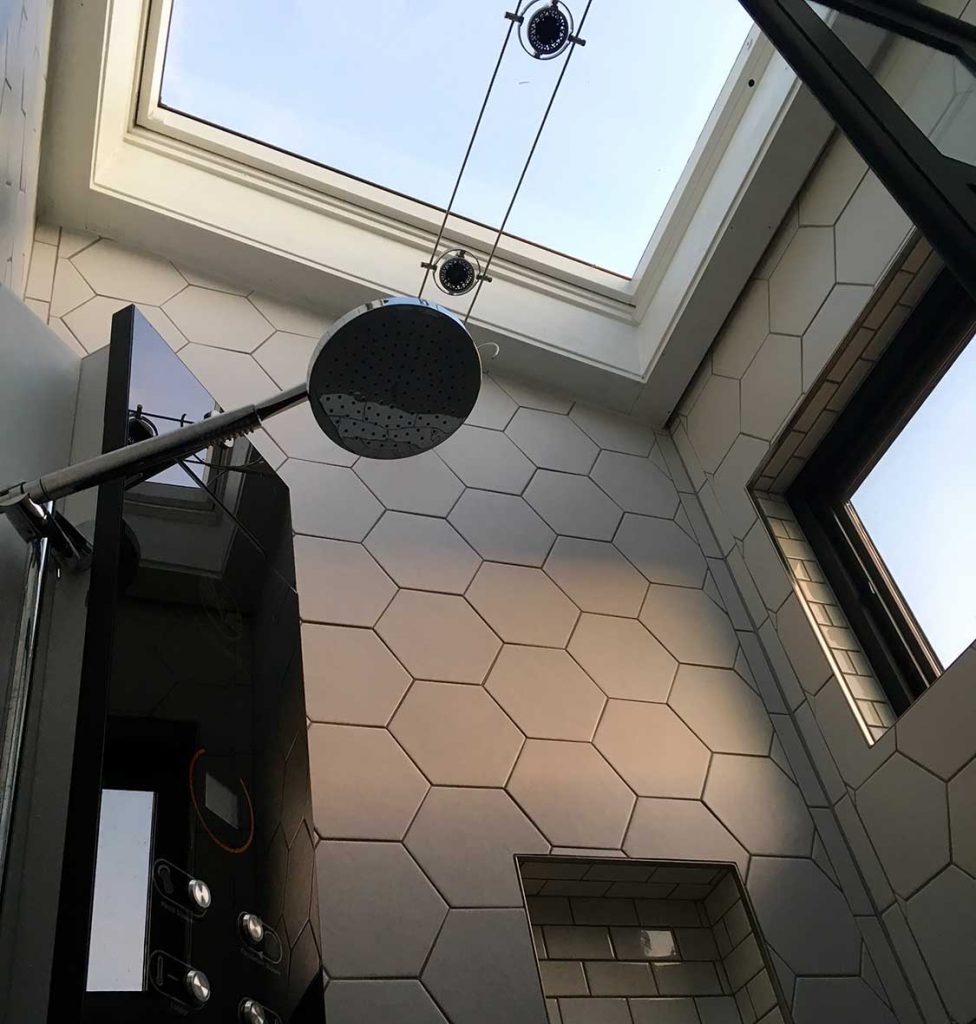 4. Low Flow Showerhead
To minimize your water consumption, consider installing a low-flow showerhead. A low-flow showerhead can reduce your water consumption by 40% or more every month and help you save energy at the same time. You can help the environment and lower your utility bills simultaneously! 
5. LED Lighting
LED lighting is some of the most energy-efficient lighting out there, requiring up to 80% less energy than regular incandescent lighting. On top of this, LED light bulbs have a much longer lifespan than traditional bulbs.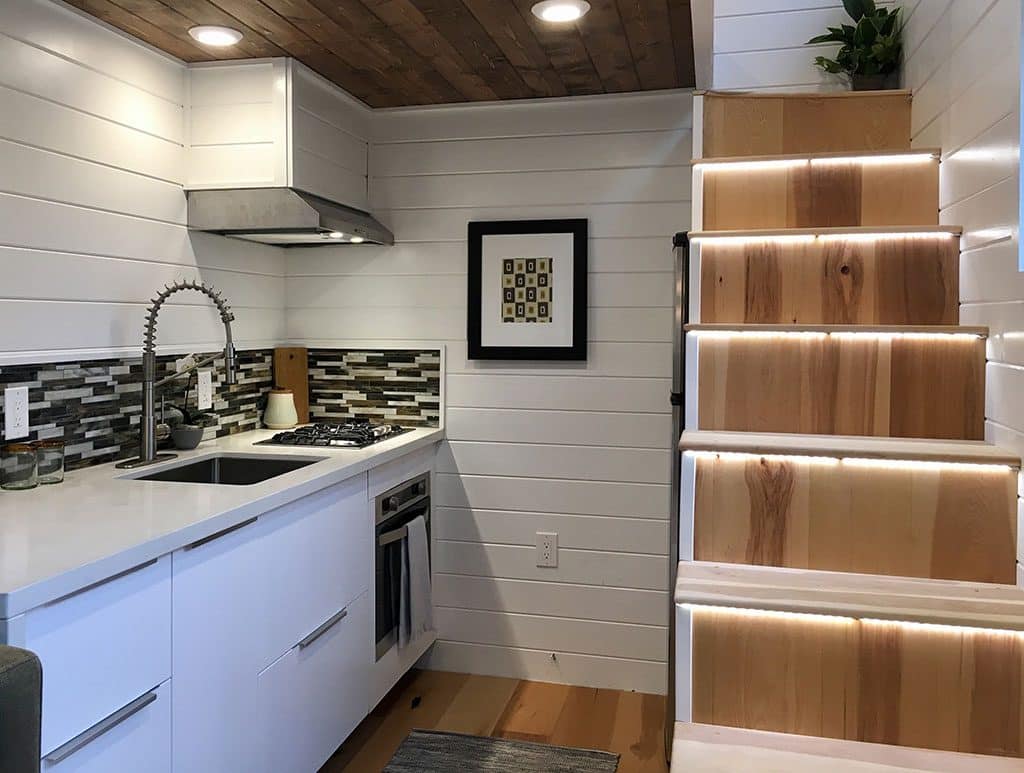 6. Eco-Friendly Insulation
Sufficient insulation is important to help reduce energy demands. In fact, insulation can reduce heating and cooling costs by about 20%. Some insulation materials, like polystyrene or fiberglass, are more harmful to the environment than others though. Instead of these traditional forms of insulation, opt for a biodegradable material like sheep's wool, which can help keep your home cooler in the summer and warmer in the winter.  
7. Recycled Materials
Building a tiny home requires fewer materials than a traditional-sized home, which is a great starting point, but you still need to be mindful of the materials you incorporate. Whenever possible, go with recycled or reclaimed materials, like recycled glass tile or reclaimed wood. Avoid concrete at all costs, as it is one of the most carbon-intensive materials on the planet.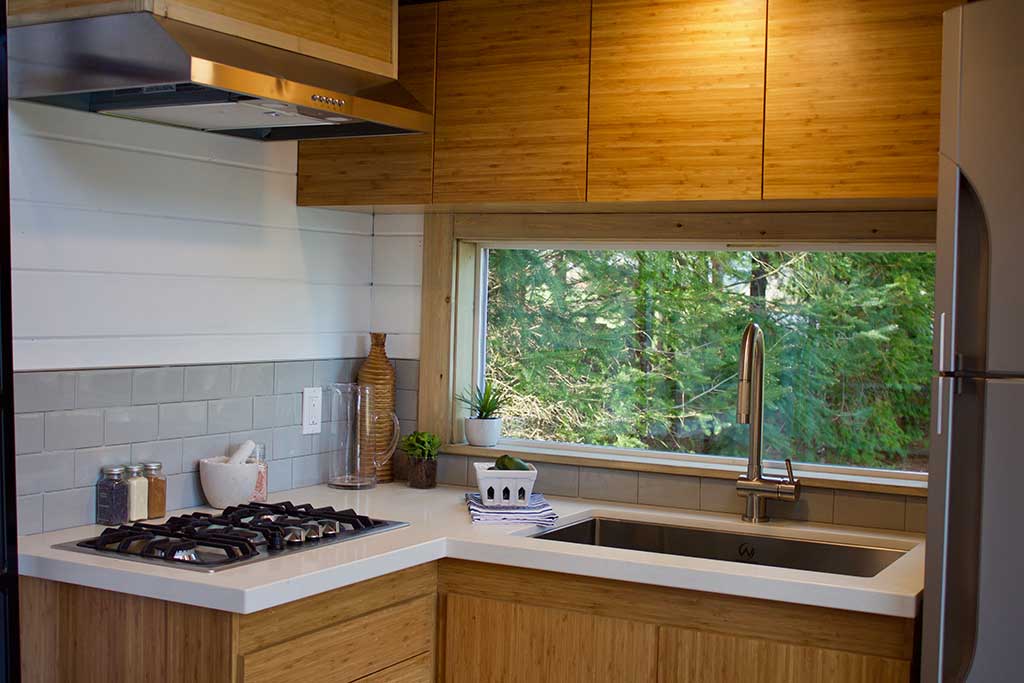 8. Rainwater Collection System
With a rainwater collection system, water is typically collected from tiny house roof areas and diverted from the roof drainage system to a storage tank, where it is stored for use. Depending on the size of your tiny home and water consumption, a rainwater collector may or may not be able to provide enough water for your household year-round. 
9. Renewable Flooring
Unlike hardwood flooring, cork or bamboo flooring is renewable and more eco-friendly. Cork is a popular choice because it's comfortable underfoot, provides sound and thermal insulation, and is very durable.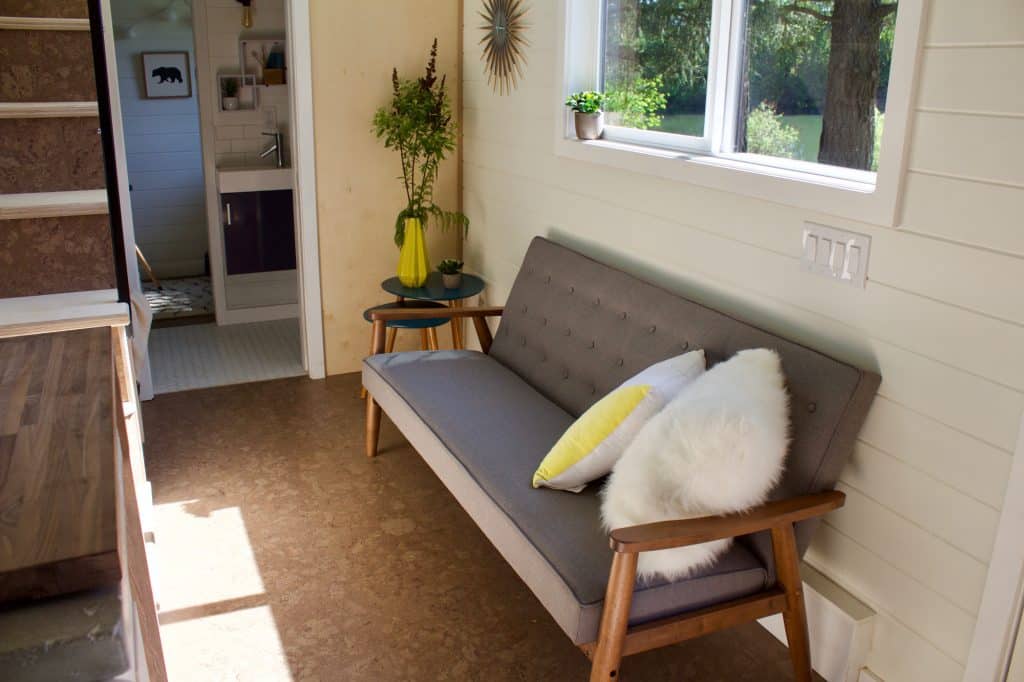 10. Energy-Efficient Appliances
Your appliances account for a significant portion of your home's overall energy consumption. As technology improves, many newer appliances are more energy-efficient than older models. If you're shopping for eco-friendly appliances, the Tiny Heirloom Shop carries a wide range of high-end and efficient tiny house appliances. 

Tips for Designing Tiny Eco Friendly Homes
If your goal is to design a truly "green" tiny home, you'll have to think about more than just the latest bells and whistles. Below are a few more design eco-friendly tips to keep in mind. 
Try to incorporate as many multi-functional living areas as you can. Rather than designate separate spaces for an office and a guest room, for example, design convertible spaces to keep your square footage to a minimum. Custom, modular furniture can go a long way! 
Be careful about the placement of your tiny home. Try not to interfere with natural habitats, wetlands, or protected wildlife. When it comes to landscaping, choose indigenous plants rather than exotic ones. 
Also, be intentional about the orientation of your home and consider your local climate. If you're in a warm climate, you may want to avoid west-facing construction in order to minimize sun exposure and keep your home more naturally cool. 
Above all else, seek professional advice from a designer that specializes in eco-friendly homes. They will help you think holistically about the sustainability of your new home and ensure that no stone is left unturned. 

The Importance of Eco Friendly Tiny Homes
Sustainability and environmentalism are more important now than ever before. As you can see from this article, going tiny can certainly help you minimize your carbon footprint and do your part to mitigate the negative impacts of climate change.
That being said, making eco-friendly choices on an individual level is only a small part of the solution. We need whole communities, businesses, corporations, and governments to work together if we want to enact significant change on a global scale. 
So after making positive changes in your own life, encourage your family and friends to follow suit, volunteer in your community, spread awareness, advocate for policy changes, and use your vote to protect the environment! 

Getting Started with a Custom Green Tiny Home
Ready to go green with a tiny house? Having designed and built countless eco-friendly tiny homes, our team has endless ideas and tips to share with you! 
Schedule a free tiny house consultation to learn more about how a used, prefabricated, or custom tiny house can change your life and help the world.