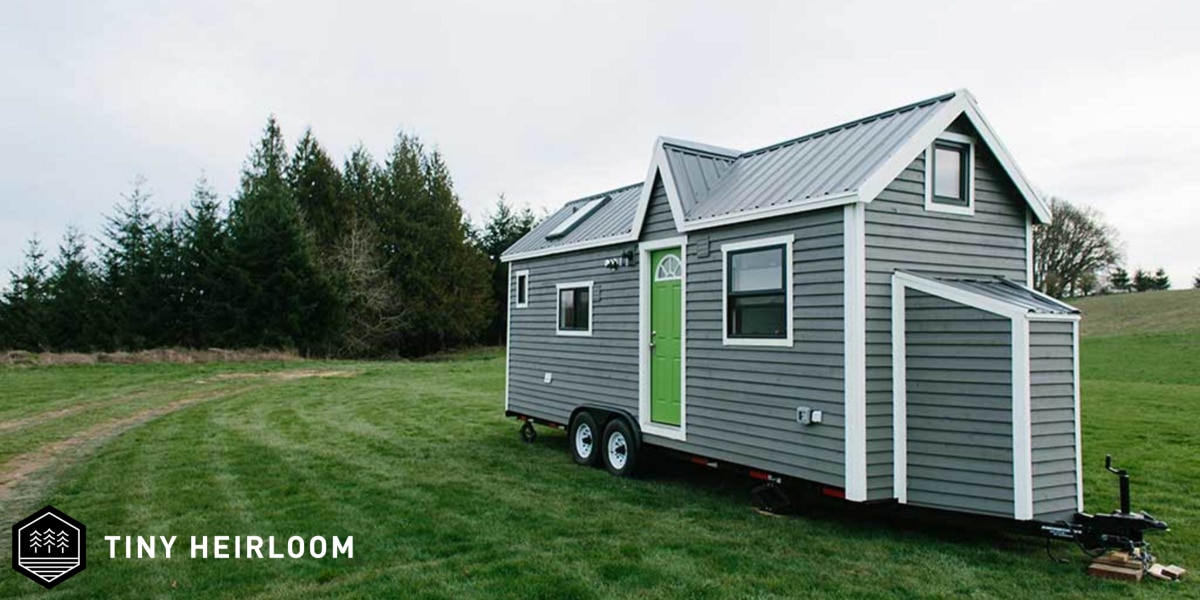 How Much Does a Tiny House Weigh?
Posted on
November 12, 2020
If you're building or buying a tiny house, you're probably thinking a lot about the size of the home, but are you dedicating enough thought to its weight?
The weight of a tiny home is a crucial consideration, especially if it's a traveling tiny house on wheels or a home that you plan to transport from place to place. If you aren't aware of your trailer and axle weight capabilities, getting your tiny home from point A to point B is risky, dangerous, and can result in significant damage.
This article will help you understand the different factors that affect the weight of a tiny home, and other important considerations so that you can avoid any issues or surprises down the road. When in doubt, it's best to work with a professional tiny house builder, as they will ensure the weight of your tiny home is kept to a minimum for ultimate safety and convenience.
How Much Does a Tiny House Weigh?
The dry weight of a tiny home is the weight of the home itself — it does not include the weight of personal belongings, people, furnishing, and other components inside the house. The average dry weight of a tiny house is about 10,000 pounds. That being said, tiny houses vary greatly in dry weight and often range from as little as 3,000 pounds to as much as 15,000 pounds.
Factors That Affect Tiny House Weight
The dry weight of your tiny house will primarily depend on its size or square footage. Almost always, the bigger the home, the more it will weigh. In addition to square footage, the weight of your tiny house will be heavily determined by the building materials used, especially during the framing process. For example, a tiny house with steel framing can weigh as much as 60-70% less than a wooden tiny house.
The total weight of your tiny house depends on the factors above plus the weight of anything you put inside the home, including furniture and personal belongings. Don't forget about the weight of anything else you'll be carrying, such as water in the water tank, for example.
Things to Keep in Mind When Towing a Tiny House
Still worried about towing your tiny house? Below are some tips and important information to keep in mind:
– Know your trailer and axle weight capacities. This information should be fairly obvious upon purchasing the trailer. Typically, the larger the trailer is, and the more axles it has, the greater the weight capacity will be.
– Weigh your tiny house and trailer before you build it! It's essential that you weigh all the materials, down to the smallest screw, and add the total weight to the empty trailer weight before you start building your home.
– Consider the weight distribution in addition to the total weight of your tiny house. Generally speaking, at least 10% of the tiny house weight should be resting on the trailer tongue in order to maintain safe balance and control while on the road.
– Once the tiny home is built on the trailer, you can easily check the weight using a CAT truck scale. This should be done before adding all your furniture and personal belongings to calculate the dry weight, and again once it's all loaded up.
– If push comes to shove, keep in mind that you can upgrade your axles to increase the weight capacity of your trailer, but this isn't a cheap fix and can be avoided with careful planning.
– If you're traveling outside of the United States with your tiny house, you'll need to keep in mind that other countries have road weight limits for trailers that you'll have to adhere to.
Remember, if you have any doubts or concerns about the weight of your future tiny home, you can always forgo the DIY route and leave the planning to knowledgeable and experienced tiny house builders.
Final Thoughts on Tiny Home Weight
As you can see, the weight of your tiny home is no minor detail. It's absolutely critical that you plan ahead and calculate carefully in order to avoid any hazards or accidents while transporting your tiny home.
At Tiny Heirloom, our professional tiny home builders will keep the weight of your tiny home to a minimum so that you won't have to make any unnecessary sacrifices! With our many years of experience designing and building custom tiny homes of all types, shapes, and sizes, you can rest assured that we know exactly what we're doing. To learn more and explore your many options, request a free tiny house consultation today.