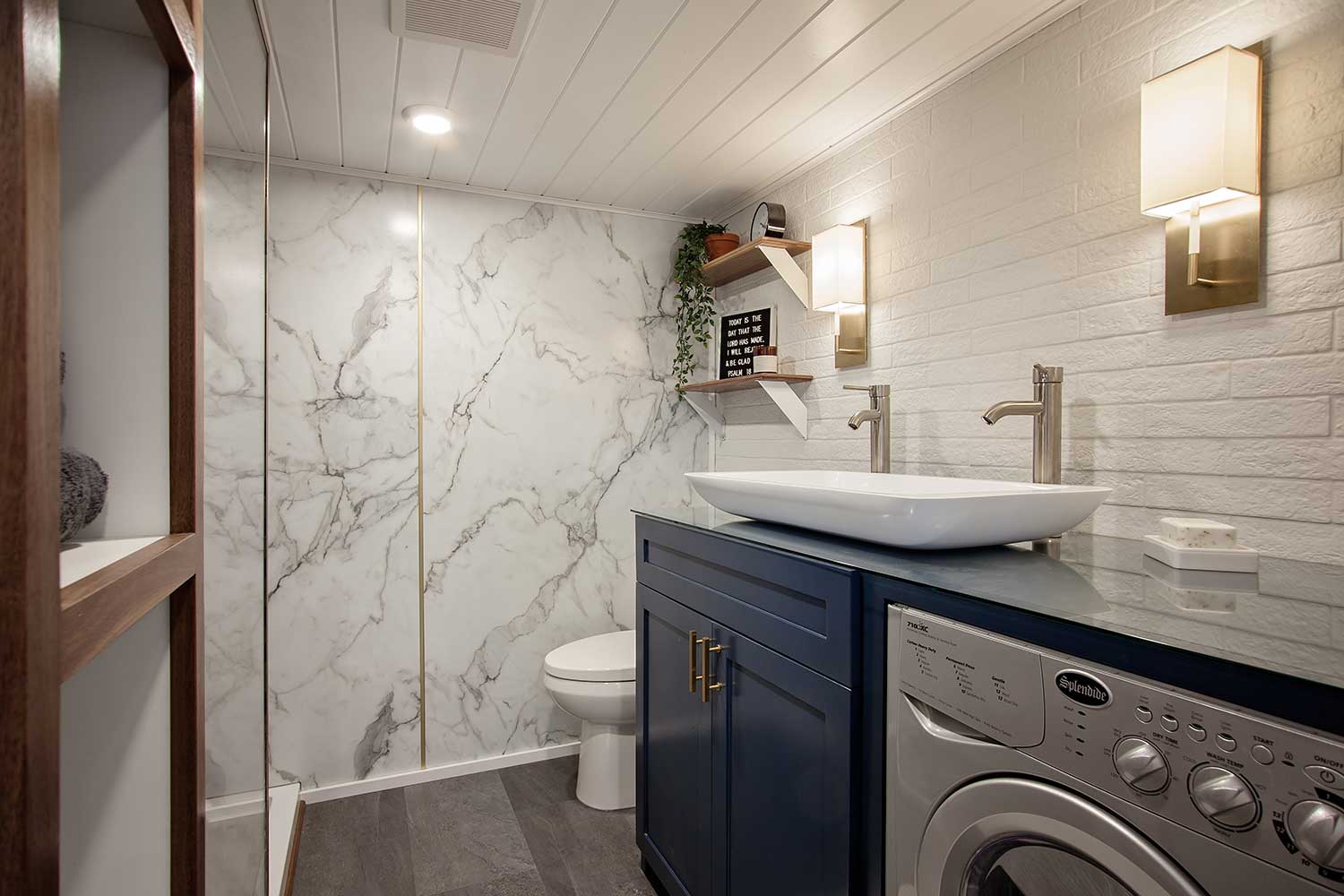 Luxury House Ideas that Work for Tiny Homes
Downsizing your home doesn't mean having to sacrifice luxury. In fact, quite the opposite is true! With a smaller space, you can really pay attention to the little details and create a home that is well-planned, innovative, beautiful and crafted to perfection. 
15 Luxury House Ideas that Work for Tiny Houses 
The ideas below are just a few of the many ways our small luxury housebuilders and designers make tiny living luxurious. 
1. Don't Count Out a Tiny House Bathtub! 
Nothing screams luxury quite like a large bathtub or soaking tub. Although you may be surprised to hear it, even tiny houses with small bathrooms can accommodate roomy bathtubs. Tiny house bathtubs come in many different shapes, sizes, and styles, but many are deeper with taller sides in order to take up less square footage. The photos below are just a few examples of what's possible.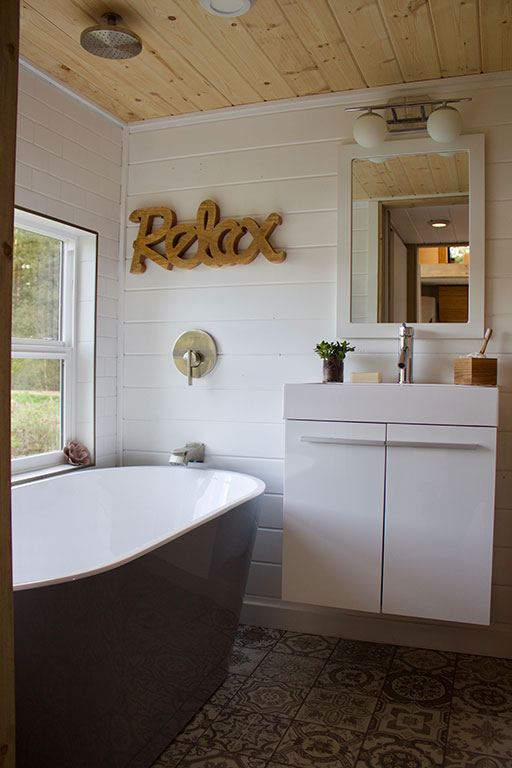 2. Invest in Smart Home Technology 
Another great way to make your tiny luxury house more high-end is to incorporate the latest smart home technology. The Breezeway, a custom tiny house by Tiny Heirloom, is equipped with an in-house Bose sound system and several automated features, including a linear actuator TV lift and touch-activated storage door openers, just to name a few. Additionally, a secondary swivel TV in the master loft provides great viewing from the comfort of the bedroom or the kitchen down below. With technology changing and improving every day, these are just a few of the many ways you can make a tiny home smarter and more automated. 
3. Incorporate a Cozy Fireplace
Curling up by a warm fireplace with a glass of wine or a good book is incredibly luxurious. With small homes, fireplaces serve a practical purpose too, helping to keep the entire space warm and comfortable. The Modern Mountain House (pictured below) cleverly uses a fireplace to heat the main living area and the loft up above, making both areas extra cozy. 
4. Maximize Space With a Rooftop Patio 
Imagine drinking your morning coffee on a rooftop deck while watching the sunrise. Many of our custom tiny house clients are passionate about the outdoors and ask us to build in more ways for them to connect with nature. A rooftop deck situated on top of a tiny house is the perfect way to maximize space and create an extra outdoor living area without having to sacrifice much at all! 
5. Go High-End With Your Tiny House Kitchen 
A tiny house doesn't have to mean a tiny kitchen! The tiny house pictured below features a full kitchen complete with a three-burner gas stovetop, an oven, a full-size microwave, a full-size fridge, and a dishwasher. A wet bar on the opposite side of the kitchen with large opening windows and a deck outside helps to create a bar-like feel. Small details like a wine rack with LED accent strips make the whole space feel more lavish.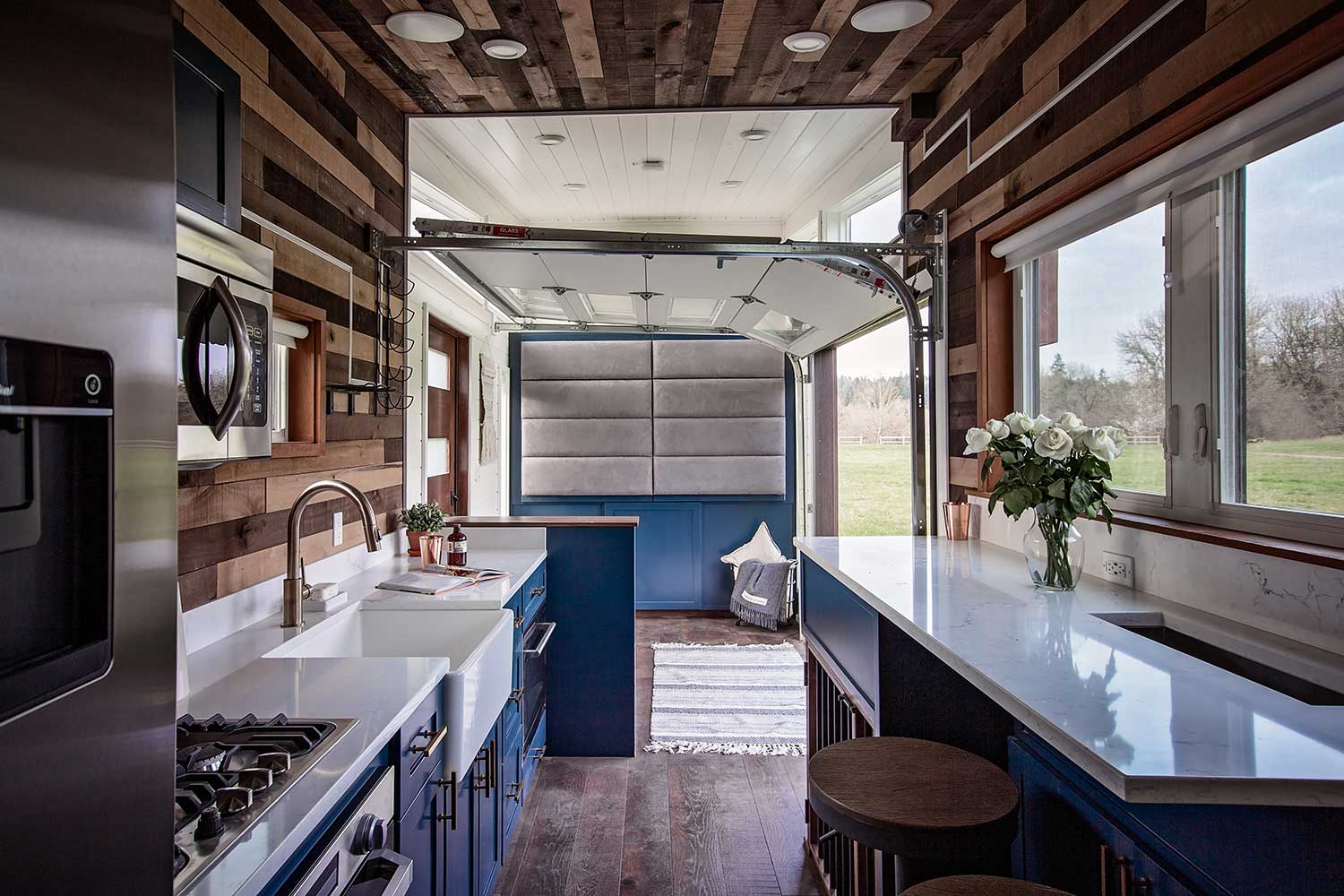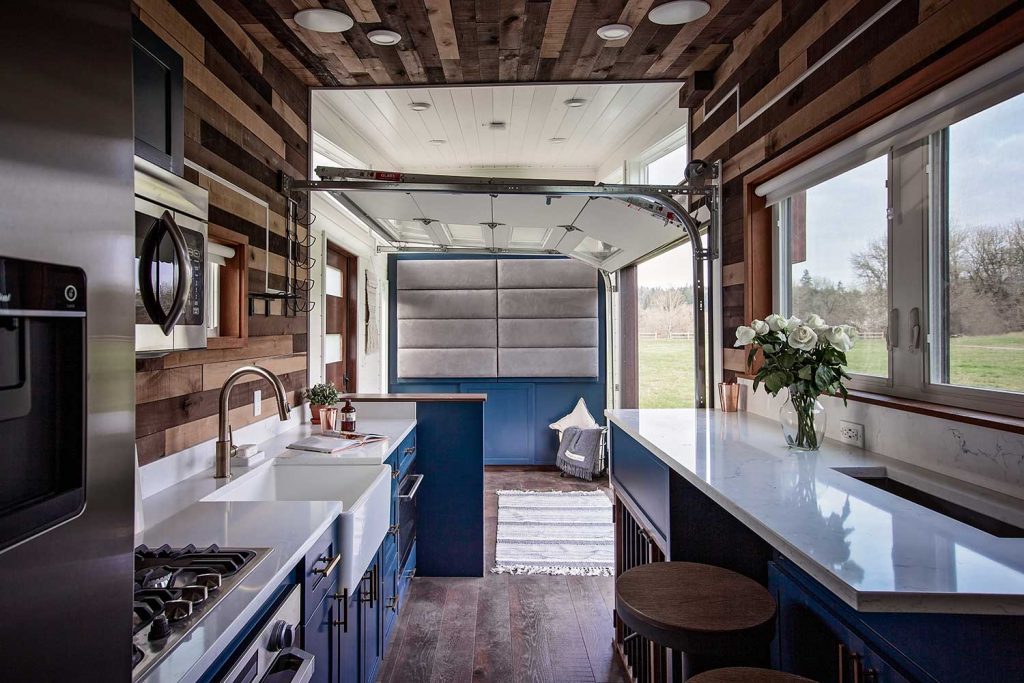 6. Choose Custom Cabinetry
Custom cabinetry not only looks incredible in a small kitchen or bathroom but also helps make the most of limited space by perfectly matching up with the space and layout you have to work with. As an example, the tiny house seen below features a full-size chef's kitchen with 19 feet of quartz countertops and custom cabinets. The u-shape cabinetry, open layout, and large bay windows make the entire kitchen feel deluxe and spacious.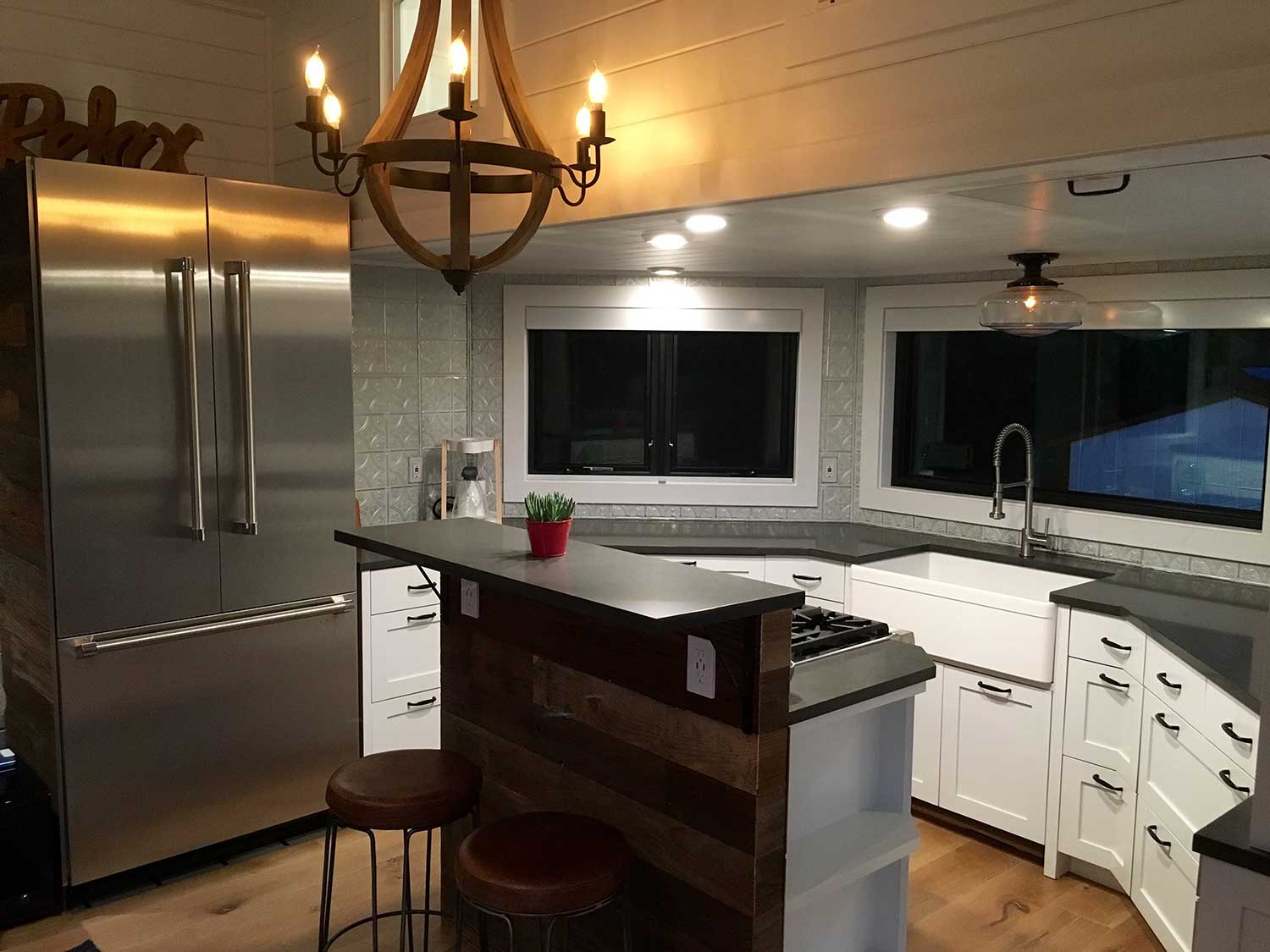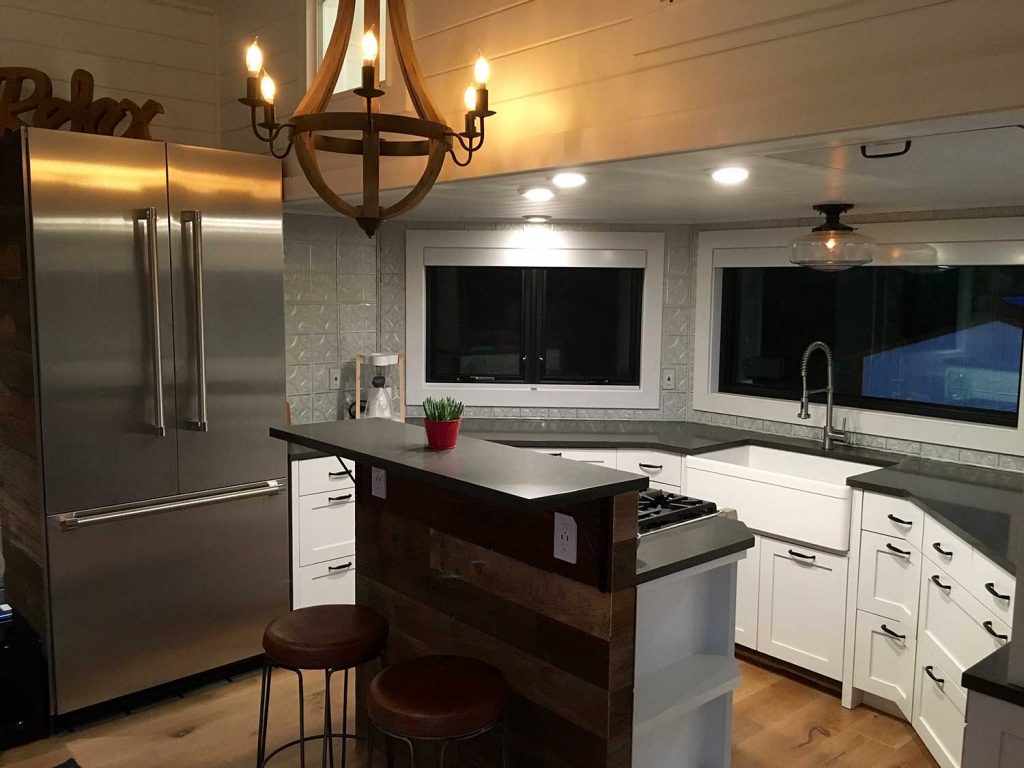 7. Go Zen With a Spa-Like Bathroom
A spa-like bathroom, like the one photographed below, feels like a rejuvenating escape from and bustle of everyday life. To create a spa-like ambiance in your tiny house bathroom, stick with a calming, neutral color palette, remove as much clutter as possible, and think of your fixtures and cabinet hardware as jewelry. We absolutely love the pairing of gold and white in this bathroom; the combination makes the space feel much larger and more opulent. 
8. Add Custom Lighting to Create Visual Interest 
In our opinion, there's nothing more luxurious than going custom with the details of your tiny home, including the lighting. Lighting is what brings all the elements of your tiny home together and makes them shine. A well-lit space feels much more spacious than a dimly-lit one.  When it comes to lighting, LED systems are generally the brightest, most efficient, and most high-end. 
Custom lighting can also help draw attention to special features of your home that you want to highlight. As seen in the example below, a backlit Himalayan pink accent wall in the bedroom adds visual interest to the space and acts as a hybrid headboard/art piece.
9. Get Innovative With Custom Tiny House Furniture 
Custom furniture, much like custom cabinetry, looks great and helps make the most of limited space in a tiny home. It also opens the door for limitless creativity and innovation. The custom, built-in dining area in the tiny home pictured below features a table that can be raised and lowered, meaning the space can conveniently be converted into an additional sleeping area. Not only that, the dining benches include hidden storage compartments, leaving no space left unused. 
10. Choose French Doors to Maximize Natural Light
Natural light is one of the most sought-after things in any home, but it's especially important for tiny homes. French doors let in abundant natural light through their glass panels, which can help create the illusion of a larger living area. Unlike windows, these doors let light in from the floor all the way up to the ceiling. As seen below, this tiny home takes things a step further with french doors and an additional glass panel on the side. 
11. Go With a Garage-Style Door to Bring the Outdoors In
Many people choose to live in a tiny house because they want to feel more connected to their natural surroundings. One trending way to bring the outdoors in is to incorporate a large, garage-style door into the side of a tiny house, perhaps opening up to a large outdoor deck. This cleverly opens up the living space and extends it into the outdoors. Plus, it brings in overflowing natural light when left open. This works particularly well for tiny houses in warm, sunny climates. 
12. Add Skylights Galore 
If natural light is important to you, skylights will be your best friend! Not only do skylights bring in great lighting, they can also help open up a loft or other small space to make it feel less claustrophobic and roomier. See how the skylight in the tiny house shower below makes the shower seem so much larger and more inviting? On top of that, looking up at a starry sky or the pitter-patter of rainfall from the shower or your bed is simply magical. 
13. Don't Give Up On a Spacious Tiny Home Bedroom 
You might think that living in a tiny house means having to squeeze into a cramped loft or tiny bed or compromise with a bedroom with no door. Well, think again! The options for tiny house bedrooms are endless, especially when you go with a custom tiny house with a custom layout. If you want a spacious bedroom where you can stand up, walk around the bed, close the door, and have closet space, we can easily make that happen! 
14. Focus on Sustainability 
More and more luxury homes are starting to focus on sustainability, which we absolutely love to see! A tiny house is already much more sustainable than a large home, requiring fewer materials to build and less energy to run. However, our designers and clients take things a step further by choosing materials, appliances, and technology that focus on sustainability and efficiency. Many of our custom tiny houses include sustainable features like reclaimed materials, solar panels, advanced rainwater collection systems, and so much more.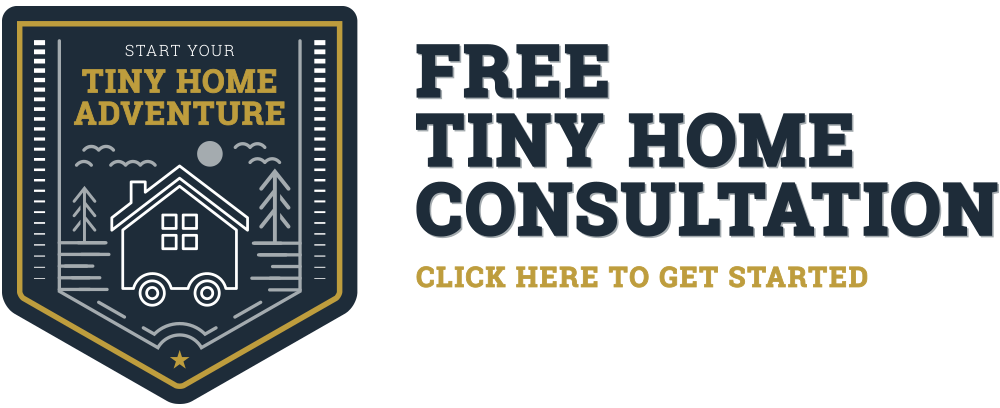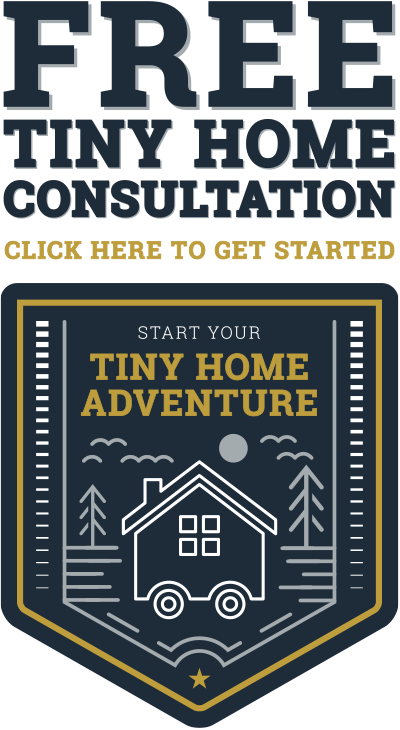 15. Invest in Quality Craftsmanship 
At the end of the day, what makes a home truly remarkable isn't fancy decor like a showy chandelier– it's really all in the details and the overall quality of the craftsmanship. With a larger home, making sure everything is crafted to perfection is not only difficult but expensive and time-consuming. With a tiny home, on the other hand, you can really afford to pay attention to the little things and invest in top-quality materials. When you downsize, you are also more likely to be able to afford an experienced, world-class tiny home builder like Tiny Heirloom! Our carpenters, welders, tile setters, and countless other skilled team members work together to create what many have called 'fine artwork'.
We'll Make Your Tiny House a Luxury House! 
These 15 luxury house ideas are just the tip of the iceberg; With many years of experience designing and building luxury tiny homes, our team has plenty more ideas and examples to share with you. 
When we sit down to build a new custom tiny house, we always start with a completely blank page and assume that anything is possible until proven otherwise. That's why, no matter what kind of luxury house you're dreaming of, we're confident that we can bring it to life and exceed your expectations! 
Contact us for a free luxury tiny home consultation today to get started on your dream home today.