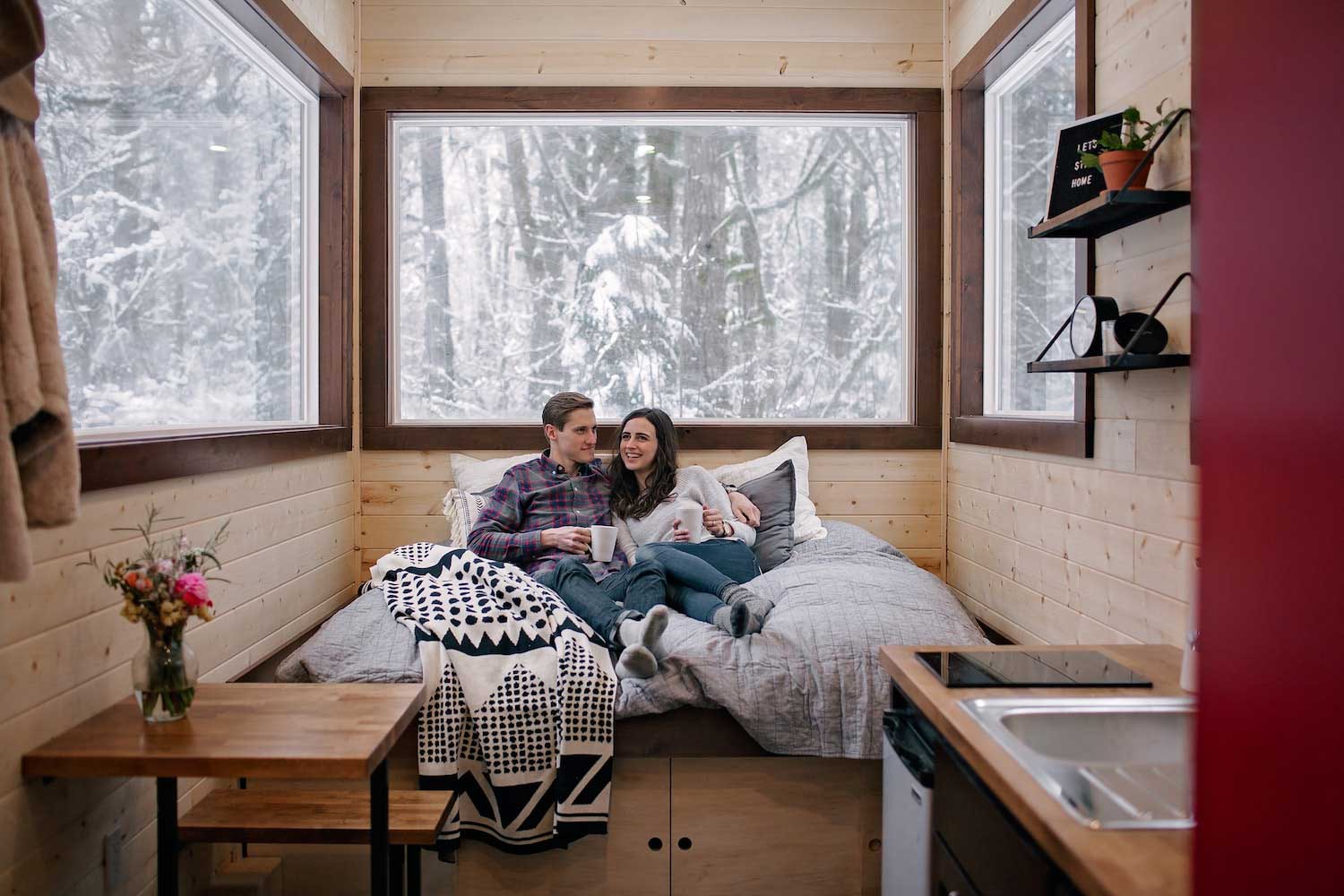 Small Cabin Plans: Designing the Perfect Tiny Cabin
Posted on
September 5, 2019
A cabin can be defined as a small shelter or house, made of wood and situated in a wild or remote area. According to this definition, cabins are meant to be small and remote, so tiny cabins just make sense!
Tiny houses in general offer incredible benefits, but tiny cabins in particular can help you capitalize on some of the key reasons you probably decided to downsize in the first place: to travel with ease, experience the outdoors, and live more simply and stress-free. Whether you are looking to live in a tiny cabin full-time or as a vacation home, this article will help you make your dream cabin a reality!
The Benefits of Tiny Cabins
For those looking to buy a cabin, one of the key questions is location: should your cabin be situated on a beautiful lake, a snowy mountain, in the forest or at the beach? But with a tiny cabin on wheels, you don't have to decide! Because most tiny homes are designed to be self-sufficient, you can even live or travel off the grid, and park your tiny cabin in places a regular-sized cabin could never be built.
Another incredible benefit of living or vacationing in a tiny cabin is the incentive to spend less time inside and more time outdoors, enjoying the incredible nature around you. Many studies have found that spending more time in nature is directly correlated with improved mental and physical health, including: better short term memory,  improved concentration, sharper thinking and creativity, reduced stress and improved mental health, among other benefits.
Living or staying in a tiny cabin also affords the opportunity to spend more time and connect with your loved ones, whether that be your partner, friends or the whole family. Closer quarters encourage you to play, share meals and go on more adventures together – creating lasting memories and strengthening your relationships.
Finally, cabins are known for being intimate and cozy and a tiny cabin takes this feeling to a whole new level! What could be more snug and comfortable?
Maximizing Space When Designing Small Cabin Plans
When designing any tiny home, you need to think carefully about how you can maximize your limited space to meet your goals and suit your needs.
With a cabin especially, you should take advantage of the outdoors as much as possible, and extend your living space into indoor/outdoor areas. For example, a glass garage door or other large movable windows/doors can help open up your living space into the outdoors. Many tiny homes include fold-out decks and awnings, providing more space to enjoy the outdoors and take in the views. Others include rooftop decks to soak up the sun or gaze at the stars. You could add some fun features such as outdoor shower or a place for grilling. Get creative: This tiny adventure cabin even has a rock wall built on the exterior of the home!
With a mobile tiny cabin, chances are you will be spending a lot of time outdoors in different climates,  so you'll have to get creative in how you store and hide your gear. Try to fit in as much storage as possible when designing the layout – think hidden storage compartments in the staircase, pull out trunks under benches or beds, outdoor racks for your bikes or boards… Working with experienced, tiny cabin builders will certainly help you come up with creative storage solutions!
Small Cabin Plans with Loft Areas
Lofts are a popular choice for tiny cabins in order to maximize space. Because heat rises, they are also extra cozy and snug for snowy, winter weather!
Tiny cabins are often built in the form of an A-frame, which offers the perfect space for a loft. Most lofts are used for master bedrooms. Depending on the layout though, small lofts can even sleep four or more people. A loft doesn't have to be for sleeping though; it could also be used for extra storage or for a hangout nook.
One popular choice with tiny cabin lofts is to include a skylight or two – this will make the space appear larger, and who needs a television when you can stargaze every night!
Free Consultation with our Small Cabin Builders
To get more ideas for your tiny cabin from experienced, professional tiny home builders, contact Tiny Heirloom for a free consultation!