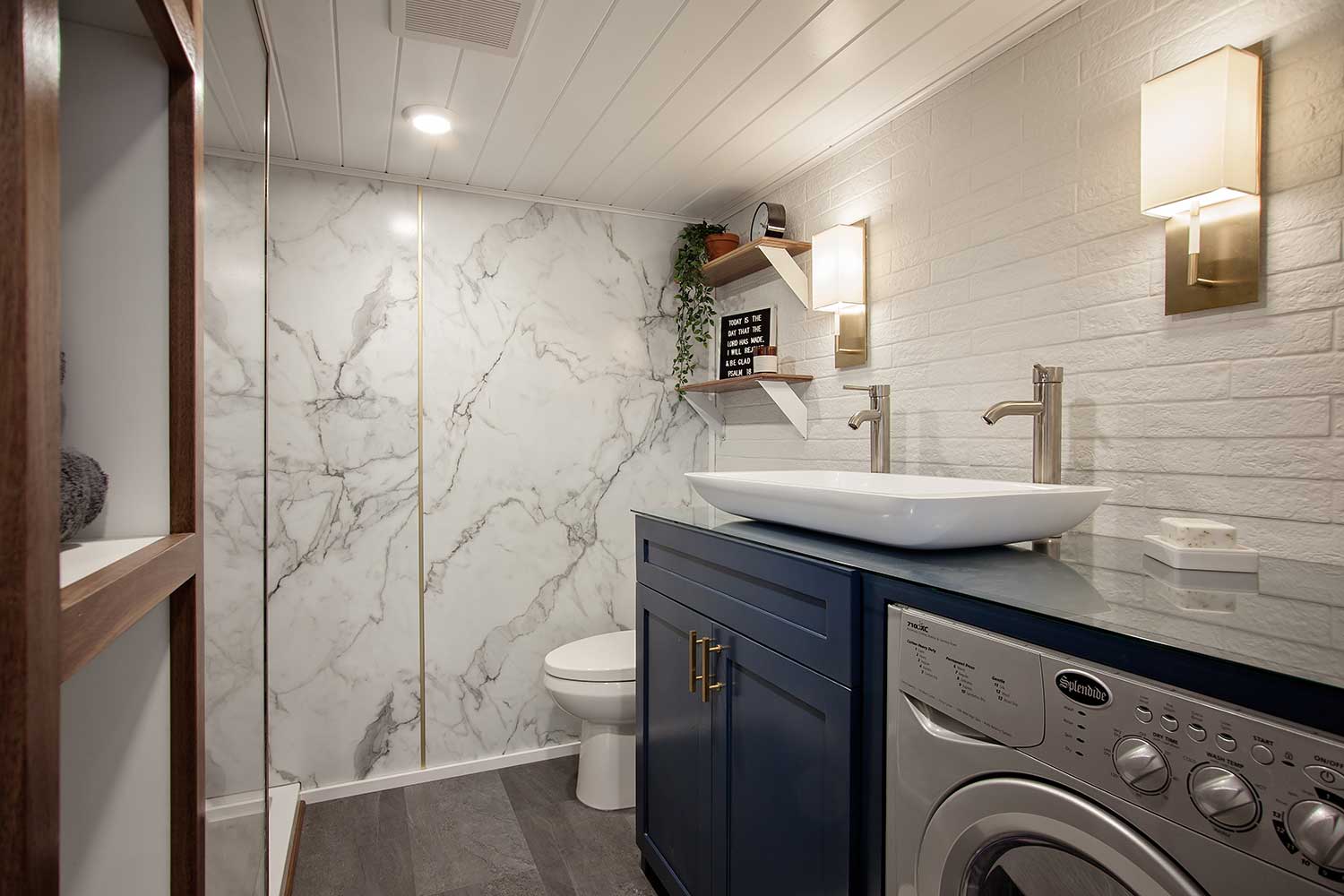 Designing a Functional, Spacious Tiny Home Bathroom
The problem with a tiny home bathroom is that it's a relatively large area that has at least two fixtures (toilet and shower) that usually can't be moved much. If you must, you can forego the bathroom sink for the one in the kitchen, but that's hardly a luxurious choice.
It turns out that there are some very clever ideas out there for how to work with the space in your tiny home bathroom. Some save space; some reduce the need to save space. Below are three of our favorite ideas for designing a particularly functional and spacious tiny home bathroom.
Tuckaway Toilet
One advantage of a composting toilet–besides the ecological and gardening advantages–is that since it's not connected to pipes in the floor, it can be moved around. Take a look at this video starting at 3:20 to see a particularly ingenious "toilet drawer" which can be closed when it's not in use. And with plenty of odor-free composting toilets to choose from, there is no reason to fear your composting toilet's lack of isolation from the rest of the house.
Jettison the Mirror for Storage
Mirrors take up a lot of wall space. Sometimes people try to remedy this with mirrored medicine cabinets–but if you want to store anything bigger than a pill bottle, the medicine cabinet just isn't going to do. To make matters more inefficient, bathroom mirrors provide notoriously limited views–especially the kind of mirror you'd likely have to hang in a tiny home bathroom.
Why not scrap the whole mirror idea altogether, use that space for some stylish storage, and look at your beautiful self in another room? Maybe even double up on efficiencies and use that mirror to make the other room feel bigger.
Air Exchanger
Fans carry damp, mold-inspiring air out of your house–and often, not fast enough. If you're breathing, cooking and showering all within 500 square-feet or less, you may need some extra help blowing some of that steam out of your tiny home's bathroom.
There are several systems available to do this; the ones that get installed during construction are best. The above video features one starting at 5:24. Not only do they remove humidity–they also pull in fresh air from outside. This is desirable in any small space, but especially in a tiny home bathroom!
Optimizing Your Tiny Home Bathroom
There is no limit to the ways a tiny home owner can optimize their tiny home bathroom, like any room in their tiny house. Half the fun of building and moving into a tiny home is finding ways to maximize space and even luxury in such a small space.
Our favorites include ways to tuck unused fixtures out of sight when they're not needed and freshening up the air inside. The tuckaway toilet is a perfect example of an almost murphy-bed-like approach to saving space in a tiny home bathroom. It's also nice to use traditionally unusable wall space by storing things where the mirror would usually go. And perhaps most importantly, keeping the air fresh and dry inside makes the whole place feel nicer (and healthier!)