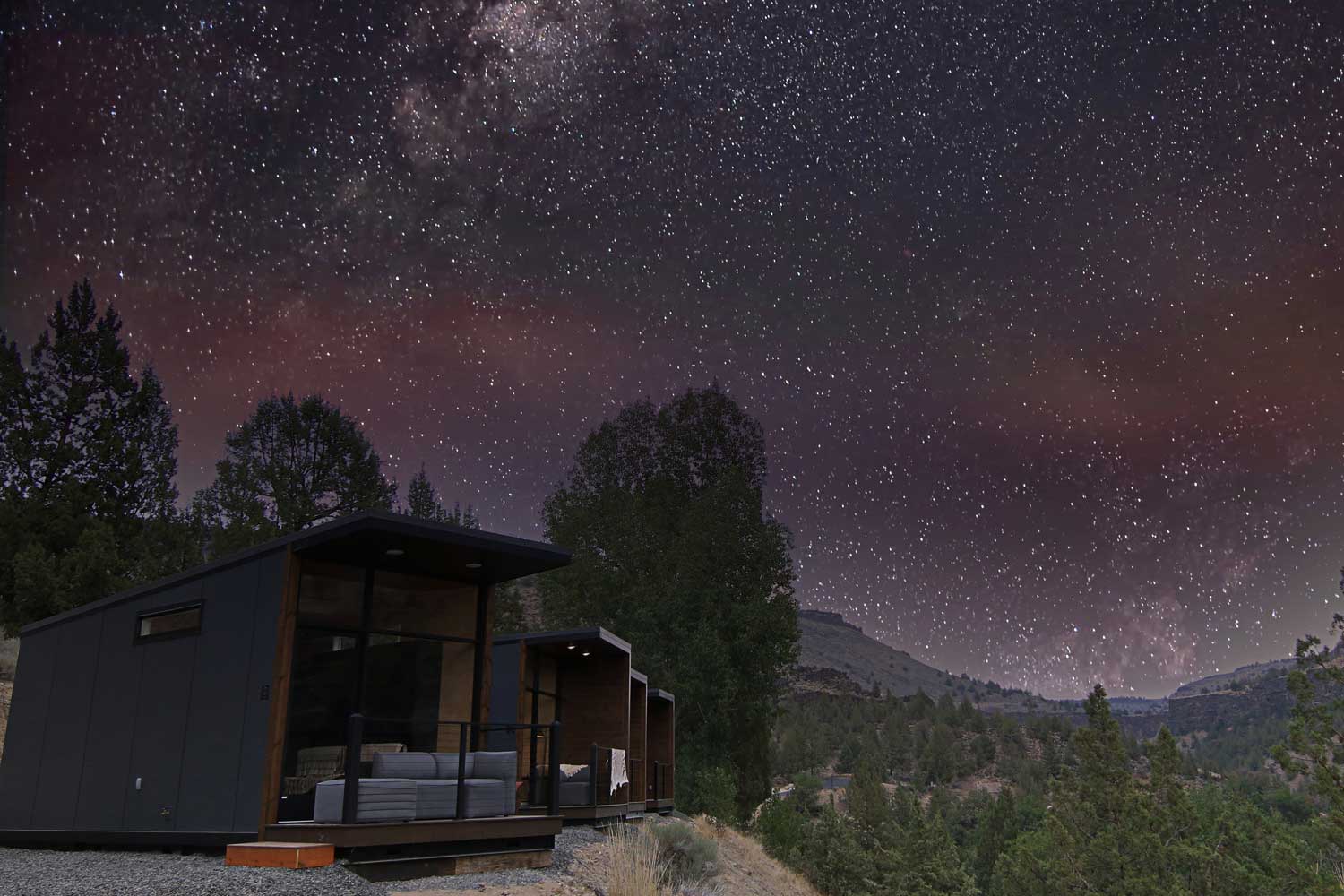 Your Guide to Tiny Home Vacations
Posted on
November 25, 2021
Tiny home vacations are rapidly growing in popularity. In the last five years, Google searches for "tiny house rentals" have gone up by a whopping 113 percent! 
Whether you're looking to go on a tiny home vacation and experience tiny living for yourself or start your own tiny house rental business and earn additional income, this article will help get you excited and inspired! 

Tiny Home Vacations: Why Go Tiny?  
Tiny houses make great vacation homes, so it's no surprise that they are getting more and more popular. Here are just a few reasons why people are choosing to go tiny: 
You can save money: Tiny house vacation rentals tend to be more affordable than larger home rentals. They also tend to have cheaper cleaning fees on sites like Airbnb. With the money you save, you may be able to afford a longer vacation or more exciting adventures during your stay! 
It's a unique and memorable experience: When people plan a vacation, they dream of staying somewhere special, someplace they will remember forever. In fact, the most wish-listed Airbnbs tend to be "unique" homes, including tiny houses, tree houses, and other non-traditional homes.
You can try before you buy: If you've been curious about tiny living, renting a tiny house is a great opportunity to try out the lifestyle and see if it's a good fit for you. You can also find design inspiration and make note of specific elements of the home that you'd like to emulate. 
You'll spend more time outdoors: With limited indoor space, you will likely spend more of your vacation outside, enjoying and exploring your natural surroundings. Many tiny houses are on wheels, meaning they can be moved from place to place – this is the perfect solution for those who can't decide if they want to buy a vacation home in the mountains, at the beach, or on a lake. 
It can bring you closer with your loved ones: Tiny houses, like any smaller space, can encourage you to spend more quality time with your loved ones. Staying in a tiny vacation home can really help bring the family together! Everyone will be cooking, hanging out, and playing games in an open-concept living/dining/kitchen area. 
You'll spend less time cleaning and more time having fun: A smaller vacation home means fewer rooms to keep tidy, so you can focus on kicking back and relaxing. Also, tiny homes tend to be more minimalist and clutter-free, which can help keep stress to a minimum, reduce anxiety, and even encourage better sleep. 
It's a more sustainable way to travel: Staying in a tiny house, especially a local one, is a great way to travel sustainably and responsibly. You'll produce fewer emissions than you would renting a larger house. It's also more environmentally friendly than taking an international flight, going on a cruise, or supporting a big, corporate hotel. 
Find a Tiny Home Airbnb Anywhere in the World 
A quick search for "tiny house in [your location]" on a home-sharing platform like Airbnb or Vacasa will yield tons of great rental options in your area. There are tiny houses available for rent all around the world these days, and they come in so many different shapes, sizes, and styles. You can stay in this modern tiny house on a volcanic lava field in Hawaii, hole up in this romantic tiny cottage in Austria, or sleep in this tiny cave home in Spain… the options are literally endless! 

A Few of Our Favorite Spots for Tiny Home Vacations 
Because we're based in the Pacific Northwest out of Portland, Oregon, we have a few favorite tiny home vacation rentals in the area that we'd highly recommend! Oregon is a gorgeous state full of so much natural beauty, and these tiny house rentals are situated in simply unbeatable locations: 
Lake Simtustus Resort in Bend, Oregon: This is more than your average tiny house rental, it's a full-blown tiny house resort! These beautiful tiny houses were built by Tiny Heirloom and feature panoramic views of the lake and access to endless waterfront activities. They come in a range of sizes to comfortably suit couples and families alike. 
Tiny Tranquility Rentals on the Oregon Coast: This tiny house village is located in Waldport, a quaint town located on the beautiful Oregon Coast. Two of the amazing tiny houses available for rent here, Shorepine and Osprey, were built by our very own Tiny Heirloom experts. If you end up falling in love with tiny living, you can even rent a site here long term! 

Make the Most of Your Tiny Home Vacations
Once you've chosen your tiny house rental, you can start planning and prepping for your getaway! 
First and foremost, be sure to pack light. Closet space might be somewhat limited if you're staying in a tiny house (though you may be pleasantly surprised by some innovative storage solutions). Think of this tiny home vacation as a good opportunity to lean into the minimalist way of life, keep things simple, and focus on what truly matters. 
With limited indoor space, it's also a good idea to plan a few day trips or fun outdoor activities to get you out of the house and into the unknown. 
Lastly, if traveling with friends or family, you may want to set some expectations and ground rules. For example, you may want to set some quiet hours if space is limited and sound carries.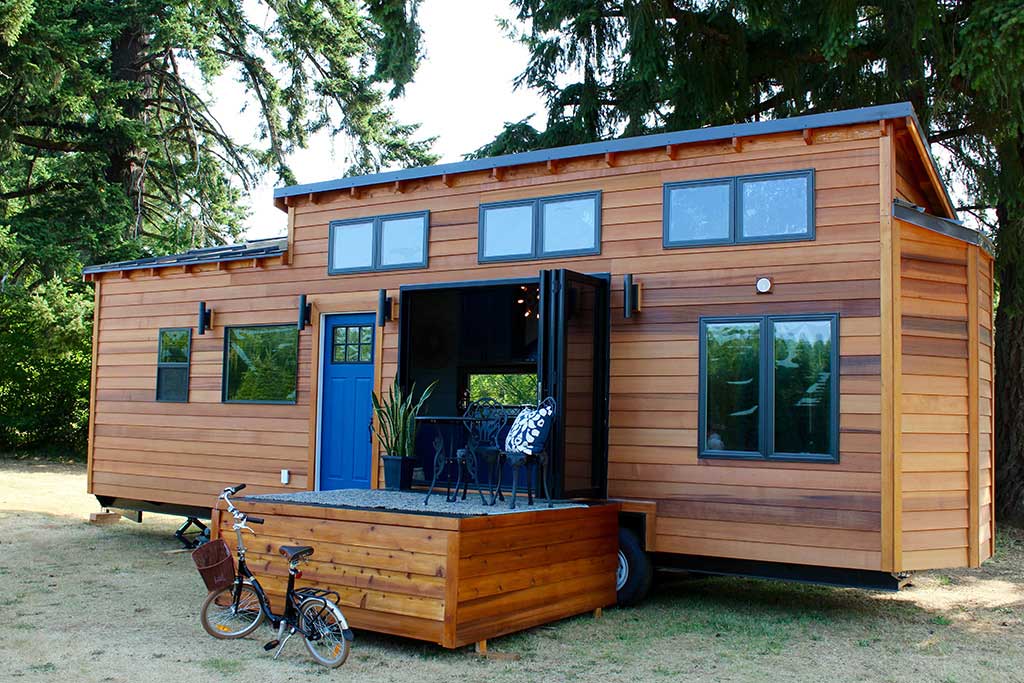 Looking to Get into the Tiny House Vacation Rental Business? 
If you're thinking about starting a tiny house rental business yourself, there's no time like the present. We can collaborate to build anything, from a single custom tiny house to rent out of your backyard to a bunch of luxury tiny houses for a large resort, and anything in between. Explore our tiny house collaborations and partnerships page to learn more about your options. 

Tiny Home Vacations: Try Before You Buy! 
We can't wait for you to stay in a tiny house and see what the lifestyle is all about! Be warned though: you just might fall in love with tiny living and decide to make the switch permanently. 
If you do, our tiny house experts are ready to design and build the custom tiny home of your dreams. Our tiny houses come in a wide variety of shapes, sizes, and styles to suit almost any budget and way of life. The only real limit is your imagination. 
Request a free tiny house consultation and we'll help you explore your many options and find the perfect solution for your needs.