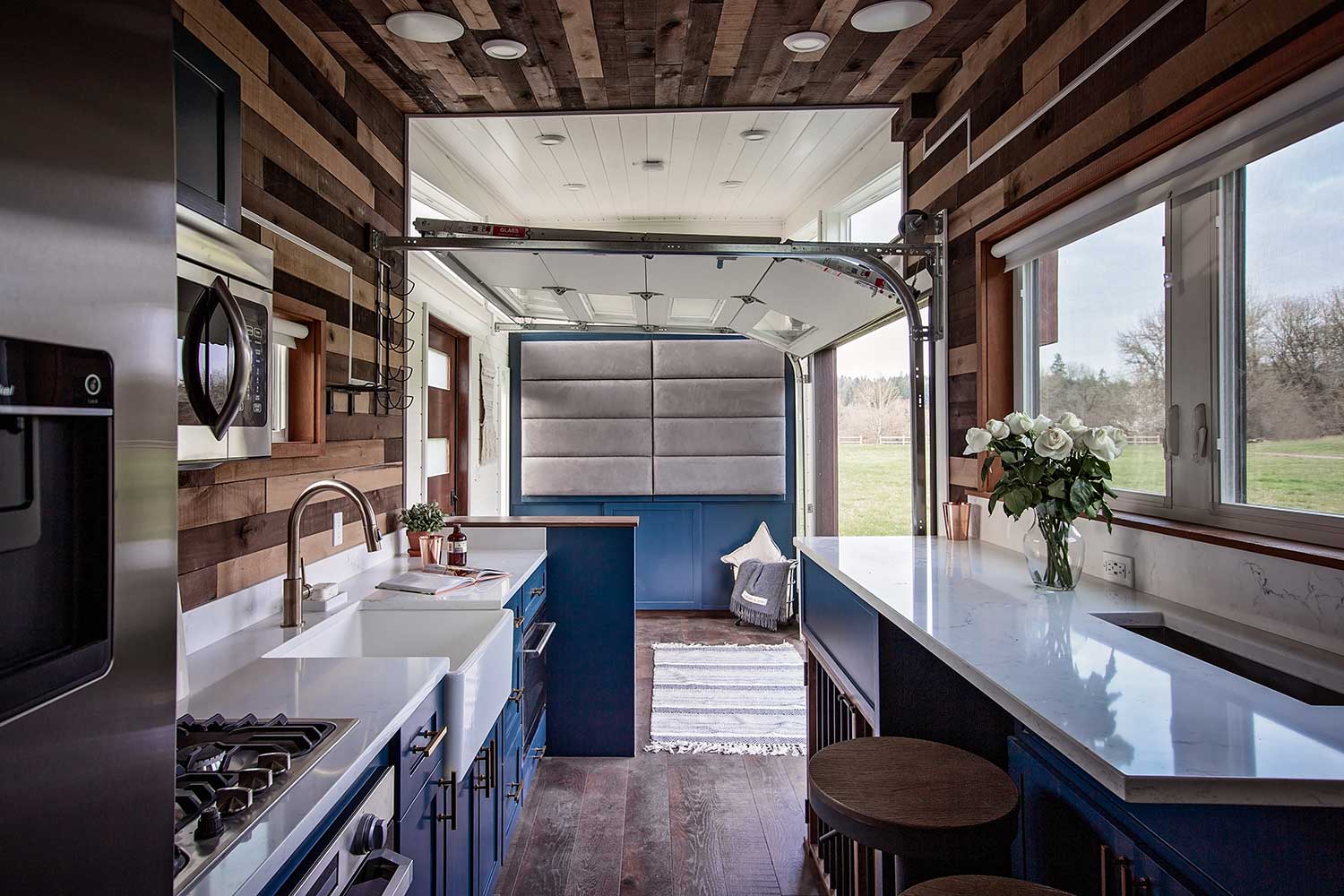 Tiny House Appliances: Which Work Best?
When you're planning tiny house appliances, it's good to start your search with the most compact, versatile options and work out toward bigger and more specialized from there.
A perfect example is the murphy bed. If you have the room and desire, perhaps a regular-house-style, fixed bed could work; but for many, a murphy bed is a no-brainer in a tiny house.
Below are three appliances that can also make tiny-house living a spacious and convenient experience.
1. Washer/Dryer
Traditional washing machines and dryers are some of the bulkiest, most expensive items in anyone's home. Although price isn't a prohibitive factor for every tiny home dweller, bulk is.
That's why the Splendide 2100XC Washer/Dryer is the perfect solution for someone wishing they could cut their laundry space in half. While small washers and dryers exist–both stackable and unstackable ones–none of them can promise such a small footprint.
Now, with unlimited space and the ability to maintain a dedicated machine for each job, you can dry one load while washing the next; this is the most important tradeoff to consider when you're planning this tiny house appliance. But with just a little extra mindfulness and planning, there never has to be a laundry crisis in a tiny home using an all-in-one washer/dryer. In fact, if there's no rush on the first load, you can hang it to dry and put the machine back to work, washing the next load.
‍
2. Breakfast Station
Again, planning a tiny house's appliances is all about what can be accomplished in the least possible space. That's why many of us opt for single-element stoves. Especially if you're one of the savvy tiny-homeowners who make this choice, it will inevitably be useful to find a way to cook more than one skillet or pot at a time.
Especially if someone in the house is a coffee drinker, the Nostalgia BSET300AQ Retro 3-in-1 Family Size Breakfast Station is your perfect compact cooking solution. Chances are that your coffee pot was going to be a 4-cup maker anyway; why not save space by combining it with your toaster (i.e., backup oven) and another cooking surface?
‍
3. Compost Toilet
The final tiny home appliance in this article may not technically be an "appliance"–but it's still a crucial fixture in every home of every size, and will need to be considered with the same deliberation as the ways you will cook and do laundry.
At first, a compost toilet can sound like a choice only the most hardcore off-the-gridders would make. But thankfully, many systems have been designed to effectively "hack" the waste management and composting processes. Not only can a tiny-home dweller save money, water and hassle by using a compost toilet–they can actually use their own waste to fertilize their gardens.
Just separating solid waste from liquid cuts the smell and makes the material safer. You'll want to add some peat moss or coco fiber to make it compost faster, and follow manufacturer guidelines for turning the contents, just like in regular composting.
‍
Final Thoughts on Tiny House Appliances
Entering into a tiny house lifestyle can be quite the departure from traditional living. Thankfully, there are ways for all of us to do so according to our own comforts and limits.
In order to stay within your financial and spacial budget, you'll want to focus on versatility. That's why an all-in-one washer/dryer can be immensely helpful. It's also nice to be able to combine cooking appliances like coffeemakers and toasters. Finally, a compost toilet can help ensure you can plant your tiny house anywhere regardless of septic environments, save water, and even water and fertilize your garden.
‍