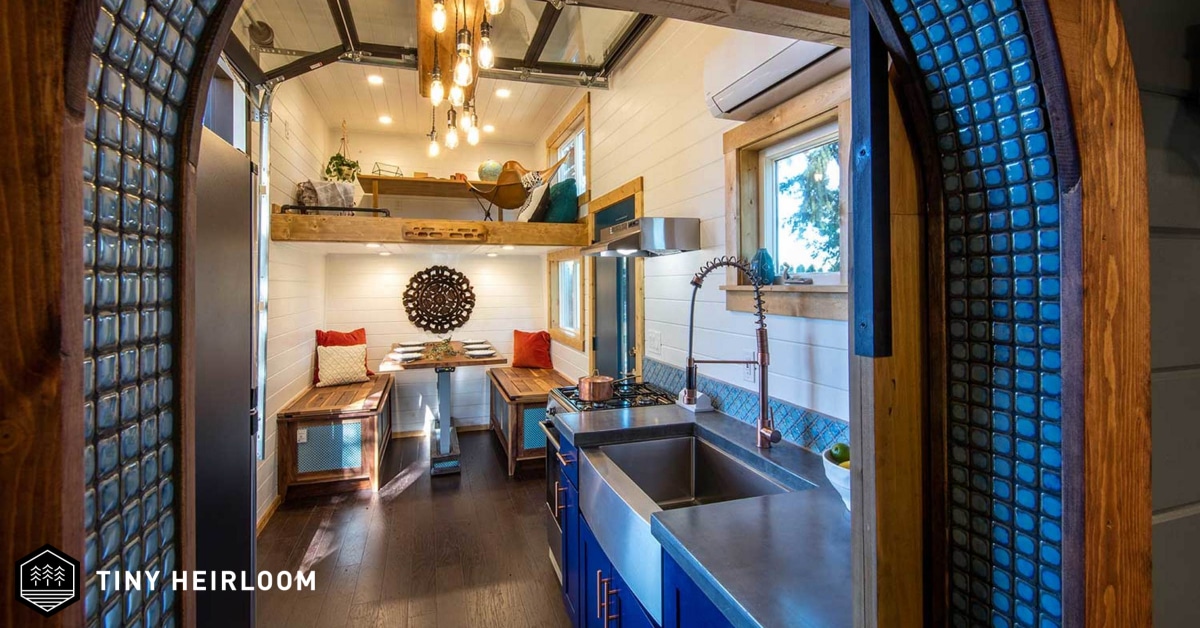 7 Creative Tiny House Interior Design Ideas
Scaling down to a tiny house is not just a passing trend. It's a way for millions of people to enjoy financial and physical freedom. In fact, 68% of tiny house owners don't have a mortgage. 60% of them also don't have any credit card debt.
But tiny living doesn't mean you have to give up luxury and beauty! Read on for a list of tiny house interior designs ideas that highlight how stylish and innovative tiny living can be!
1. Tiny House Interior with a Big Kitchen
One of the biggest worries people have when considering moving into a tiny house is the woes of cooking and meal prep in a small area. Especially for those who love to prepare elaborate meals, a tiny kitchen can cause stress and frustration.
You can have a large gourmet kitchen in a tiny house if that's what you're looking for. During season 1 of Tiny Luxury on HGTV, we saw a tiny house interior design that was built with chefs in mind. Lauren and Kalani's tiny home features a full-sized stainless steel fridge, 4-burner stove, and 12-feet of counter space. This tiny house also maximized kitchen storage by hanging pots and pans and using open shelving.
2. Tiny House Ideas for Large Families 
It's not only couples who are interested in living in tiny homes. But can families have privacy while living in a tiny home? Yes, they can!
A master bedroom in the tiny home creates a private space for mom and dad. The large master closet or two extra lofts make the Goose floor plan ideal for larger families or for entertaining.
Or choose a floor plan that has a master bedroom in the loft. Having this room up high gives you privacy from the rest of the family who is downstairs. What you lose in headroom, you'll gain in natural light with skylights, custom and luxurious furniture, and privacy. Plus, moving the bedroom upstairs means you have room downstairs for more lounging space.
We love how this tiny Rocky Mountain House maximizes space and features two lofts to comfortably sleep a family of four. The kids' loft cleverly includes a divider with storage between the two beds to give the kids more comfort and privacy.
3. Tiny House Interior Design for Minimalists
A minimalist design is a great look for homes of all shapes and sizes, but especially tiny homes. A clean, sleek look can help make your tiny home appear larger and less cramped or cluttered. Plus, a clutter-free living space translates to a clutter-free head space!
The Journey, a new Scandanavian-inspired tiny home model, is simplistic yet sophisticated in its design. With a tiny home this beautiful, you won't need to add many decorations and can keep things super minimalist. The home is a work of art in itself!
Similarly, this Home of Zen Tiny House is super simple, yet still luxurious. Features like a spa-like bathroom, black and white color scheme, and light-up staircase help create a minimalist look and feel for this space.
To learn more about the minimalist lifestyle, check out our guide to Going Tiny for Your Minimalist House.

4. Tiny House for the Creative Types
One of the best things a tiny home gives you is the freedom to follow your dreams. Whether that means traveling across the continent writing poems or spending time in nature and creating music.
This artists' retreat tiny home with two lofts allows you to have a dedicated space for your creativity. You can claim one loft for you and the other for your guitar. Or use the space as your place to curl up with a pen and your composition book. A desk positioned in front of a  big window is another great place to embrace creativity and be inspired by the outdoors. A cozy reading nook is yet another space that encourages you to dream, draw, write a poem, or let your creative mind wander. Lot's of windows and natural lighting make the whole home an artists' dream!

5. Tiny Home Living for Modern Millennials
Among the many styles of tiny houses, modern tiny homes are increasingly sought-after. Their sleek look and simplistic yet innovative design are perfectly suited for efficient, minimalist living. However, though modern tiny homes may be simple, they do not have to compromise on comfort, beauty or luxury. With less square footage to design and build, you can afford to put more money and attention towards the details.
The inside and outside of this ultra-modern tiny house show boast the latest design trends. From the modern backsplash in the kitchen to trendy fixtures in the bathroom, this tiny house interior design shows once and for all that tiny isn't tacky.
Another way to modernize the interior of your tiny home is to add some cutting-edge, high-tech features, like an in-house speaker system, a digital lock-less door key, USB receptacles, touch-activated storage and more.


6. Tiny Homes for Nature Lovers 
Many people are drawn to the tiny house movement because they crave less time indoors and more time out exploring, adventuring and connecting with nature.
To make your tiny home interior feel more connected to the outdoors, add plenty of skylights and big windows throughout. If you live in a warmer climate, adding a garage-style door to the main living space can help create a hybrid indoor/outdoor living space.
Another way to connect with nature is to incorporate natural and organic materials into your tiny home's interior design, like a reclaimed wood countertop, for example. Finishing touches like lots of plants and greenery go a long way too!

7. Tiny Homes for Work-Life Balance 
For those who plan to work from their tiny home, it's important that your interior design incorporates spaces where you can focus and get things done. This Live / Work Tiny Home with not only a work desk but a work loft area encourages productivity. Serene colors and features help to create a calming atmosphere. At the end of a long day of work, a full sized tub awaits to help you unwind.
For less obvious work spaces, consider adding a fold down or hideaway desk somewhere in your tiny home. Or how about a second bedroom that converts into an office with a custom Murphy bed? If you need a more clear distinction between your work and living spaces, you could build a completely separate tiny office or studio space in addition to your tiny home. It would be a quick and easy commute to work!
Final Word
There you have it! 7 beautiful and functional tiny house interior design ideas you can consider for your tiny home.
This is just the tip of the iceberg though! Quite literally, the options are endless. One of our favorite things about working in the tiny home industry is getting to know our clients' unique personalities, dreams and styles and creating totally unique, custom tiny homes to match them.
Contact us today for a free consultation. We can't wait to partner with you and create the tiny house of your dreams!