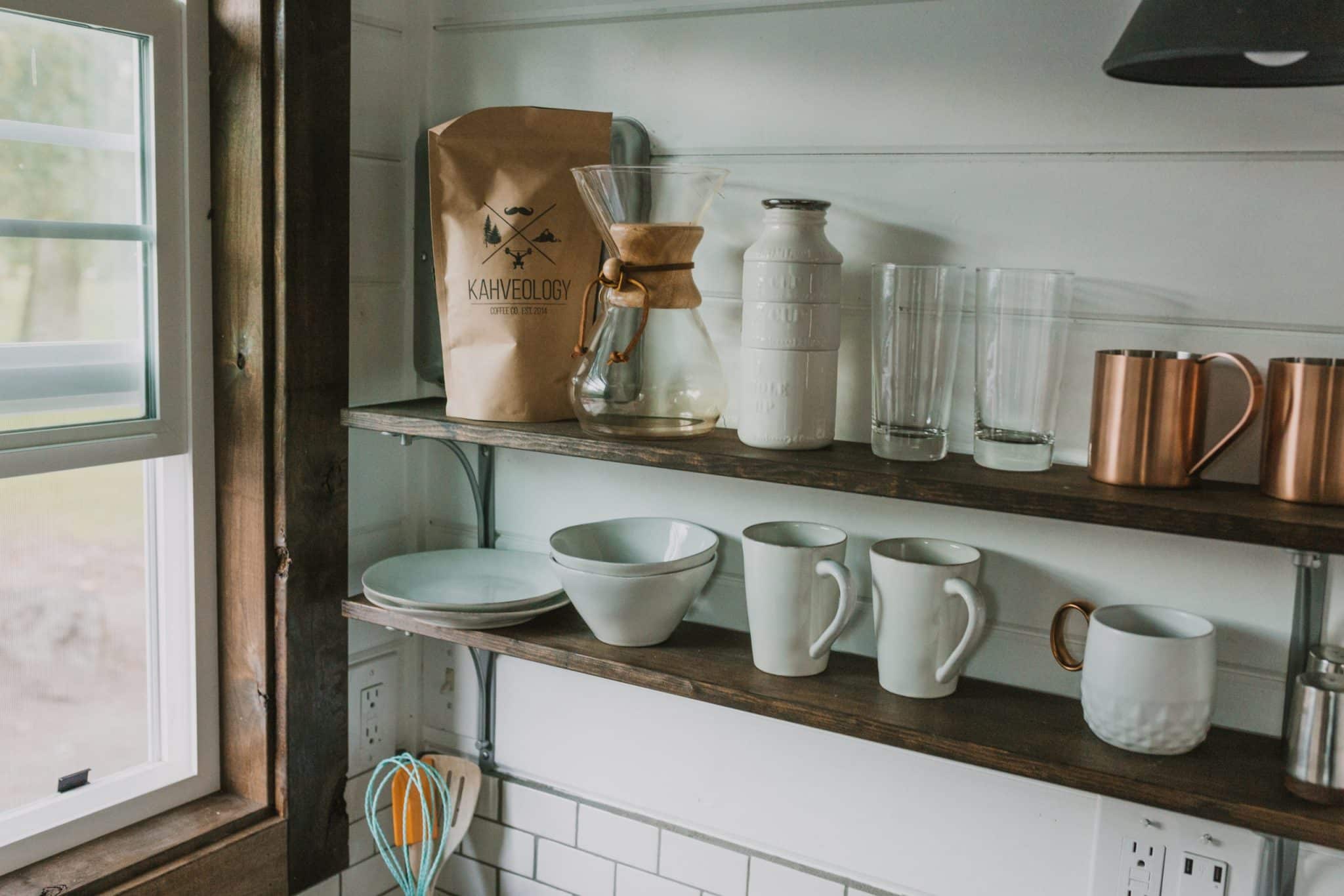 15 Tiny House Interior Ideas
Posted on
February 8, 2022
Tiny House Interior Ideas For You
Tiny homes are a growing trend across North America, celebrated for their characteristic function and style. While small on space, tiny homes are big on the potential for design options and styles and can be invigorated with a range of interior concepts. Through the following, we'll detail some of the best tiny home interior ideas out there, and how they can make your home perfect. We hope that these tiny house interior ideas will excite you and inspire you along the way. 
1. Neutral Colors While Designing Tiny House Interiors
Neutral colors are popular for a multitude of reasons, but specifically so in the case of modern tiny houses for the fact that they have the ability to make rooms feel larger than they actually are. By reflecting light well, neutrals like grays, whites, and beiges can really open up interior space and make it feel airier. Although some may be inclined to go with bold colors as per their usual design taste, sticking with neutrals for tiny homes is a good practice, as doing otherwise can result in spaces feeling cluttered or cramped living areas. The wonderful part about this customization is that you can build this out right now through our Signature Series!
2. Plants And Greenery in Tiny House Interiors
Bring the outside in and truly invigorate your tiny home experience with the integration of greenery throughout your interior space. Plants are a widely loved piece of home décor, for their ability to maximize vitality and bolster design flair. Hang greenery from the ceiling, put plants on the wall, or place succulents in otherwise unused places to provide bursts of color and keep your air fresh. This is also a fantastic way to start an indoor herb garden or other plant project.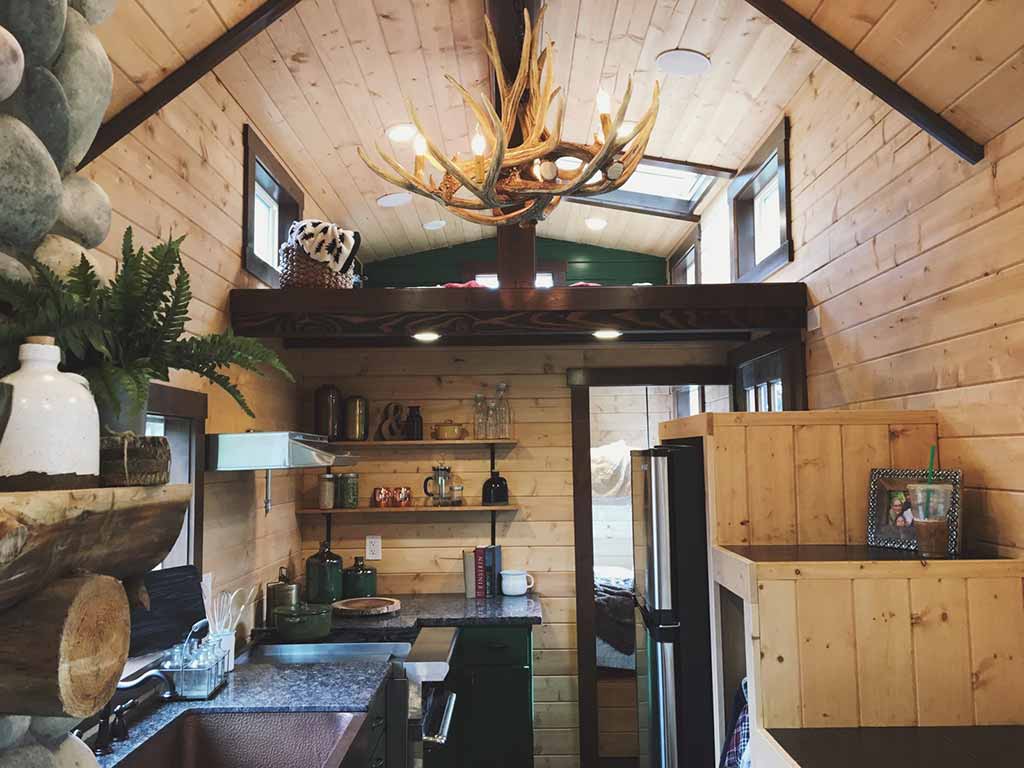 3. Repurposed Pieces Of Nature 
For many people, their attraction to the concept of tiny homes stems from a passion for the outdoors. If truly looking to experience nature and all its beauty, what better way to do so than by infusing it into your tiny home's interior? Whether it's treated and stained salvaged wood for shelving, unique patterns of textiles, or naturally textured tabletops, invigorate your space with the planet's natural style.
4. Skylights For Tiny Homes
For those wanting to truly embrace the natural appeal of living in a tiny home, skylights are a great option. Not only do they provide a positive and free source of interior lighting, but they can also open up your space quite effectively. Furthermore, they're an awesome way to make the most of your tiny home experience, providing a convenient way to observe the views of starry nights and blue skies.
5. Long Runners
A great way to make your tiny home stunning and likewise seem larger is through the use of a long rug. Integrate a long runner into your space and make it seem bigger through basic proportionality. Doing so can amplify the perceived size of your interior by keeping the eye moving, and is a great way to involve some extra style into your home. This of course will depend on your floor plan, square feet, and what type of home features you have!
6. Layers Of Style
Another interior design tactic for keeping your space stylish and interesting is layering. Key into different textures, patterns, and styles, and layer them on top of each other to create a personalized style full of depth and dimension. Although it may seem like an intimidating task at first, adding layers to your tiny home can be done gradually and can be very rewarding.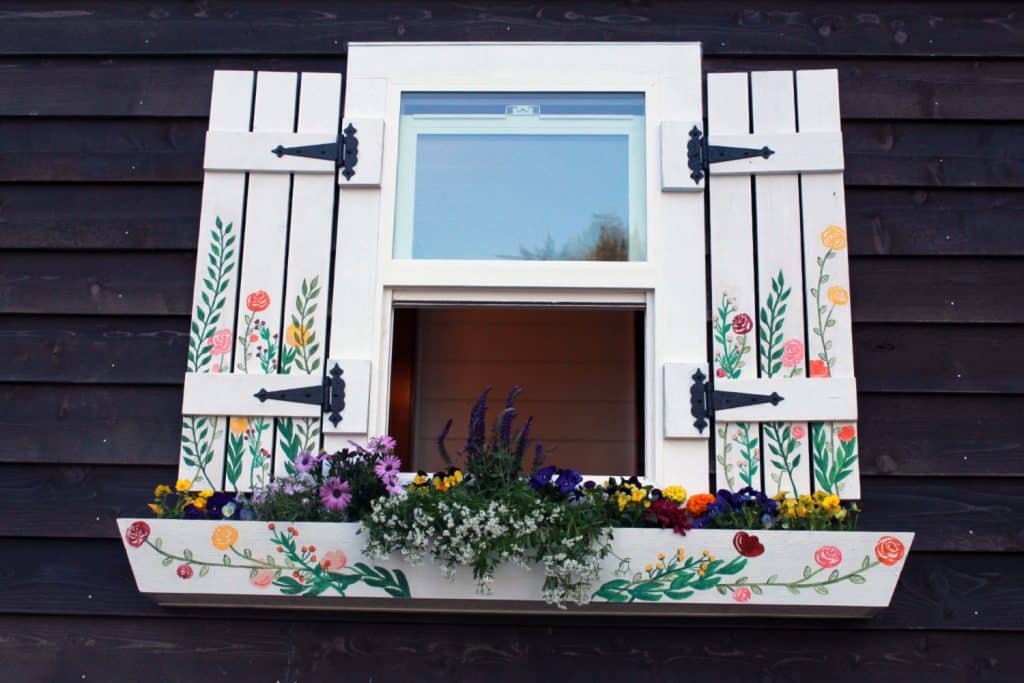 7. Lighting Options
Accentuating your interior spacewith additional lighting is a great way to make it feel like an adventure to explore, as well as amplify its scope. You don't necessarily need fixtures such as pendant lights and lamps taking up valuable real estate- look into sconces and other wall-mounted options for a sleek and stylish lighting solution that won't clutter your space.
8. Ladders
The common adoption of interior design in tiny homes is that of ladders instead of steps for connections between floors. This is particularly popular in very small homes, where a set of steps would be impractical in terms of space use. Ladders are extremely compact and efficient in regards to space conservation and are also functionally stylish solutions for individuals wanting to maximize their décor while minimizing their footprint.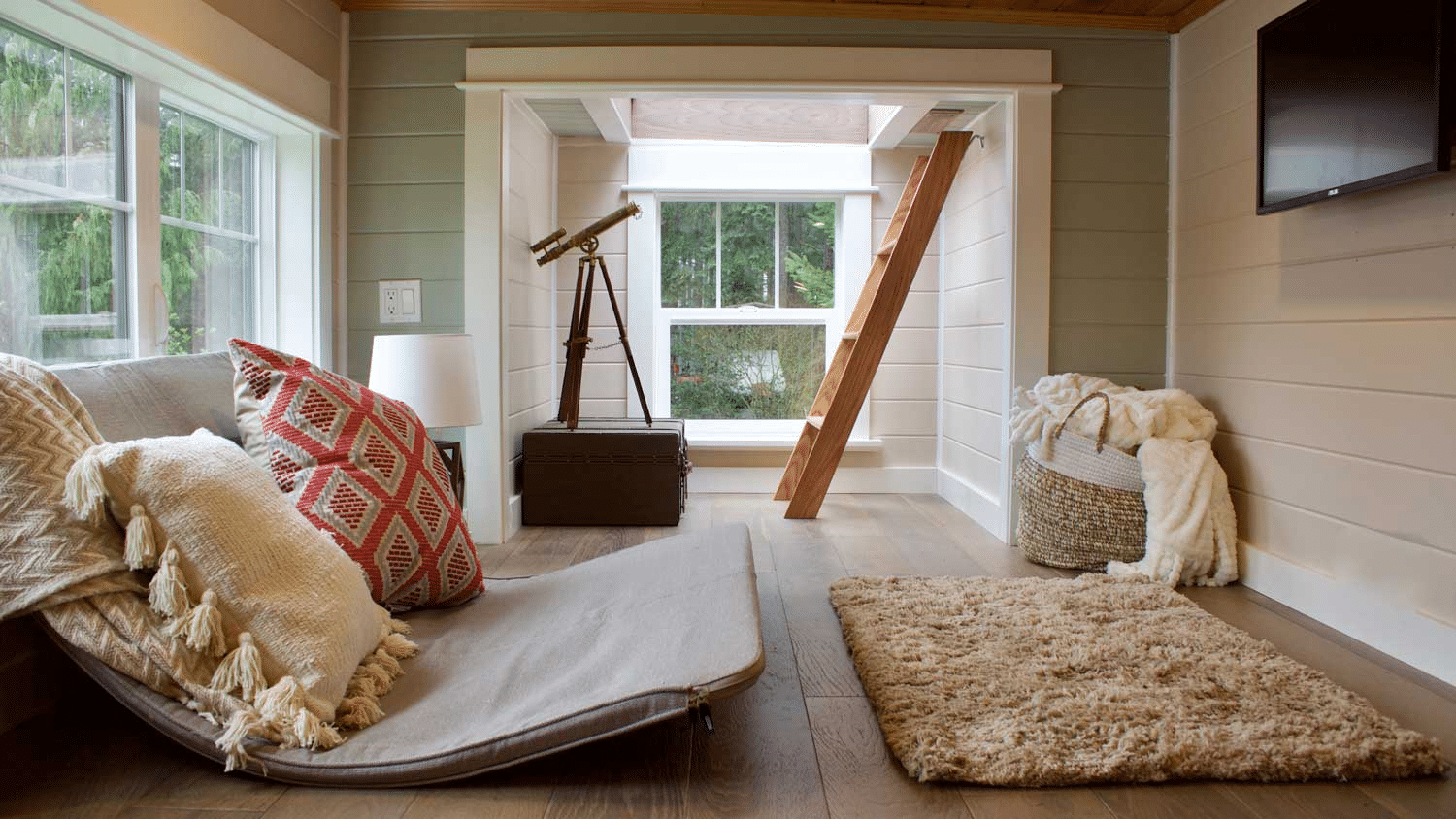 9. Stacked Furniture
The most common style of tiny home furniture is that of units that can be stacked on each other. This is mostly done for the sake of ease and practicality, as stacking units are often more compact than having separate pieces. Additionally, it allows you to make use of your vertical space, making your unit seem more expansive than it actually is. One thing to keep in mind when designing your tiny house interior and utilizing stacked furniture is that most tiny home furniture is equipped with multiple storage arrays to maximize your square footage. 
10. Ceiling Light Fixtures
While effectively furnishing a tiny home can be difficult in regards to its potential to easily overwhelm surrounding areas, lighting is one feature that is often quite flexible and open to creativity. Being on the ceiling, light fixtures aren't as limited by other features of your home as things like furniture are, so options and opportunities for expression are plentiful with them. These can always be added in addition to natural light producers!
11. Loft Beds
A common tiny house design concept is that of loft beds. Especially ideal for those limited on floorspace and without the option for a separate bedroom, lofted beds allow you to integrate a degree of separation between living and sleeping areas while still remaining economical on space. If you also value privacy in regard to your sleeping area, this is a great option. When designing a bed area with the rest of the tiny house interior in mind, you can manage to find new ways of storage and displays while picking out your bed. 
12. Multipurpose Furniture And Décor
Great furniture use in tiny homes relates to a piece's ability to provide both style and functionality. There are a plethora of space saving furniture designs that exist, which can allow you to keep your home livable and visually admirable in tandem. Common examples include couches that fold into beds and hideaway desks.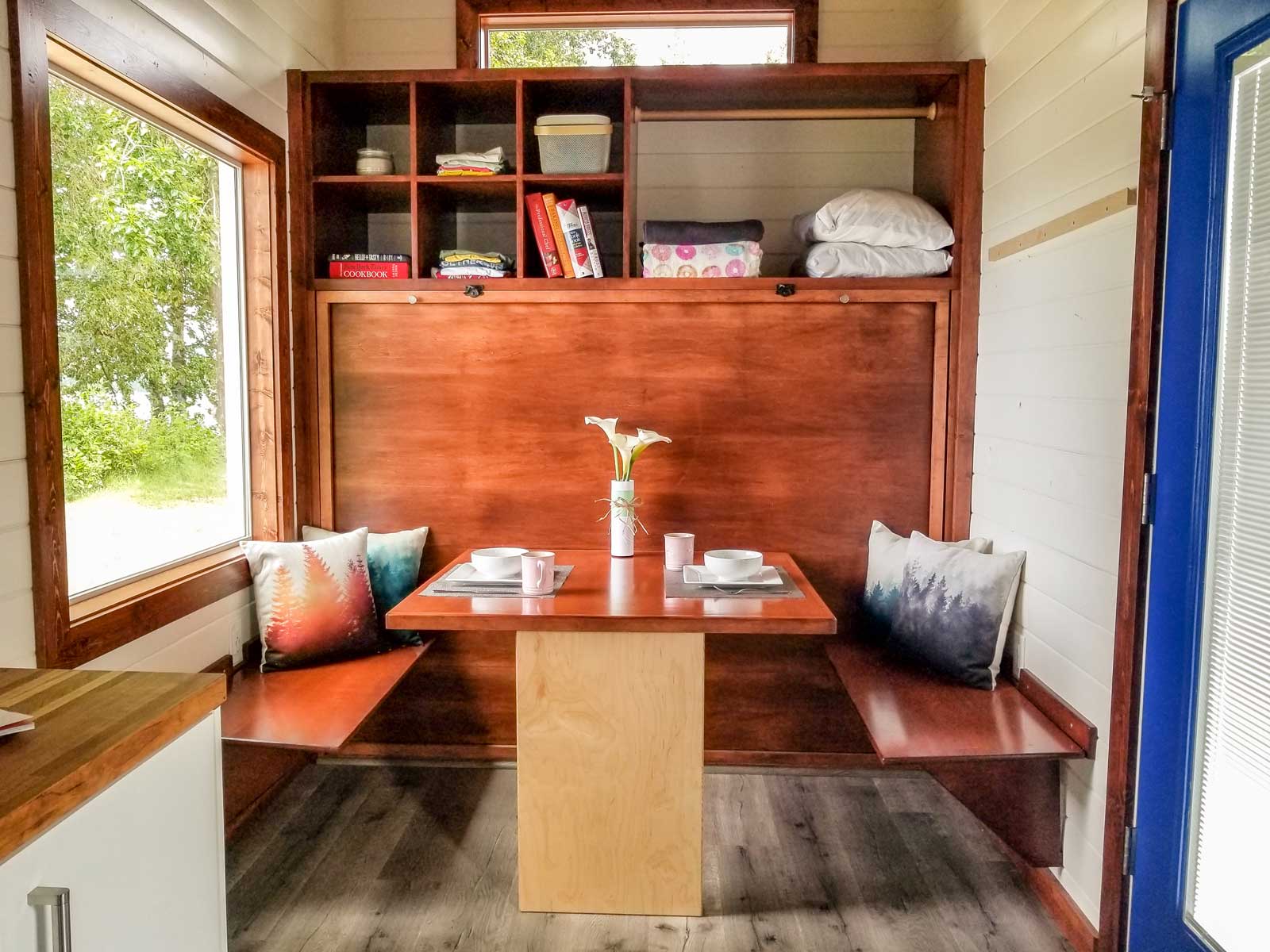 13. Display Shelving
A great way to make use of an otherwise wasted interior area is through the utilization of wall-mounted display shelving. Used for displaying favorite items or other decorative pieces, these shelves are a great alternative to heavy furniture like tables or desks while still allowing you to utilize your designated space. This will make your tiny house interior thrive in a new and exciting way for both convenience and visitors!
Refining the interior of a tiny house interior can be a challenging yet fun experience. It's a great opportunity to let your creativity explore and to make a space your own. Regardless of what trends are out there, remember that the best designs are those that cater and pertain to your specific space and needs.
Use these concepts and others to discover ways in which you can design the interior of your tiny home so that it is versatile and functional while aesthetically intact.