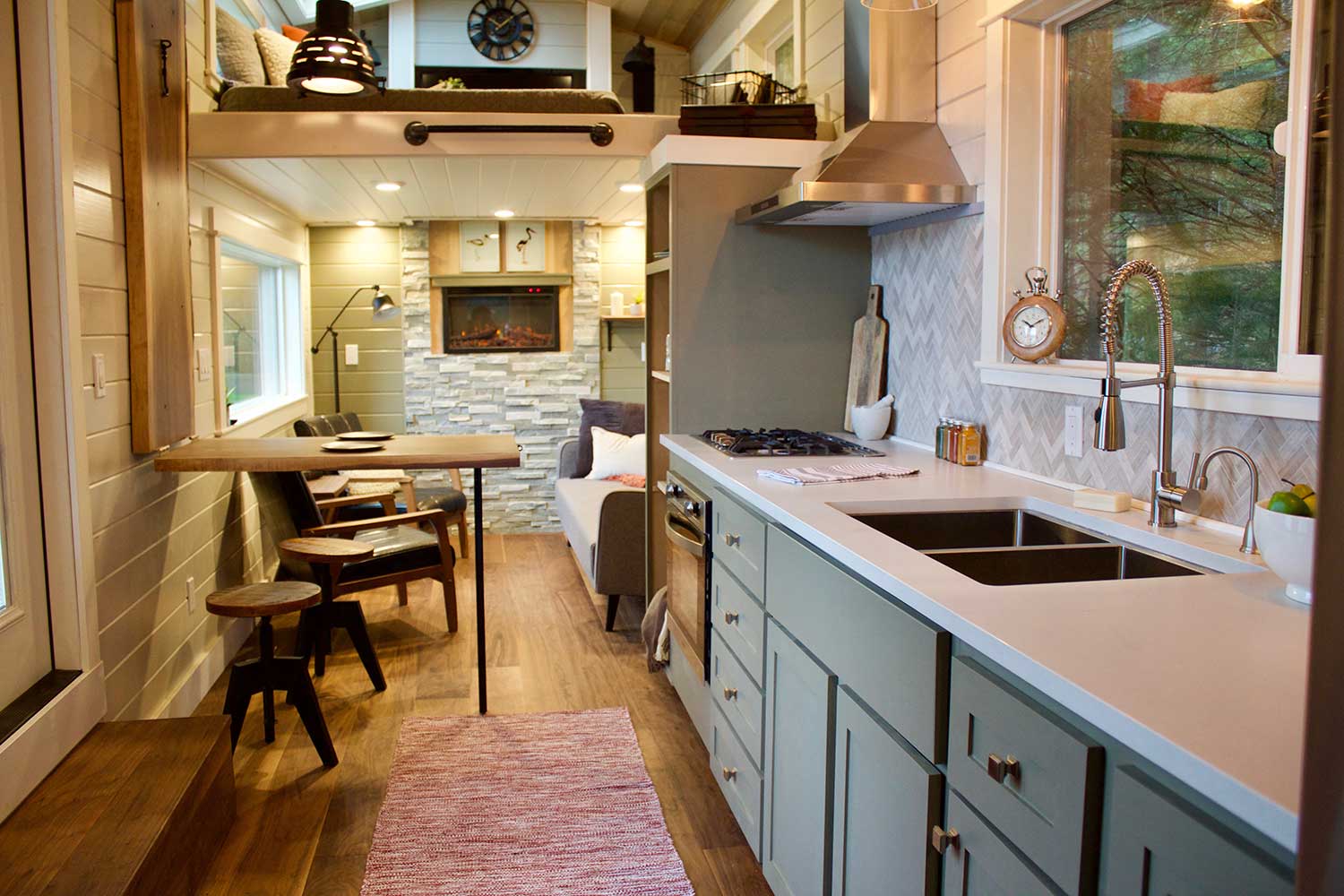 Maximizing Space in Your Tiny House Kitchen
Maximizing Space in Your Tiny House Kitchen
Traditional home dwellers are always complaining about how small their kitchens are. So, how can we make a tiny house kitchen work?
It's all about making items and space multipurpose.
Below are three ways to access the space you already have in your tiny house kitchen.
‍
1. Fold-Down Tables/Counters
Obviously, dining room tables are out of the tiny house question. So are most tables, desks, and other surfaces if you can't make them disappear when you're not using them.
That's the thinking behind fold-down surfaces like this one, available on Overstock. It even has a few shelves for added storage.
In fact, shelves one of the most straightforward tactics to employ when maximizing the space in your tiny house kitchen.
‍
2. Over-the-Sink Cutting Board
If you could do your cutting and chopping somewhere other than the counter–say, floating over the sink–it would be like extending your countertop.
Thank heaven for the so-simple-it's-genius, over-the-sink cutting board. Frankly, this should be a mainstay of traditionally sized kitchens–daresay it should be downright included with every tiny home.
This one is even dishwasher-safe.
‍
3. Shelves & Cabinets
Incorporating shelving into your tiny house kitchen is a must. Plan ahead and design your shelves specifically for items that you want easy access to at various locations throughout your kitchen. If you'd like to incorporate cabinets into your tiny house kitchen, you can do some research around RTA kitchen cabinets online and build a mood board and spec sheet based on what you want and need!
If you need help, contact us and we'll be happy to share ideas for incorporating shelving and cabinet ideas into your kitchen layout most effectively!
‍
How to Maximize Space in Your Tiny House Kitchen
The idea is to stop wasting so much space, which is why we buy tiny houses in the first place.
Put the permanent, unmovable shelves in places along the wall that aren't needed for other things, and then put more shelves on those.
For everything else, it's all about retractable, undoable convenience. An over-the-sink cutting board can be put out of sight when it's not needed, and a fold-down eating/writing/cutting surface can yield to the rest of the room when it's not needed, murphy-bed-style.
‍
If you'd like to talk about your own tiny house kitchen ideas, we'd love to connect you with one of our tiny home design specialists. Click here to get started!
‍