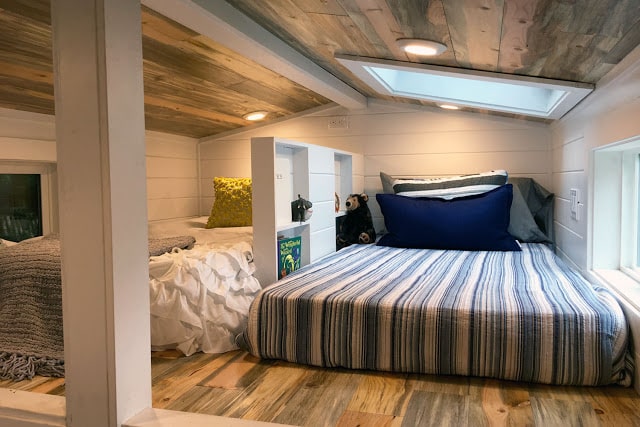 Getting Cozy with Our Favorite Tiny House Loft Ideas
Posted on
January 30, 2020
Tiny homes may be small, but downsizing on space does not mean having to compromise on comfort and luxury. Tiny house lofts are an extremely popular feature, as they maximize on limited space, and add a cozy element to any home. But how can you make a tiny home loft feel like a master suite? If you're looking for some luxurious loft inspiration, you've come to the right place!
Why Live in a Tiny House?
There are countless benefits, from financial to emotional, that come with tiny houses and the tiny lifestyle. Because tiny homes are typically much more affordable than full-sized homes, you have the financial freedom to spend more on the details of your home that matter most to you. Speaking of freedom, tiny homes on wheels also offer the chance to adventure, travel and not feel tied down to one location. Furthermore, there are many mental and emotional advantages to living a more simple, less-materialistic lifestyle – one that is more connected to the outdoors and brings your loved ones closer together. Additionally, you can live more sustainably and reduce your carbon footprint with a tiny house. With so many advantages, what's not to love about tiny living?
Our Favorite Tiny House Loft Ideas
Lofts are an essential element of many tiny homes. When done well, a tiny house loft can feel cozy, inviting and even lavish, but when poorly-designed, they can feel dark, cramped and uncomfortable. Looking for some loft inspiration?
Below are just a few of our favorite design ideas to take your next tiny home loft to new heights:
Live, Laugh, Loft with a Tiny Heirloom!
Of course, there are many more tiny house loft ideas to explore and uncover. With a custom tiny home, you can design a loft that is perfectly suited to your own needs and personal style. Contact us at Tiny Heirloom for a free consultation to learn more about tiny home lofts and all that is possible!