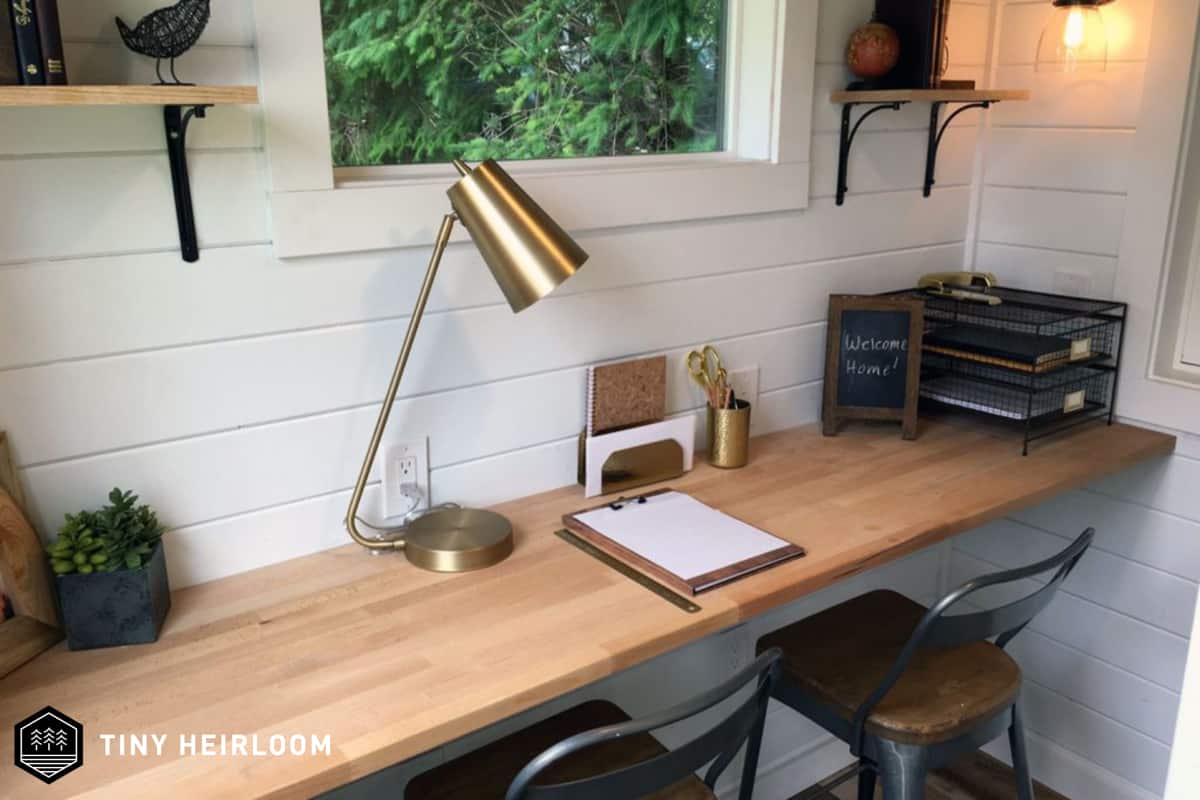 Using a Tiny Home as a Backyard Office
Backyard offices are quickly gaining popularity across the United States. The COVID-19 pandemic forced many companies to close their offices, and millions of Americans to work from home for the first time. Struggling to maintain a healthy work-life balance, many people turned to backyard offices to help them regain some separation between their homes and their place of work. 
Backyard offices are an incredible work-from-home solution that can help you achieve greater productivity, efficiency, and overall work-life balance. As experienced tiny home builders, we'll take you through different types of backyard offices and their benefits to help inspire your backyard office project. Let's get started! 
What is a Backyard Office? 
Backyard offices come in many different shapes and sizes. Some are more simple, like a small shed or a pod, with just enough space to work comfortably. Because they are smaller, have fewer features, and serve only one purpose, these types of backyard offices tend to be more affordable. 
On the other end of the spectrum, some backyard offices are more like full-blown tiny houses with their own bathrooms and kitchenettes, providing you with space where you can work without distractions throughout the day. With the simple addition of a hideaway sleeping area or loft, these types of backyard offices can even be used as hybrid spaces to house guests, rent out on the weekends, or for any other purpose. With a little creativity, the possibilities are endless!
Benefits of a Backyard Office Shed or Tiny House 
A backyard office combines the benefits of working from home and working from the office; it really is the best of both worlds! 
With your office just a few steps away in the backyard, you can still conveniently work from home. This means less time commuting to and from work, and more time to focus on what matters most to you, whether that be spending time with family, focusing on your hobbies, or whatever else makes you tick. 
Though working from home comes with some great benefits, many people struggle to work from home efficiently. A recent survey found that 45% of people feel less healthy mentally while working from home, and 4 out of 5 struggle to stop working in the evenings. With a backyard office, you'll enjoy a much better work-life balance. You can work in a space that is separate from your main living area, which means fewer distractions and greater productivity. 
Of course, a nice backyard office comes with a price tag, but you may actually save money in the long run. In fact, studies show that the average person can save $4,000 a year by working remotely. Working from your own backyard will cut down on costs including gas, car maintenance, car insurance, public transportation, eating out, and work clothes. On top of all that, if you're self-employed, you may qualify for some tax breaks. 
Lastly, unlike most regular offices, you can personalize and customize your backyard office to fit your unique needs and preferences. Do you work best snuggled up on a cozy couch with a fireplace or at a standing desk? Do you need lots of storage space? Do you want to work out while you answer emails? With your very own backyard office, your home office can be the office you've always dreamed of. 
Backyard Office Pod or Full-Blown Tiny House? 
As previously mentioned, there are many different types of backyard offices to choose from, and the best option for you will depend on your individual wants and needs. Below are a few specific options and examples to give you an idea of what's possible. 
A simple ADU like this one (pictured below) would make a great backyard office. With big windows and lots of natural light, you can work with a beautiful view. It comes fully equipped with a bathroom, small kitchen, and hideaway bed, so it can easily be used as a guest house or income-generating rental when it's not being used as your home office. It's pre-designed to keep costs low, but you can still customize it to fit any specific needs you may have.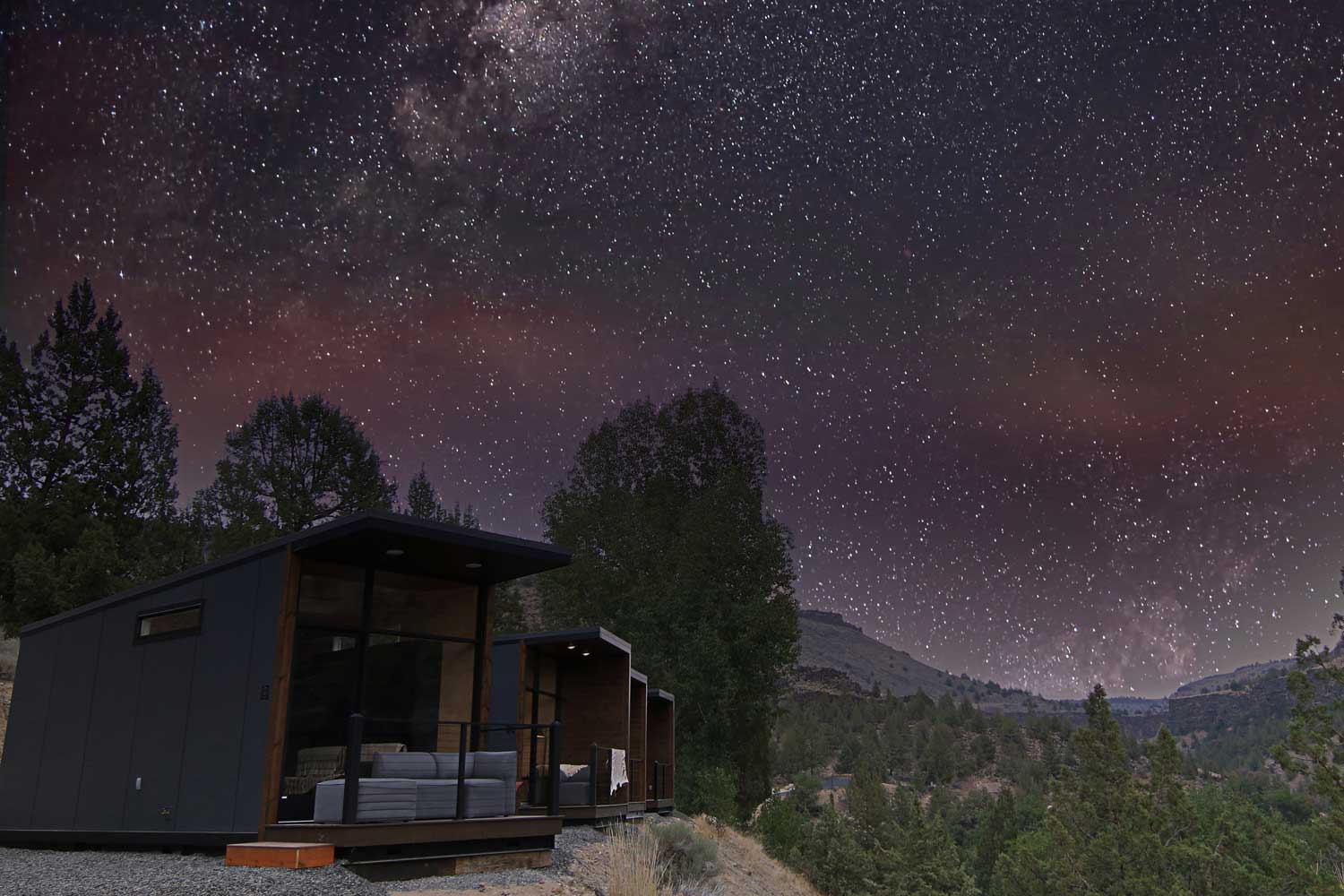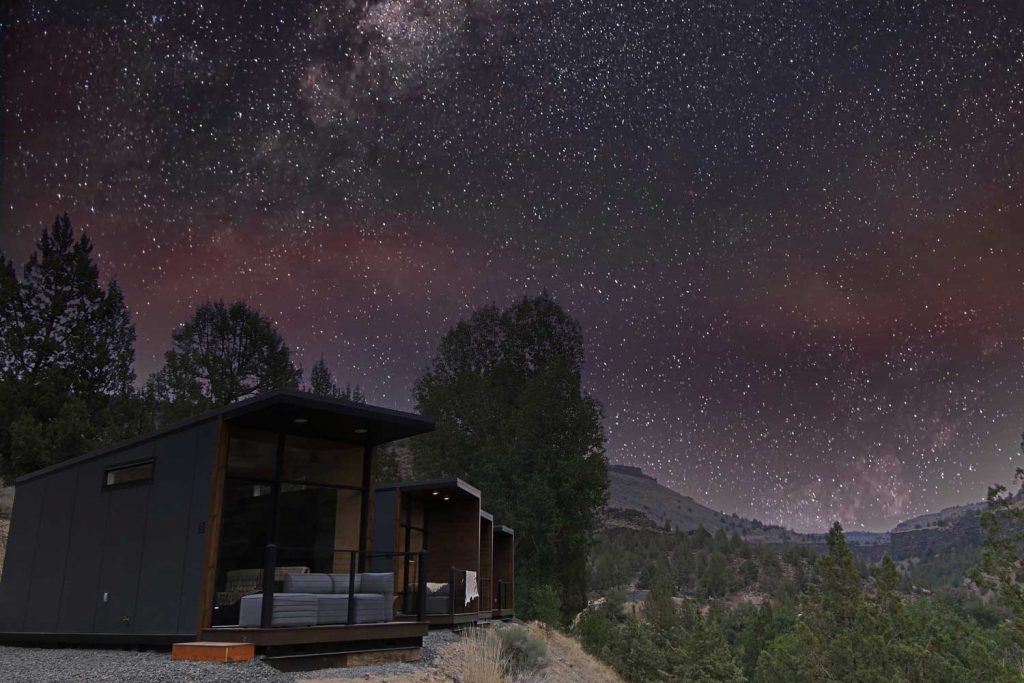 The Latitude (pictured below) is an example of a slightly larger office space that can accommodate multiple people, if needed. It's on wheels, so it can travel with you too. This type of backyard office would make a great mobile office, showroom, education center, or studio.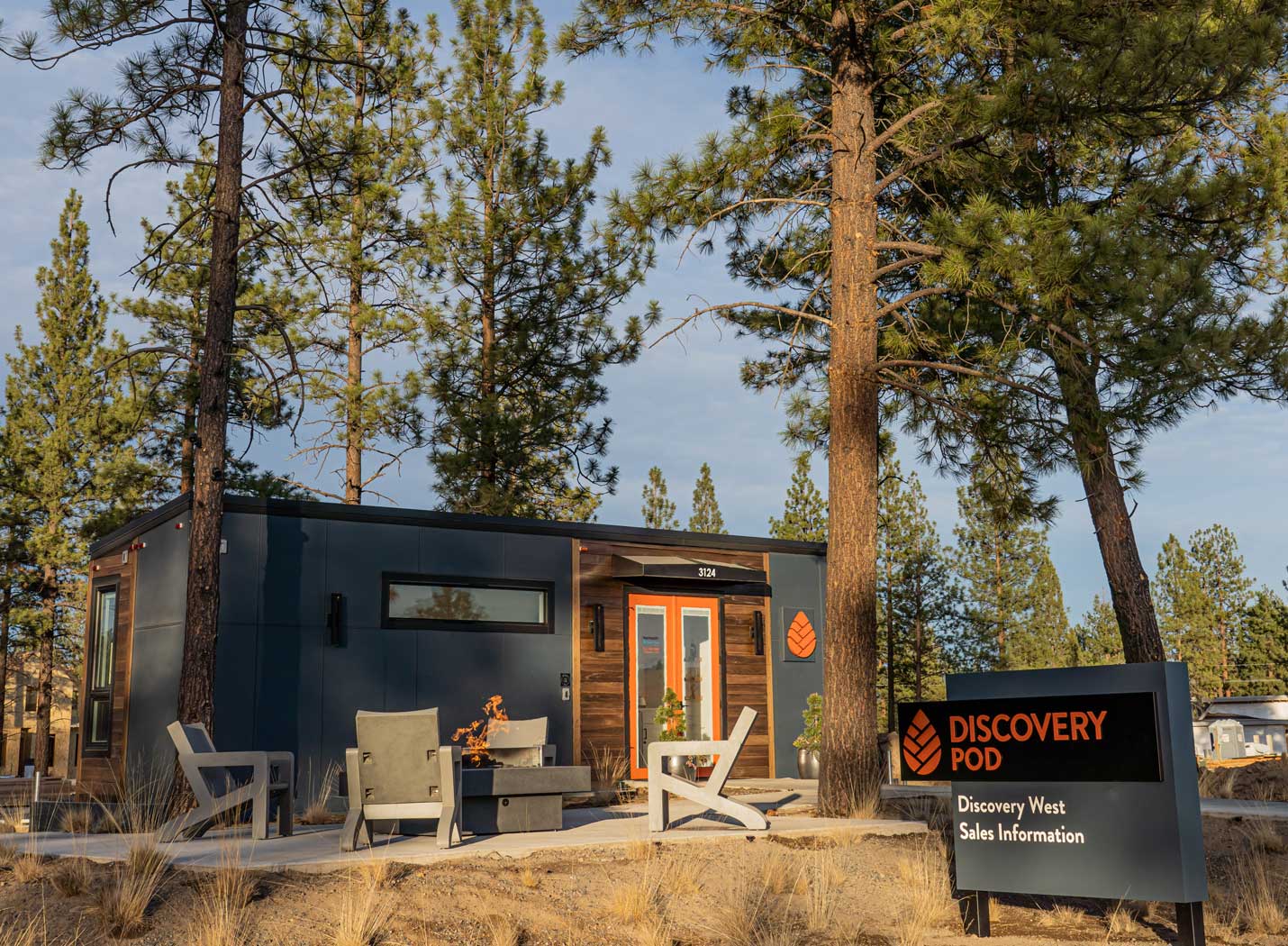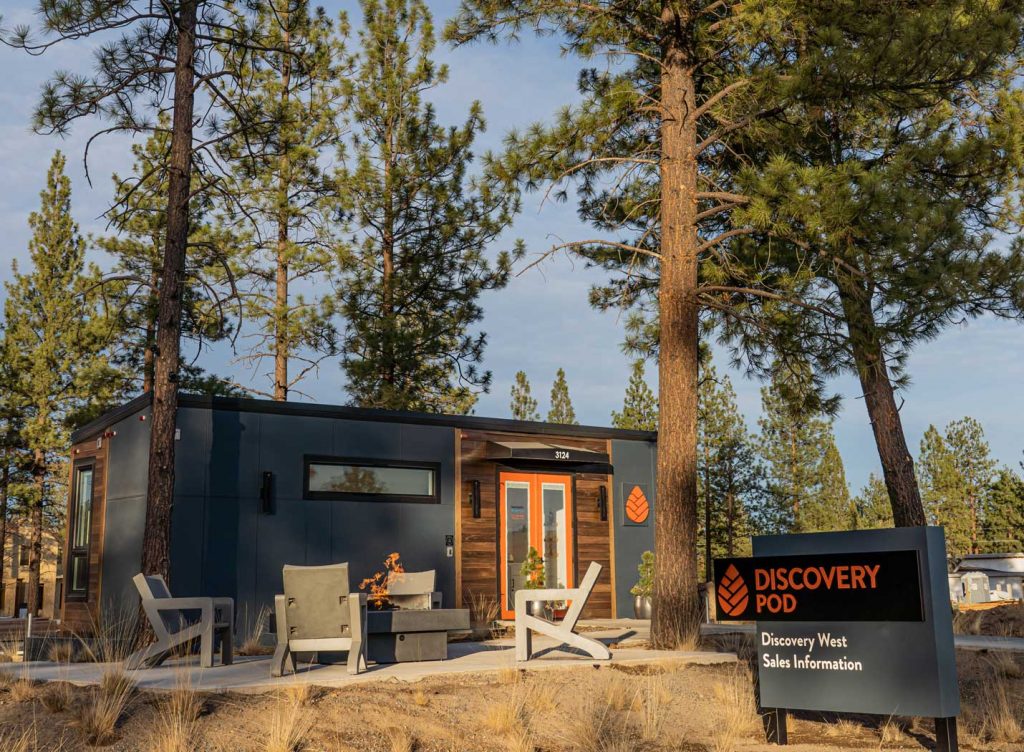 A third option is to custom design a tiny house to fit your work from home needs. The live-work tiny house (seen below) is a great example of what you can achieve by going the custom tiny house route. This tiny house was built for a couple that dreamed of traveling the country while running their own business out of their home on wheels. Again, a larger backyard office like this one could be a great investment and help you earn additional income from short-term rentals.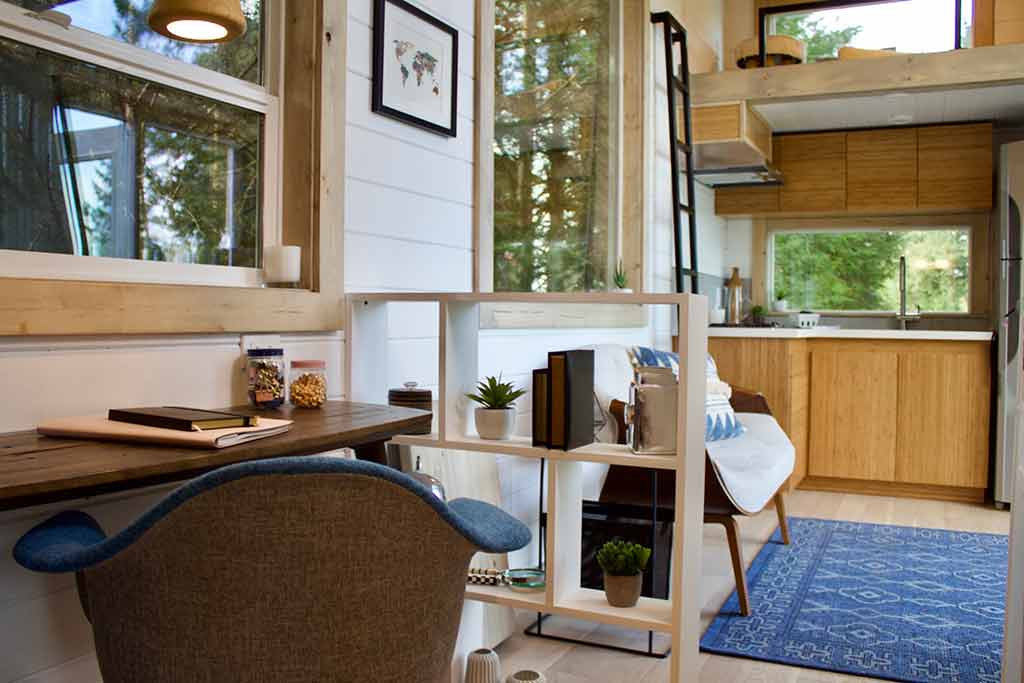 Key Considerations for the Perfect Backyard Office Space 
Before building or buying a structure for your backyard office, you should make a list of all your needs and wants for the space. While you brainstorm, you'll probably want to consider the following: 
– Is the backyard office structure legal? It's a good idea to look into your local zoning and building restrictions, and check with your neighborhood or homeowners association, if applicable. 
– Where should the backyard office be placed? You'll probably want to choose a flat, open area. If natural light is important, think about how you can place your office and windows for optimal lighting. 
– How will the backyard office be used? Do you want the space to serve multiple purposes or will it just be an office space and nothing more? 
– How large does the backyard office need to be? How many people should it be able to accommodate comfortably? How much storage space is needed? 
– What amenities or functionalities are needed? Do you want an attached bathroom, a kitchenette, a sound system, a television…?
– How can you make the space comfortable? Do you prefer to stand or sit while you work? Do you need heating and/or air conditioning? You want to be able to work comfortably for long periods of time. 
– Will the backyard office need to be soundproofed? 
– Is wifi needed? Can you use an extender and connect to your home's router or will you need a separate one? 
– Does it need to be mobile? We'll talk more about mobile backyard offices in the sections below, so read on!  
Design Inspiration for the Perfect Backyard Office or Studio
The Artist's Retreat (pictured below) is another example of a custom tiny house that was built for optimal work-life balance. This tiny house incorporates some of our favorite design ideas for a backyard office, including: 
Plenty of natural light. 

A desk with a view. 

A cozy reading nook. 

A flexible loft area that can be used for working, relaxation, or extra storage.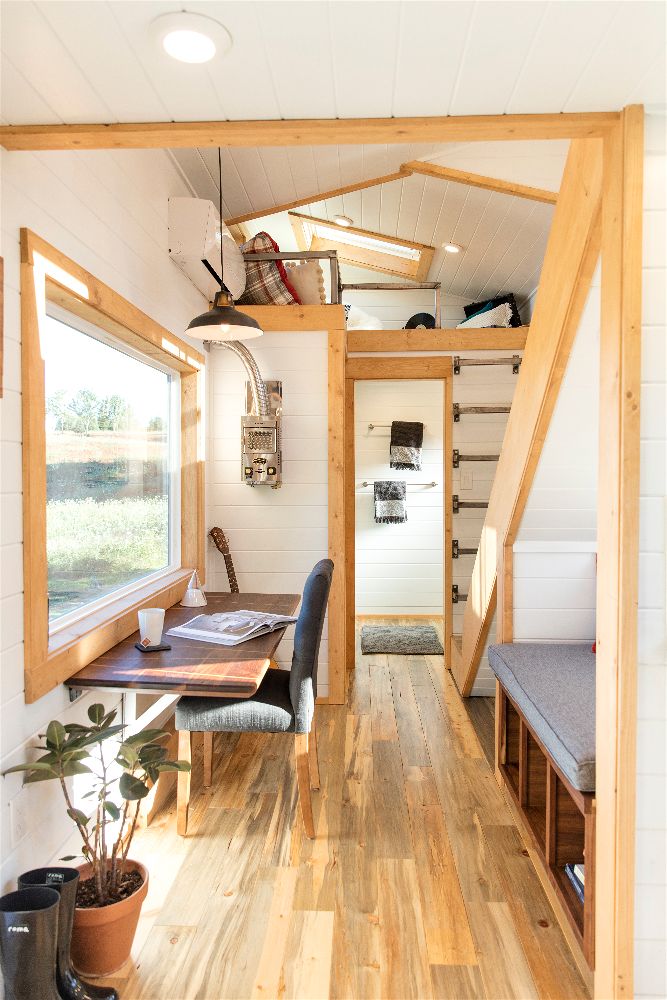 Create a Hybrid Indoor / Outdoor Office 
Another great thing about working in a tiny backyard office is that you can feel more connected to the outdoors than you would in a typical office or inside your main house. Studies show that more natural work environments can positively impact employee productivity, mental health, and overall wellness. 
Backyard offices often have lots of windows, plenty of natural light, and the chance to work with a view of the garden, trees, or any other nature visible from your backyard. Here are few more ways you can bring the outdoors into your backyard office: 
– Skylights: Adding a few skylights to your backyard office will bring in more natural light and make the space more inviting. 
– Garage-Style Doors: Incorporating a large garage-style door into your backyard office is a great way to create a hybrid indoor/outdoor space. This works especially well in warm climates and can help keep your work area cool and breezy.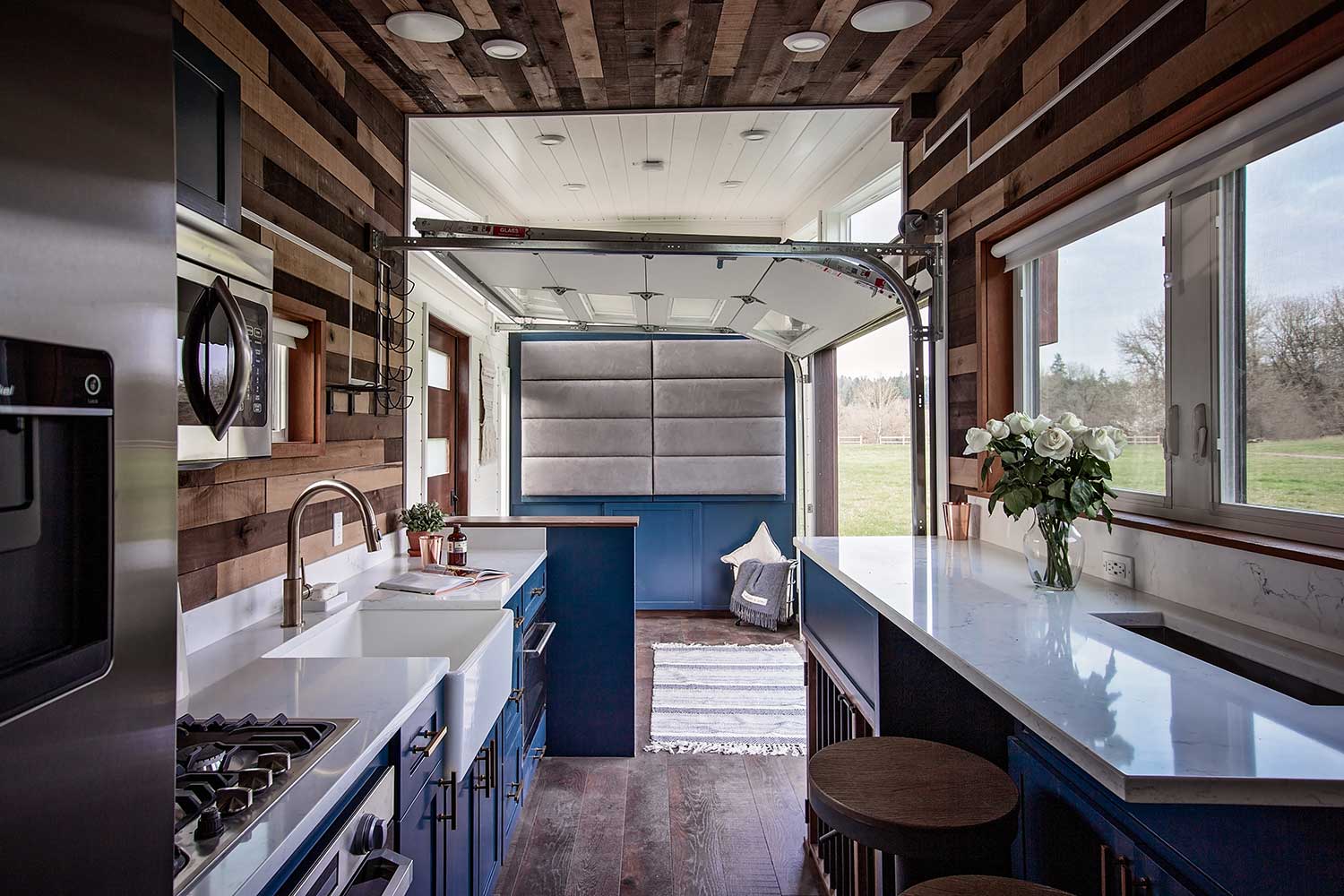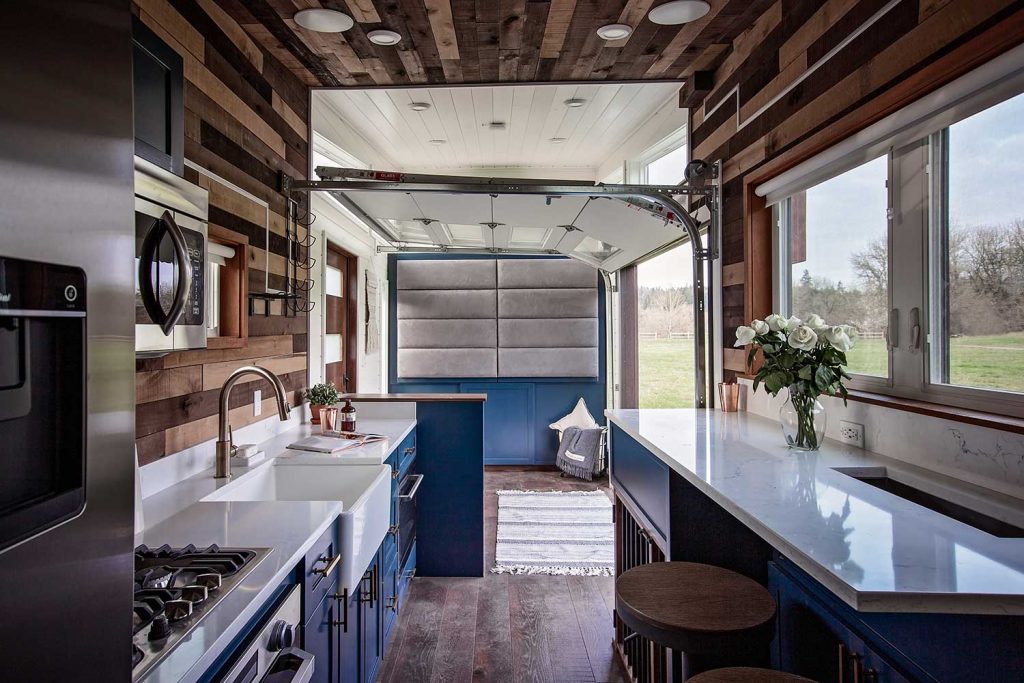 – A Rooftop Deck: Imagine sipping your coffee and answering emails on a sunny rooftop patio to start off your workday. Many of the tiny homes and offices we build make the most of unused rooftop space by adding a deck or patio up top.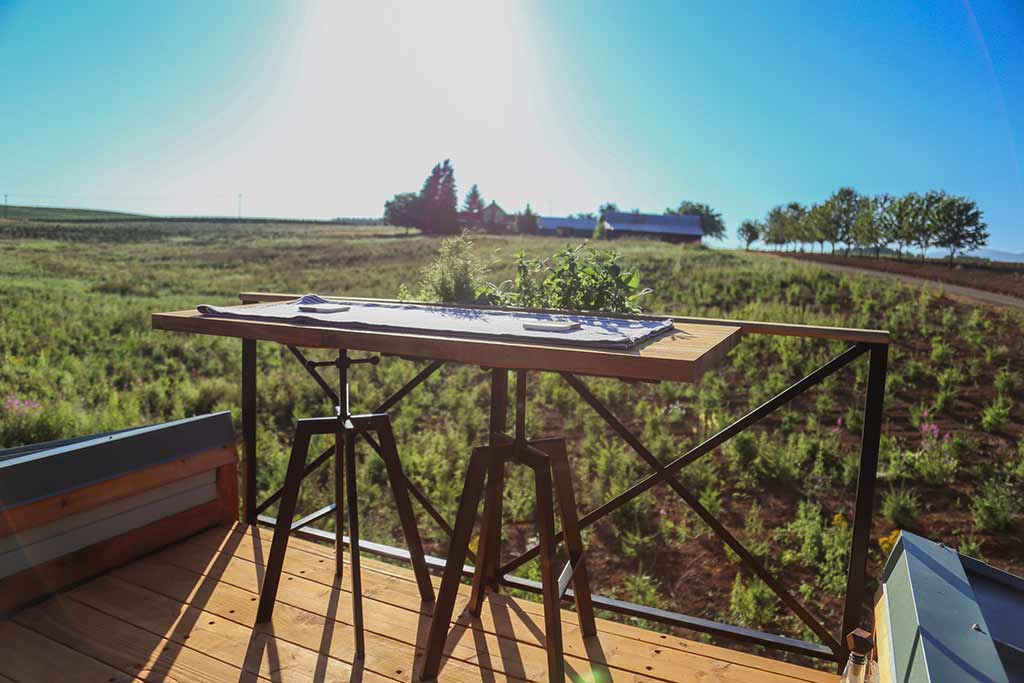 – Fold-Out or Hideaway Deck: Many tiny houses and offices on wheels have decks that fold up and down or can be rolled away when not in use. If not on wheels, the deck or patio can simply be added to the structure.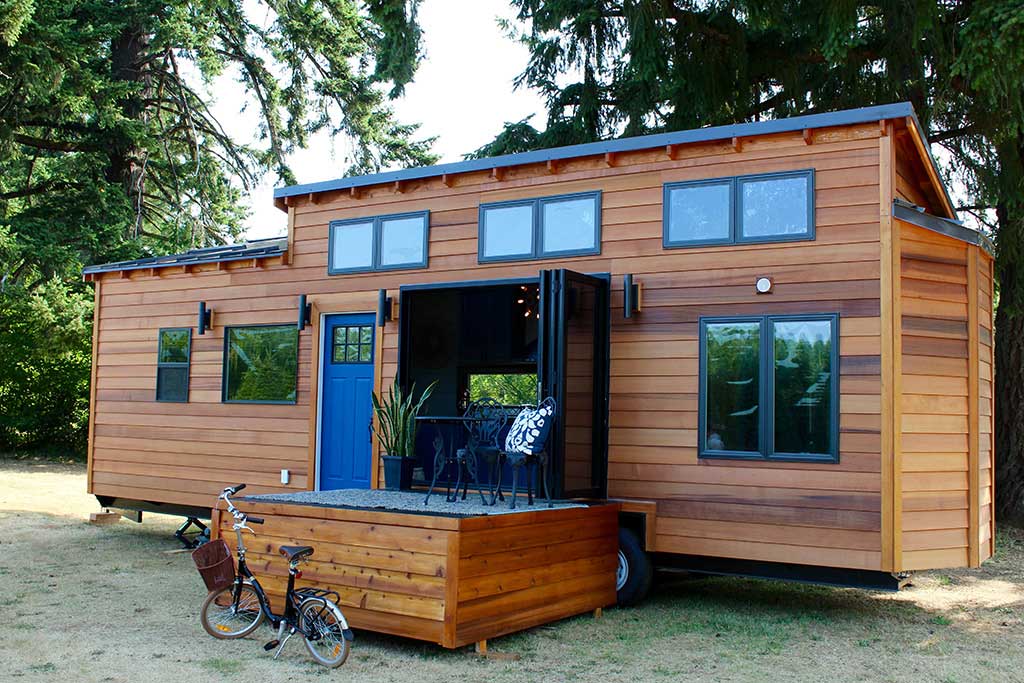 Take Your Office on the Road With a Portable Office 
Another thing to consider is whether or not you want your backyard office to be mobile. With a portable office or mobile tiny office on wheels, you can easily relocate your office to a new space later on, or even take it on the road with you! For some businesses, this flexibility is priceless. 
We have designed many custom spaces for commercial purposes, including mobile showrooms, design centers, office spaces, tasting rooms, immersive brand experiences on wheels, information centers… the list goes on! These commercial spaces can be created from shipping container conversions, tiny home spaces, trade show booths, food carts, and so much more. 
The custom-built tiny house slash donut shop on wheels (pictured below) is just one example of a portable live-work space for a business in the food industry.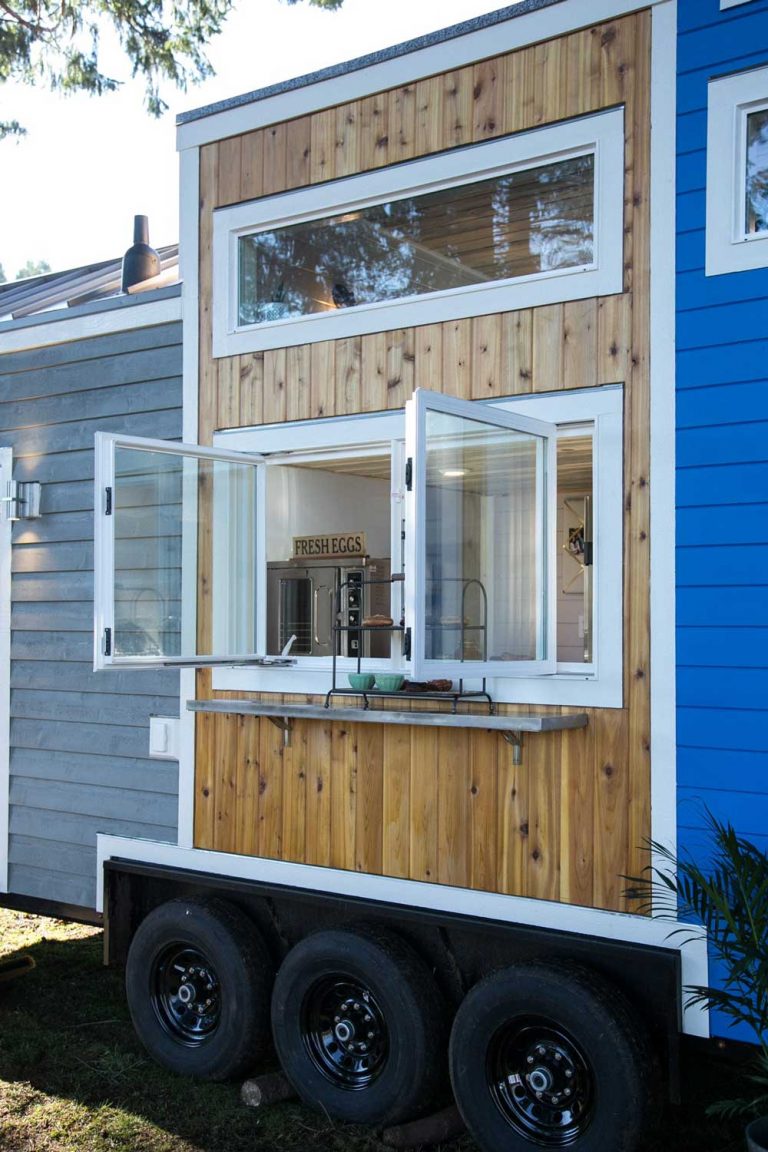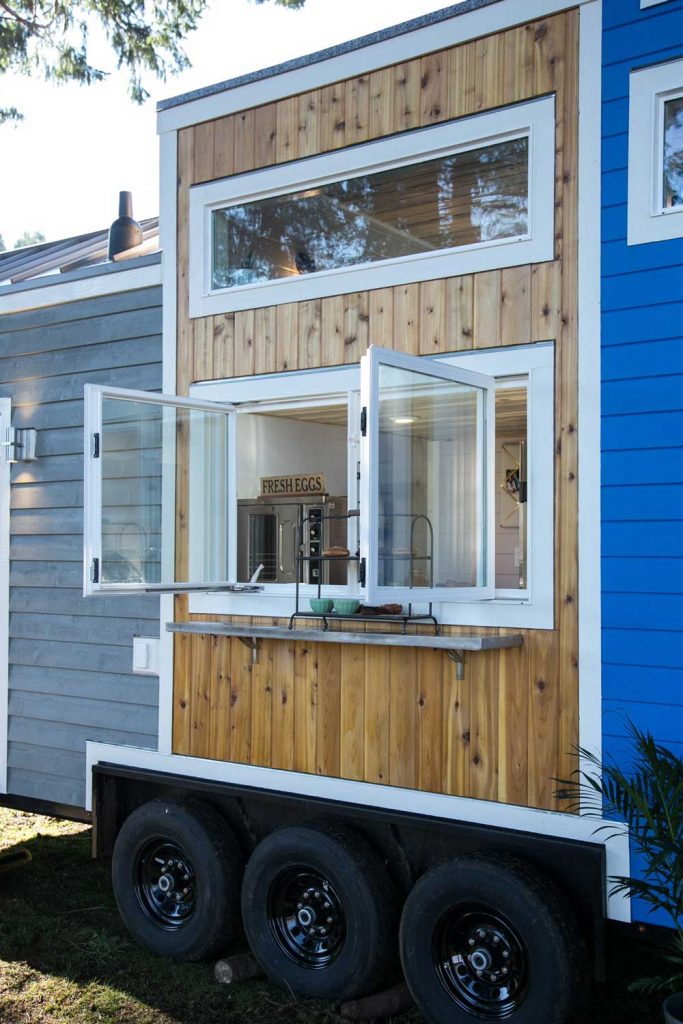 In the video below, you can peek inside another office on wheels that we recently built for a company in Bend, Oregon. We just love how this one turned out!
Designing a Backyard Office: Wrapping Up 
No matter what you're envisioning for your backyard office, we can bring it to life! We've built and designed backyard offices of all shapes and sizes – some on wheels and others on foundations, some designed just for working and others that serve multiple purposes. We offer both pre-designed backyard office spaces and custom solutions. Whether you're looking for an art studio slash guest suite or a mobile trade show booth slash office space, we'll apply our creativity and craftsmanship to build the perfect workspace for you and your business. 
Contact us today for a free backyard office consultation to get started, and you'll be working more comfortably and efficiently in no time!