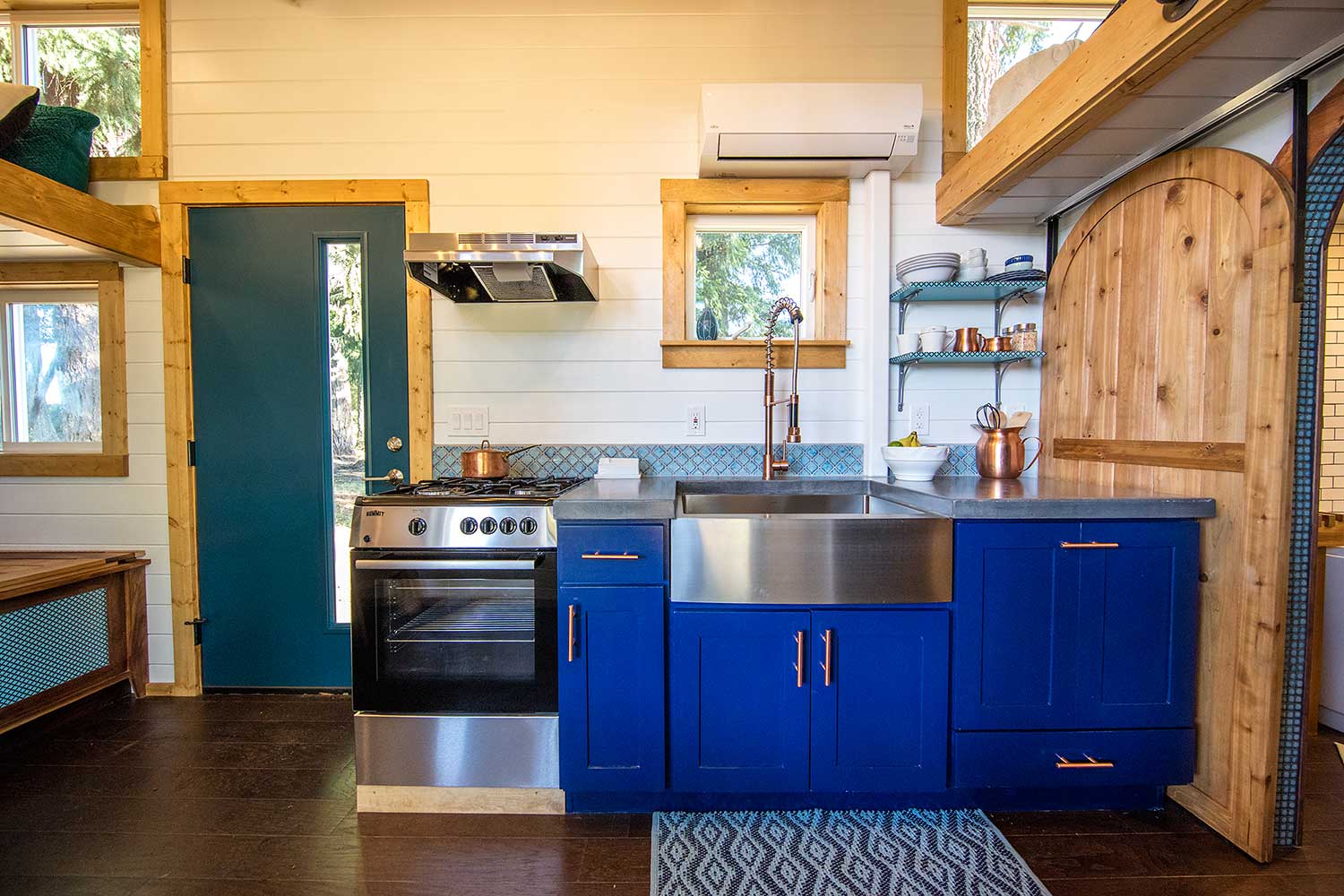 Mastering Your Minimalist Kitchen Design
Posted on
November 8, 2019
Research shows that the design and style of your home – from the paint colors, to the layout, to the lighting – can impact your mood and stress levels. According to the Mayo Clinic, too much clutter in your home can lead to stress, frequent distraction, and even lack of sleep. Tiny house living can improve your mental health and well-being, but not if it's full to the brim with stuff. In many tiny homes, the kitchen is a focal point or hearth of the home, typically visible and open to the main living space. Therefore, it's important that your tiny house kitchen is not only functional, but also a calming, welcoming and happy space.
Minimalist Kitchen Design
A minimalist kitchen design is a great way to de-clutter and simplify both your living space and head space. From monochrome color-schemes, to simple hardware, to sleek, modern cabinets and appliances, minimalist kitchen design trends have been on the rise this year. A minimalist kitchen design is a great look for kitchens of all shapes and sizes, but especially tiny kitchens. A clean, sleek look will make your tiny home appear larger and less cramped or cluttered.
The Essentials of a Minimalist Kitchen
Below are a few key design elements to consider when designing your tiny, minimalist kitchen:
First and foremost, you should pare down on extra stuff and clutter. How many bowls and plates do you actually need? Which appliances do you regularly use and which can you live without?
Second, the layout of the kitchen is important. Consider arranging cabinets and counters under windows for more light and openness, and keep the kitchen open to other living spaces to make the space feel larger.
Storage is a key component of any kitchen. In fact, clever and concealed storage was one of the top design trends this year. With limited space, you'll need to get creative: hang pots and pans from the ceiling, add hooks or other storage on the ends of cabinets, incorporate drawers rather than open cabinets for better organization and easy access, and consider floor to ceiling storage to maximize on space.
Color is another key aspect of the kitchen to consider. Light, bright colors, especially whites, can make the space appear larger and more airy. A monochrome color scheme can provide a modern, minimalist feel.
Think about where you might be able to fit in or conceal extra counter space. Consider creative elements such as a fold-away island or bar for extra space that can double as a dining area.
Another minimalist kitchen trend is to choose panel ready appliances that match the cabinets and blend in seamlessly.
Add the Finishing Touches
To complete the minimalist kitchen look, consider these finishing touches:
Skip the hardware on your kitchen cabinets for a more streamlined, sleek look. In addition to looking great, this design trend can also save you money!
Another creative idea is to install folding wood pocket doors or sliding panels to conceal an entire counter and cabinet area against the wall.
Add innovative details like an over-the-sink cutting board, specifically designed for tiny kitchens.
Finish the kitchen off with warm touches in order to avoid making the space too sterile – photos, art, rugs and plants can help provide a more cozy, inviting and homey feeling
Wrapping Up
There are endless minimalist design ideas and innovative storage solutions to consider when designing your tiny house kitchen. If you would like to explore them further with one of our tiny home design specialists, click to get started and request a free consultation!