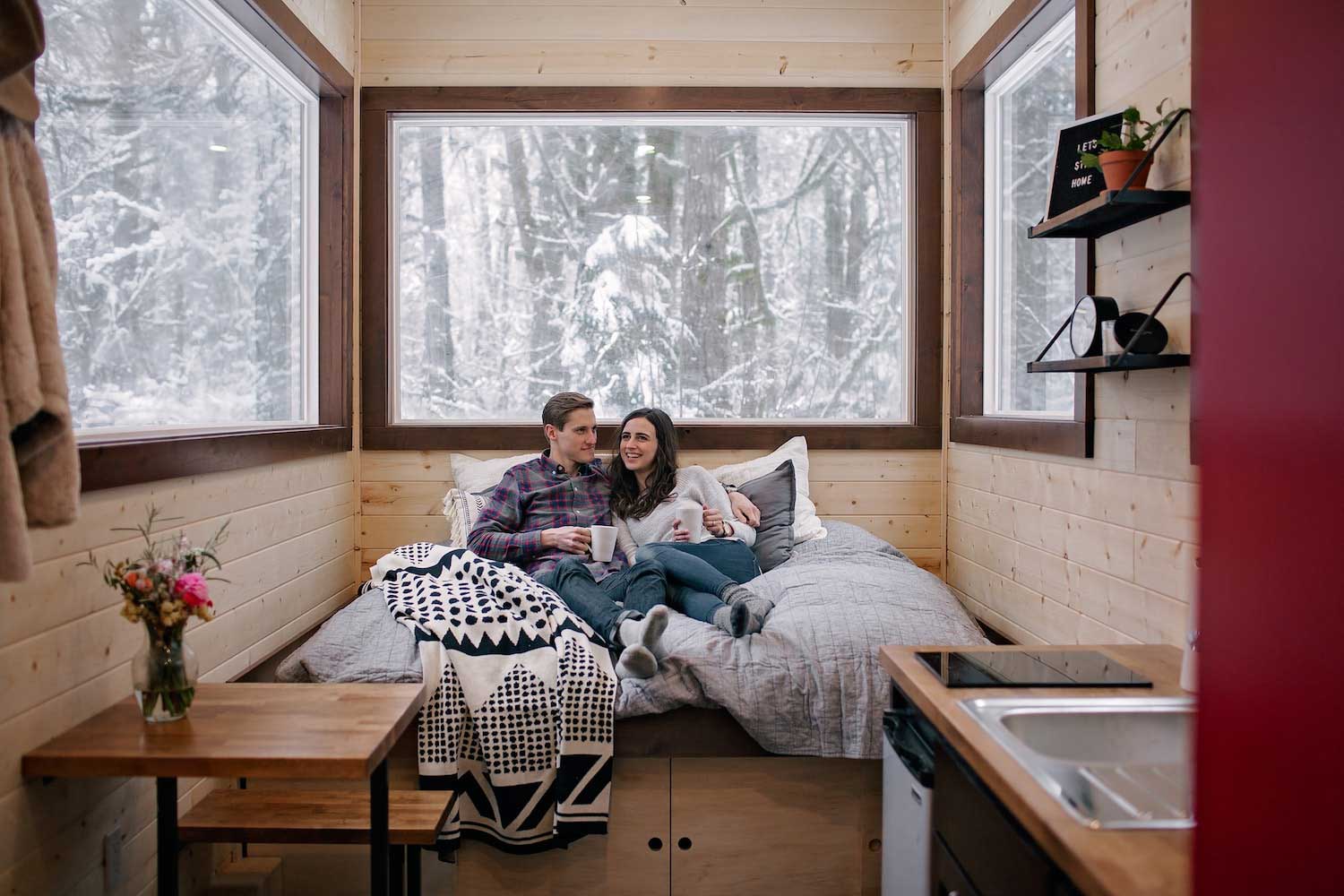 Small Cabins 101: Designing, Building, Buying & More
A cabin can be defined as a small shelter or house, made of wood and situated in a wild or remote area. According to this definition, cabins are meant to be small and remote, so tiny cabins just make sense!
Tiny houses in general offer incredible benefits, but tiny cabins in particular can help you capitalize on some of the key reasons you probably decided to downsize in the first place: to travel with ease, experience the outdoors, and live more simply and stress-free. Whether you are looking to live in a tiny cabin full-time or as a vacation home, this article will help you make your dream cabin a reality!
The Benefits of Small Cabins
For those looking to buy a cabin, one of the key questions is location: should your cabin be situated on a beautiful lake, a snowy mountain, in the forest or at the beach? But with a tiny cabin on wheels, you don't have to decide! Because most tiny homes are designed to be self-sufficient, you can even live or travel off the grid, and park your tiny cabin in places a regular-sized cabin could never be built.
Another incredible benefit of living or vacationing in a tiny cabin is the incentive to spend less time inside and more time outdoors, enjoying the incredible nature around you. Many studies have found that spending more time in nature is directly correlated with improved mental and physical health, including: better short term memory, improved concentration, sharper thinking and creativity, reduced stress and improved mental health, among other benefits.
Living or staying in a tiny cabin also affords the opportunity to spend more time and connect with your loved ones, whether that be your partner, friends, or the whole family. Closer quarters encourage you to play, share meals, and go on more adventures together – creating lasting memories and strengthening your relationships.
Finally, cabins are known for being intimate and cozy. A tiny cabin or tiny cottage house takes this feeling to a whole new level! What could be more snug and comfortable?

Maximizing Space When Designing Small Cabin Plans
When designing any tiny home, you need to think carefully about how you can maximize your limited space to meet your goals and suit your needs.
With a cabin especially, you should take advantage of the outdoors as much as possible, and extend your living space into indoor/outdoor areas. For example, a glass garage door or other large movable windows/doors can help open up your living space into the outdoors. Many tiny homes include fold-out decks and awnings, providing more space to enjoy the outdoors and take in the views. Others include rooftop decks to soak up the sun or gaze at the stars. You could add some fun features such as an outdoor shower or a place for grilling. Get creative: This tiny adventure cabin even has a rock wall built on the exterior of the home!
With a mobile tiny cabin, chances are you will be spending a lot of time outdoors in different climates, so you'll have to get creative in how you store and hide your gear. Try to fit in as much storage as possible when designing the layout – think hidden storage compartments in the staircase, pull out trunks under benches or beds, outdoor racks for your bikes or boards… Working with experienced, tiny cabin builders will certainly help you come up with creative storage solutions!

Small Cabins: Interior Design Tips 
When it comes to designing and decorating your small cabin, there are no set rules to follow. You can go for a classic cabin aesthetic or get creative and think outside of the box. 
If you're stuck and need some inspiration, below are some more interior design ideas that can help you turn a tiny house into a cozy cabin: 
– Natural Materials: Many small cabins incorporate natural materials like river rock or reclaimed wood into their interior design. Using repurposed or recycled materials adds personality and charm to your cabin and is an environmentally-friendly choice.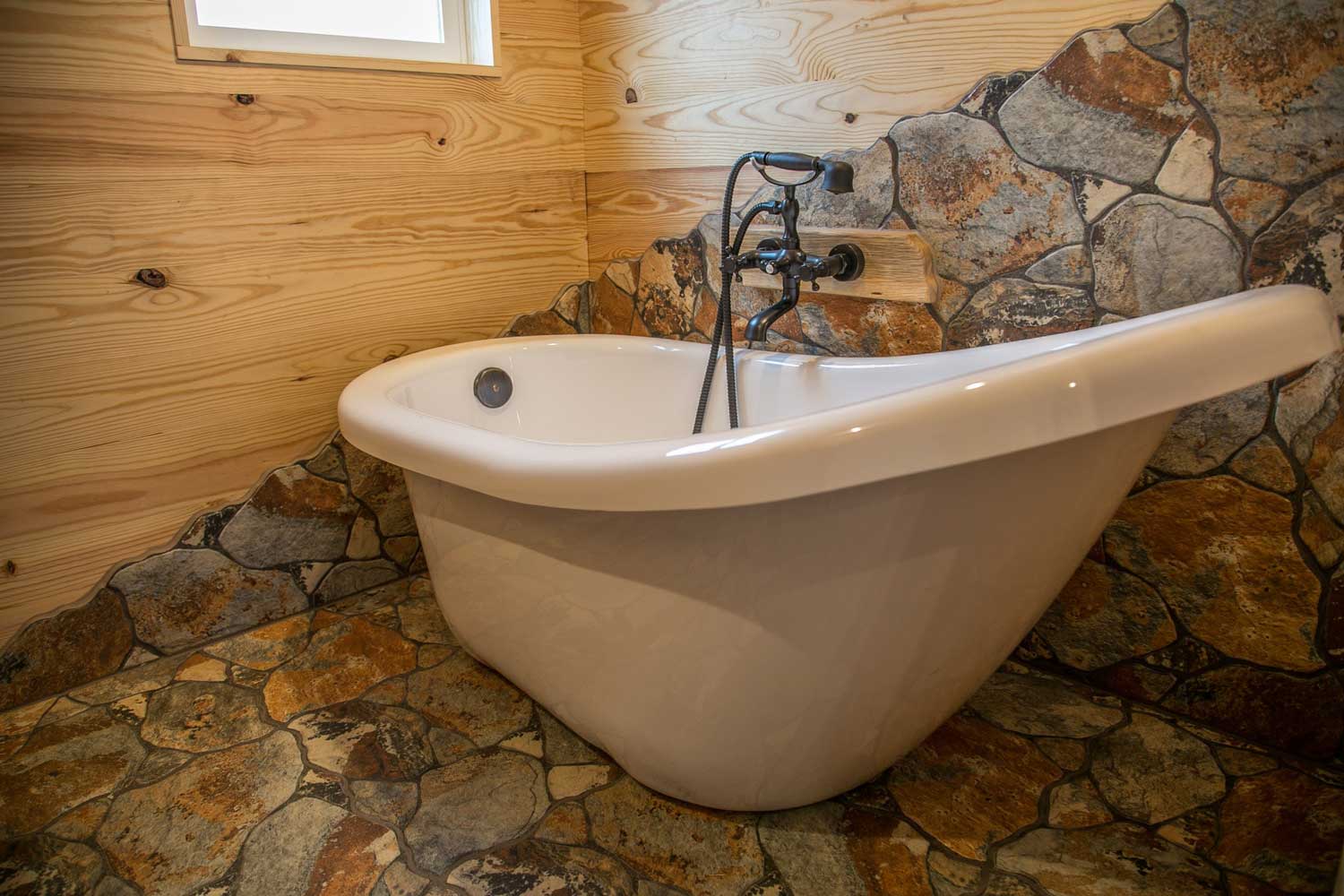 – Classic Wood Walls: If you're going for the classic cozy cabin feeling, wood interior walls are an obvious choice. 
– Rustic Sliding Doors: Sliding wood doors have become quite popular in recent years. They're charming and rustic, so they look great in small cabins. 
– Vintage Furniture/Decorations: Think outside the box when it comes to furnishing and decorating your cabin. Vintage camping gear, antlers, old maps… these kinds of things work great for rustic cabin decor. 
– Wood-Burning Stove: A wood-burning stove or some sort of fireplace will amp up the cozy factor and make your small space truly feel like a cabin. If you don't have space for a fireplace or stove, lots of candles can help set the mood. 
– Warm Finishing Touches: Make your living space as cozy as possible with warm blankets, rugs, and pillows galore. Faux fur throws fit well with the classic cabin aesthetic.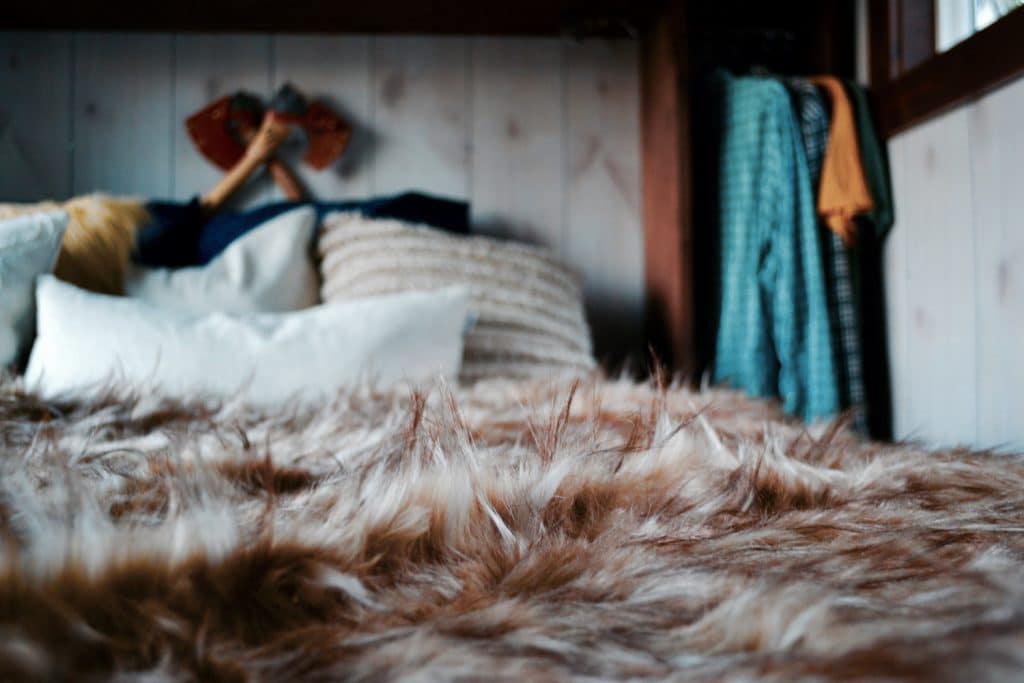 – Inspiration From the Outdoors: If you're feeling uninspired, turn your attention to the outdoors and get ideas from your surrounding environment. Rather than stand in contrast with your surroundings, go with an interior color palette that enhances the natural beauty around you. Think dark greens and rich browns for a cabin in the woods, or cool blues and sandy hues for a cabin by the beach. 
– Inspiration From Your Hobbies: Another way to get inspired is to think about your favorite things to do and work them into your cabin design. How do you spend your time when you're staying in a cozy cabin? If you like to read the day away, maybe add a bookcase full of your favorite books and a cozy reading nook. If you love to hike, maybe you could decorate with some vintage hiking equipment or trail maps. This way, your cabin will truly feel like your own personal escape!
– Cozy Sleeping Lofts: Lofts just make sense in small cabins. We'll explore more loft ideas in the section below, so read on! 

Small Cabin Plans with Loft Areas
Lofts are a popular choice for tiny cabins in order to maximize space. Because heat rises, they are also extra cozy and snug for snowy, winter weather!
Tiny cabins are often built in the form of an A-frame, which offers the perfect space for a loft. Most lofts are used for master bedrooms. Depending on the layout, small lofts can sleep four or more people. A loft doesn't have to be for sleeping though; it could also be used for extra storage or for a hangout nook.
One popular choice with tiny cabin lofts is to include a skylight or two – this will make the space appear larger, and who needs a television when you can stargaze every night!
Now let's take a look at some tiny cabins to give you an idea of all that's possible… 

Get Inspired by These Small Cabins on Wheels
When designing a tiny cabin, there are many different styles and aesthetics to choose from. Below are a few examples of different tiny cabins on wheels to help get you inspired: 
– Tiny Log Cabin: At just 300 square feet, this cabin is certainly tiny, but the open layout helps create a comfortable living space that doesn't feel cramped at all. The overall design aesthetic is simple and classic, but with some special details. We especially love the artistic entryway made of natural materials. 
– Tiny Rustic Cabin: What details make a tiny house feel like a cabin? In this tiny cabin, a wood paneling interior, two cozy sleeping lofts, a rock fireplace, and an antler chandelier, help create a rustic look and feel. 
– Modern Mountain Tiny House: This small lakeside cabin has a more modern and luxurious vibe, proving that not all cabins have to be rustic. Natural design elements such as a modern rock fireplace, river rock tile accents, and live-edge, English walnut fold-down table complete the look. 
– The Huntsman Cabin: This tiny cabin has a more masculine aesthetic, thanks to a combination of darker colors like navy and brown with lots of natural wood accents. Details like a custom hand-built record player with a built in sound system and receiver make the space feel extra special and personalized. 
These are just a few real-world examples of what's possible when designing a tiny cabin. When you go the custom route and hand select every detail of the cabin from the ground up, the result will be something completely unique that meets all of your needs.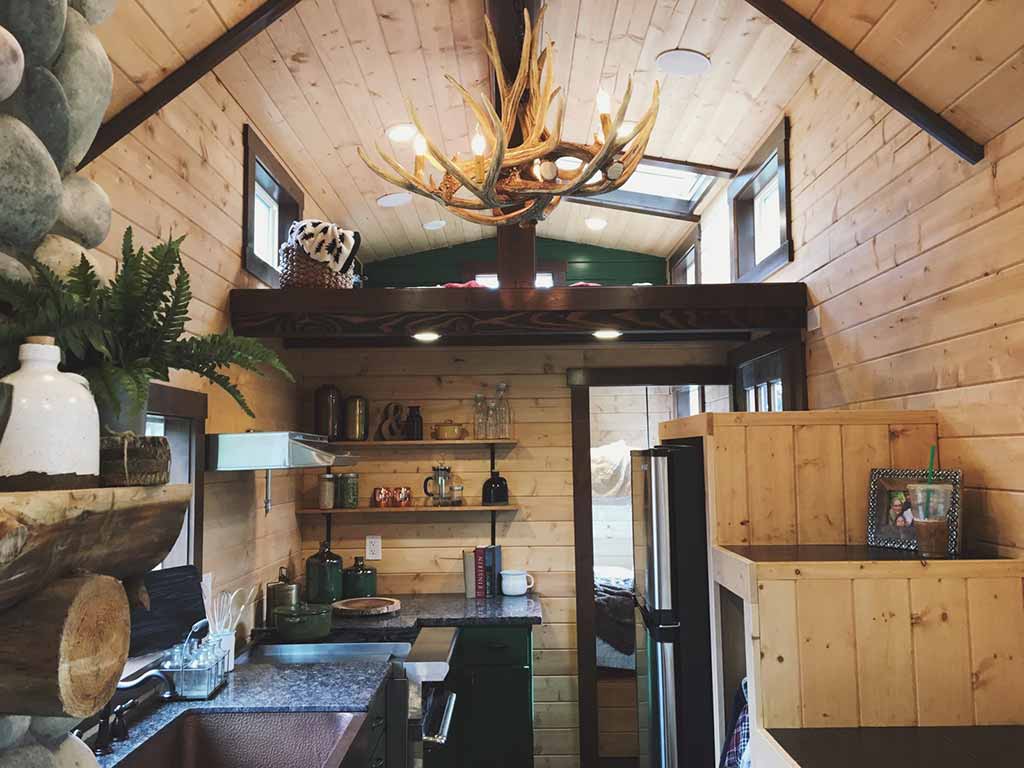 Tips for Finding Small Cabin Builders 
Once you've got your ideas in order, it's time to bring your vision to life! You can either go the DIY route or hire a professional tiny home builder. Building the cabin yourself can save you money, but will take up a lot of time and resources. Unless you really know what you're doing or are ready to take on a huge project, we recommend leaving the work up to the professionals. 
As you search for the right tiny cabin builder, be sure to look at examples of their past work, ask lot's of questions, and check up on their references. With some companies, you can kick things off with a free tiny cabin consultation, which is a great chance to get to know the builders a bit more and see if they're the right fit for your project. 
Below are a few key considerations and questions to keep in mind during your search: 
– Does the company build/sell the kind of tiny cabin you're looking for? If you're looking to design a cabin from the ground up, you'll want to hire a company that specializes in custom tiny cabins. Some companies also offer prefabricated or pre-built tiny cabins, others sell pre-owned tiny cabins, and some (like Tiny Heirloom) have it all! 
– How many projects have they completed in the past? They should be able to provide you with many references and examples of completed tiny cabin projects. 
– How many projects do they take on at one time? 
– What certifications and accreditations do they have? 
– Are they properly licensed and insured? Do they have all the required building permits? 
– What does their design and build process look like? How many qualified man hours do they put into each build? How long do their cabin builds typically take? How thorough is their quality control testing? You can get an idea of what a tiny cabin design process looks like on our website. 
– Can they deliver your tiny home to you? 
– Do they offer any warranties? 
– Does the builder offer in-house financing options to help make your dreams possible? For example, at Tiny Heirloom, we have financing available for clients in all 50 United States, with loans for as little as 10% – 20% down and terms from 15 to 20 years O.A.C. for qualified applicants. 
Overall, you should also look out for standout communication and customer service. You'll want to hire someone who is easy to get a hold of and will go above and beyond to ensure a smooth and stress-free building or buying experience. 

Free Consultation with our Small Cabin Builders
Are you ready to take the next step? Contact Tiny Heirloom for a free consultation, and our team of experienced, professional tiny home builders will answer any questions you may have and help you explore your tiny cabin options. 
We've built countless tiny cabins of all shapes, sizes, and styles and can't wait to bring your unique vision to life!