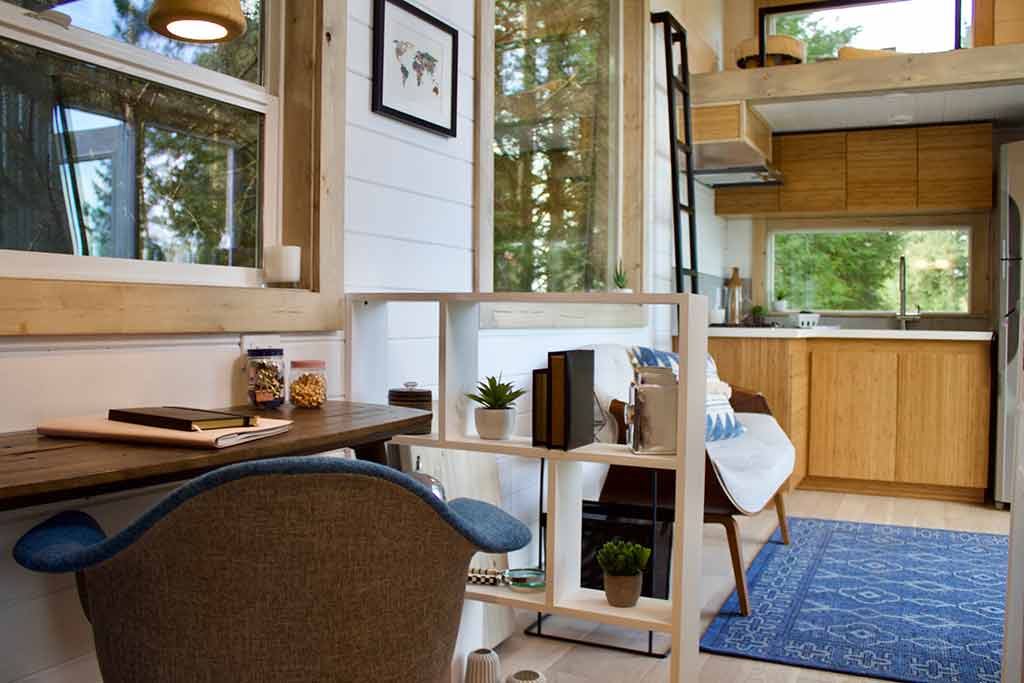 Studio Shed Ideas for the Inspired Creative Spirit!
Posted on
August 19, 2021
Imagine having a tiny studio in your backyard, a sacred space where you can escape the chaos of everyday life and focus on your craft. Whether you're a painter, dancer, or drummer, investing in a personal studio can provide you with the opportunity to elevate your skills and maximize your creativity and productivity. 
What is a Studio Shed? Let's Explore Your Options! 
Studio sheds come in many different shapes, sizes, and styles. They range from simple, rustic sheds to hybrid studio-slash-tiny-houses full of amenities and comforts of home. The point is to have a space that encourages creativity and productivity, but that looks vastly different for different people in different trades. For example, a dancer might need a large open studio with plenty of mirrors and storage for training equipment, while a painter might require abundant natural light and a comfortable place to work for long periods of time. 
Below, we've listed some of the most popular types of studio sheds so that you can start to think about the various possibilities:

– Tiny House Studio: A tiny house studio comes with great amenities that can make your working environment much more comfortable and convenient. With a kitchen and bathroom, for example, you won't have to take as many breaks to go back and forth between your main living area and your studio and you can get more done. What's more, you can use the space for other purposes, such as housing guests or even to live in full time. Check out our tiny house plans to uncover the possibilities. 
– Backyard Studio Shed: Many people choose to place their studio shed right in their very own backyard. Much like a tiny backyard office, this creates a space that is separate from the main living area, dedicated to working and creating, yet still incredibly convenient. 
– Studio Shed Conversion: Some people have existing structures, such as a garage, tool shed, or garden shed, that can be converted into studios with a little creativity and investment. 
– Mobile Studio Shed: A mobile studio is a great option for those who travel frequently or live a more nomadic lifestyle. Even if you just move houses, you can bring your studio along with you! Tiny houses on wheels make for great mobile studios, providing a place to live and work while you're on the road. 
– Custom Studio Shed: Investing in a custom-built studio is the best way to ensure your new studio meets all of your specific needs and matches your personal taste. You can add custom storage to maximize functionality and select amenities to maximize comfort. At the end of the day, you'll have a studio that's truly one of a kind. 
A Tiny House Works Great as a Backyard Studio Shed 
As you can see, there are many different options for your backyard studio. We believe that a tiny house studio is the best option for many people based on the following key benefits: 
– Ultimate Convenience: With your studio located in your very own backyard, just steps away from your main living area, you'll spend less time commuting and more time creating. With a full bathroom and kitchen in your studio, you won't have to go back and forth between your main living area and your place of work during breaks. 
– Expanded Living Space: Adding a tiny house to your backyard will also expand your living space and give you more room for other activities and needs, beyond your primary use of a studio space. For example, when not in use as a studio, the tiny house can be used to house guests. 
– Additional Income: When you're not using the tiny house as a studio, there's opportunity to earn additional income through short-term or long-term rentals. Or, if you have extra rooms in the tiny house studio that you don't need, you could rent them out to other professionals or artists looking for an office or studio space. 
– Added Value: Adding a tiny house studio to your property is a great way to increase its overall value. 
– Potential Savings: Working from a tiny house studio can also help you cut down on costs and save money over time. Not only will you avoid having to rent out a studio, but you'll also avoid additional costs like gas, parking fees, and eating out. 
– Personalize & Customize: With a custom tiny house as a studio, you can personalize the space and make it your very own. 
– Greater Flexibility: A tiny house studio is versatile and can serve many purposes, so it's a smart long-term investment. It can even serve as your full-time living space down the road if your circumstances change. 
Key Considerations for Your Tiny House Shed Studio 
There are many important things to consider when planning your tiny house studio shed. First and foremost, consider the location, placement, and orientation of the structure. As previously mentioned, the placement of a studio shed in your backyard comes with many benefits. But exactly where you place the studio within your backyard matters. To maximize your creativity, try to place your studio somewhere with optimal views; Studies show that working in front of a window that looks out to a nice view or vista will deliver more psychological benefits and boost creativity more than looking out onto a blank wall. 
Color is another important consideration. Cool colors like blues and greens can help make the space feel like it's expanding outward, which helps maximize mental space and creativity. Additionally, monochromatic color schemes that use various shades of the same color can help evoke a sense of harmony, minimize distractions, and improve focus. Colors and shades inspired by nature work well in studios, especially for those who tend to find inspiration from the natural world. 
If you'll be spending lots of time working or creating in your studio, you will also want to consider comfort and ergonomics. For example, if you spend your days drawing, a height-adjustable drafting table that allows you to sit or stand will give you more options and help maximize your comfort. When you go with a custom studio, you can take things a step further and incorporate some custom ergonomic furniture into the mix.  
Don't forget about storage! No matter your craft, you will likely have some high-quality supplies, tools, and materials that you'll want to keep safe, secure, and easy to access while you work. With custom storage solutions to fit your exact needs, you will experience a renewed sense of organization and efficiency. 
Lastly, when designing your dream studio, be sure to think about more than just the areas where you'll work. What other spaces do you want or need in order to maximize your comfort and productivity? Do you want to include a bathroom or kitchenette? Or maybe a little reading nook where you can relax during breaks and seek inspiration?  
Tips for Creating the Perfect Tiny Art Studio Shed 
What will your studio shed be used for? Ideally, you'll want to design the space to meet the specific needs of your trade or craft. Below are a few design tips to help you create the perfect art studio. 
Natural light is an important aspect of any living space, but it is absolutely essential for an art studio. Think about how you can incorporate big windows, skylights, french doors, or even a large garage-style door to bring more natural light into your studio space. If you'll be working in the evening or have limited natural light, be sure to add plenty of bright lighting as well. 
Depending on what kind of art you'll be doing, things can get messy quickly. That's why it's best to choose surface materials that are easy to clean and maintain. 
Tiny Music Studio Shed Inspiration 
Or maybe your studio shed will be used for musical purposes. If so, here are some design ideas to help you make the perfect music
 studio:

– Sound-Proof Walls: You may want to invest in soundproof walls so that you can play music at all hours of the day and night without disrupting your family or neighbors. 
– Comfortable Nooks: You probably won't need to sit at a desk all day if you're a musician, so be sure to give yourself plenty of cozy spaces and nooks where you can sit and play music comfortably for long periods of time. 
– Custom Storage for Instruments: Hang your instruments on the wall and they can double as art/decor for your studio! 
– Sound Systems: If you're composing music or playing instruments, you are likely listening to a lot of music as well, so you'll probably want to include a high-quality sound system in your studio. 
Need Help Finding a Studio Shed? We're Here to Help! 
No matter what kind of studio you're looking for, our team of experienced tiny home builders and designers are here to help bring your vision to life. Whether you're an artist, musician, dancer, or any other kind of creator, we have countless ideas and examples from past projects to share with you to help get you inspired! To learn more or get started, sign up for a free consultation today.