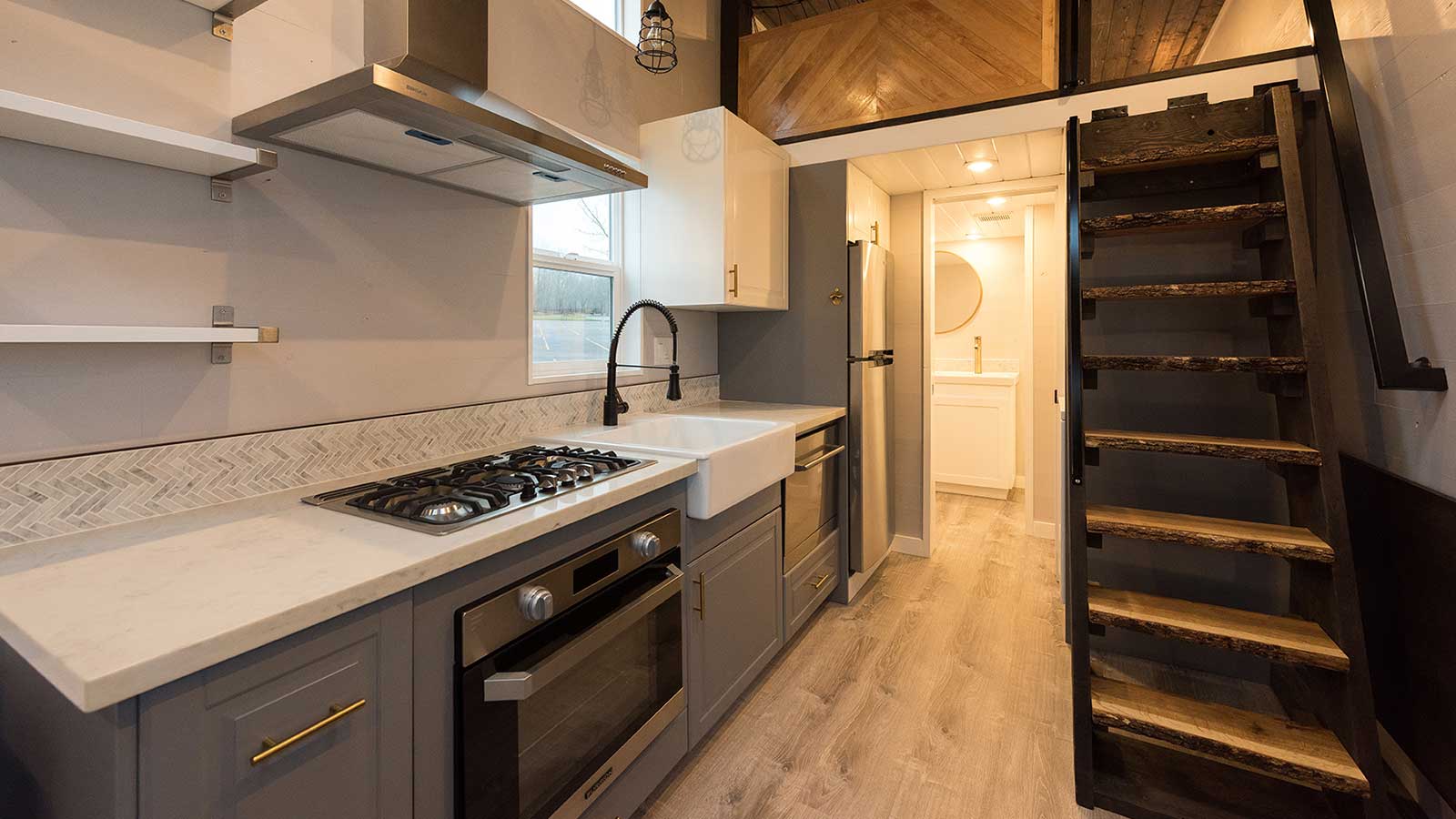 2 Bedroom Tiny House Ideas & Inspiration
When you picture a tiny house, you might find it difficult to imagine two separate bedrooms. Where do they fit? And what might you have to sacrifice in the process? 
Well, we're here to prove that a 2 bedroom tiny house not only exists but can look incredible and feel comfortable. 
This article is full of tiny house bedroom ideas, tips, and examples to get your creative juices flowing. At the end of the day though, there's nothing quite like sitting down with a tiny house builder for a one-on-one consultation to really dive deep into your layout options. We've built tiny houses of all shapes and sizes, including countless 2 bedroom tiny houses, so if at any point you need more ideas or advice, we're here to help! 
Innovative Tiny House Bedroom Ideas
When it comes to fitting two bedrooms into your tiny house, it's good to think outside the box. Sleeping areas don't have to look like a traditional bedroom with four walls and a door in order to be comfortable and functional. That being said, it's certainly possible to fit two traditional bedrooms into a larger tiny house, though you may need to sacrifice some other luxuries. 
Below, you'll find a wide range of tiny house sleeping solutions to consider, some classic and others more innovative: 
Sleeping Lofts: Lofted bedrooms are a great way to maximize limited space in a tiny house and create more bedrooms or sleeping areas. We'll get into more specific loft ideas in the section below.  
Enclosed Bedrooms: Of course, lofts aren't for everyone. Some people prefer a space they can stand up in, or one that's easier to get in and out of. Sometimes, lofts aren't safe for young children or the elderly. Luckily, with a little creativity, ground-floor bedrooms can be worked into your tiny house layout. We'll show some examples of what's possible in the sections below. 
Murphy Beds: If you want to create a convertible sleeping area that serves multiple purposes, consider a hidden Murphy bed that folds down from the wall. A bedroom with a Murphy bed can easily be used as an office, studio, or another living area during the daytime. 
Trundle / Roll Out Beds: A pull-out or roll-out bed like the one here is an innovative way to work more beds into your tiny house. It's the perfect place to accommodate a guest! 
Convertible Sofa Bed: More and more tiny houses are incorporating modular furniture, like sofas, that can be quickly rearranged to form a sleeping area. 
Dinette Beds: Commonly found in RVs, you can also design a dinette that quickly and easily converts into an additional bed. 
Daybeds: There are also many daybeds that can serve as both living room seating and a sleeping area. 
Elevator Lift Beds: These beds can be raised manually or via remote control. When raised, they make use of underused overhead space. When lowered, they provide a roomy and comfortable sleeping area that does not feel claustrophobic. 
Fold-Down Bunk Beds: A bunk bed that folds down flat against the wall when not in use is a great way to fit extra sleeping areas into your tiny house. This is a perfect solution for families with kids. 
Floor Beds: In other countries, such as Japan, floor beds are a common feature of many houses and studio apartments. These simple, yet comfortable beds can be folded up and put away when not in use. 
Under-Bed Storage: If you're using up more space in your tiny house for sleeping areas, you'll need to think extra long and hard about storage space. Consider adding some under-bed storage to at least one of your tiny house bedrooms. You can go with either a bed that has a base with built-in storage drawers and compartments or a mattress that can be raised up to access extra storage space underneath.
As you can see, when you get creative, almost any part of your tiny house can serve as a sleeping area.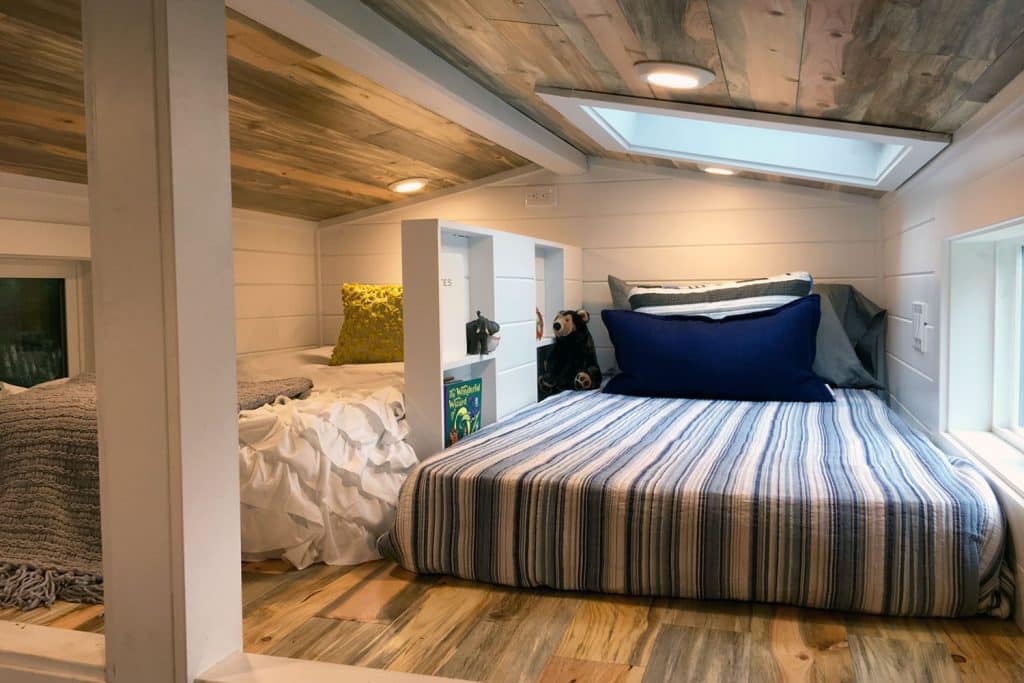 Make the Most of Your Tiny House Loft
Because lofts are such a popular option for tiny house bedrooms, let's dive a little deeper and explore some sleeping loft ideas. With some careful planning, you can make a tiny house loft feel like a luxurious suite. 
Many people are hesitant to go with a loft for a bedroom because they don't want to climb up and down a ladder. Fortunately, there are lots of other options available. Check out these tiny house staircase ideas to see what's possible. 
Skylights and windows work wonders in any loft, helping to open up space and make it feel less cramped. They also bring in beautiful natural lighting. Just imagine falling asleep under a canopy of stars and waking up with the sunrise! 
Adding a divider to a loft is an easy way to turn one sleeping area into two separate spaces with a bit more privacy. This is a great option for families with children. 
Under-bed storage isn't great for lofts because of limited headroom. But you can add storage compartments that also serve as bedside tables on either side of the bed and/or create a multi-purpose headboard that stores books or other items. Another option is to create a built-in cabinet or closet along one side of the bed. 
Custom 2 Bedroom Tiny Homes to Inspire 
Now, let's look at some custom examples of a 2 bedroom tiny house to find some inspiration.
The Contempo: The dual lofts in this tiny home are quite spacious. The master loft is large enough for a queen bed and has a pony wall to help create a feeling of privacy. The double staircase makes both lofts easy to access and incorporates lots of hidden storage space. 
The Rocky Mountain Home: This tiny home features two sleeping lofts, one for the parents and one for the kids. The children's loft creatively includes a divider that helps create two semi-private areas and also acts as storage space for toys and decor. 
The Beachy Bohemian: Another great option for families, this tiny home includes one sleeping loft for adults and a bunk room on the ground floor with two bunk beds for children (or guests). 
The Rustic Farmhouse: This tiny home has a private, enclosed bedroom with hidden under-bed storage, plus a sleeping loft with two beds for children or guests. 
The Tiny Traveling Dream Home: Perfect for families with younger children, this tiny house has a children's bedroom on the main floor that is big enough for two and a cozy sleeping loft for the adults. 
The Kingston: This tiny home features a more traditional, enclosed bedroom for privacy and a sleeping loft with two beds. The main bedroom feels like a private escape. 
The custom tiny homes featured above were all designed and built by Tiny Heirloom to meet the needs of a wide range of families. When you go custom, the possibilities are truly endless!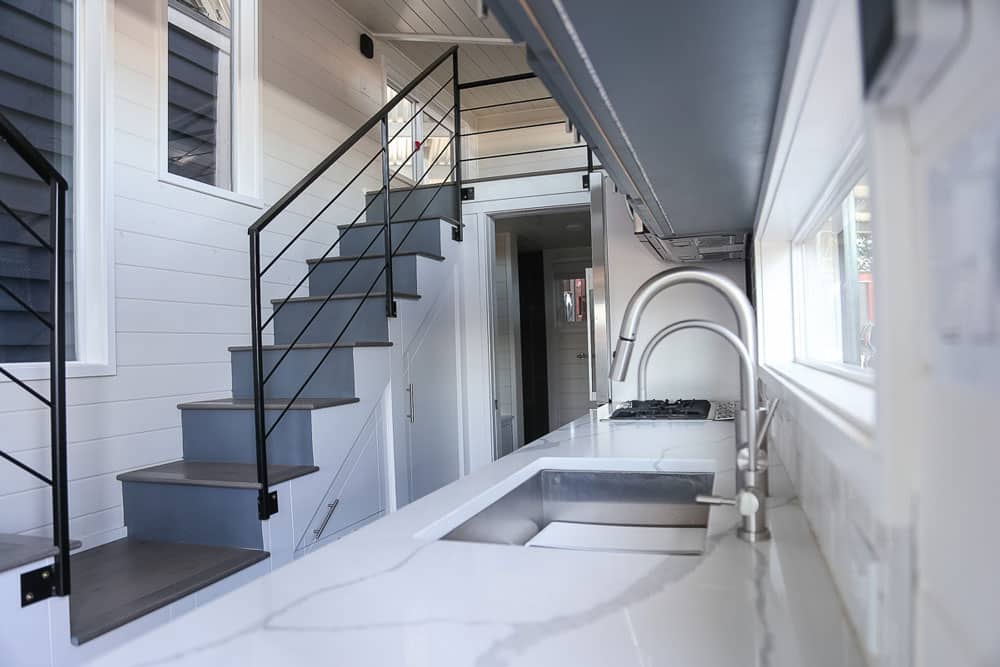 2 Bedroom Tiny House Floor Plans 
After years of designing custom tiny homes, we created a Signature Series line of pre-designed tiny houses for sale. A couple of the models in this line of tiny homes feature two or more bedrooms: 
– The Heritage: Need more than two bedrooms? It's possible! This tiny house, with one main bedroom on the ground floor and two sleeping lofts, has room to comfortably sleep six. If you don't need both lofts for sleeping, you can use them for storage or create a cozy nook for work or relaxation. 
– The Majesty: This tiny house model has a main bedroom and one full-sized closet that can be used as a second enclosed sleeping area. This is a good option if you're looking for multiple bedrooms with more privacy.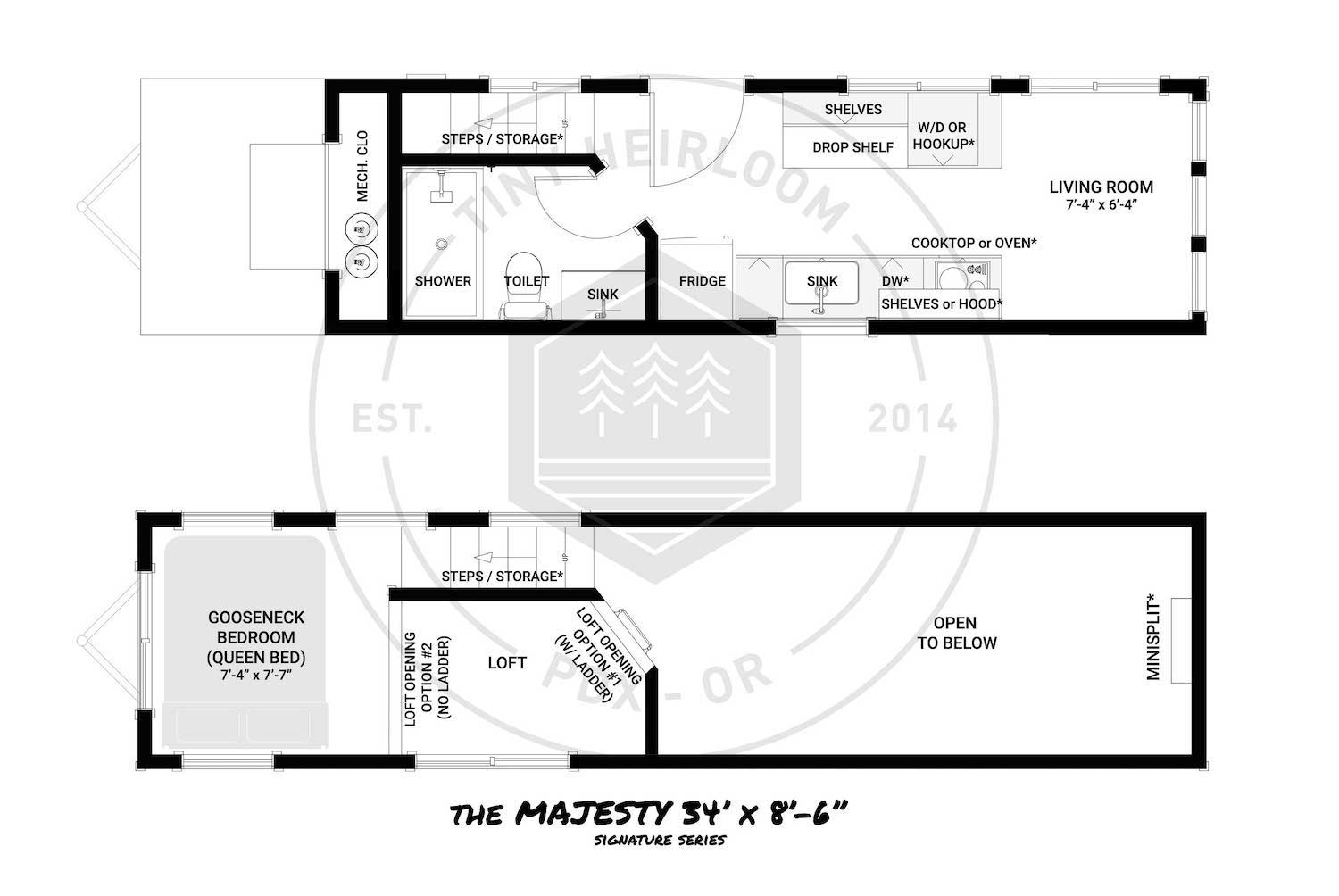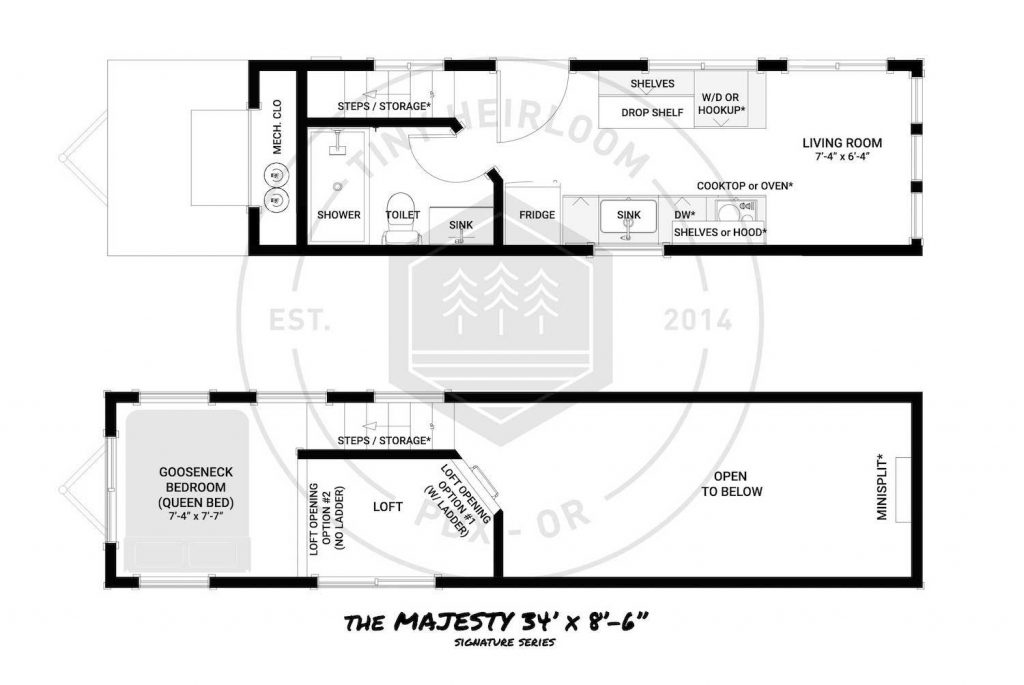 The two tiny houses above are pre-designed, but there's still plenty of room for customization!
Finishing Touches to Maximize Space 
When it comes to decorating your 2 bedroom tiny house, you'll want to do whatever you can to make it feel larger and more inviting. 
Lighter paint colors are often preferred because they can make small rooms feel more airy and spacious. Natural lighting also helps make bedrooms feel less dark and cramped. To keep the space serene, avoid mixing too many bold colors or patterns. 
Another creative idea is to replace your headboard with a mirror. Headboards can take up unnecessary space (unless they are multi-purpose and serve as hidden storage). Instead, a mirror can help create an illusion of more space and reflect natural light. 
Lastly, wall-mounted lighting can help maximize limited space in a small bedroom and brighten up the area even more. Without lamps on the floor or side tables, you'll free up room for other things. 
2 Bedroom Tiny House Recap
As you can see, fitting two bedrooms into a tiny house is certainly possible. And with some careful planning and creativity, you can come up with two sleeping areas that are functional, comfortable, and even downright luxurious. 
With our team of tiny house experts on your side, you'll be amazed by all that's possible. Tiny living can and does, work for families of all sizes and lifestyles. Some choose to purchase one of the pre-designed tiny houses from our Signature Series, while others prefer to customize their new home from top to bottom. 
Whatever your needs may be, we're here to make tiny living work for YOU. To get started, contact us today for your free tiny house consultation