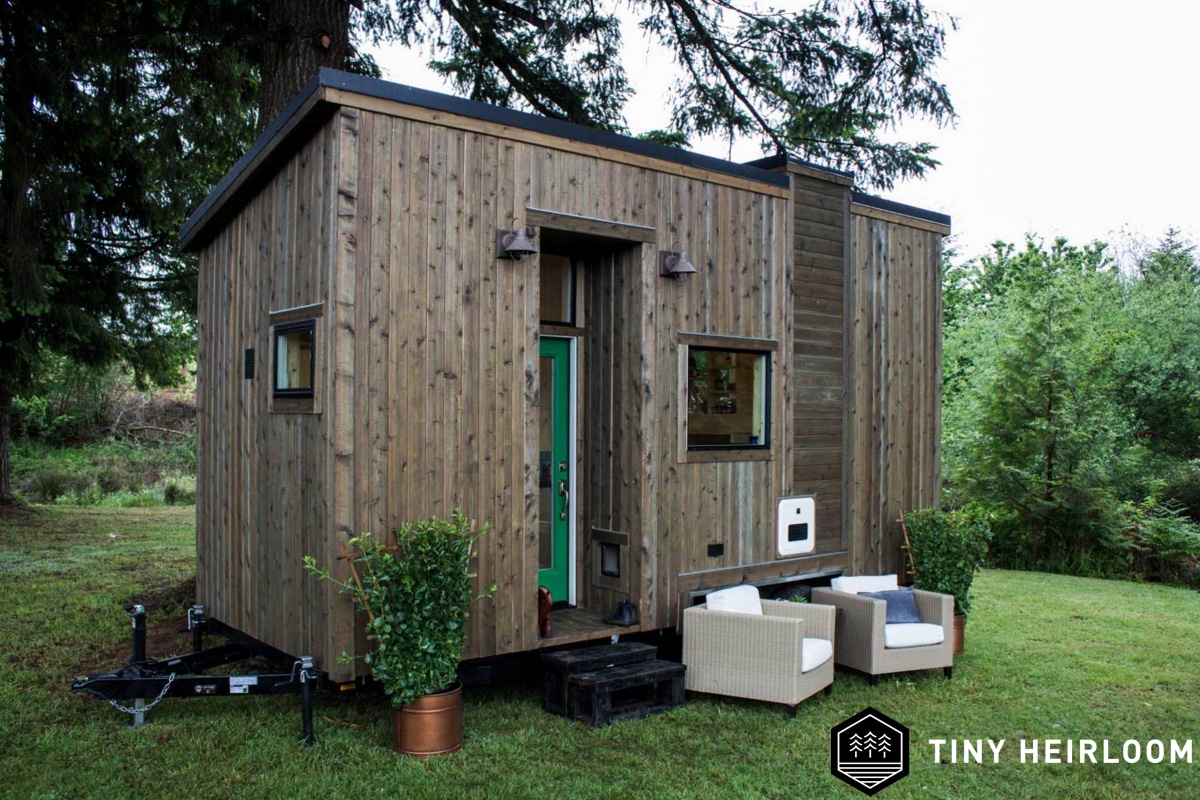 Getting a Tiny Home as a Guest House
Posted on
December 10, 2020
Adding a guest house, often classified as an Accessory Dwelling Unit or ADU, onto an existing property is a growing trend across the nation. One study found that property listings mentioning ADUs increased by an average of 8.6% per year between 2009 and 2019.
In recent years, more and more cities across the United States have improved legislation and zoning laws, making guest houses and ADUs easier to build than ever before. So if you're thinking about adding a guest house to your backyard, there's no time like the present. Let's explore your options!
Introduction to Guest House Plans & Options 
By definition, a guest house is a smaller house used to accommodate guests that is separate from but on the grounds of a larger, main house. Guest houses come in a wide range of shapes, sizes, and styles. Some of the most popular types of guest houses include:
Tiny houses on wheels
Tiny houses built on foundations or ADUs
Prefab or modular guest houses or tiny houses
Pre-owned tiny houses
Garage conversions
Above-garage or "workshop" guest houses
"Bump out" guest houses attached to the main house
Basement apartments, often referred to as "granny flats"
The best type of guest house for you will depend on your location, the zoning and building laws there, your personal preference, and your specific needs and goals.
Tiny Homes Work Great as Guest Houses
Tiny homes work beautifully as guest houses because they are compact yet comfortable, and can easily be added on to many properties. When you go with a tiny home as a guest house, you can take advantage of the following benefits:
– Adding a tiny guest house to your property will add substantial value to your home. Depending on your location and the quality of the build, ADUs have the potential to increase your property value by as much as 20-30 percent! When the time comes to sell, your tiny guest house will be a unique and exciting draw for many buyers.
– You'll have a space to host guests that allows for more privacy (for both your family and the guests). Because most tiny homes come fully-equipped with a bathroom and kitchen, guests will have everything they need and you won't have to share facilities in the main house with them. More privacy can help avoid awkward situations, minimize the potential for conflict, and make everyone feel more comfortable.
– You can free up space in your main home for other uses. With a separate tiny guest house, you can turn that empty guest bedroom into a fitness studio, home office, art studio, library, or anything else you might dream of adding to your home.
– When not in use, your tiny guest house can serve other purposes and act as a separate office space, study, or studio where you can work or create in peace and quiet.
– A tiny guest house is a great option for those who want a place for aging parents or elders to stay or live. A guest house will allow you to keep a close eye on your loved ones and care for them easily if need be, yet still give them their own space and allow them to maintain a sense of independence.
– Similarly, you can house adult children who decide to move home after college. You can spend more quality time together as a family, but they can still have their privacy and gain more independence.
– More tiny guest houses can also be seen as part of the solution to the affordable housing crisis, as they can be used to provide cheaper housing options in some neighborhoods.
– You'll also have the potential to earn additional income from renting out your tiny guest house. You can either do short-term rentals on sites like Airbnb, or long-term rentals.
– If you buy a tiny guest house on wheels, you can hit the road and travel with it! And when the time comes to move, you can bring it with you.
Because tiny homes have grown so popular in recent years, there are nearly endless options and styles to choose from. You can choose between a custom-built tiny guest house, a prefabricated one, or a preowned one. We will explore these options in more detail in the sections below. Additionally, you can choose between a tiny house on a foundation, often referred to as an ADU, or a traveling tiny house on wheels.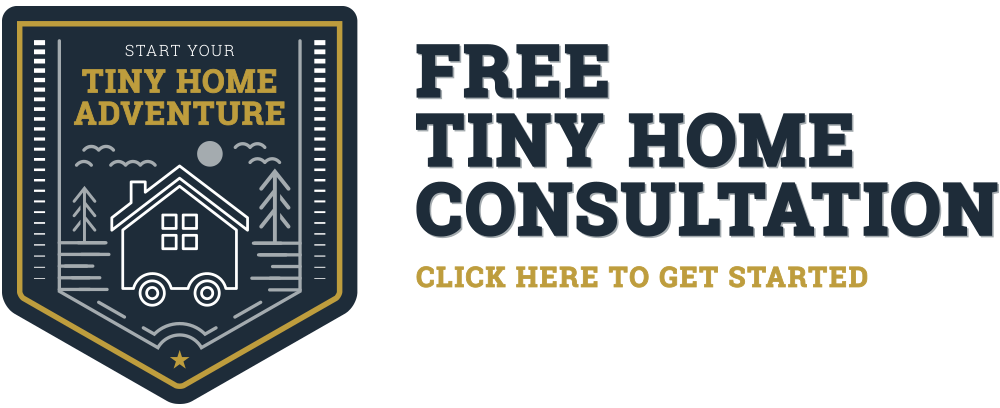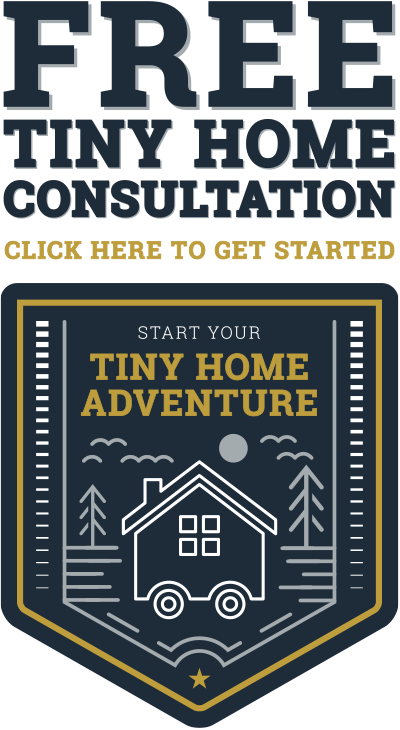 Tiny Guest House Ideas to Get You Inspired
When it comes to the design of your new guest house, you should think about how it will be used. Will it house family members or guests? Will they be with you for short-term or long-term stays? Keep in mind who will be staying there when you design the space and consider any special needs they may have. For example, if the guest house is intended to house an elderly parent, you might want to make the space ADA and wheelchair accessible.
The best way to ensure a tiny house meets all the needs of your guests is to customize it from top to bottom. With a custom guest house, the possibilities are truly endless. You can create a home away from home for your loved ones where they feel completely comfortable and have everything they need. To see what's possible and find inspiration for your guest house, explore our gallery of custom tiny homes.
You should also think about your backyard as an extension of the guest house space. Be sure to plan for pathways with sufficient lighting so that guests can safely travel between the main house and the guest house at night if need be. If the guest house is really small, you can create beautiful, welcoming spaces outdoors to share with your guests. Think firepits, outdoor kitchens, hot tubs, sun decks… Make the most of the space you have available!
Would a Prefab Guest House Fit Your Needs? 
Prefabricated ("prefab") or manufactured tiny homes are an increasingly popular option for guest houses. Prefab homes come with many attractive benefits, including an estimated savings of 15% on total construction costs and approximately 60% reduction in construction time compared to traditional building methods. Since prefab tiny homes are so much smaller than regular homes, the potential to save money and time reaches a whole new level. If you need to build a guest house quickly or on a budget, a prefab tiny home is a perfect solution.
Many tiny home builders offer prefab tiny homes in a range of sizes, styles, and budgets to suit anyone looking to quickly and easily make the transition to tiny living, while still purchasing a quality-build, brand-new home. Depending on your preference and building restrictions in your area, you can opt for either a prefab tiny home on a foundation or a prefab tiny home on wheels. Plus, many prefab tiny homes are customizable, with many options for upgrades and modifications to suit your personal needs and individual style.
Modular Guest Houses Aren't All Created Equal 
It's important to note that modular or prefab homes vary greatly in terms of their quality and craftsmanship. There are some extremely cheap modular tiny homes for sale, but you get what you pay for!
For example, with a quick Google search, you can find a whole host of Amazon tiny homes available for purchase with just a click of a button. Although this may seem like a convenient way to get started on your tiny guest house, there are lots of associated risks. For one, many of these so-called homes are not actually suitable for full-time living. In fact, the majority do not come with all the crucial elements of a home, lacking roofing materials, foundation materials, insulation, bathrooms, kitchens, plumbing, and/or electrical wiring.
Rather than waste your money on something risky that requires so much additional work, you can purchase a prefab/modular guest house from a professional and trusted tiny home builder. That way, you can rest assured that it will come with everything you want and need in a guest house.
Ready to Get Started on Your New Tiny Guest House? 
At Tiny Heirloom, we offer a wide range of options that would work perfectly for your new guest house. You can choose from tiny homes on wheels, ADUs, custom tiny homes, prefab tiny homes, and pre-owned tiny homes of countless shapes, sizes, prices, and styles. No matter what you're looking for in a guest house, our team of expert designers and builders will bring your vision to life. You just might love your tiny guest house so much that you want to move in yourself and make the switch to tiny living permanent!
To get started and explore your guest house options in more detail, schedule your free tiny home consultation today.