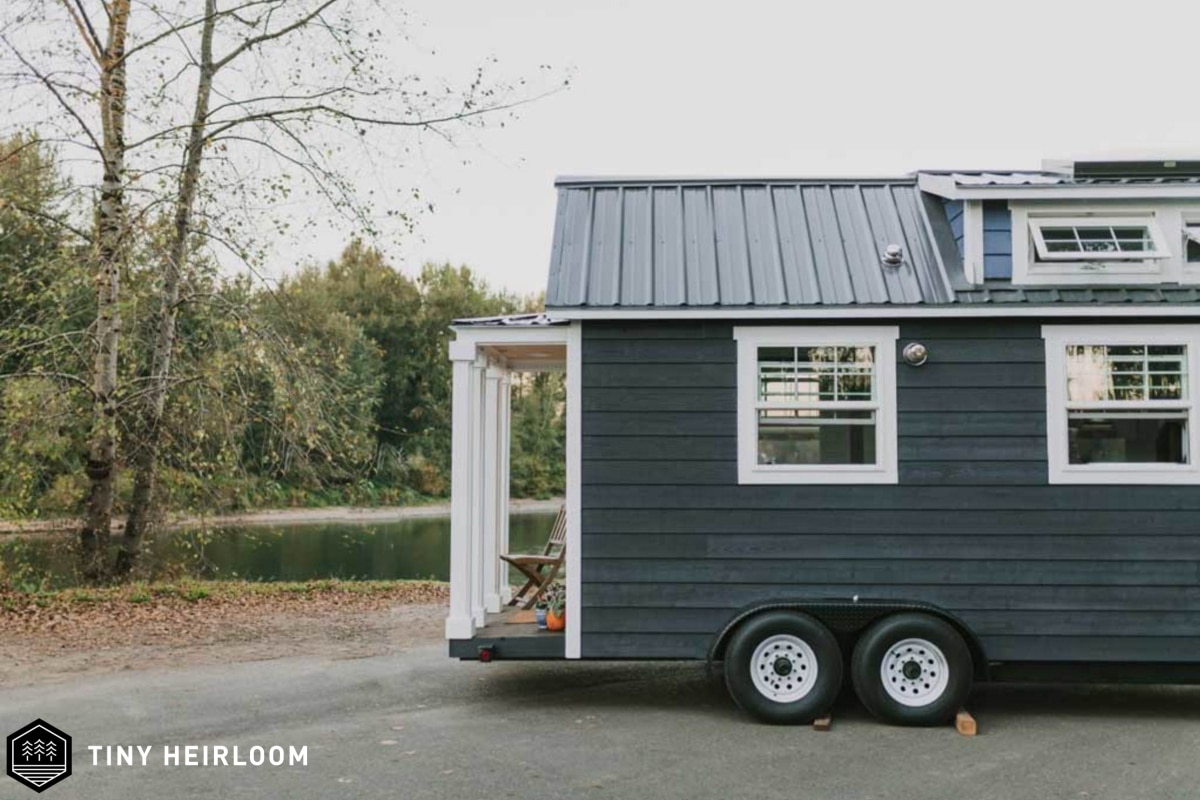 40 Creative Tiny House Ideas
There are countless benefits to joining the tiny house movement, from financial, to environmental, to psychological and more. As many as 68 percent of those who own a tiny home are able to live mortgage-free. Others drastically reduce their carbon footprint. Other tiny dwellers find they spend more time focusing on what truly matters to them — whether that be quality time with loved ones or a greater sense of connection with nature — which in turn improves their mental health. Whatever lifestyle change you're after, chances are that going tiny can help kickstart your journey.
With a living space that only measures a few hundred square feet, some may be wondering how to truly make a tiny house feel like a home. Though limited space can be seen as a challenge, it is also an incredible opportunity for innovation and creativity. With less space, you can focus your time and money on making every detail of your tiny home extraordinary and custom to you. The long list of high-quality tiny house ideas outlined in this article highlight how versatile and unique tiny living options can be!
An Introduction to Creative Tiny House Ideas
Tiny houses come in many different shapes, sizes and forms, making them some of the most unique and innovative homes out there. Perhaps the most exciting part about designing a custom tiny home is that you can really think about every detail, no matter how small, to ensure it suits your own needs, wants, personality and style. We hope these big ideas for small homes help get your imagination going!
40 Tiny House Ideas to Inspire
1. Tiny House on Wheels
If you're looking to buy a tiny house, chances are you're after a flexible, alternative and adventurous lifestyle. Why not take that flexibility to the next level and buy a mobile tiny house on wheels! Tiny homes on wheels are not only flexible in terms of location and mobility, they also offer much more financial flexibility and tend to be easier on your budget than more traditional, stationary homes.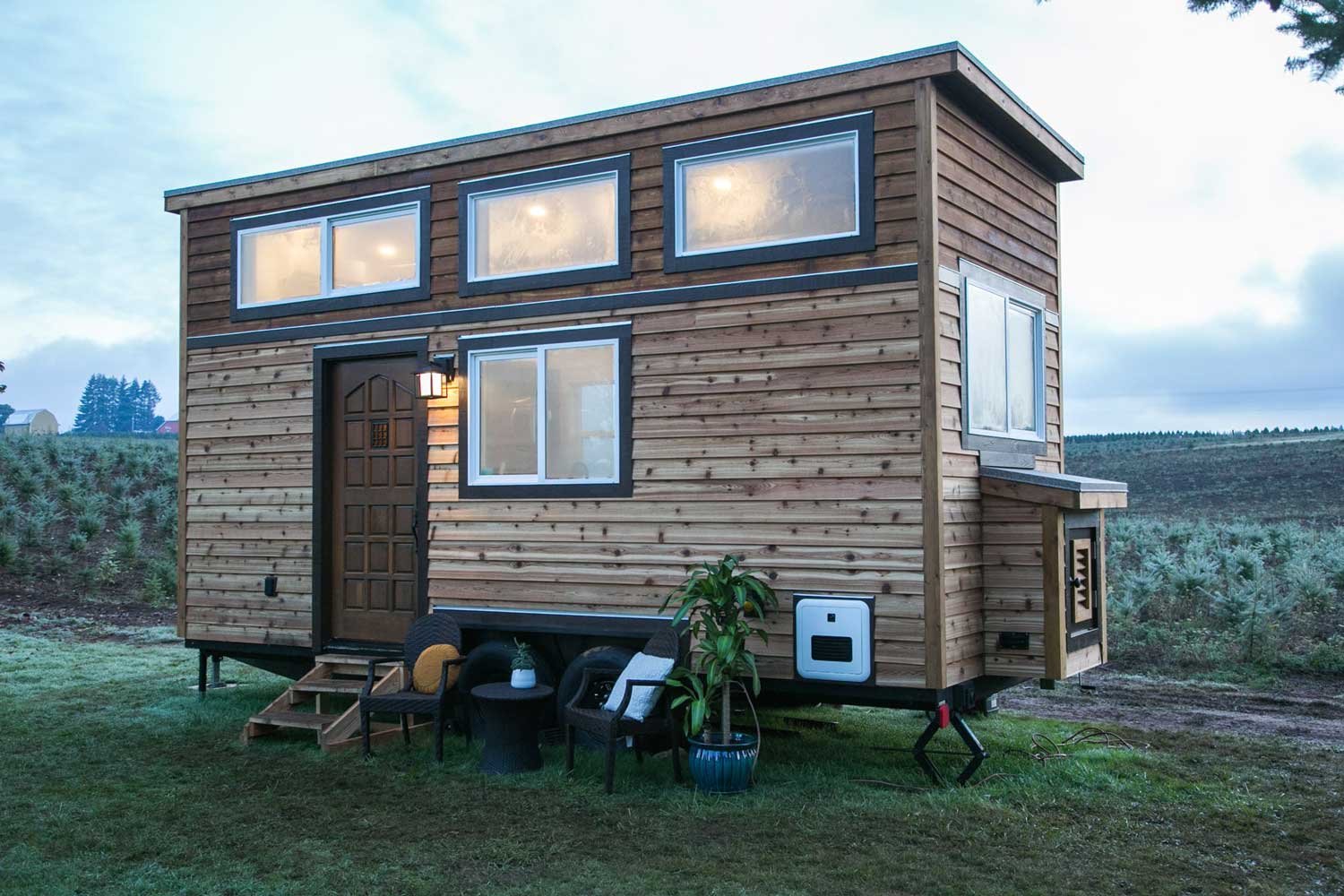 2. A Tiny Cob House
What is a cob house? It's a tiny home built of clay and straw, which does not use wooden frames like most houses. These houses are durable and compatible with most living conditions, able to help keep you warm in the cold weather and cool in the heat. These unique living spaces look like they're straight out of a fairy tale. They're also highly sustainable.
3. Outdoor Shower
If you intend to park your tiny home in a beautiful, natural setting, why not take more of your day-to-day duties outdoors? An outdoor shower, tub or even a small outhouse can save space in the main tiny home and be enjoyable.
4. Living on the Water
Tiny homes can make wonderful houseboats. You can even turn an old boat into a tiny house. With a houseboat, you'll always have a view of the waterfront, and some can even travel on the water. As with tiny house communities, there are many designated houseboat communities. Houseboats all in a row form a unique community and lifestyle. While living on the water may not be mainstream, it's worth it for those who like to live small and spend the bulk of their time on or in the water.
5. Hidden Storage
If you're designing a tiny home, chances are you're thinking about storage, storage… and more storage. The key is to build in hidden storage compartments wherever you can, and one of the best places to add storage is underneath your seating — whether that be couches, benches or ottomans. Under-floorboard storage is another great spot for less frequently used items or equipment. Lastly, don't forget about under-bed storage!
6. Minimalist Tiny House Kitchens
A minimalist kitchen design is a great way to de-clutter and simplify both your living space and head space. From monochrome color-schemes, to simple hardware, to sleek, modern cabinets and appliances, minimalist kitchen design trends have been on the rise this year. A minimalist kitchen design is a great look for kitchens of all shapes and sizes, but especially tiny home kitchens. A clean, sleek look can even make your tiny home appear larger and less cramped or cluttered.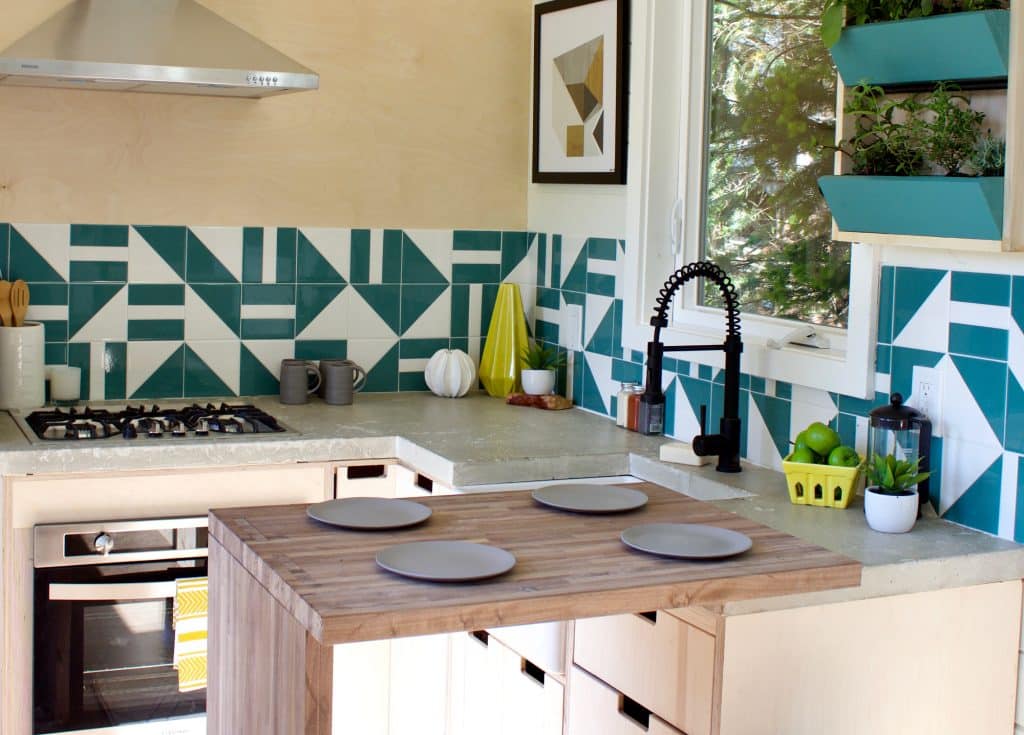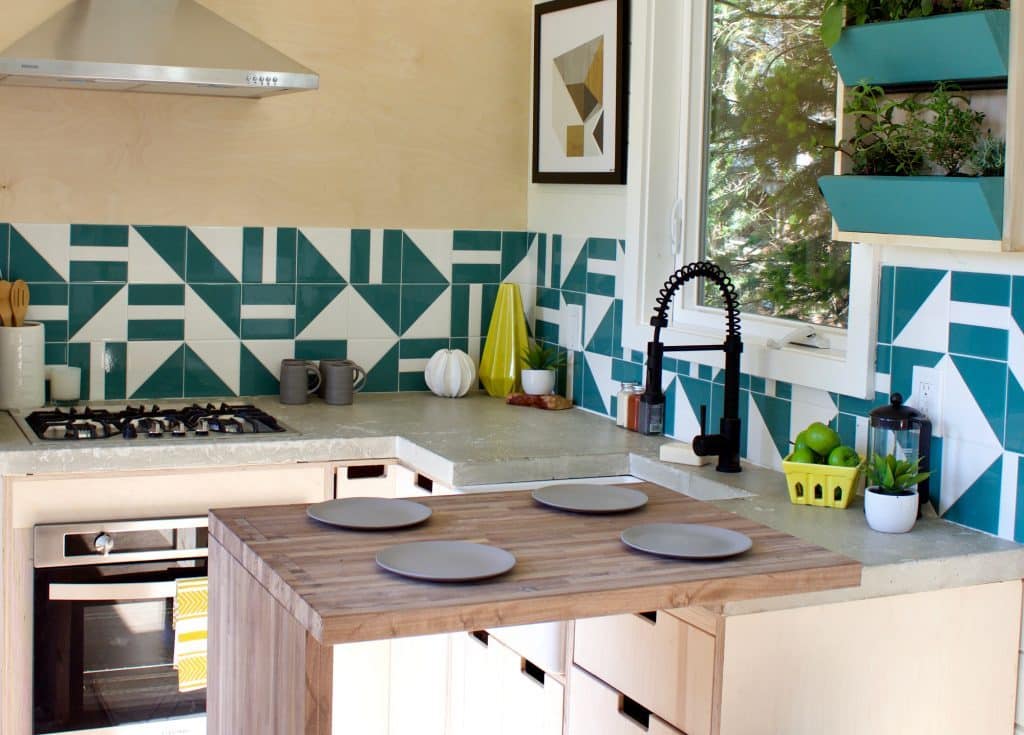 7. Cozy Lofts
Tiny house lofts are an extremely popular feature, as they maximize on limited space, and add a cozy element to any home. Lofts can serve as great bedrooms, reading nooks or lounging areas. We love how this tiny Rocky Mountain House maximizes space and features two lofts to comfortably sleep a family of four. The kids' loft cleverly includes a divider with storage between the two beds to give the kids more comfort and privacy.
8. Skylights Galore! 
Tiny spaces can feel dark and claustrophobic without some natural lighting. Adding one or more skylights makes a loft feel more light and airy – plus, they're perfect for stargazing. A few side windows can also provide a nice view from your bed, whether that be of the ocean, the forest, or maybe even the sunrise. Check out how bright and open this Luxurious tiny home loft is, thanks to a few large, well-placed skylights and windows.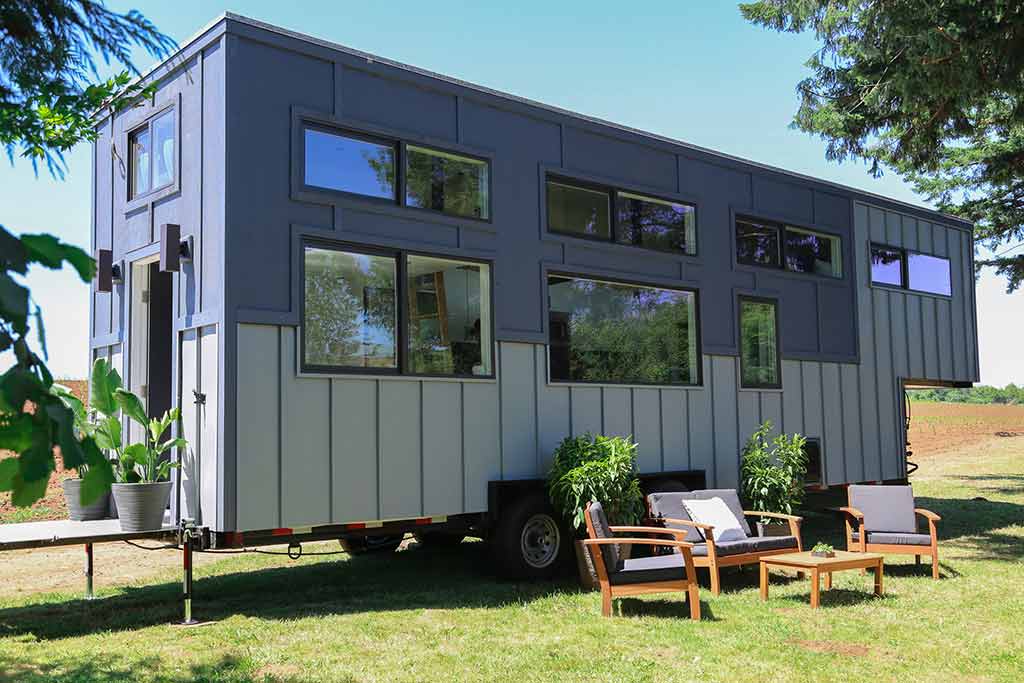 9. Multi-Purpose Staircases
Incorporating staircases into your tiny home can be a challenge, because traditional stairs naturally take up lots of room. Therefore, many people think that they'll have to switch to a ladder for their tiny home, but that's not necessarily the case.
One growing trend is to use the space under each step in your staircase to house books or other decorative items. Another option, "Tansu" japanese-inspired steps creatively use wooden storage boxes and form them into a staircase. This practical, space-saving design provides ample, hidden storage and is ideal for tiny houses.
10. Go Off the Grid
The term "off the grid" is defined as not requiring public utilities such as electricity, water, sewer, natural gas, heat and other services. The two main reasons people have noted for transitioning to an off the grid lifestyle are: financial, because of the money you can save on utilities, and also environmental, to lessen the impact their lives have on the environment. Many tiny homes are designed for self-sufficient, off the grid living.
11. Bring the Outdoors In
Incorporating a sliding garage-style door into a tiny home is a popular idea and a great way to create indoor/outdoor living space. This is an especially nice design for people living in warm, sunny climates.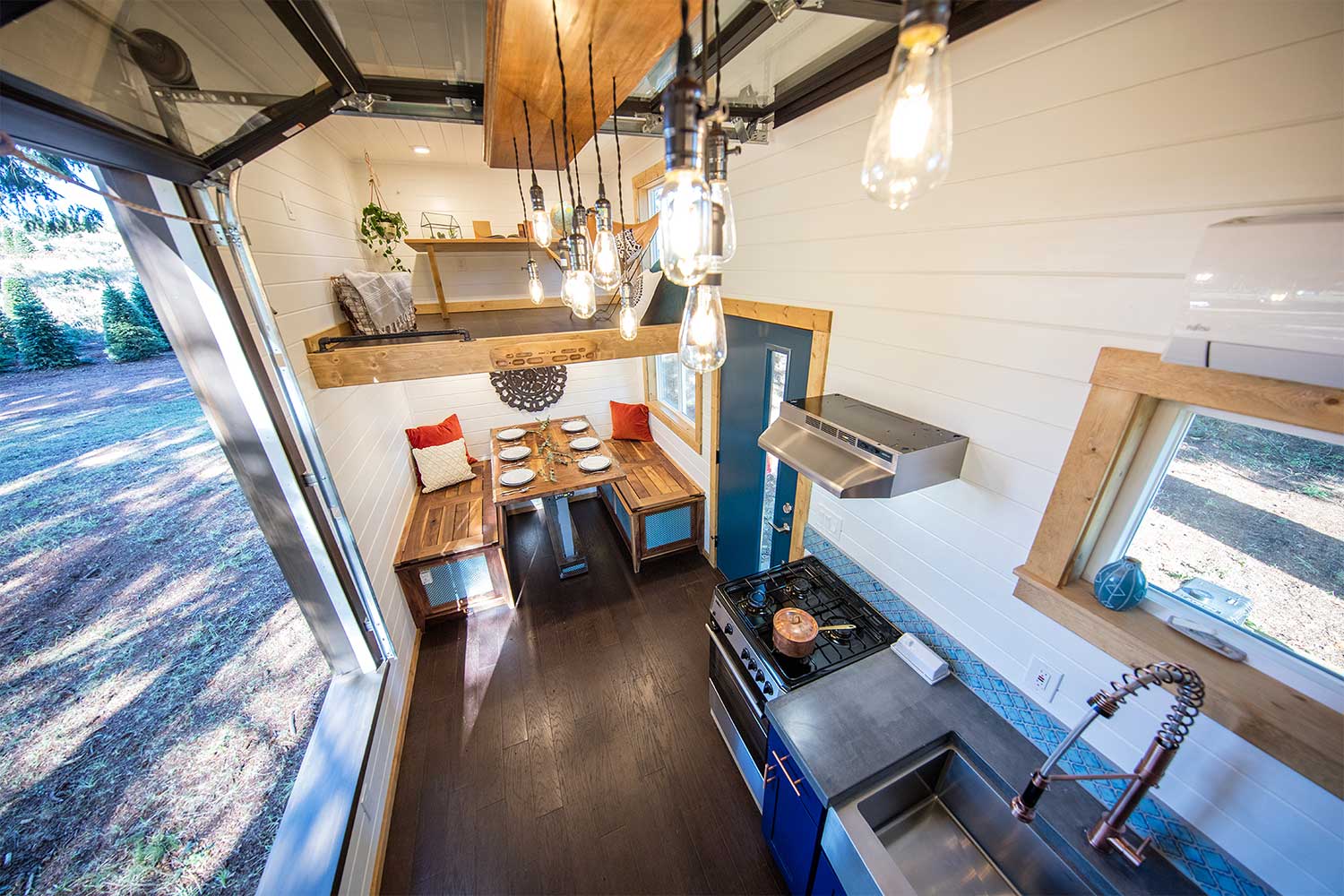 12. Modern Prefab Tiny Homes 
Among the many styles of tiny houses, modern tiny homes are increasingly sought-after as their sleek look and simplistic yet innovative design are perfectly suited for efficient, minimalist living. Prefabricated tiny homes are a great solution for those who want a sleek, modern, well thought-out and luxurious home at a fraction of the price of the average-sized, modern home. Going with a prefabricated tiny home will also save you time and money compared to more customized tiny homes.
13. Sustainable Tiny Homes
In today's world, environmental sustainability should be a key consideration for anyone looking to buy or build a home. There are many ways to live more sustainably, but downsizing on space is an especially powerful way to downsize your ecological footprint. There are plenty of tiny house ideas to take sustainability to the next level like solar panels, rainwater collection systems, composting toilets, green roofs and more. This can help lower your carbon footprint and minimize your cost of utilities at the same time.
14. Get Smart 
With less space and a more flexible budget, you can incorporate more advanced technology and automation into your tiny home. Touch-activated storage doors, high-quality audio systems, swivel television screens… high-tech tiny house ideas are endless and ever-evolving.
15. Tiny Cabins 
A cabin can be defined as a small shelter or house, made of wood and situated in a wild or remote area. According to this definition, cabins are meant to be small and remote, so tiny cabins just make sense!
16. Cozy up by the Fire 
A fireplace can go a long way in keeping a tiny house warm and cozy. Your options include gas or wood-burning fireplaces. This Modern Mountain Home features a gas fireplace with a tiled surround that cleverly heats the main level and the loft at the same time.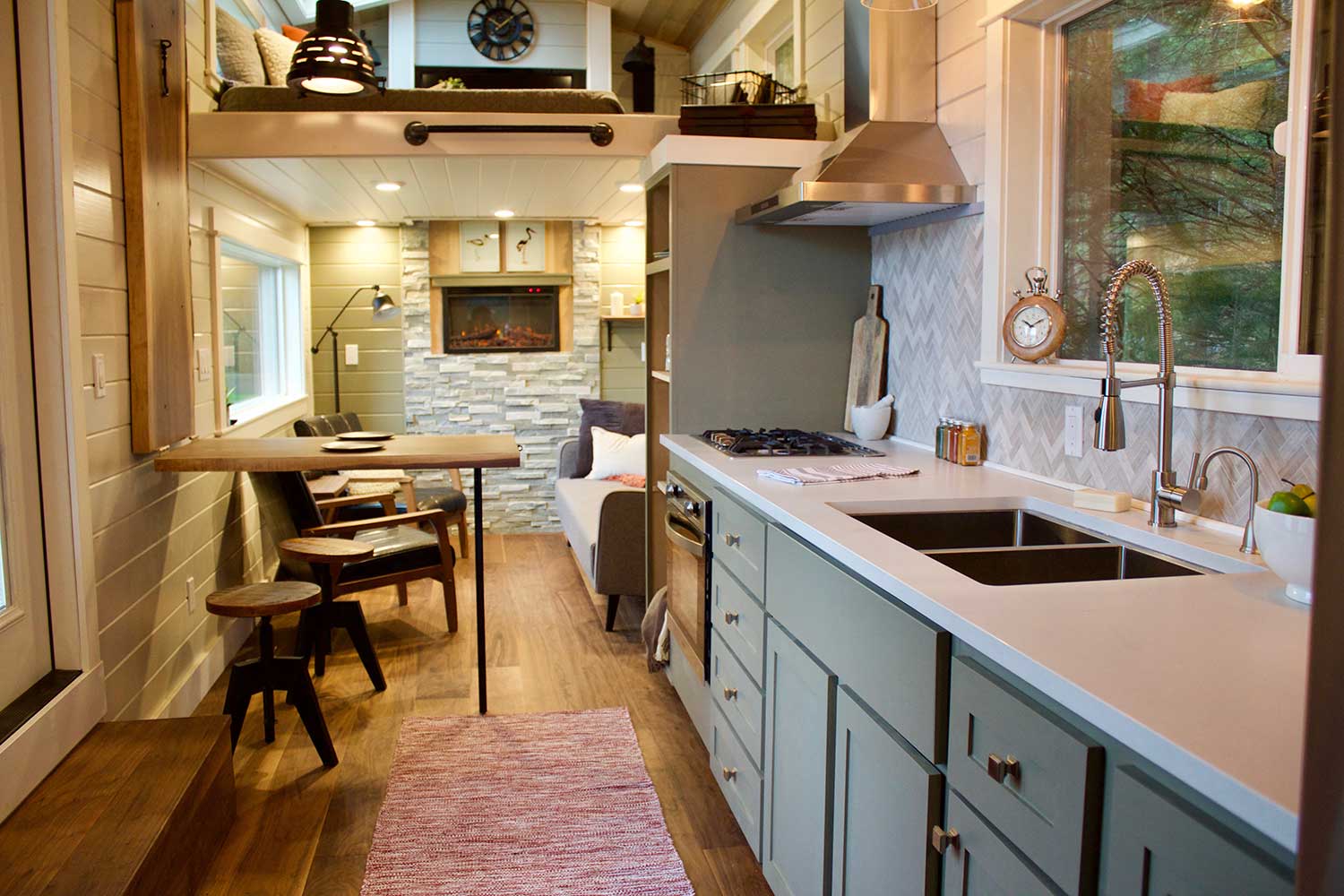 17. Tiny Home Shed Conversion
Sheds are one of the most popular structures to "tiny-housify." However, it's important to note that in some places, it's illegal to take up residence in a shed, even if you own the land the shed is on. Make sure you're upfront about your intention to live in the shed and work closely with your tiny home builder and/or your city to make sure everything is in line.
18. Folding Furniture
Fold down tables can make great workstations, dining areas or even just extra counter space for cooking, folding laundry or changing the baby. Drop-leaf tables are another option to consider when looking for space saving tiny house ideas.
19. Mother in Law Suite 
Looking for a safe place for mom or dad? Want to keep them close while giving you both your own space? Look no further! A mother-in-law suite tiny home allows a loved one to live independently from the comfort and convenience of your own backyard. For the elderly, the tiny home suite can also be custom-designed for safety and ease of movement.
20. Use a Shipping Container

Instead of building a whole new tiny house from scratch, consider building one out of existing materials. Shipping container houses have gained popularity in recent years, and are well known for their durability and adaptability. They can also save you money on the cost of materials. Why not furnish and design the insides of two? You can even create an outdoor space between them and double the tiny living experience! Make one that caters to sleeping, and the other to living. There's no end to the design plans these types of tiny homes can have.
21.  Built-In Activities – One of Our Favorite Tiny House Ideas!

What are your favorite hobbies or activities? Get creative and incorporate them into your tiny home! For example, this tiny home features a rock climbing wall on its exterior, which is not only super fun, but also provides a one-of-a-kind look.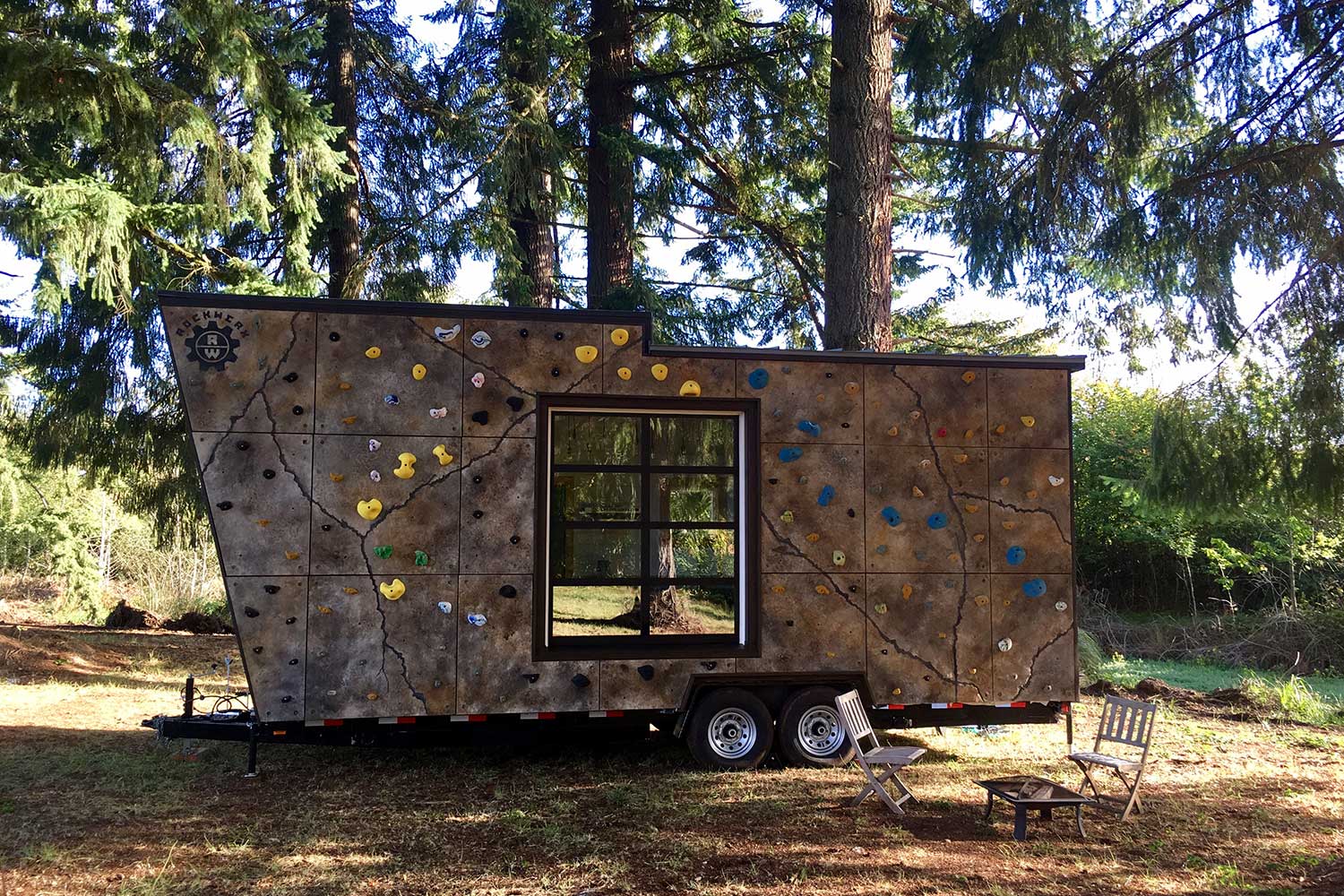 22. Color is Key for Tiny House Ideas

The colors you choose for your tiny home are important, more important than you might think. Not only does color make an aesthetic impact, but a psychological one too. Light and bright colors can help make a space appear larger, while warm colors can make it feel more cozy. If you love bold colors, consider adding an accent wall to give your tiny home some flair. Using different colors on opposing walls can help make a narrow space feel wider.
23. Mirror Mirror On the Wall
One of the oldest tricks in the book: add some mirrors to a tiny home and help make the space appear larger and more open!
24. Extra Beds for Extra Heads
If you love hosting, you may want to design some extra beds into your tiny home layout. One option is the fold-down "murphy" bed, which could double as an office space while not in use. Another popular option is a "trundle" bed that rolls or slides out from under a lifted floor. Another option, commonly seen in RV designs, is a lifted bunk bed that folds down from the wall. There are certainly a lot of tiny house ideas when it comes to adding beds- you just have to get creative!
25. Modular Furniture 
Another popular option for dual-purpose tiny home spaces is to design or purchase modular furniture. For example, many tiny homes have dining or living room furniture that can be rearranged or assembled to form an extra sleeping space. This is another instance where working with experienced, creative tiny home designers can really make a difference!
26. Vacation Home
Maybe your tiny house isn't for full-time living, but rather for holiday getaways or family vacations. With the money you'll save compared to an average-sized vacation home, you can custom design your tiny vacation home to suit your individual style and needs. Need special storage for your winter gear? Want bunk beds to fit more family members? How about an electric fireplace to keep the home warm and toasty of the holidays? The possibilities are endless!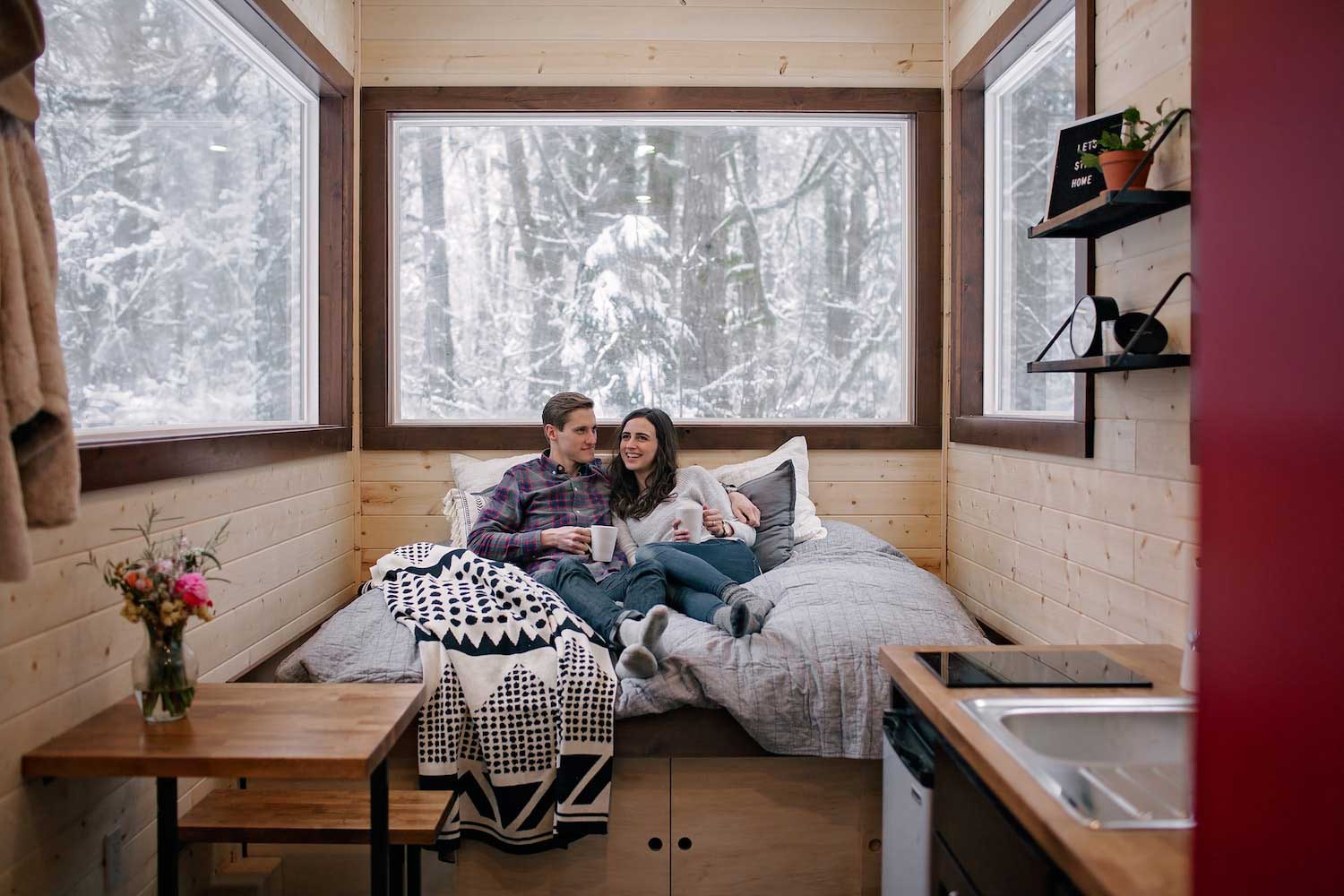 27. Keep it Compact  
Though not always necessary, compact appliances can be a great option for a tiny kitchen if you're running low on space. Dishwashers, refrigerators, ovens, washing machines…. There are plenty of less-than-full-size options available for all these appliances and more.
28. Home Theater
You might be thinking, "A home theater in a tiny home? Impossible!" Well, what about a roll-away screen and projector that can be hidden from view, but easily transform your living room or bedroom? If you're a movie buff, this setup will take things to the next level.
29. Bus House Conversions
That's right, people are turning old buses into tiny homes! These types of living spaces require careful planning, but the outcome can be beautiful and full of light. The biggest obstacle is typically figuring out the layout, but the good thing is, it's a lot like creating a layout for an RV.
30. Fold-Down Deck 
Some traveling tiny homes on wheels cleverly incorporate a fold-down deck that can be secured while on the road and conveniently set-up once you're parked.
31. Design With Location in Mind 
It's a good idea to design your tiny home with your location in mind. This is important in terms of comfort, but also to ensure you're following local regulations. If you're going to park your tiny house in Texas, it'll probably look very different from a Seattle tiny home, for example. While one would ideally keep you cool and have lots of outdoor space, the other might be more cozy, maybe with a fireplace or some covered outdoor space to keep you dry.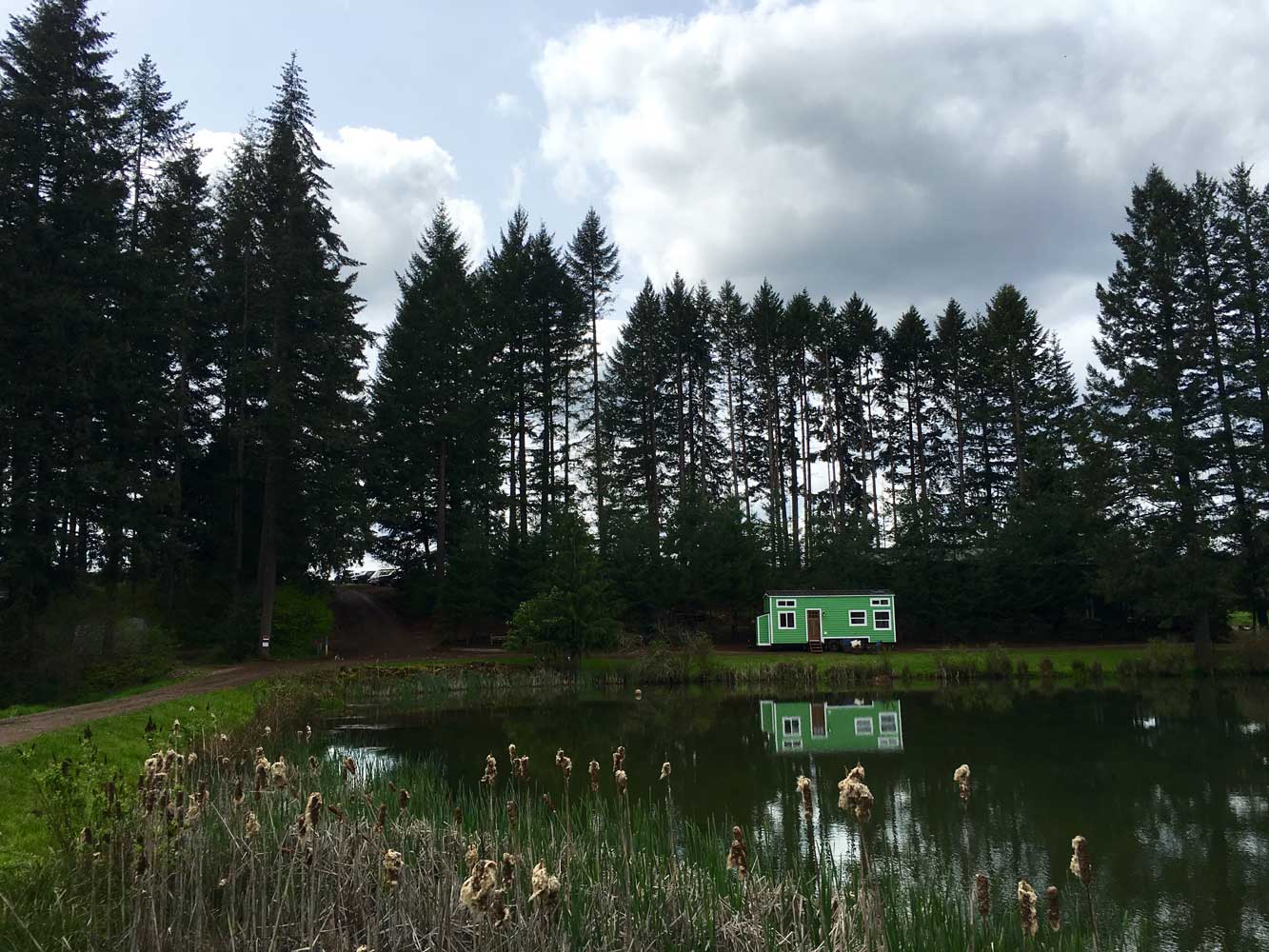 32. Wet Bathroom 
A "wet bathroom" saves space by turning your entire bathroom into a shower while the shower is in use. Oftentimes, the shower head is detachable to make washing easier. However, as the name implies, wet bathrooms are wet so it's important to ensure your tiny house bathroom is able to combat mold. One option for waterproofing your tiny bathroom is to install tiles throughout the entire space.
33. Yurt Conversions
Before there were tiny homes on wheels, there were yurts. Many nomadic peoples use yurts while migrating from place to place. Although yurts are more often used for temporary stays rather than full-time living, they can be converted into comfortable homes with some hard work and creative design ideas.
34. Pet Friendly 
Your pets' living space deserves some attention too! Consider adding pet-friendly features into your tiny home such as a kennel space, a hideaway den, built-in collapsible food and water bowls, or moving gates, just to name a few.
35. Shade Solutions 
Want some summertime shade for your tiny home deck or patio? A retractable, roll-out awning is one popular option for tiny homes and RVs. If you want something more unique-looking, shade sails can also do the trick.
36. Use Your Roof 
If your tiny home has a flat roof, why not use that extra space? Add a ladder and some railings and turn it into a roof deck for sunbathing, yoga or sunset viewing, or maybe a rooftop garden full of veggies and herbs!
37. A Tiny Tree House
The smaller the house, the easier it is to put it up in a tree! This is a unique way to live that's great for people who want to take their love of the outdoors to extreme heights.
38. Reduce, Reuse, Recycle!
If you're joining the tiny house movement for ecological reasons, why not take it to the next level and incorporate recycled materials into the structure and furnishings of your tiny house? Using recycled and reclaimed materials can also save you money and add more unique personality to your home.
39. Pre-Loved Tiny Homes 
Maybe your dream tiny home is already built and is out there waiting for you! Pre-loved tiny homes offer the chance to live in a one-of-a-kind, quality-built tiny home at a fraction of the price of a brand-new one. Oftentimes, they have unique backstories and special features unlike anything you'd find in the standard tiny home.
40. Customize Everything!
On the flip side, if you're looking for a home that is perfectly designed for your own needs, lifestyle and interests, you can customize a tiny home from the ground up. If you go this route, you can start with a blank page and assume everything is possible until proven otherwise. The possibilities are truly endless!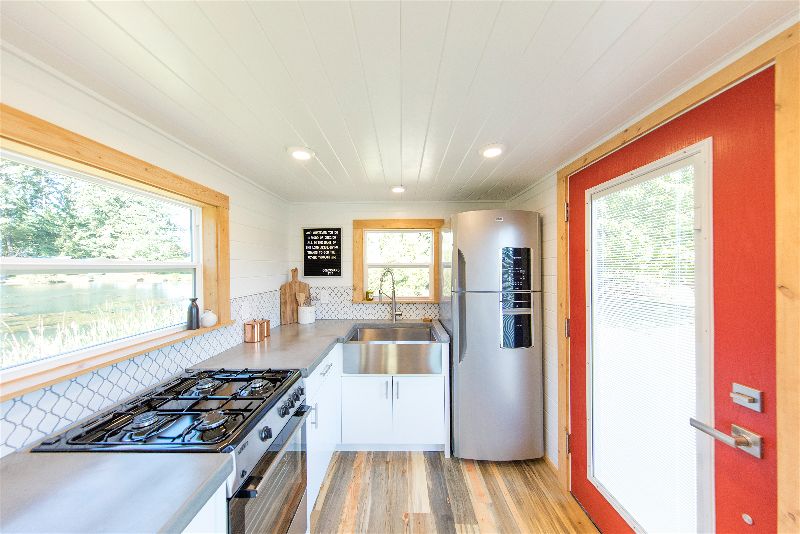 Tiny House Ideas: Your Next Step!
Hopefully you're getting the idea that there's really no limit to creative tiny house ideas and possibilities. If you've run out of tiny house ideas, don't worry, there are plenty more to explore! Our team at Tiny Heirloom has vast experience building a wide variety of tiny houses and we're constantly innovating. Take a look at our homes, or design your own in collaboration with our team of tiny home experts. We're here to support your tiny house journey!