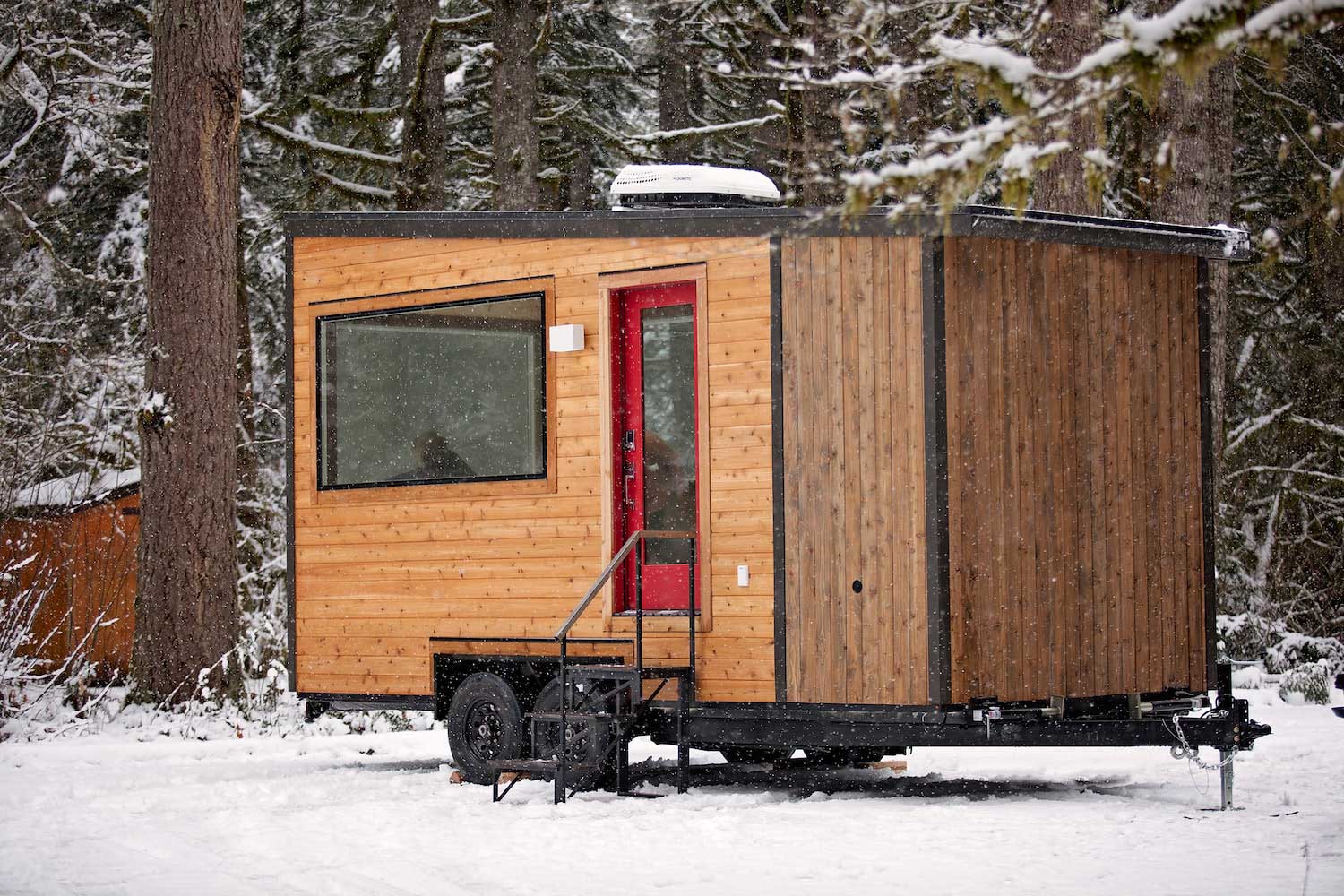 Going Tiny for Your Christmas Vacation House
Posted on
November 15, 2019
If you're looking for the perfect vacation home for the holidays, why not go tiny? Not only is a tiny home or cabin the perfect cozy escape for the winter season, but studies show that tiny homes can provide significant psychological and emotional benefits. A smaller space can help bring you and your loved ones closer together and encourage you to spend quality time as a family over the holidays. You'll also be more motivated to get outside and take advantage of seasonal activities like skiing, snowboarding, snowshoeing, sledding or other holiday festivities. Additionally, limiting the 'stuff' in your vacation home can help reduce stress – as you won't need to worry about organizing and cleaning as much, and everything you do will be simplified.
Going Tiny for the Holidays: Can It Work?
Of course it can work! In addition to the many benefits listed above, with the money you'll save compared to an average-sized vacation home, you can custom design your tiny vacation home to suit your individual style and needs. Need special storage for your winter gear? Want bunk beds to fit more family members? How about an electric fireplace to keep the home warm and toasty? The possibilities are endless!
Worried about missing out on your usual traditions? Get creative with these festive ideas on how to decorate your tiny home for the holidays. Picture a tiny Christmas tree, with tiny ornaments in your tiny living room!
Designing Your Tiny Christmas Vacation House Floor Plan
The first step to designing or selecting your floor plan is to make a list of you or your family's needs. What do you need to function? What do you like to do when you're on vacation? Play games, cook, do outdoor activities, listen to music, watch Christmas movies? What storage will you need? Look at your current home room by room and decide what elements or amenities you would want to include in your holiday vacation house. If you envision your Christmas vacation home as a cozy, tiny cabin, check out this blog post full of tiny cabin design and layout ideas.
For larger families, you may want to consider multiple tiny houses on the property, where you and your extended relatives can all gather for the holiday season. You could even add gathering spaces like a hot tub, firepit, or separate dining space between the tiny homes to complete the tiny "village" feeling. How about a big outdoor Christmas tree in the center to get you all in the holiday spirit?
Build or Find an Existing Tiny Christmas Vacation House for Sale?
Once you've dreamed up the style and layout you're after, you'll need to decide whether to build your vacation home, purchase a prefabricated tiny home, custom design one from the ground up or buy a pre-owned home. A fully customized tiny home will ensure all your needs and goals for your vacation home are met, but is usually the more expensive option. Many tiny home builders offer prefab tiny homes, like our Signature Series collection, to simplify the design process and help lower the price. If a brand-new tiny vacation home is outside of your budget or interests, consider buying a pre-loved tiny home. You'll find a variety of shapes, sizes and styles for sale on our website – from cozy cottages, to log cabins, to more contemporary homes.
Getting Started with Your Tiny House
Want to have your tiny vacation home ready for the holiday season? Start with a free consultation with our experienced design team to explore these options and possibilities further. With your vision and our expertise, anything is possible!