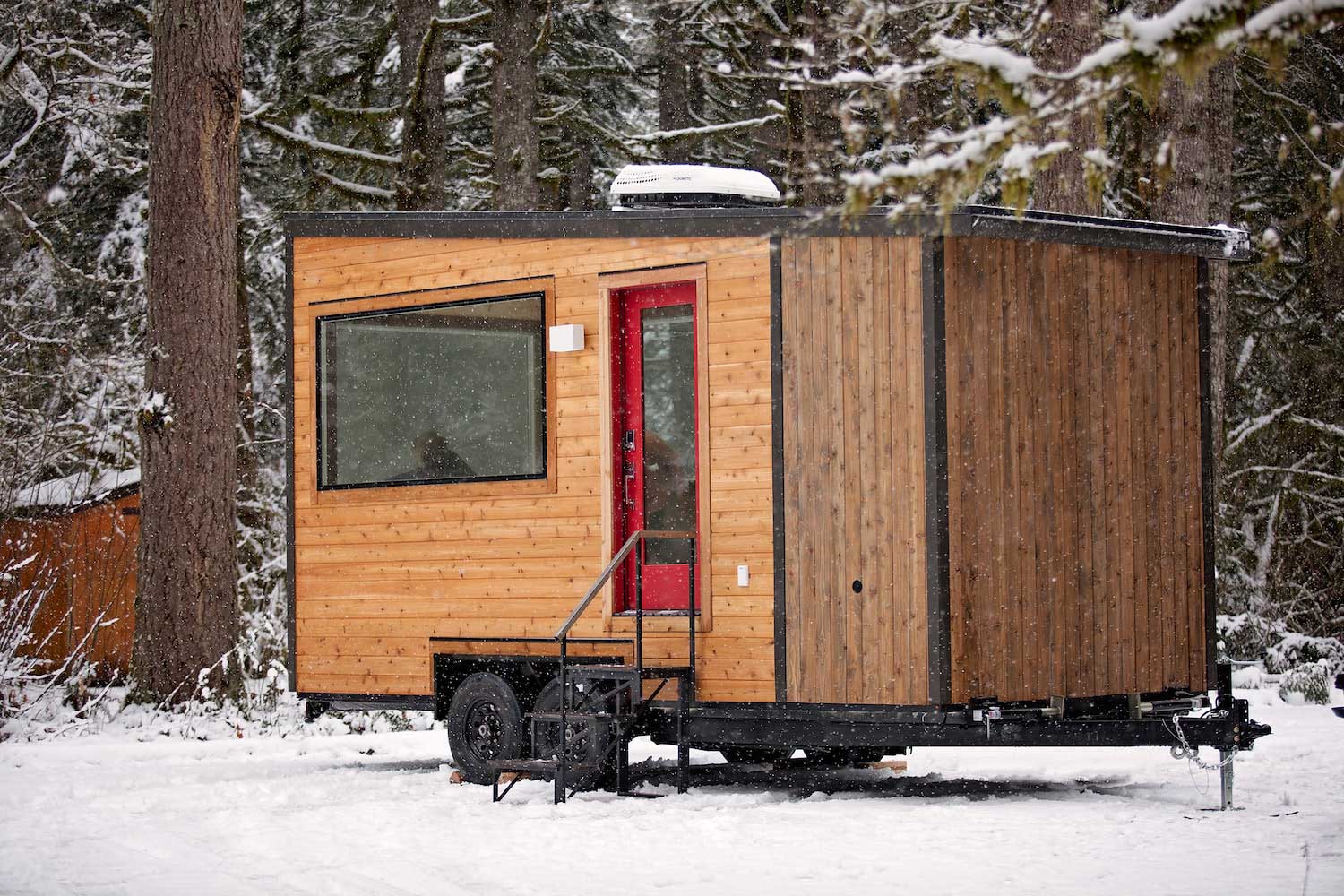 Going Tiny for Your Christmas Vacation House
Posted on
December 8, 2021
If you're looking for the perfect vacation home for the holidays, why not go tiny? Not only is a tiny home or cabin the perfect cozy escape for the winter season, but studies show that tiny homes can provide significant psychological and emotional benefits. A smaller space can help bring you and your loved ones closer together and encourage you to spend quality time as a family over the holidays. You'll also be more motivated to get outside and take advantage of seasonal activities like skiing, snowboarding, snowshoeing, sledding or other holiday festivities. Additionally, limiting the 'stuff' in your vacation home can help reduce stress – as you won't need to worry about organizing and cleaning as much, and everything you do will be simplified.

Best Parts About a Tiny House Vacation
In the modern era, many people feel that Christmas has become overly commercial and consumerist. A tiny vacation home, with less room for decor and copious amounts of gifts, can help encourage you and your family to keep things simple and focus on what truly matters to you as a family, whether that's quality time together, passed-down traditions, or spirituality. 
A traditional Christmas with lots of gift-giving can also put a big strain on your wallet. In 2021, the average consumer is expected to spend a whopping $998 on gifts and other holiday-related expenses. Escaping to a tiny home for the holidays, with less focus on gifts and more emphasis on making memories, can help you save big this year. Plus, tiny vacation homes tend to be more affordable than larger vacation homes or vacation rentals. With the money you'll save on gifts and extra decorations, you can afford to stay in a more luxurious tiny house resort or rental. 
Because tiny living goes hand in hand with minimalism, staying in a tiny home over the holidays is a wonderful opportunity to cut back on gift-giving and make new traditions instead. Instead of buying everyone in your family gifts, opt for a gift exchange and draw names from a hat. Or try making homemade gifts and treats instead of buying gifts this year. Or do away with gifts altogether and organize some fun outings, games, and a potluck meal so that everyone can bring something to the table. 
Overall, staying in a tiny home for the holidays is a unique, and memorable experience. Your family will be talking about this holiday getaway for years to come! 

Going Tiny for the Holidays: Can It Work?
Of course, it can work! In addition to the many benefits listed above, with the money you'll save, you can make this an annual tradition and custom design a tiny vacation home to suit your individual style and needs. Need special storage for your winter gear? Want bunk beds to fit more family members? How about an electric fireplace to keep the home warm and toasty? The possibilities are endless!
Worried about missing out on your usual traditions? Get creative with these festive ideas on how to decorate your tiny home for the holidays. Picture a tiny Christmas tree, with tiny ornaments in your tiny living room!

Winter Tiny House: Must-Haves
Whether you're looking for the perfect tiny vacation home to rent or designing your own custom tiny home from the ground up, these are some of our favorite tiny home features: 
Fireplace
No winter vacation home is complete without a fireplace to help keep things warm and toasty. Imagine gathering around a roaring fire for a family meal or game night. We love the rustic look and feel of the faux-rock fireplace pictured below.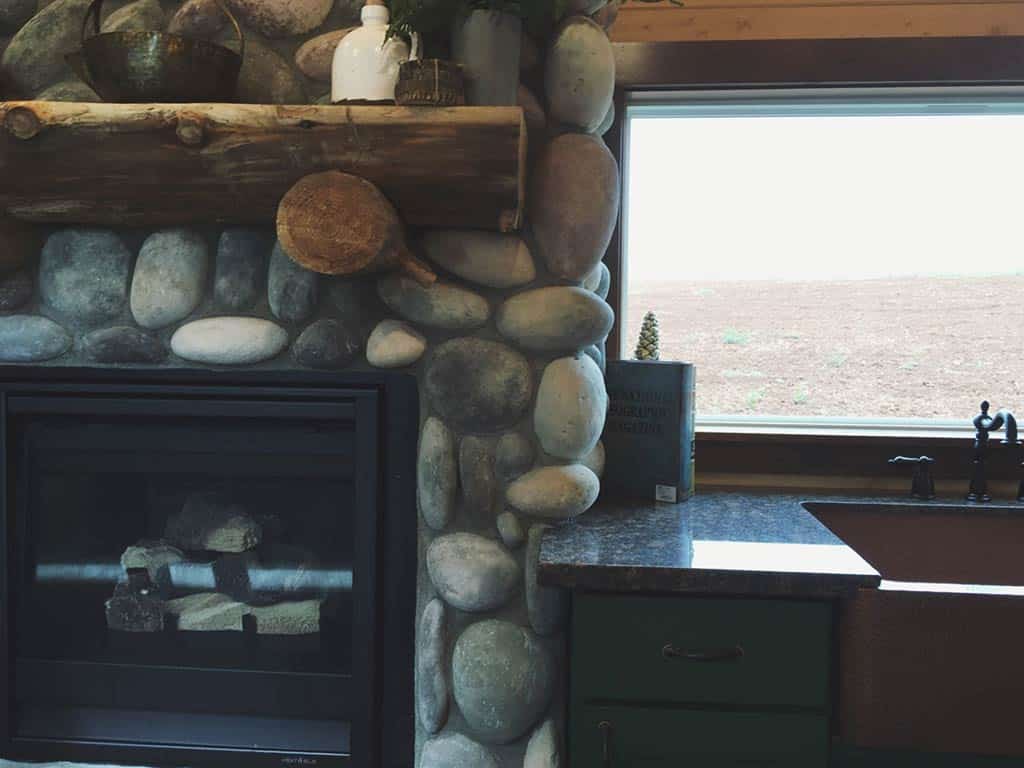 Cozy Loft
Many tiny homes feature lofts to help maximize space and provide extra sleeping areas for larger families. Not only are lofts practical and space-saving, they're also incredibly cozy and comfortable! Lots of fuzzy blankets and pillows and a breakfast tray for morning coffee are the perfect finishing touches for a winter vacation home.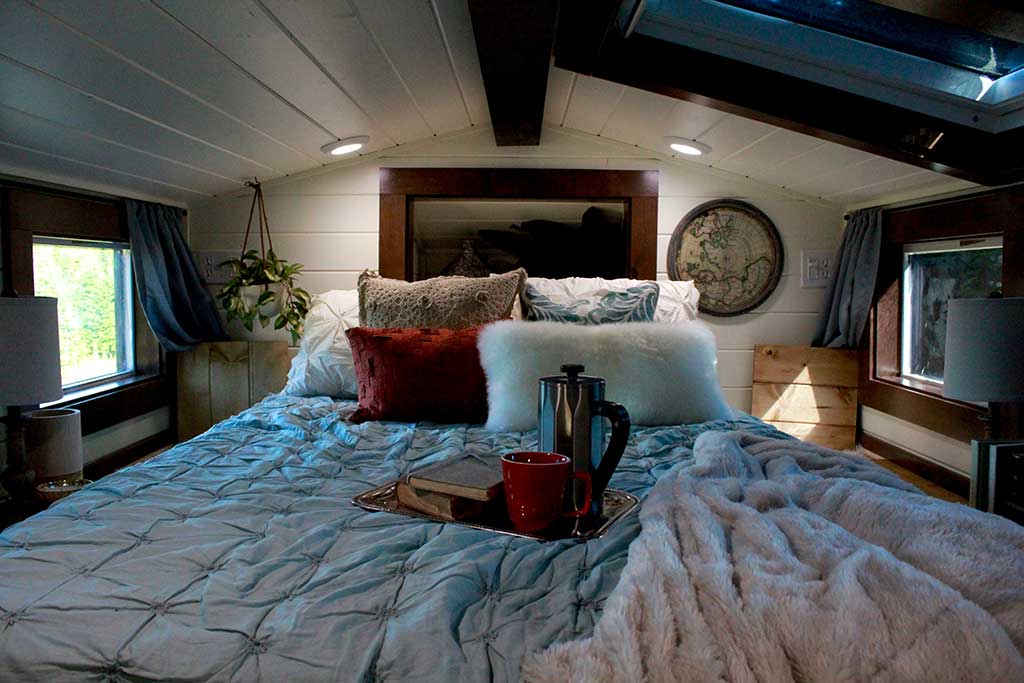 Family Dining Area
You might think that it's impossible to host a nice sit-down dinner for the whole family in a tiny house, but think again! As you can see from the example below, many of our custom tiny houses feature convertible dining tables that can easily be raised and lowered. This one transforms from a sleeping area into a comfortable dining area, fit for a family of 6 or more.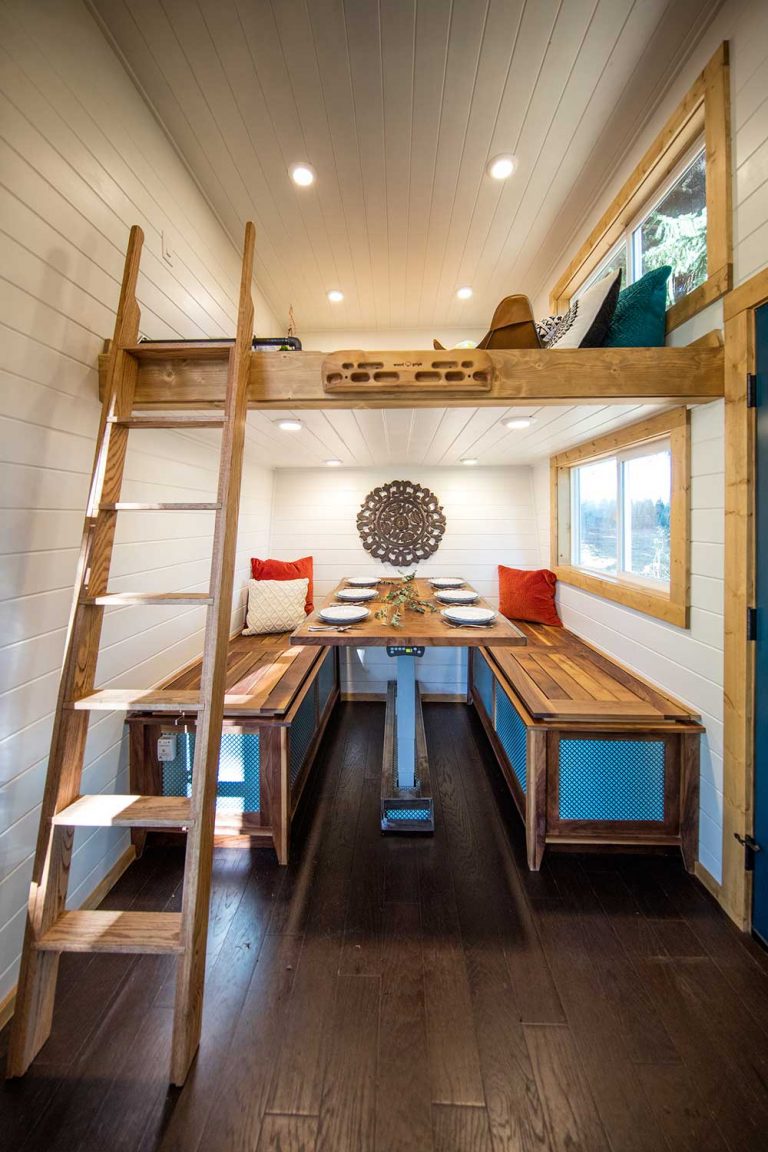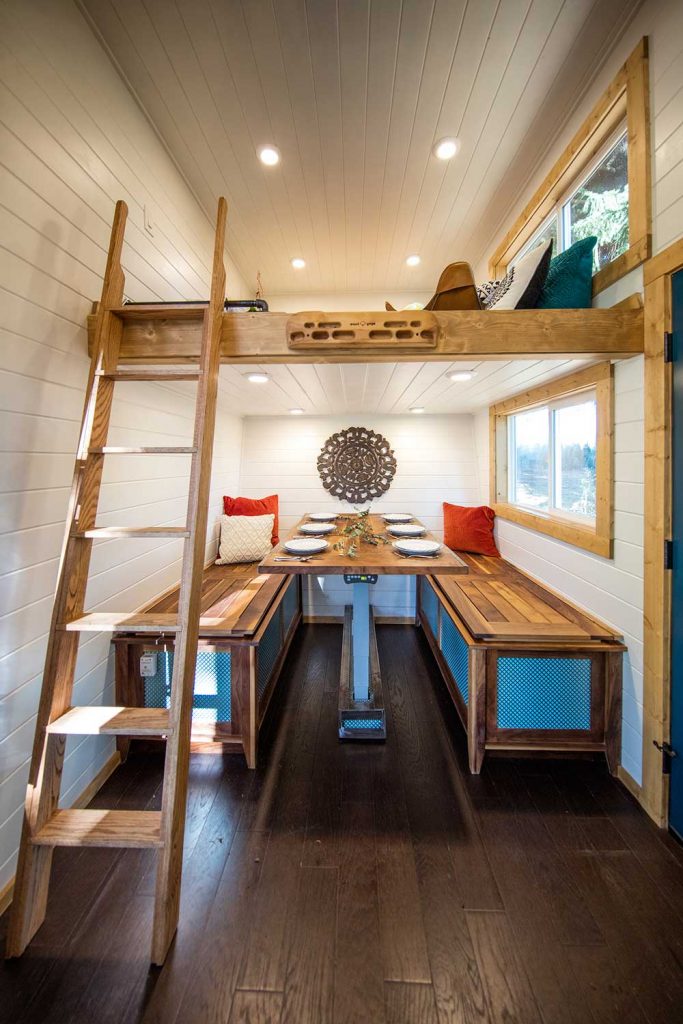 Hidden Storage
With tiny houses, you don't usually have huge closets or spare rooms, so you have to get creative with storage space. In the photo above, the dining benches double as hidden storage compartments. This is the perfect solution for keeping those Christmas morning gifts a surprise! 
Full Kitchen
If food is an important part of your holiday traditions, you'll want to look for a tiny house with a high-end, full kitchen, like the one pictured below. This custom tiny house kitchen is outfitted with a 3 burner gas stovetop, oven, full-size microwave, and full size fridge, a dishwasher, a wet bar, an in-house Bose sound system, and even a swivel television. You can blast some holiday music or put on a Christmas movie while you cook that holiday feast with your family!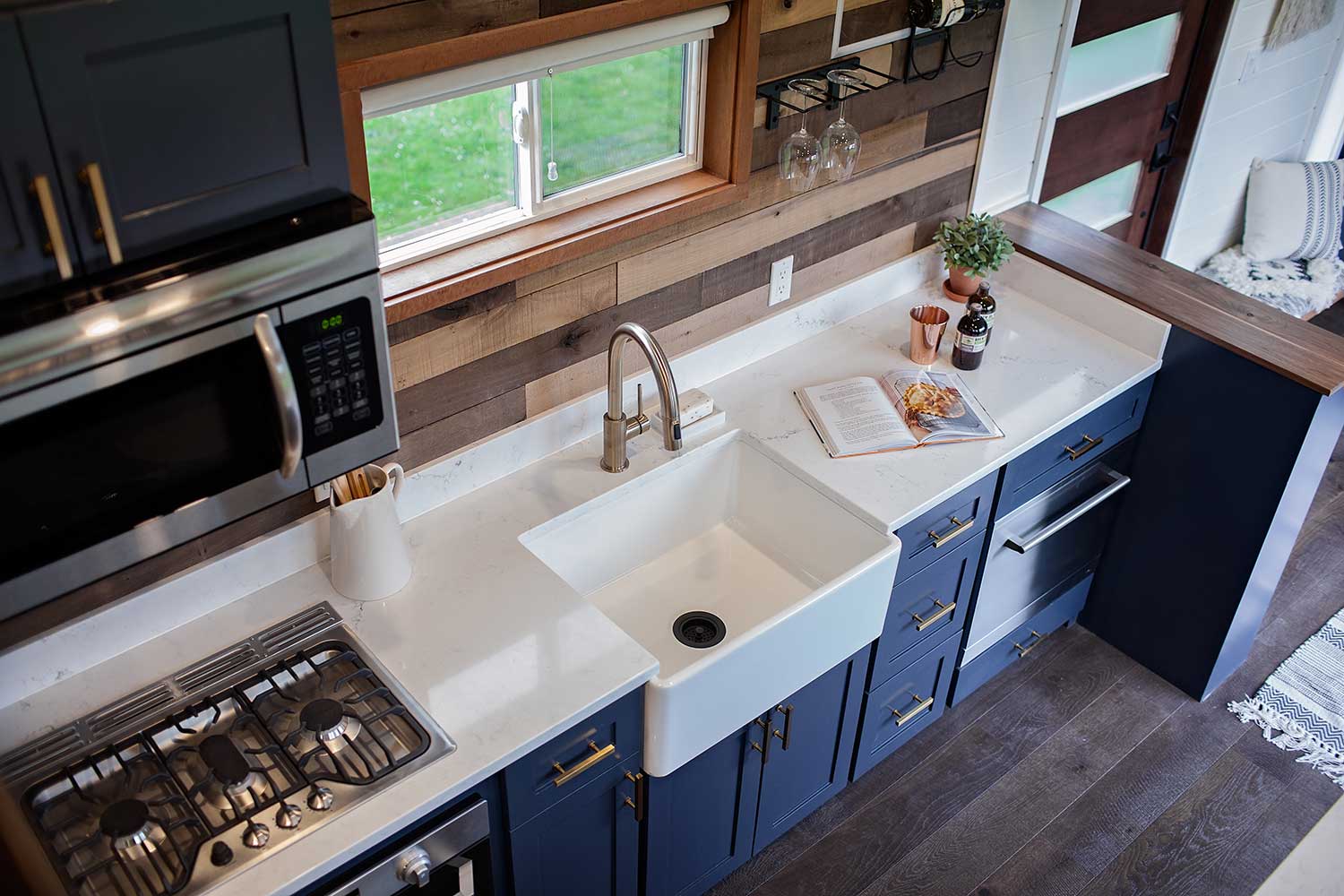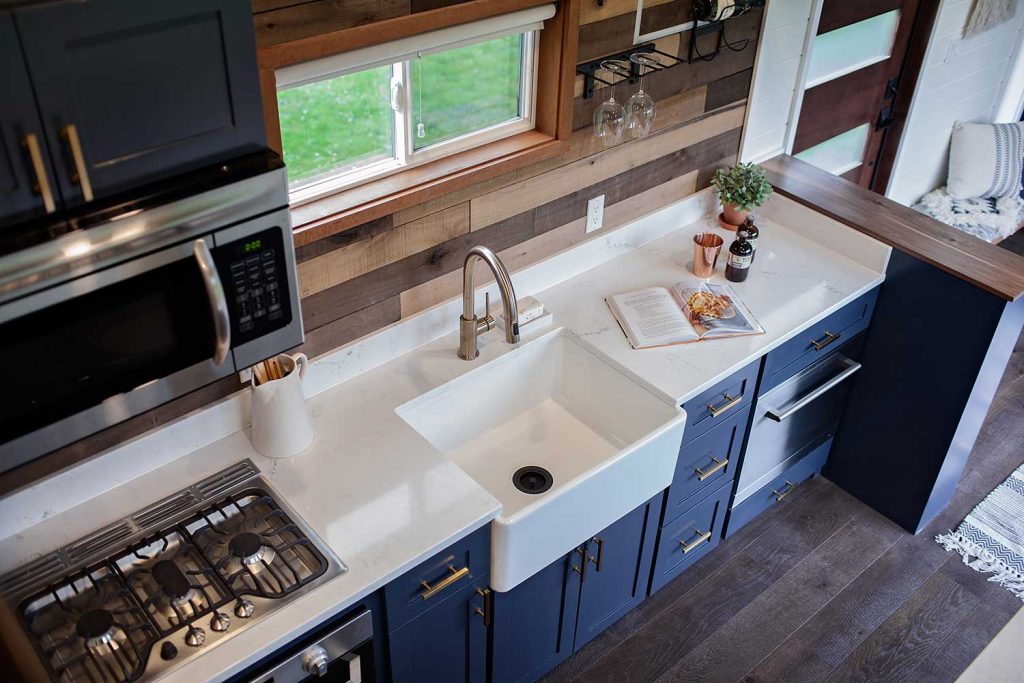 Entertainment
Depending on your holiday traditions and family preferences, you may want a sound system for blaring festive tunes and/or a television or pull-down screen and projector for viewing holiday favorites. The tiny house pictured below creatively features window blinds that double as a screen for watching movies!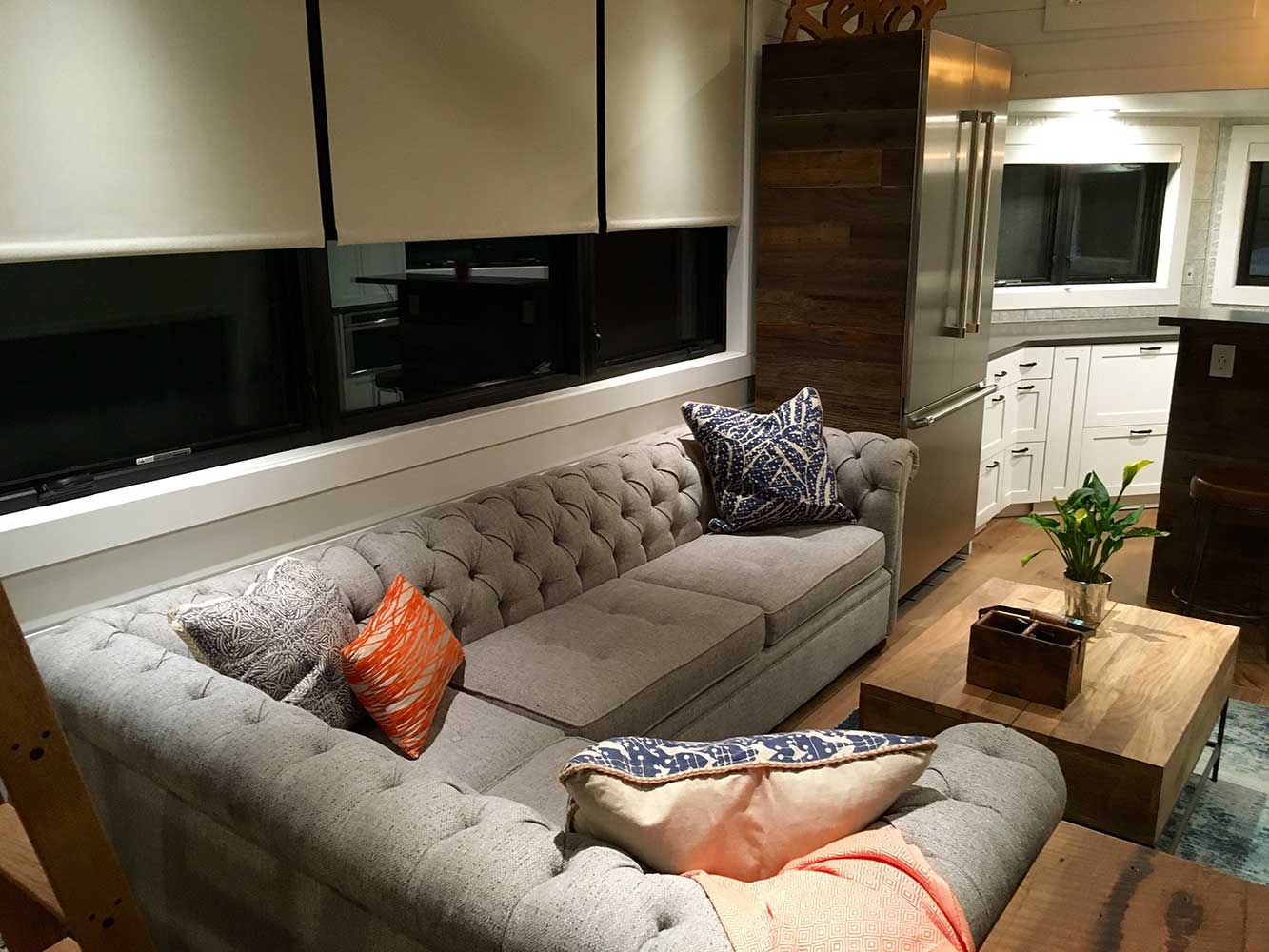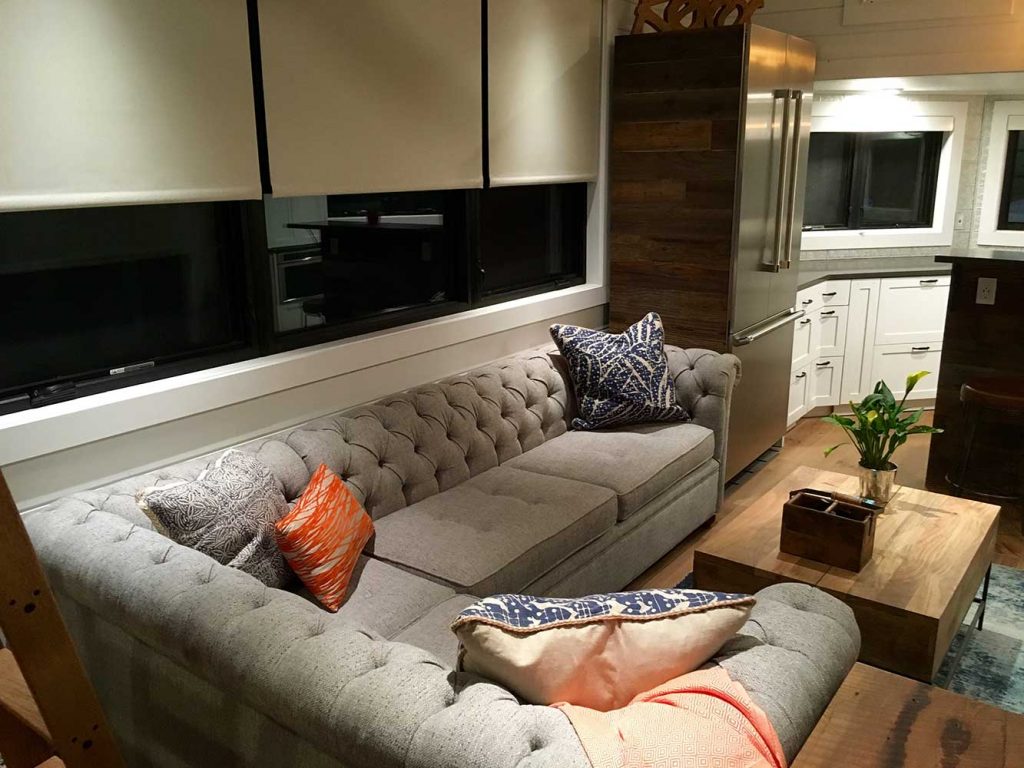 Bathtub
This isn't a must-have for everyone, but in our opinion, there's nothing like a relaxing bubble bath when you're out of the office for vacation! Surprisingly, there are many different types of bathtubs that work well in tiny house bathrooms, including walk-in tubs, Japanese-style soaking tubs, clawfoot tubs, and more.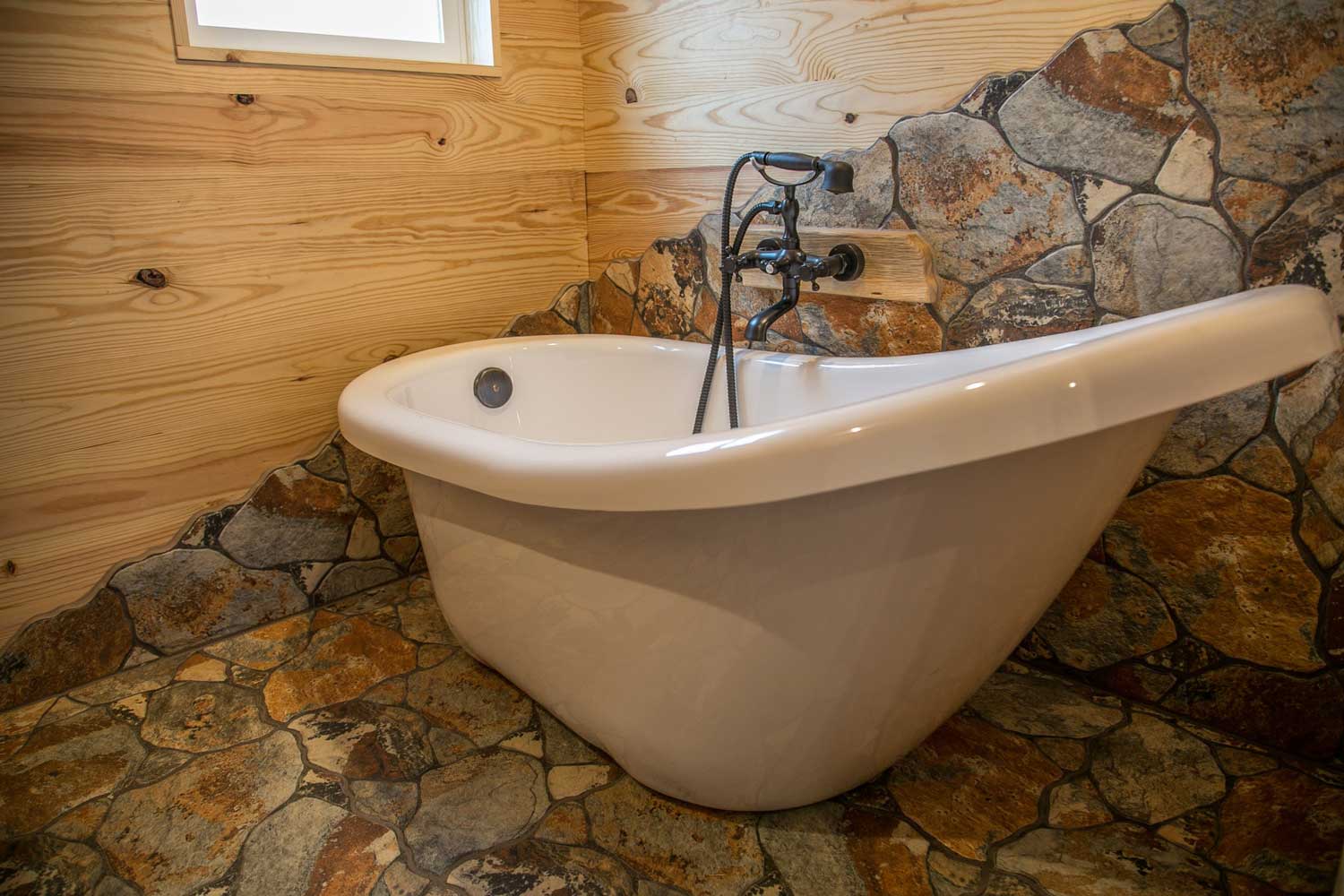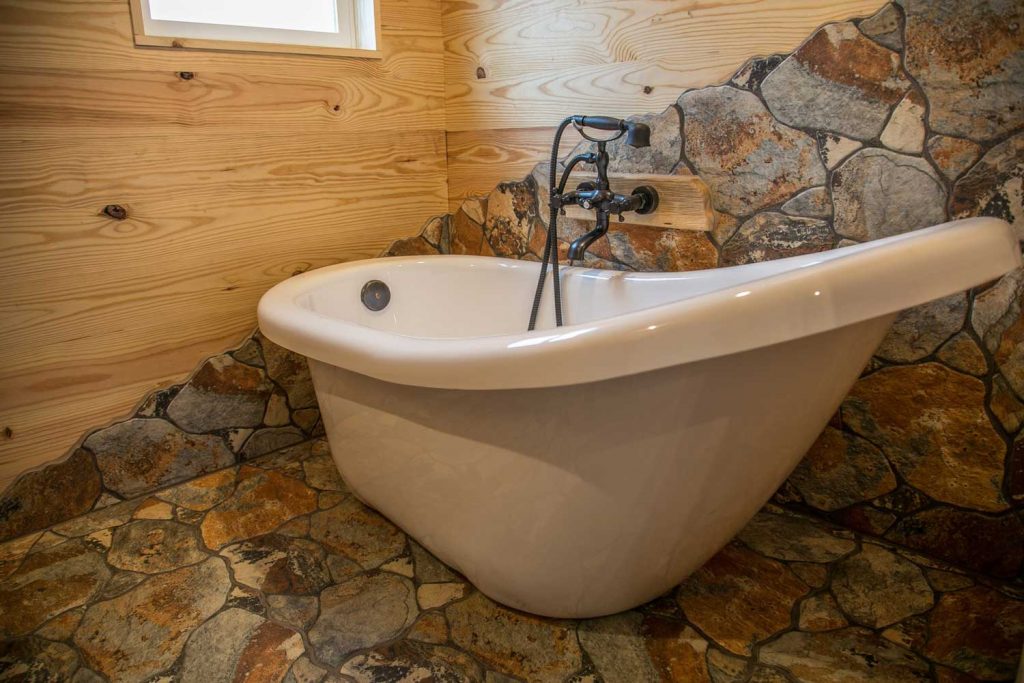 Reading Nook
A reading nook like this one makes the most of unused space. It provides a cozy spot to curl up with a good book or cup of cocoa, or if you're lucky enough to have a white Christmas, maybe just watch the snowfall.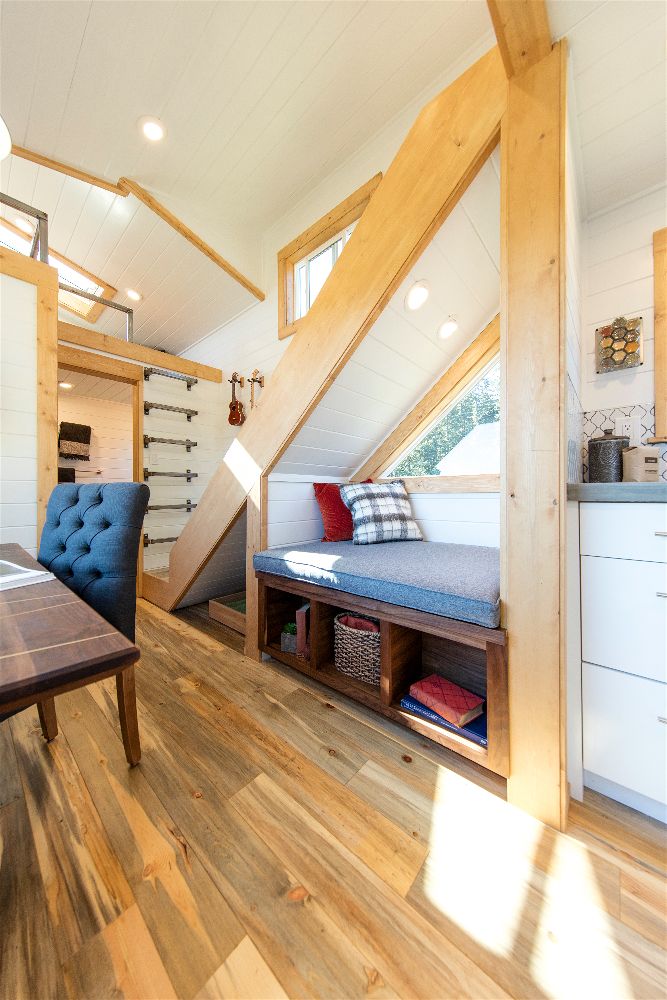 Tiny House on Wheels
Our custom tiny houses can either be built on a foundation like a regular home or on top of a trailer with wheels. The latter option gives you the ability to take your tiny home on the road with you! With a traveling tiny vacation home, you can spend every Christmas vacation in the same cozy home, but in a new, exciting location. Skip the winter weather and head to the beach one year, then bring it up to the mountains for a ski trip the following year… the possibilities are endless! 

Designing Your Tiny Christmas Vacation House Floor Plan
The first step to designing or selecting your floor plan is to make a list of you or your family's needs. What do you need to function? What do you like to do when you're on vacation? Play games, cook, do outdoor activities, listen to music, watch Christmas movies? What storage will you need? Look at your current home room by room and decide what elements or amenities you would want to include in your holiday vacation house. If you envision your Christmas vacation home as a cozy, tiny cabin, check out this blog post full of tiny cabin design and layout ideas.
For larger families, you may want to consider multiple tiny houses on the property, where you and your extended relatives can all gather for the holiday season. You could even add gathering spaces like a hot tub, firepit, or separate dining space between the tiny homes to complete the tiny "village" feeling. How about a big outdoor Christmas tree in the center to get you all in the holiday spirit?
Build or Find an Existing Tiny Christmas Vacation House for Sale?
Once you've dreamed up the style and layout you're after, you'll need to decide whether to build your vacation home, purchase a prefabricated tiny home, custom design one from the ground up or buy a pre-owned home. A fully customized tiny home will ensure all your needs and goals for your vacation home are met but is usually the more expensive option. Many tiny home builders offer prefab tiny homes, like our Signature Series collection, to simplify the design process and help lower the price. If a brand-new tiny vacation home is outside of your budget or interests, consider buying a pre-loved tiny home. You'll find a variety of shapes, sizes, and styles for sale on our website – from cozy cottages, to log cabins, to more contemporary homes.
Getting Started with Your Tiny House
Want to have your tiny vacation home ready for the next holiday season? Start with a free consultation with our experienced design team to explore these options and possibilities further. With your vision and our expertise, anything is possible!