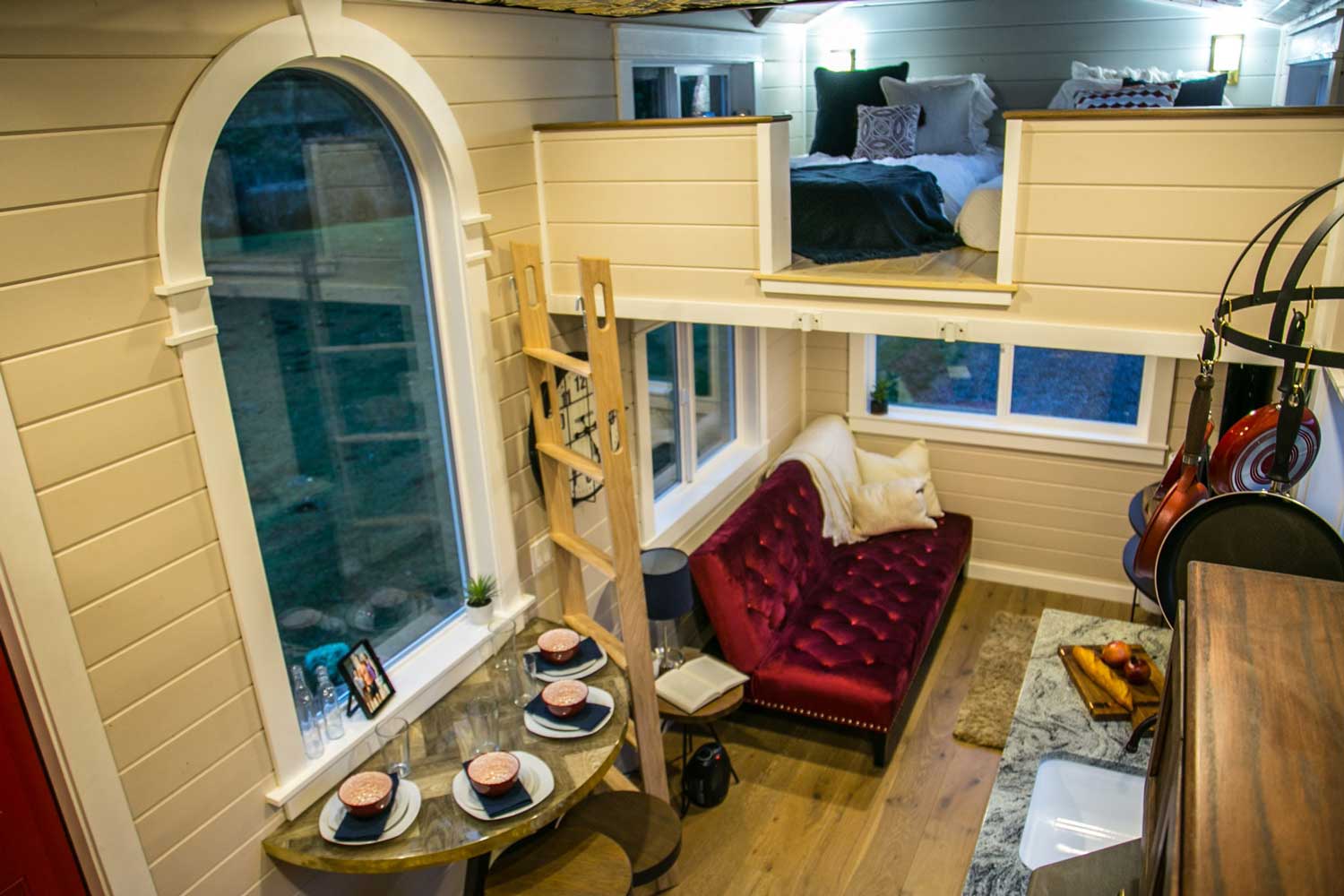 Tiny House Table Ideas
Posted on
January 17, 2022
Tiny House Table Ideas
Whether you're looking to use a coffee table, dining room table, or even a workspace table, we have some brilliant ideas on how to integrate these to save space in your Tiny Home. The key concept will be to use floor space and storage cabinet space to best suite your needs for each and every tiny home table. Thus, our wonderful list of tiny house table ideas. 
1. SLIDE OUT TABLE
The slide out table might be the most overlooked way to introduce a table space in your Tiny Home. Everyone knows that space is king when it comes to a Tiny House and we want to save as much space as possible! These slide out tables can fit nearly anywhere. You're able to have them fit in drawers, wall panels, or even your counter tops. As most tiny homes come in under 300 square feet, this can be a great tool in your arsenal!
2. COFFEE LIFT TABLES
These are liftable tables that can be anywhere from a side table to a normal sized coffee table spanning the couch or sitting area. Not every Tiny Home will be able to feature a coffee table area but if yours does then this will be a great way to maximize the space you have available. These allow you to store blankets, pillows, books, and whatever else you can find inside while utilizing a table top space.
3. FOLD OUT TABLES
These are probably the most popular choice when it comes to Tiny Home buyers and their customizations. You're looking for something that is unique, useful and at the same time saves space! This is the best of all these. Most builds will put these as an extension to the counter tops where you can even find a way to fit a seat built into the wall where you have a wonderful breakfast spot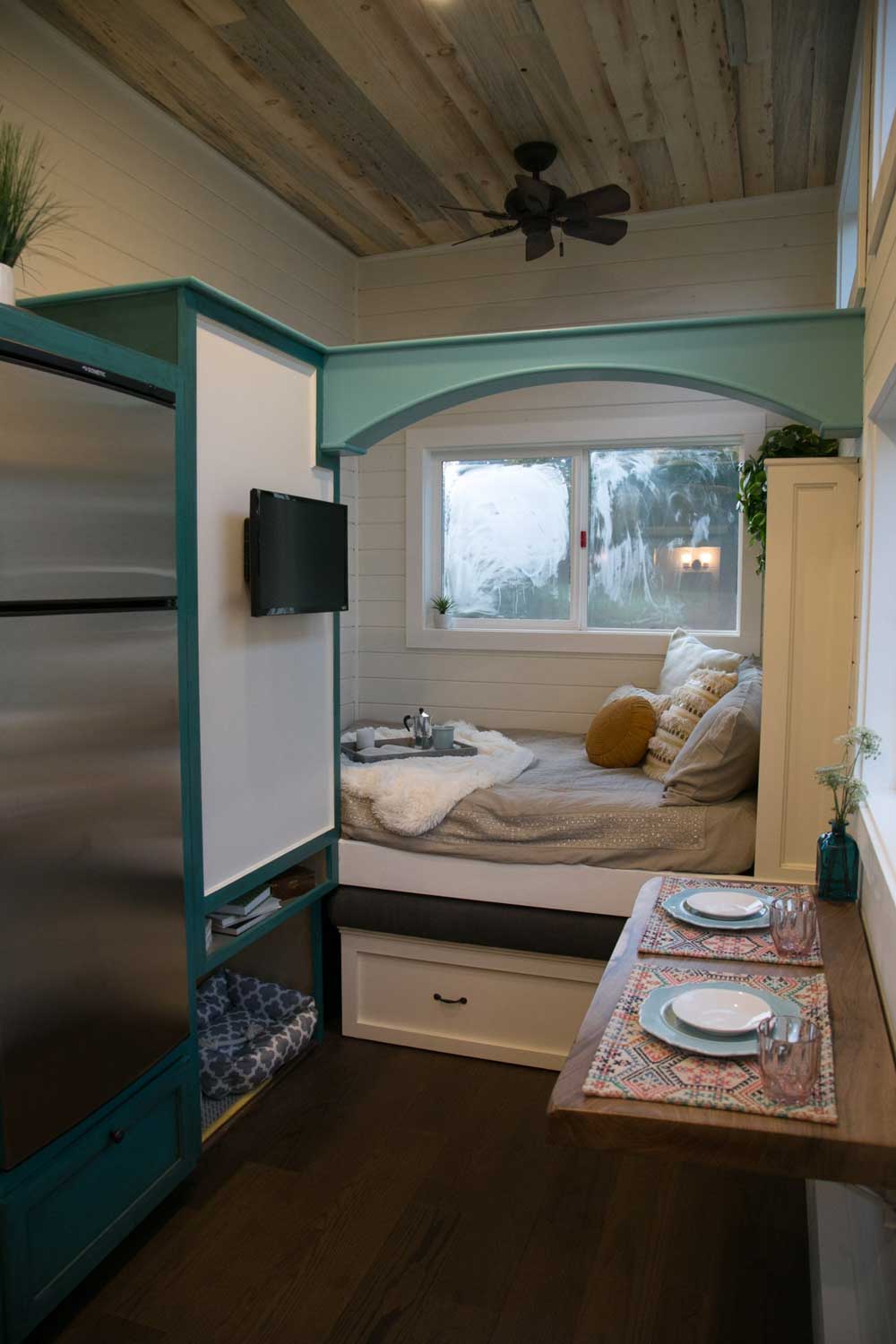 4. MURPHY BUILT IN TABLE
In some cases you have a Murphy Bed-Style Pull Out Table Top which can be an amazing feature for any Tiny House. These are exceptionally great because they allow for a larger table and using almost no space as it's built directly into the wall space. The outer portion of these tables (the door so to speak) can even be used for hanging different items. This falls right into place with the theme of "using every space you can" in the Tiny Home build.
5. Bar Top Tables
One of the easiest ways to implement a beautiful table into your tiny home would be the bar top table. You're able to save space while maximizing the useable square footage of your mini home. Unlike tables that fold, hide, or pull out this can be made with marble, granite, and other high quality materials that will shock those who come in and see your wonderful new tiny house.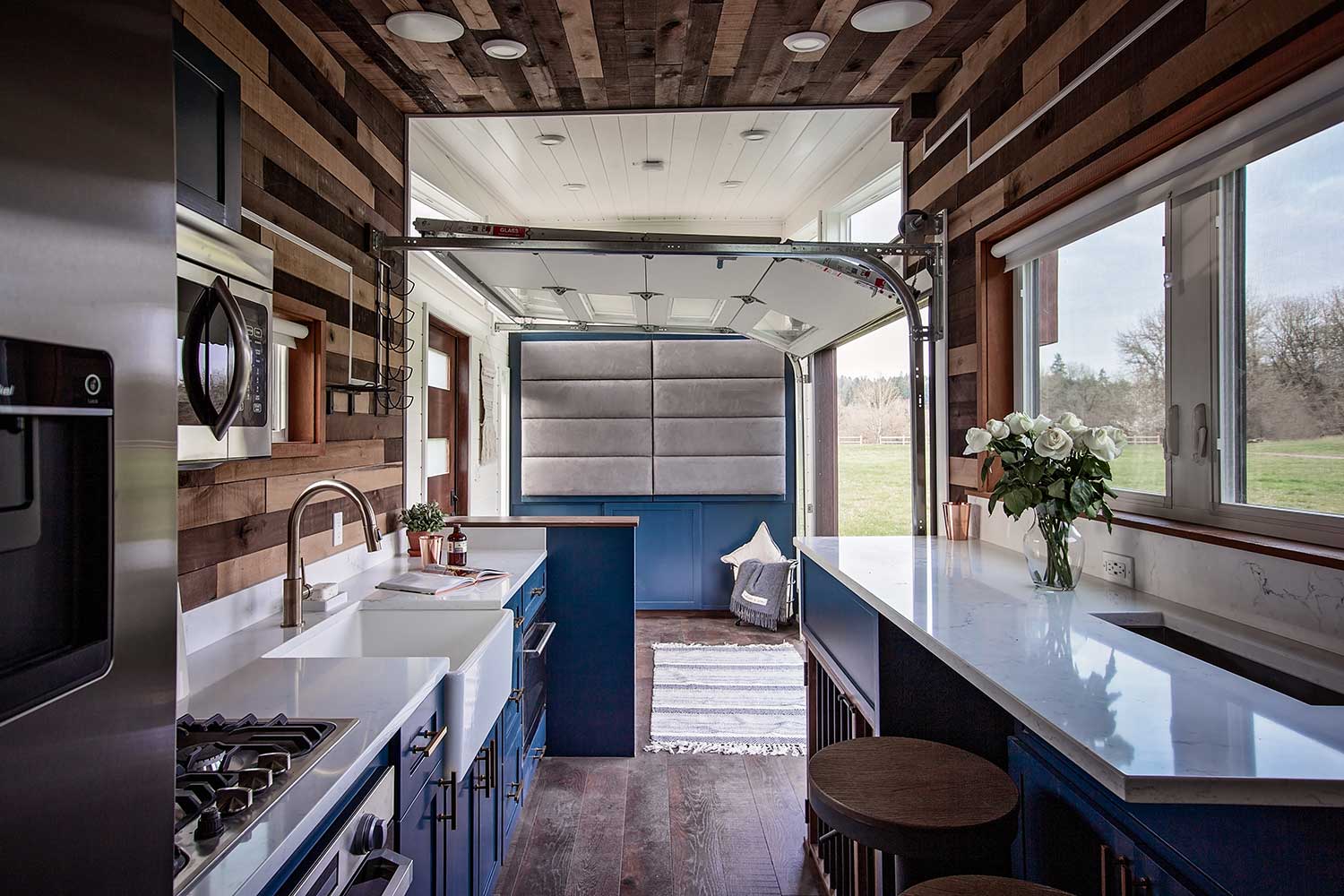 6. A TABLE
Yes, it seems obvious and almost cruel to end the article on "a table" when it's that obvious. Tables don't have to be hidden, extended, folded, or even built in. The great thing about a Tiny Home is just how customizable it can be for you. Here at Tiny Heirloom we take your customization very seriously and we're always looking for new ways to help you create a home for yourself. The nicest way to integrate a table into a build without doing anything too unique would be the "morning cubby" as we often call it. This morning cubby is a center table by the end of your tiny home and is surrounded by a one piece "U" shaped seating area. This is often called a "breakfast nook" but it's much more than that–especially if you have a window near by!
Some No's With Tables
Some obvious no no's when it comes to formatting your seating arrangements are placing a table too large for the area space with no built in storage. Each of these tiny home ideas are used in ways that are particular to the home owner and the dreams they have for their wonderful tiny house. We've seen many builders allow for normal size kitchen tables or even seating areas for 3 to 4 people but the larger the table means you also need to add larger appliances or you'll feel very out of sorts.
Another don't when it comes to tables in your Tiny Home would be placing it away from a window. More often than not you are going to want to place your table near a window for the best lighting when working, eating, and eating. More than this, you will want to fit the table near a window so the sitting area feels more open and engaging than if it were off in a corner with no windows near by to create a welcoming or relaxing atmosphere.
We hope this has been an encouraging and informative article for you! If you're looking for a wide variety of customizations make sure to take your time and built the house that you know can be your HOME.