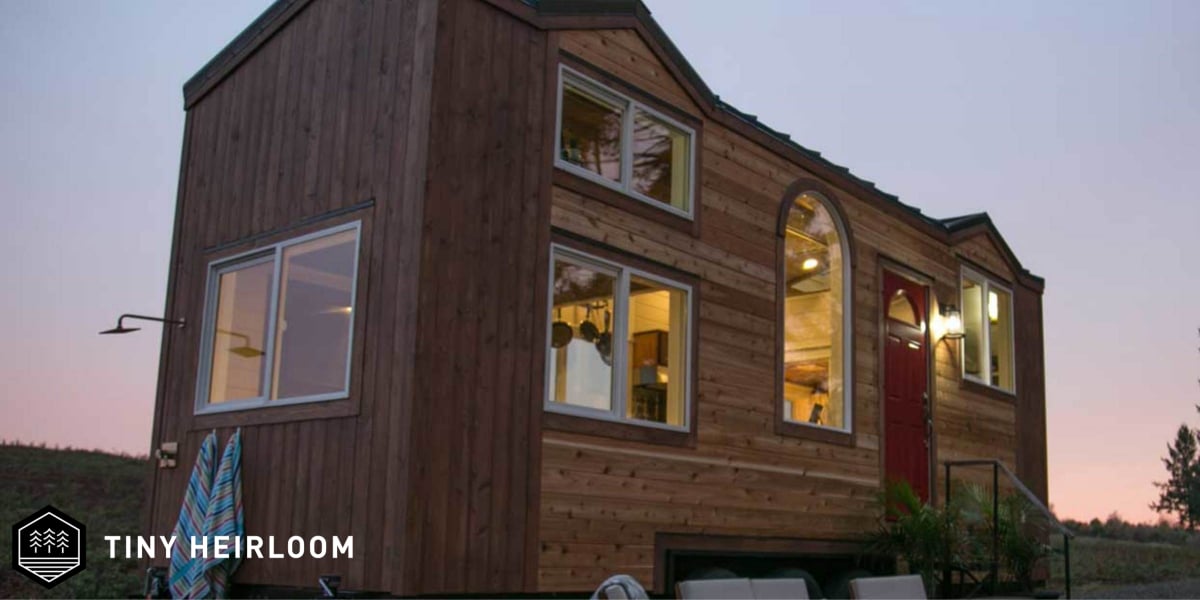 Getting Creative with Your Tiny House Shower
Posted on
November 19, 2020
When you picture a tiny house bathroom, you might imagine a cramped, claustrophobic shower, like one you'd find in an RV.
Well, think again! Just because you have a tiny house doesn't mean you have to have a tiny shower. In reality, there are endless examples of luxurious and spacious tiny house bathrooms, which we'll highlight below to get you inspired.
Picking your Tiny House Shower can be an Adventure
Designing a tiny house is all about prioritizing. If showering is an important part of your day, it may be worth dedicating a bit more space to your bathroom. Depending on your vision and the space you have available, this may or may not mean sacrificing on a few other luxuries in other parts of the home. But a functional and enjoyable tiny house shower is about much more than just size and space! There are so many creative things you can do to make your shower appear larger and more inviting.
Save Space With a Toilet Shower Combo
A wet bathroom, one that combines the shower and toilet space, is one popular space-saving solution for tiny house bathrooms. While wet bathrooms aren't for everyone, they have some great advantages over traditional bathrooms, including the following:
– They're watertight, so you don't have to worry about installing any barriers such as glass doors or shower curtains. This not only makes the space appear more open and spacious but can also save you some money.
– They open up many more layout possibilities and make the most of the limited bathroom space.
– They are more accessible and can provide a place to sit while showering if you need it.
On the other hand, as the name implies, wet bathrooms can make your bathroom more difficult to keep dry and subject to mildew. Fortunately, this is just one of the many shower options available for tiny houses.
Search for Inspiration With These Small Shower Ideas
Below are a few of our favorite small shower ideas to help get your tiny house bathroom ideas flowing:
Skylights: The simple addition of a skylight above a shower works wonders for a tiny bathroom. It can drastically open up the space and make it feel much lighter and brighter. Just imagine taking a shower and looking up to the bright blue sky, stars, or rain pattering on the glass up above you! Adding windows to your shower can provide a similar effect.
Frameless Glass Door: Speaking of glass… Going with a frameless glass door instead of a shower curtain or more bulky door can drastically open up your tiny house shower. Lots of glass will help make your shower feel less claustrophobic and more modern.
Stainless Steel Shower Walls: Choosing stainless steel walls for your tiny house shower can provide a unique, modern look and save you money compared to tile. Plus, it's typically a more lightweight option, which is important for tiny houses on wheels that will be transported from place to place.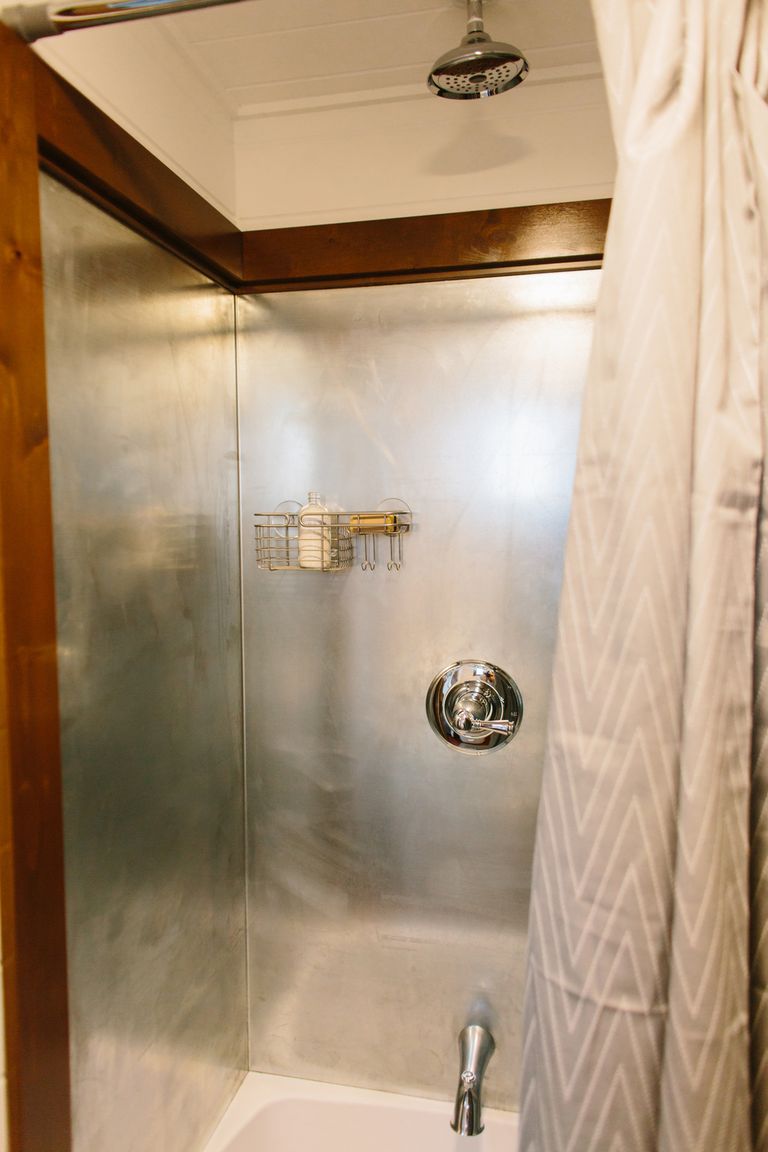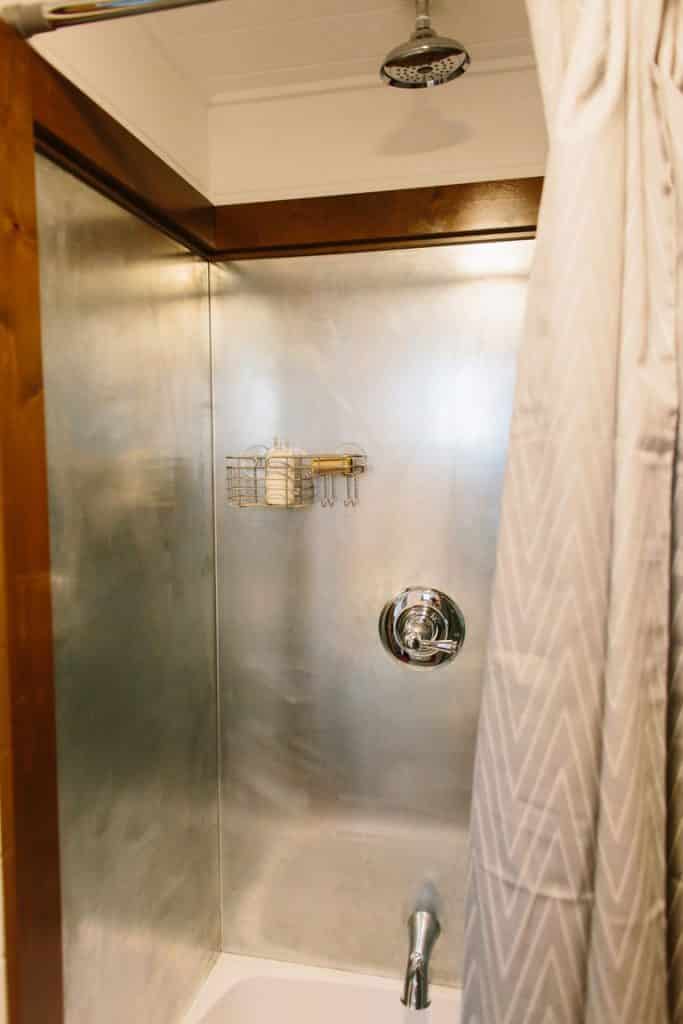 Minimalist Design: Sticking to a simple, minimalist style for your tiny house bathroom will help it appear more spacious and less cluttered. What's more, reducing visual clutter is proven to have mental and emotional benefits, such as reduced stress. One popular minimalist design trend is to stick to a monochromatic color scheme (different shades of the same color), which can help make a space seem larger.
Buckets & Barrels: Many tiny house bathrooms get creative and replace a standard shower base with a horse trough, industrial-style trough, or even a wooden barrel. This can create a unique, DIY-style look.
Low-Flow Shower Head: Installing a low-flow showerhead in your tiny home shower is a great way to reduce your water consumption and conserve limited resources. This environmentally conscious decision is especially important for traveling or off-the-grid tiny houses.
Outdoor Shower: Many people choose to go tiny in order to spend more time outdoors, enjoying and connecting with nature. If this sounds like you, why not add an outdoor shower to the exterior of your tiny home? It's an innovative way to fit not one but two showers into your tiny house set up!
Plant Wall: Pictured below, our Vintage Glam tiny home incorporates a wall of plants into the shower/bathroom. This not only adds visual interest to the space but is shown to have positive effects on mental well-being… a win, win!
These are just a few of the endless possibilities when choosing a shower for your tiny home bathroom… keep reading for more inspiration!
What About a Tiny House Bathtub?
Believe it or not, you don't have to rule out a bathtub when you switch to tiny living. In fact, there are a whole host of options available that are both comfortable and aesthetically pleasing, including but not limited to the following:
Corner Tub: A tall corner tub, like the one featured in our Tiny Adventure Home (pictured below), is a great way to fit a comfortable bathtub into your tiny house bathroom without taking up the whole room.
Walk-In Tub: Walk-in tubs are commonly used in RVs and other compact bathrooms. They are more accessible than other bathtubs, so they're a great option for those with limited mobility. Rather than climb into a deep tub, they have a small door you can open and walk right into.
Japanese-Style Soaking Tub: The Japanese-style soaking tub in our Modern Shou Sugi Ban Home (pictured below) is both functional and aesthetically pleasing, contributing to the home's overall zen aesthetic.
Clawfoot Tub: You may be surprised to see a clawfoot tub in a tiny home, but it's certainly possible! Take this Tudor-style tiny home bathroom (pictured below) we designed as an example. The brass tub makes a bold statement and aligns perfectly with the overall style of the home.
Good Luck Perfecting Your Tiny Home Shower
See how many options you have for your tiny house shower? With a little creativity and planning, big things are possible, even for the tiniest of bathrooms!
When you partner with professional tiny home designers to create a custom tiny house, the possibilities for your tiny house bathroom open up even more. With a customized home, you can focus on what matters most to you. With Tiny Heirloom, our experts will apply their creativity and craftsmanship to bring your unique vision to life. Having designed and built countless tiny home bathrooms with showers and bathtubs of all sizes and styles, we are confident that we can create the bathroom of your dreams!
To get started, contact us today for your free tiny home consultation.