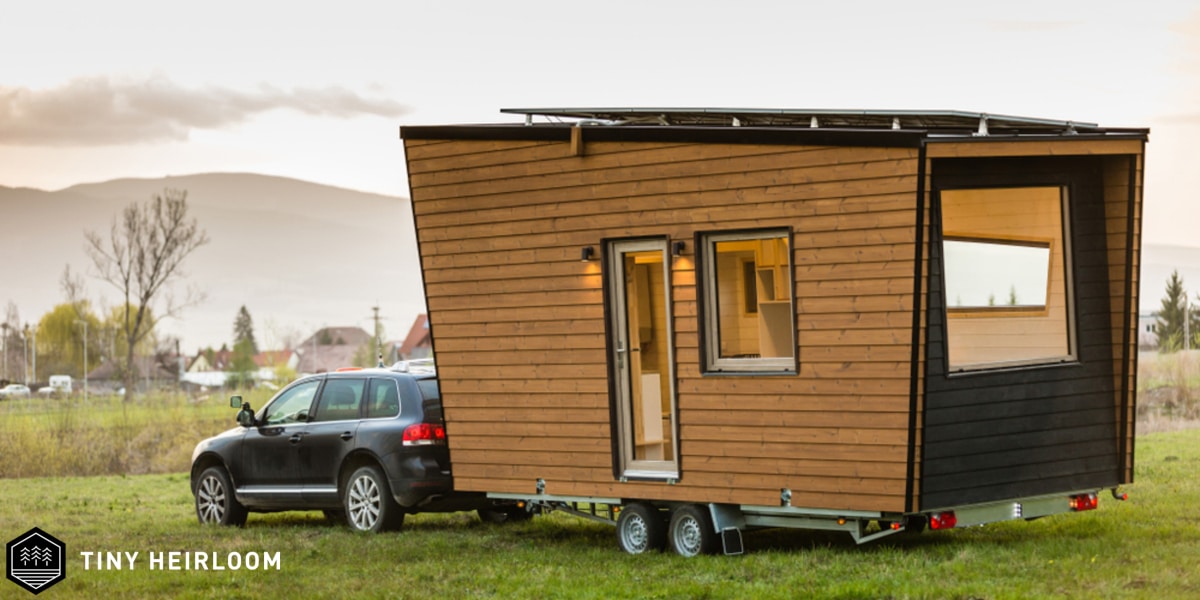 Teardrop Camper or Traveling Tiny House?
Posted on
September 11, 2020
Have you thought about leaving it all behind and starting over? Ever imagine letting go of the trappings of modern life for one of spontaneity and adventure? Maybe not forever, but at least long enough to recharge your batteries and come back feeling fresh?
Minimalist living is a growing trend. It may have seemed a novelty a few years ago when it broke into the cultural zeitgeist, but the fact that it continues to draw attention speaks to its value. There's an unhealthy pressure from living in an age that requires constant communication, endless engagement, and little privacy. Perhaps that's why the simplicity of a teardrop camper or tiny house is so attractive.
What's the best choice for you, then? Keep reading to see who wins the teardrop camper vs. traveling home debate. After reading, if you decide that a traveling tiny house is the best option for you, contact our experienced tiny home builders to explore your options further.

Teardrop Campers
With an unforgettable silhouette, teardrop campers evoke a sense of freedom. Their small size is their strength. They offer a versatile, adventurous experience for those looking to break free from convention.
Limited in size as they are, they encourage their owners to spend more of their time outside. Many daily activities need to be performed in the open. Campers can store plenty of goods and supplies, but outside of sleeping arrangements, they don't offer fully indoor living options.
Another plus is that you can hitch them to pretty much any type of car (no big trucks needed here) and take them almost anywhere. What they lack in space they make up for with opportunity. For many, a teardrop camper is the ultimate escape from traditional living.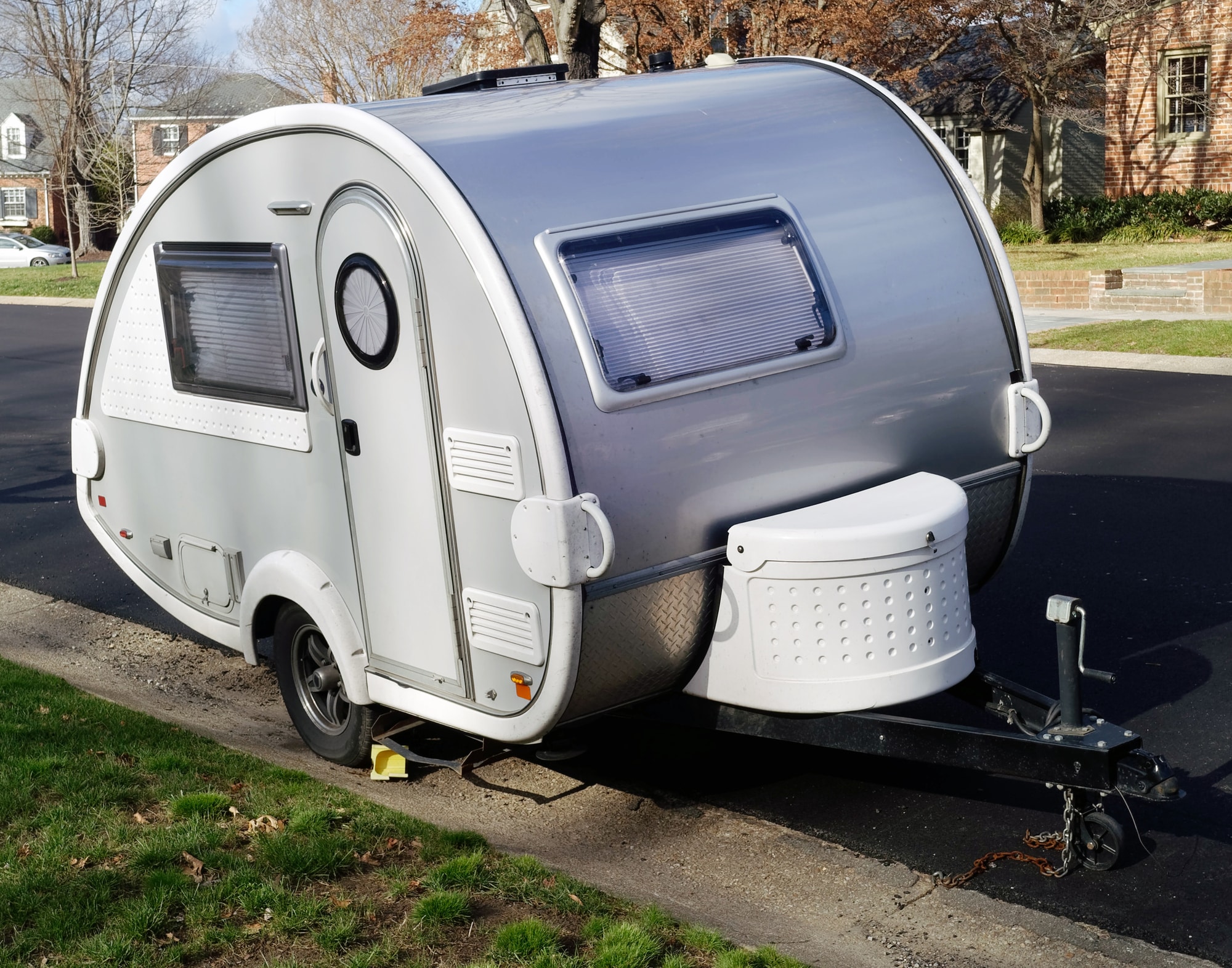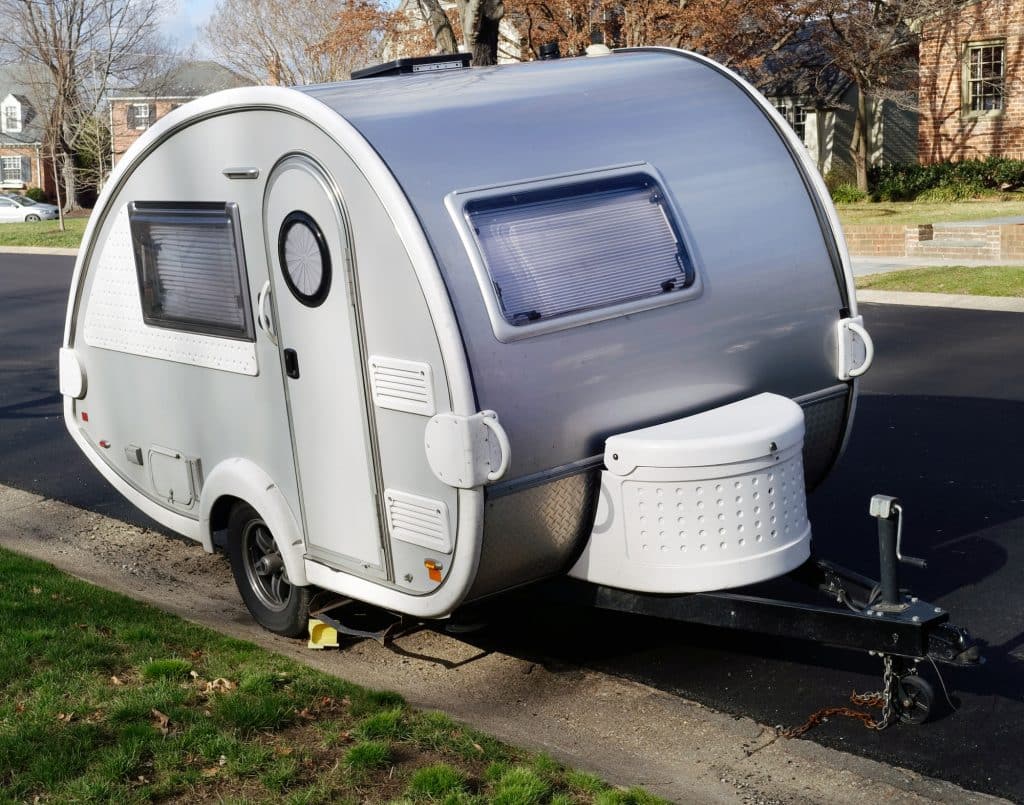 Tiny Traveling Homes
If a teardrop camper is too much of a compromise, a tiny house may offer what you're looking for. What a traveling tiny house sacrifices in ease-of-use it makes up for in comfort of living.
Tiny homes are becoming ever more popular as people struggle with high housing costs. Instead of focusing on square footage, a tiny home allows you to focus more on location.
Whereas a teardrop camper is limited by its design, a tiny home can be custom-built to almost any specifications. It also allows for proper indoor living, relative to a camper. Despite its diminutive size, a tiny home can be made to feel like a proper domicile with all the facilities and amenities you need.
A tiny home on wheels can also travel. While not as easily transported or lightweight as a teardrop camper, it can still be relocated almost anywhere accessible by road. Tiny house trailers on wheels are specifically designed to be moved from place to place.
A traveling tiny house also has a significant advantage over trailer living. Most trailers require hookups provided by campsites and trailer parks. Tiny homes, on the other hand, are often designed to be fully self-sufficient. Electricity and sewage can be connected to outside sources. Solar panels and compost toilets can also be built into the design. This grants independence from outside utilities and maximizes on freedom!
Teardrop Camper Interior vs. Tiny Home Interior
Now, let's take a closer look inside…
By definition, teardrop campers are much smaller and more compact than traditional box campers. Teardrop campers typically range from 4 to 6 feet in width, 8 to 10 feet in length, and 4 to 5 feet in height. With such limited space, you either have to keep things super simple or get creative with the interior design to meet all your needs and wants.
If you want a large bed to sleep two people, you'll probably have to sacrifice an indoor kitchenette. If you opt for a narrow single bed or bunk beds, you can sometimes fit a small kitchen and/or bathroom inside. To get around this challenge of minimal indoor space, many teardrop campers cleverly use the exterior of the camper and build in cooking areas or storage that can be accessed from outside. The result is a setup that is great for those who want indoor/outdoor living.
Though tiny homes are "tiny" compared to normal homes, they are spacious compared to teardrop campers. They come in a wide range of sizes, dimensions, and creative layouts to fit a spectrum of needs for families of all sizes. Further, because the interior of most tiny homes is highly customizable compared to a teardrop camper, you can come up with a creative, personalized interior design that matches your unique style and needs.
Teardrop Camper Prices vs. Tiny Home Prices 
It's hard to provide an accurate price estimate for a teardrop camper because they vary greatly in price depending on their size and luxury. While some are very basic, more like a tent on wheels with just a sleeping area for one or two people, others have bathrooms, cooking areas, and other RV-like amenities. While a small teardrop camper might fall between $5,000 and $10,000, a large one for four people with a bathroom would likely cost more than $15,000.
A tiny house on wheels will almost certainly cost more than a teardrop camper, but for those who want ample space, comfort, and unparalleled amenities, the additional investment is worth it. Generally speaking, a tiny house on wheels built by top-rated, professional tiny home builders might start at around $50k or so for a smaller, more basic option. The price will of course increase the larger and more customized you get.
Tiny Home and Teardrop Camper Kits
If you're a hands-on person looking for a deal on a teardrop camper, there are several companies offering DIY teardrop camper kits. Some are partial kits and only include the walls, while others are more complete with everything you need to assemble a comfortable teardrop camper. One drawback of this route is that you will likely have to pay for shipping, which can be expensive. Also, if you don't have all the tools and equipment you'll need, you might end up spending even more than the cost of a used, already-assembled teardrop camper.
Tiny home kits are also available for purchase, but they are much more complex to assemble, especially traveling tiny houses on wheels. You may have heard of the Amazon tiny home kits you can buy with just one click, but beware of the risks involved with this kind of purchase and do your due diligence. If you have any doubts about your ability to put a home together on your own, it's probably best to leave the tiny home building to the experts.
Tiny Home vs. Teardrop Camper Rental Potential
With both teardrop campers and tiny homes, don't forget to consider the possibility of earning money by renting them out for short term or monthly stays. Tiny homes for rent have been gaining popularity for years with help from home sharing sites like Airbnb. These types of homes are in increasingly high demand. To give you an idea of the income potential, on average, the expected annual profit of an Airbnb host renting out a two-bedroom apartment or house is $20,619. The price for which you can rent out your time home will depend on many factors, particularly the location, size, and occupancy rate, but overall the potential is huge!
With the rise of camper or van rental sites like Campanda, renting out your teardrop camper is becoming easier and easier. A quick Google search will show teardrop campers for rent at around $75 per night, though the price you can charge will definitely depend on your location, the company or websites you partner with, the size of the teardrop camper, the amenities you offer, and more. It's unlikely that you would earn as much renting out a teardrop camper compared to a tiny house, but there's certainly still income potential there.
Key Benefits of Teardrop Campers 
All in all, teardrop campers are a great option for many people, particularly those who want to travel frequently and conveniently and don't mind sacrificing on some comforts and spending more time outdoors. In summary, the key benefits of teardrop campers include:
Mobility: Teardrop campers are compact, lightweight, and easier to transport from place to place than most tiny homes. They are less intimidating to tow for someone without experience. Overall, they are a great option for on-the-go travelers.
Indoor/Outdoor Living: Most teardrop campers are not designed for full-time, indoor living. This can be a benefit for those looking to spend more time outdoors, enjoying nature.
Logistics: Compared to tiny homes, teardrop campers are less regulated in most states, so you won't have to spend as much time figuring out how to legally build, park, or travel with them.
Affordability: As you can see in the price analysis above, teardrop campers are typically less expensive than tiny homes. However, keep in mind that a tiny home can more easily be a  full-time residence and help you save on overall cost of living.
Key Benefits of Traveling Tiny Homes 
On the other hand, tiny homes are a better choice for many people, especially those who want to live on the road full-time or for extended periods of time and aren't willing to sacrifice on space and comforts. They also tend to be a preferred option for families, as they can sleep more people comfortably. Overall, the key benefits of tiny homes on wheels are:
Full-Time Living: Unlike most teardrop campers, tiny homes are actually designed and built for full-time living. With a traveling tiny home, you can travel nonstop rather than take shorter trips here and there.
Comfort: Traveling tiny homes can be quite luxurious! You can take the comforts of home with you on the road, whether that be a bathtub, a washing machine, a flatscreen television, or a cozy fireplace. They are also much more spacious than teardrop campers and less exposed to the elements.
Customization: Tiny homes can be customized to no end, while most teardrop campers are generic. If you are an avid artist, you can build in a studio and place to store all your supplies in your tiny home. If you travel to ski, you can design a custom storage solution to house all your gear and equipment. If you have three kids and a dog, you can come up with a custom layout to sleep everyone comfortably. When you customize a tiny home, the possibilities are truly endless!
Self-Sufficiency: Most tiny homes on wheels are designed with self-sufficiency in mind. Many go a step further and allow you to live fully off-the-grid. Solar panels, rainwater collection systems, composting toilets, and other custom tiny home facilities will give you more flexibility, environmental sustainability, independence, and financial freedom.
Mobility: Although not quite as mobile as a teardrop camper, a tiny home on wheels can still be designed to be lightweight and easy to transport from place to place. This is especially true for RVIA certified tiny homes.
Lifestyle: There are countless lifestyle benefits that come with tiny home living, from reduced stress to more quality time spent with loved ones. Read more about them in our article titled 10 Lifestyle Benefits of Living in a Tiny House Trailer.
Teardrop Camper vs. Tiny Home: The Winner Is…
In the end, which of these options suits you best is a personal decision. What sounds like an opportunity to some is an inconvenience to others. Instead of deciding which is better, consider which best suits your needs and lifestyle.
If the ability to get away spontaneously for less extended periods of time, a teardrop camper is probably the way to go. It packs tightly and travels easily. While it offers little more than storage and a place to sleep, it's versatility has made it popular with a certain type of user. It's also more affordable than a tiny house.
On the other hand, you want something a little more traditional but unencumbered by high housing prices, a tiny home is a better fit. It can be designed to meet your needs. You're also not tied to a geographical location, like with a traditional home.
Whatever your desires are, there have never been more options. Alternative living continues to offer more solutions for people tired of cities, suburbs, and even the countryside!
If you're curious if tiny living is right for you, let us know. We can help you determine what living arrangements are best for you.