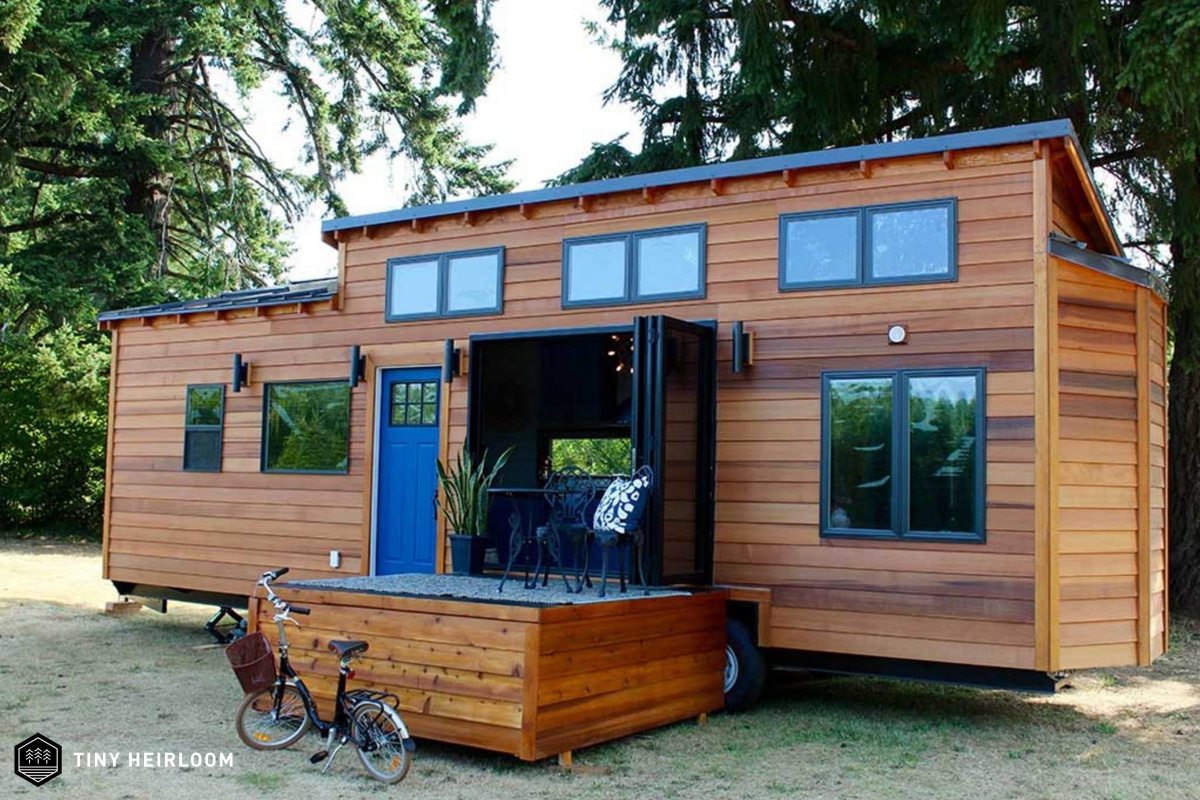 10 Lifestyle Benefits of Living in a Tiny House Trailer
Do you ever feel burdened with all the clutter and financial stress that come with owning a large home? Have you ever contemplated living off the grid, spending less money, and being free to travel from place to place as you see fit?
When you opt for tiny house living with a tiny house trailer, you choose freedom: financial freedom, freedom to live where you choose, freedom from excessive materialism, and freedom from weekends spent on traditional home upkeep. Switching to tiny house living gives you the space (pun intended!) to focus on what truly matters to you, whether that be your relationships, your family, travel, the outdoors, or the environment.
If you've heard about tiny houses and wondered if one could be the right choice for you, read on to discover some of the many benefits of owning a tiny house trailer and some tips on how to make a smooth transition to the tiny lifestyle.
1. You'll Never Be Stuck in One Place

A huge plus to owning a tiny house trailer is the ability to hitch it to a truck then up and move to a new spot whenever the mood strikes. Many tiny homes are designed to live off-the-grid and can be parked just about anywhere you can find some open land. Having a tiny house also makes it more convenient and easy to travel and see new places; you'll never have to pack your bags because all your belongings will be with you wherever you go! Travel is also shown to benefit mental health in many ways, from enhancing creativity, to reducing stress, to strengthening relationships with travel companions, and much more.
The flexibility that comes with tiny house trailers is unparalleled. If you eventually get tired of life on the road and decide to settle in one place, tiny house trailers can do just that. For more information on tiny home parking options, check out our comprehensive guide: Where to Put A Tiny House (Legally).
2. Building a Tiny House Trailer Costs Pennies on the Dollar
The cost of designing and building a tiny home is considerably more affordable than having a regular home built. What's more, you can have everything custom designed specifically to your tastes and needs. With less furniture and decor to buy, you can make your living space so much more curated and intentional than would be possible with a larger space. A custom tiny house trailer can truly be a reflection of you and your personality.
Prices for tiny homes depend on their size and the finish of the house, but they are almost always much less expensive than even a modest traditional home. This means that you may be able to pay cash for it after saving up, and live a mortgage-free life! If this option is out of reach financially, many tiny home builders offer in-house tiny home financing options to help make your dream a reality. If you do end up with a monthly tiny house payment, chances are, it will be nothing compared to the average mortgage payment.
3. Do Your Part to Support the Environment
Tiny homes are a more environmentally friendly option when compared to regular-sized homes. Due to their smaller size, they require less materials and resources to build. You can make your new tiny home extra eco-friendly by using repurposed and recycled materials to spruce it up. Popular tiny home features like solar panels or rainwater systems will amp up the sustainability factor of your tiny house trailer even further. Overall, while the American home emits about 16,000 pounds of carbon dioxide per year, the average tiny house emits only 1,144 pounds of carbon dioxide annually — that's more than 90 percent less! In a time of global environmental crisis, we should all be doing everything in our power to consume and emit less.
Read more about how to minimize your ecological footprint with our guide to sustainable tiny homes.
4. Save Money on the Cost of Utilities
In addition to the short term financial incentives of living in a tiny home trailer, the resource-minimal lifestyle can save you heaps of money in the long run. According to the Alliance to Save Energy, tiny homes are not only sustainable but efficient to run, considering they comprise of only 100-400 square feet (on average) to heat, cool, and run, compared to the average American home's 2,600 square feet. This fact means you can reduce your ecological footprint while also saving money on the price of your monthly utility bills.
5. Enjoy a Clutter-Free, Stress-Free Life
When you live in a traditional home, it's easy for stuff to pile up over the years. When you switch to tiny living, you won't have tons of space to fill with lots of belongings, so you'll have no choice but to keep your clutter to a minimum. Though it may seem daunting to get rid of so much, as you pare down your possessions, you'll come to appreciate what you have and gain a better understanding of what you can do without. In fact, recent research shows that de-cluttering your home can positively impact your mental well-being. Mental health benefits of less clutter may include reduced stress, less procrastination, and more. Furthermore, frustration with clutter is believed to increase with age, so it's a good idea to change your lifestyle before it's too late. Minimalism is a growing trend for these exact reasons.
6. Spend Less on Maintenance and Upkeep
Not only will a smaller space encourage you to ditch the clutter, having less room to decorate and furnish will be a welcome break on your budget. Fewer furniture and decorative pieces will be needed to cover your space, which also means, if you like to give your tiny home a new look, you can easily refurbish and decorate the whole place in a couple hours flat. With a smaller home and less stuff filling it up, you'll also have less household chores stressing you out. The smaller the space, the less time it takes to clean! Similarly, if you own fewer dishes, you'll spend less time washing them, and if you pare down on clothing, you'll have lighter laundry loads. You'll have more time to focus on what you love.
7. Spend More Quality Time With Those You Love 
Environmental psychologists reason that homes influence people's emotional state because they "facilitate the social interactions and the power dynamics that are played out in a home".  Though you might think of limited space as a stressor for your romantic or familial relationships, depending on the circumstances and design of the home, the opposite might be true. After switching to tiny living, many couples find that they spend more quality time together, and less time cleaning or keeping up with the endless chores that come with a big house. Others find that they learn to communicate better and resolve conflict more quickly by not being able to avoid each other as easily. Others are able to live more harmoniously due to less financial stress and a more exciting way of life.
8. Live in Harmony With Nature
With limited space inside a tiny house trailer, you will likely be spending a lot more time outdoors, enjoying nature. Many tiny houses are designed with indoor-outdoor living in mind, featuring fold-down patios, skylights for stargazing at night, or large garage-style doors that help to bring the outside in. Many tiny home trailer owners invest in great foldable patio furniture and decorations so that they can create a "pop-up" outdoor living room wherever they're parked. More time surrounded by nature is not only ideal for outdoor enthusiasts; everyone has something to gain from this lifestyle. In fact, recent studies show that spending more time outdoors or with a view of nature can help reduce stress, improve mental and physical health, and even stimulate healing. Some even indicate that the mental health benefits of being among nature for just 15 minutes can last for seven hours!
9. Get Off the Grid

The term "off the grid" is defined as not requiring public utilities such as electricity, water, sewer, natural gas, heat and other services. It also often entails living a minimalist lifestyle, reducing waste, and spending only on absolute necessities. Off the grid tiny house trailers typically include self-sufficiency features such as solar panels, rainwater collection systems, composting toilets, and the like. A tiny house trailer with these features will be much easier to travel with and park, and will provide you with tons of flexibility! Off the grid tiny house trailers are a great option for those who want to live in more rural, isolated areas where it would be difficult (and potentially harmful to the environment) to build a traditional home.
10. Tiny House Trailer vs. Teardrop Camper: Tiny Houses Don't Compromise on Comfort!
Are you conflicted about whether to purchase a tiny house on wheels or a teardrop camper? Let's compare the two options.
Teardrop campers have made a resurgence in recent years and are growing in popularity. They are attractive for many reasons, predominantly how easy and convenient they are to transport from place to place. Also, they are generally lower in price compared to tiny house trailers, but this comes at the expense of indoor space and amenities. Most teardrop campers have only a small sleeping space indoors, making them great for a weekend "glamping" trip, but less comfortable for full-time living.
In contrast, tiny house trailers are typically much more comfortable and spacious than teardrop campers. Tiny house trailers are actual homes, fully equipped for full-time living with a kitchen, bathroom, and the comforts of home. Tiny house trailers can even be luxurious, featuring high-end appliances, bathtubs, fireplaces and other upscale details that would never be found in a teardrop camper. Tiny house trailers are also quite easy to transport, though due to their larger size, you may need a vehicle with greater towing capacity.
For a more thorough comparison of your on-wheel options, take a look at our guide: Teardrop Camper vs. Traveling Tiny House: The Great Debate.
Tiny House Trailer Reviews
Below are a few reviews from people who made the switch to tiny house living with Tiny Heirloom to give you an idea of the possibilities and help get you inspired:
"My fiancé and I were seeking a tiny home that suited our budget, lifestyle objectives, and aesthetic sensibilities. After extensive research to find a skilled builder to partner in this endeavor, it was a true pleasure (and relief) to discover Tiny Heirloom… They handled our questions with care and guided us towards several creative solutions for our household needs. Together we created a home that was crafted to our unique specifications, completely off-grid and self-sustainable, and absolutely beautiful. The home was delivered from Portland, OR to our lot in Indiana 2.5 years ago, and the folks at TH still remain good friends to us and always available for insight and support. We are convinced that without their kindness, professionalism, skillfulness, and creative eye, we would still be searching for the perfect builder for our project. I would highly recommend this team to partner with you in the crafting of your own tiny home." – Chris
"Tiny Heirloom helped us design and build our dream Tiny Home, they exceeded our expectations in craftsmanship and quality. It has everything we needed (and wanted) sleek modern design while staying cozy, solar panels, a full bathtub, a deck, office space, a HUGE window. It feels like they really wanted to spoil us with all our wants and they made it work. We couldn't be happier, it is the perfect home for us. Built with A+ craftsmanship, attention to detail and most importantly: love." – Paty
Have a Custom Tiny House Trailer Built for Yourself
As you're hopefully starting to see, there is so much more to tiny house trailers than initially meets the eye. Though the space of the tiny house trailers themselves may be small, the emotional and financial benefits can be huge.
With all these great benefits of living in a tiny house trailer, you're probably wondering if you can pull off the lifestyle yourself. To learn more about how to switch to tiny living, we suggest you read our guide to buying a tiny house on wheels. If you have any questions or concerns about the tiny house lifestyle, or are ready to make the switch, our passionate and experienced team at Tiny Heirloom is here to help!
If you're interested in having a custom tiny home built, we specialize in creating some of the most beautiful, innovative and functional tiny houses on the market. In addition to custom tiny homes, we offer many expertly-crafted prefabricated tiny homes and pre-owned tiny homes for sale at a range of sizes, prices and styles. To get started on your tiny home adventure and drastically change your life, contact us for a free tiny home consultation. We can't wait to make all your tiny dreams come true!‍