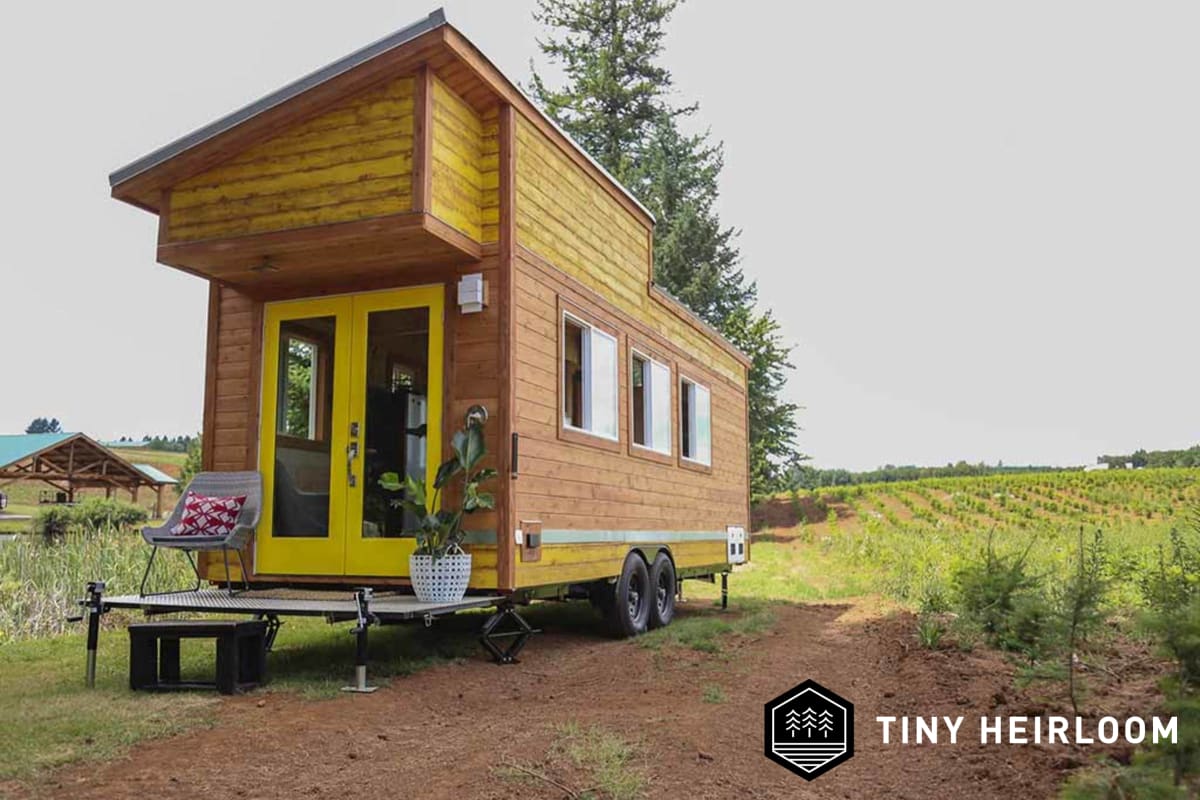 Tiny House Designs: The Ultimate Guide
Great design is an important aspect of any home, but especially tiny homes. In small spaces, there's nowhere to hide! What you see is what you get. 
Fortunately, because tiny houses are much smaller than regular-sized homes, you can afford to spend a little extra time and money on the design in order to create something truly spectacular. You can really curate a space that matches your needs, budget, personality, and way of life. 
With decades of experience creating all kinds of tiny house plans, we're excited to share some of our favorite tiny house designs and tips with you here. Let's get started! 

Key Considerations for Tiny House Designs 
Tiny houses are different from regular-sized houses in many ways, so there are some special considerations to keep in mind as you work on the design. Here are some of the most important factors to consider: 
Placement: Finding a place to park or build your tiny house legally can be much easier said than done. In most states, tiny house laws vary from city to city or county to county, so be sure to pay careful attention to your local zoning restrictions and building codes. Some key aspects of the design will be impacted by your local laws; for example, it is much easier to park a tiny house on wheels in some places than one on a foundation, and vice versa. Thinking about these things from the get-go will help you avoid problems down the line. 
Size: Yes, all tiny houses are tiny, but that doesn't mean they don't come in a wide variety of shapes and sizes to suit individuals and families of different kinds. You'd probably be surprised to see just how many different three and two-bedroom tiny house models and layout options are available to choose from!  
Functionality: Functionality is an important consideration for any home, but especially tiny homes. With limited space, you really need to make the most out of every inch of available space. Be sure to think about functional needs such as storage space, hybrid or multi-use spaces, and efficiency throughout the design process. Tiny home builders have a wealth of knowledge in these areas, so talk to a professional if you need ideas! 
Aesthetics: Aesthetics are what take a generic tiny house and make it into a beautiful and inviting home – and not just any home, your home. Be sure to weave your own personality and preferences into your tiny house designs. You can certainly draw inspiration from elsewhere or get professional help, but the best design ideas for your own home tend to come from within. 
Prioritize & Pare Down: When working on your tiny house design, you will probably need to prioritize your needs and focus on what truly matters to you. You may not have space for a separate home gym, art studio, and home office all under one roof, but with a little creativity and innovation, you can create unique hybrid spaces that serve multiple purposes. When downsizing, you will also likely need to cut down on "stuff" and think about what items you really want and need in your new tiny home.
DIY vs. Professional: Another thing to consider is whether you want to tackle your tiny house design on your own, buy a pre-designed tiny house, get help from a professional and experienced tiny house designer, or something in between. We usually recommend a collaborative approach that allows you to be highly involved in the design process, while still having professionals there to guide you, inspire you, and bring your ideas to life. 
Now, let's dive into some more specific tiny house designs to get your ideas flowing! 
Tiny House Bathroom Design 
One of the most challenging things about designing tiny house bathrooms is that traditional bathroom fixtures tend to take up a lot of space. Below are a few creative design ideas to help you make the most of a tiny bathroom: 
Wet Bathroom: A wet bathroom is one that combines the shower and toilet space into one. These bathrooms are designed to be watertight, so there's no need for shower curtains or other barriers, which makes the bathroom feel more open and spacious. Plus, this can save you money on materials! 
Shower Skylight: Adding a skylight or small window to your bathroom is a great way to make a small space feel more light and airy. 
Frameless Glass Doors: If you don't go with a wet bathroom, frameless glass doors will make your shower feel larger and less claustrophobic than a shower curtain or other type of barrier. 
Corner Bathtub: You may be surprised to hear that bathtubs can and do fit in many tiny home bathrooms. A tall bathtub tucked into a corner, like the one featured in our Tiny Adventure Home, adds a touch of luxury without taking up too much space.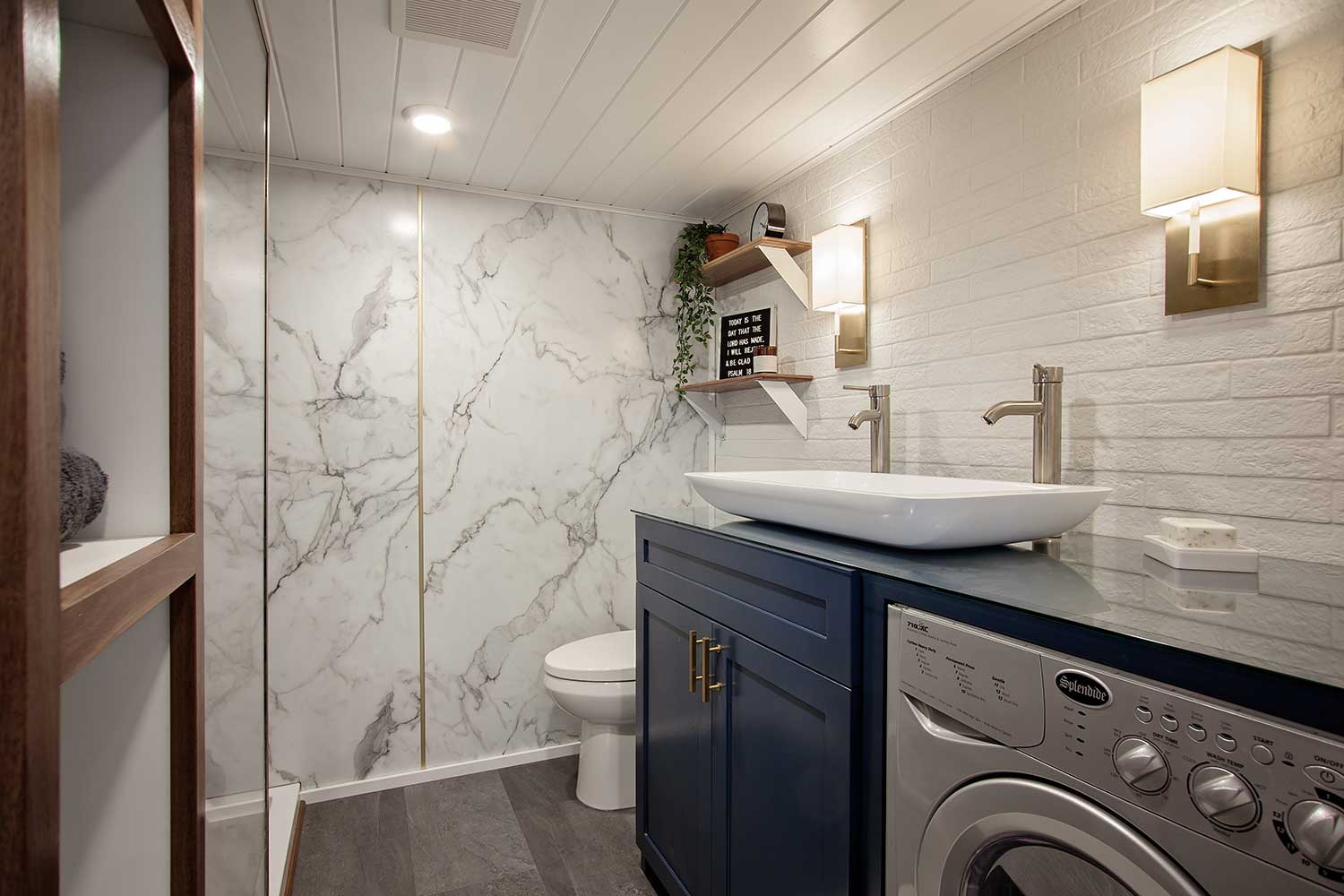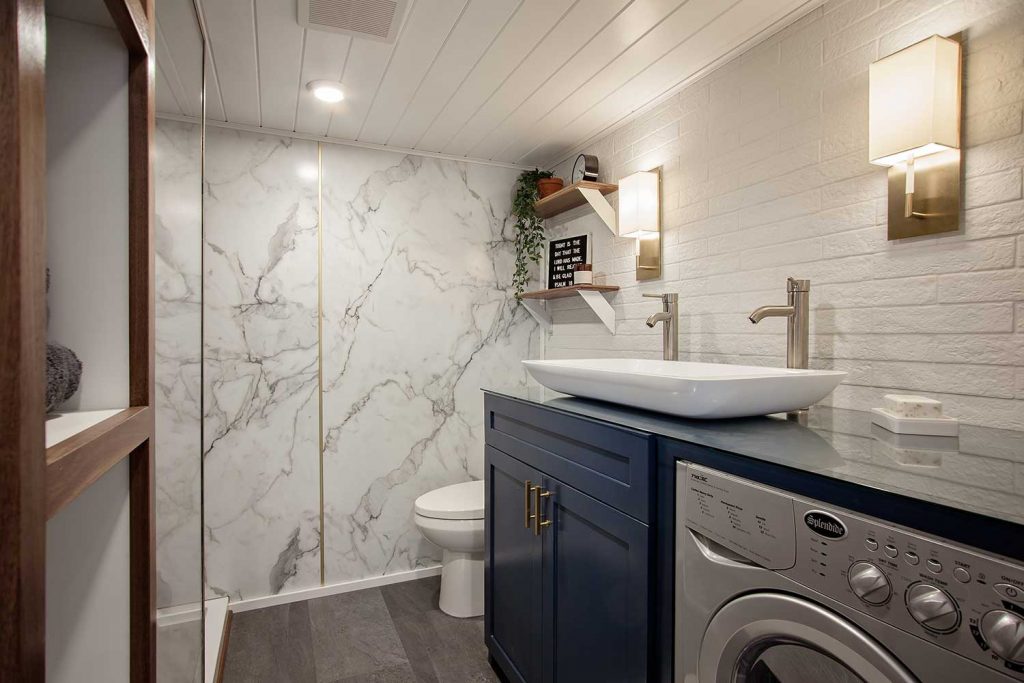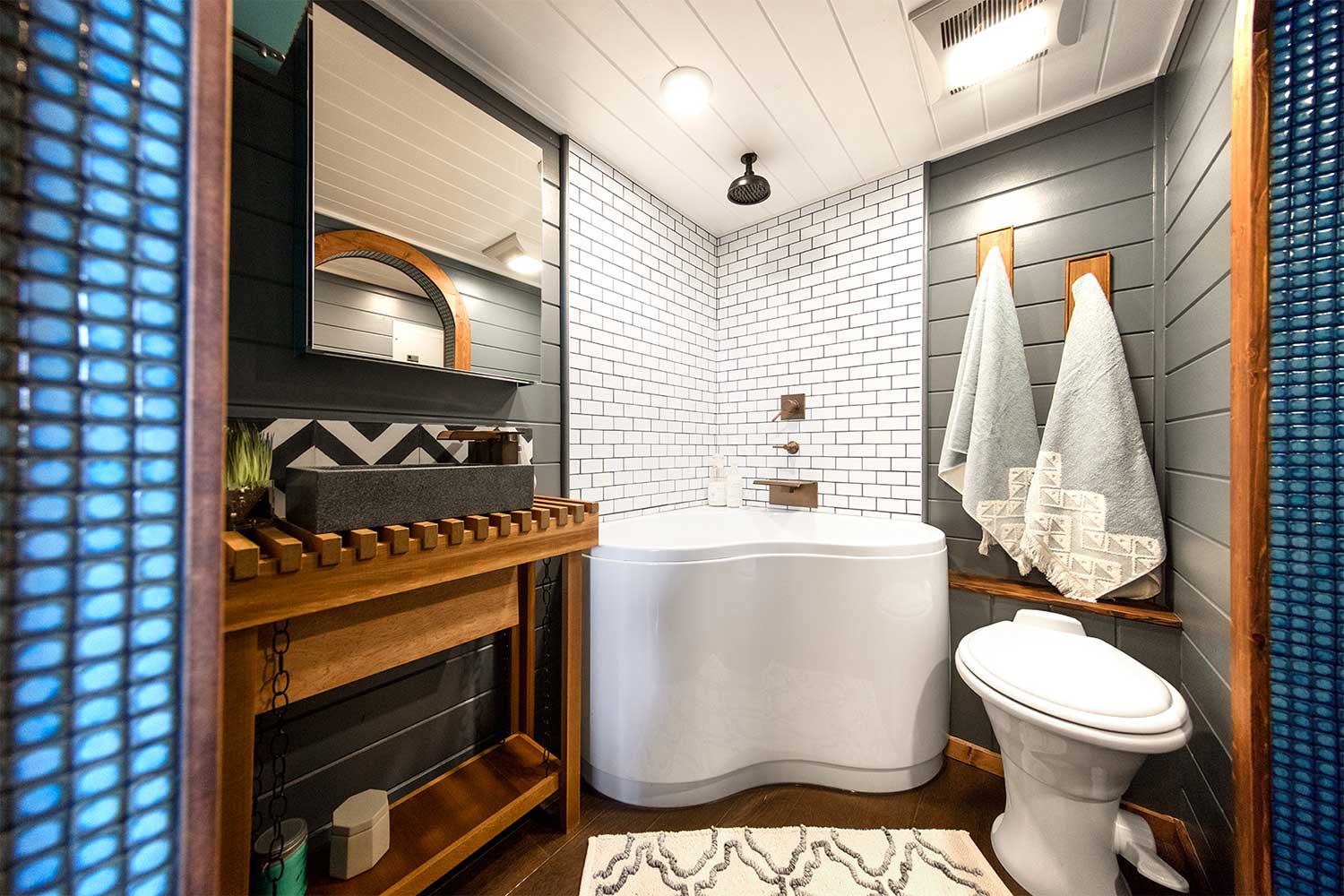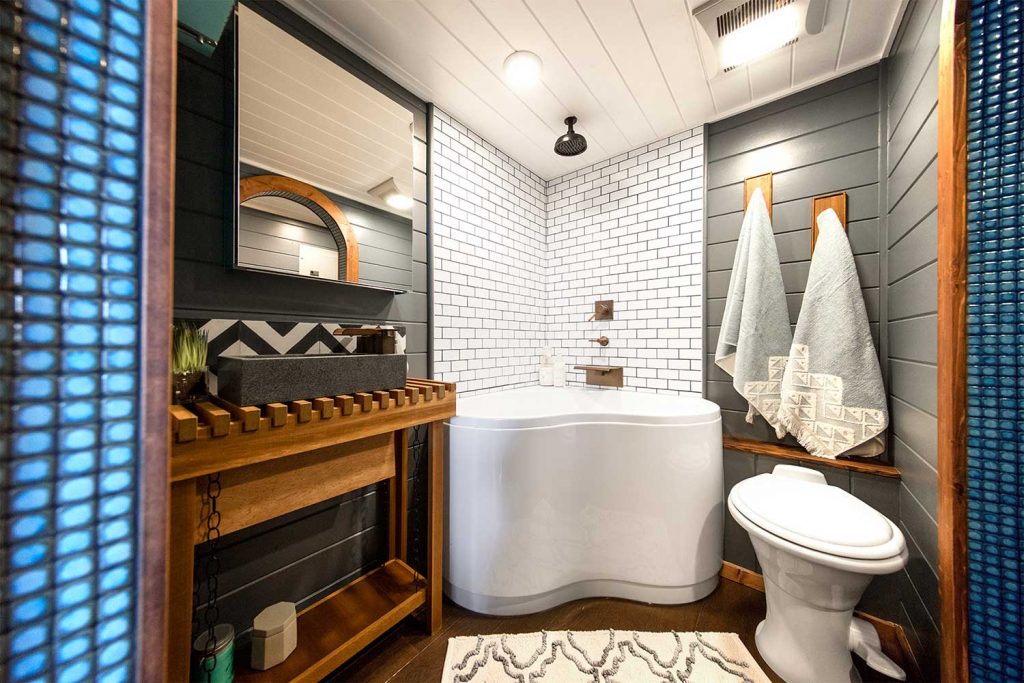 Tiny House Kitchen Design 
When designing a tiny house kitchen, prioritization is key. Appliances take up space, so take time to think about which appliances you really want and need, and which you can live without. Below are a few design ideas and tips that can help you save space and create a functional, yet beautiful tiny house kitchen: 
Minimalism: A clean and simple minimalist kitchen design works really well in a small kitchen and helps the space appear larger. Monochrome color schemes, modern appliances, sleek cabinets, and simple hardware can contribute to the minimalist aesthetic. 
Folding Wall-Mounted Countertop: With tiny kitchens, sometimes you don't have enough countertop space to get all your prep done or to cook alongside someone else. One great solution is to mount an extra fold-down or fold-up countertop to a wall in your kitchen area that can serve as an additional workstation. With a few barstools, it can be a dining area too! 
Over-the-Sink Cutting Board: A cutting board that can slide or be placed over the sink is a simple and affordable space-saver that works great in tiny house kitchens.  
Compact Appliances: There are plenty of smaller and compact appliances designed specifically for tiny houses and RVs that can help you make the most of limited space in your kitchen.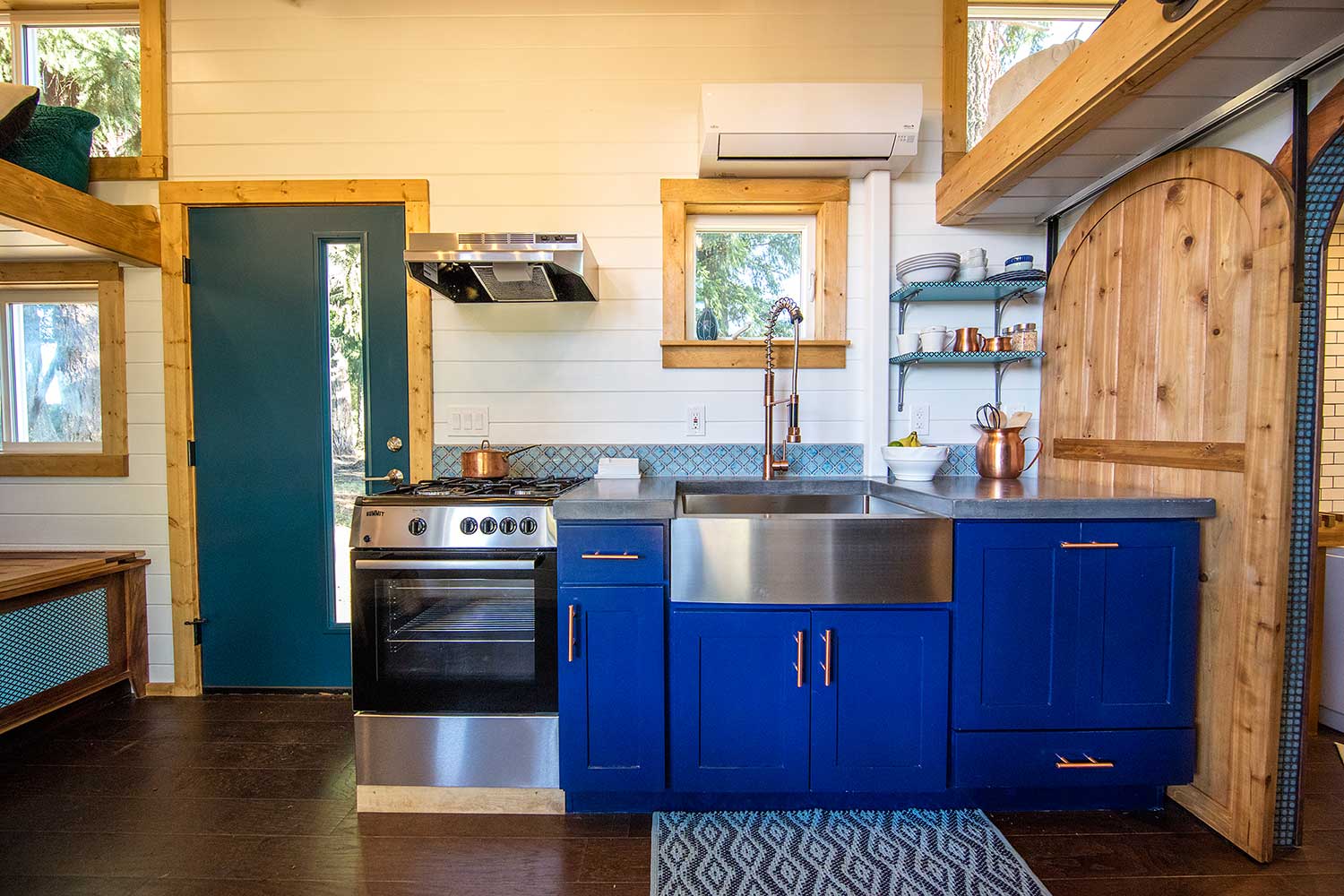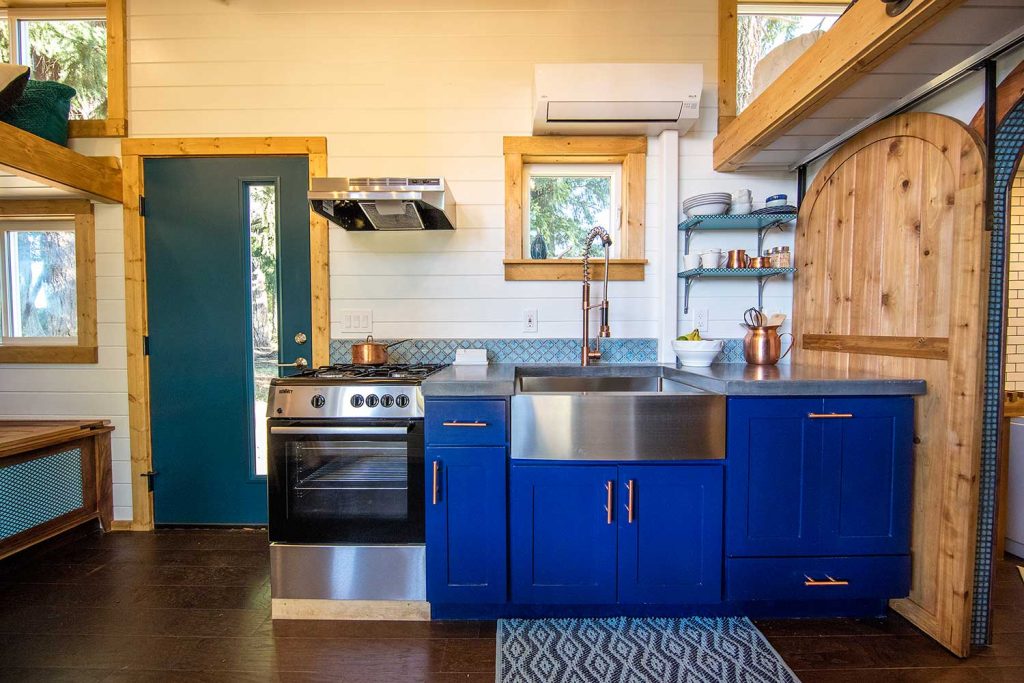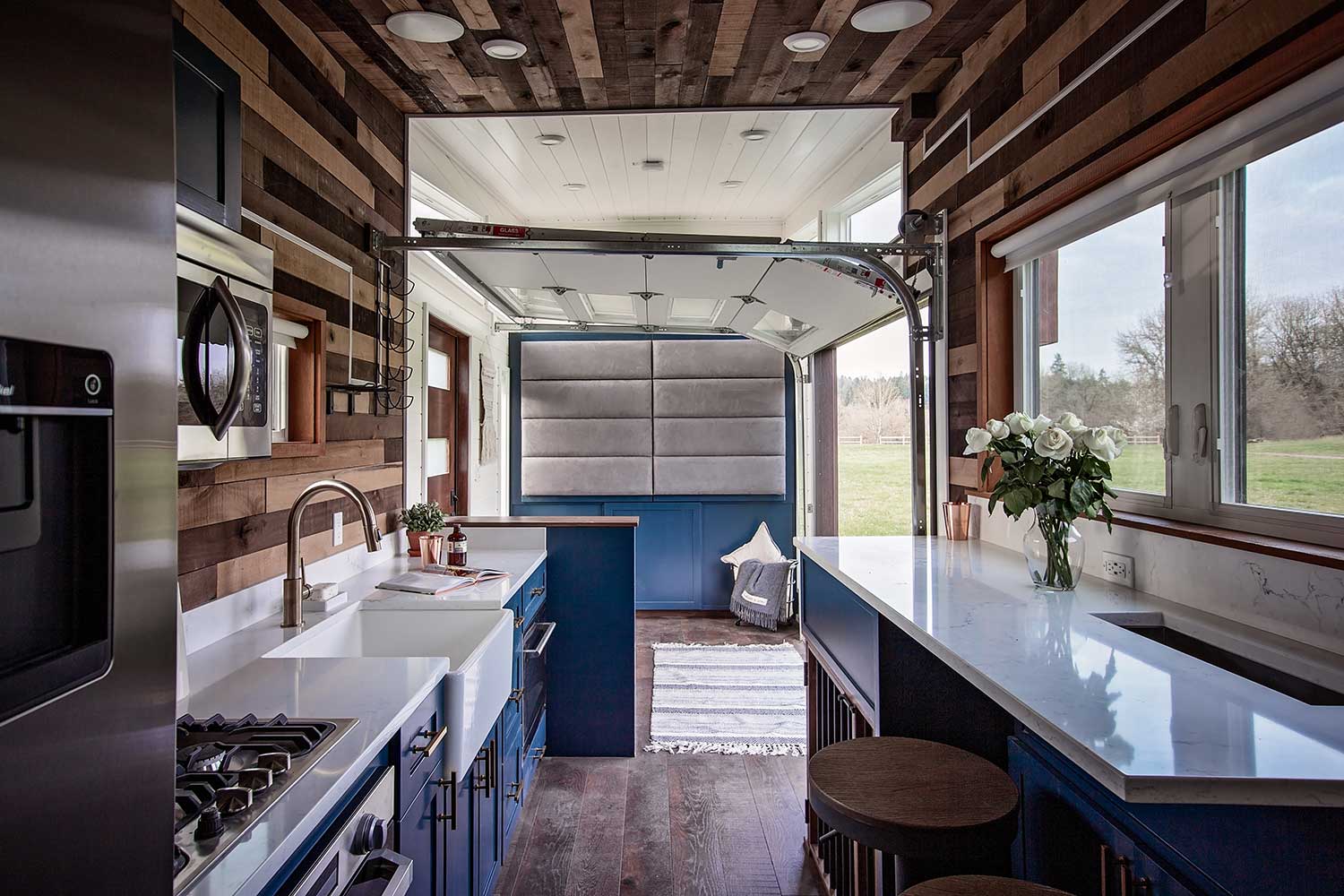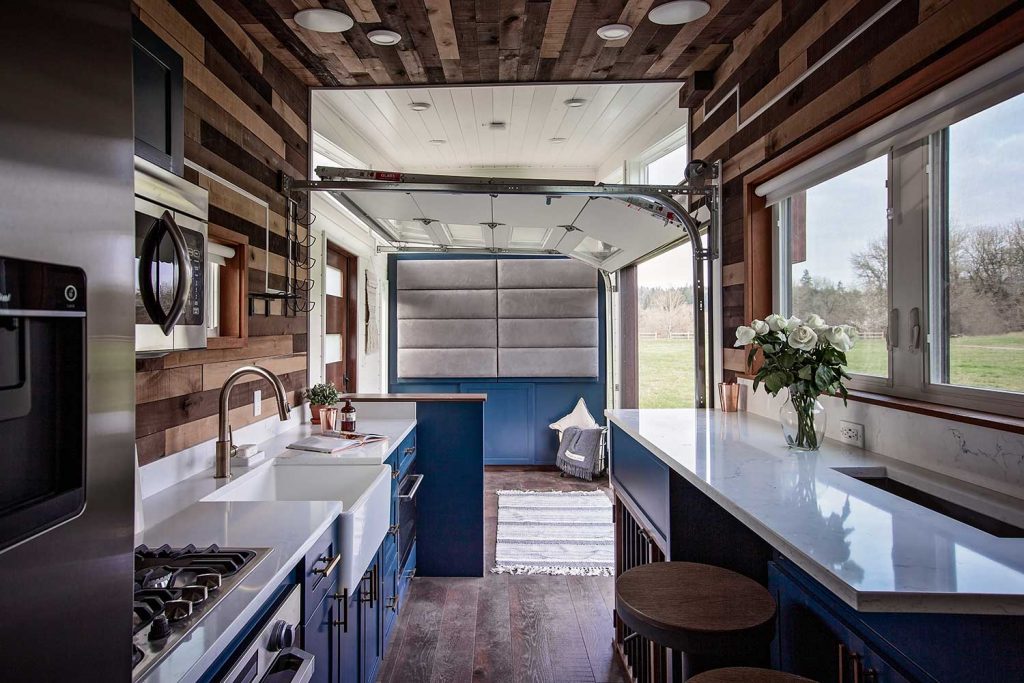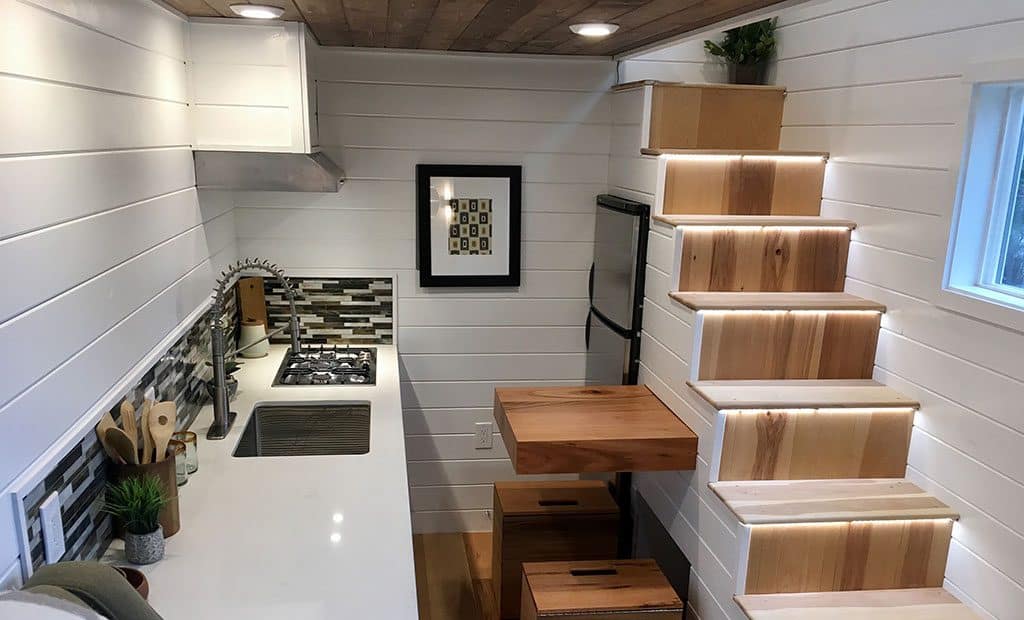 Modern Tiny House Designs 
A sleek, modern aesthetic just makes sense for tiny houses. Clean lines, simple decor, and minimal visual clutter can help a tiny house feel much more spacious. 
Automation is a key aspect of many modern tiny houses. For example, this modern tiny house features a Bose surround sound system, a linear actuator TV lift, touch-activated storage door openers, and a secondary swivel TV in the master loft which provides flexible viewing from the comfort of the bedroom or the kitchen below.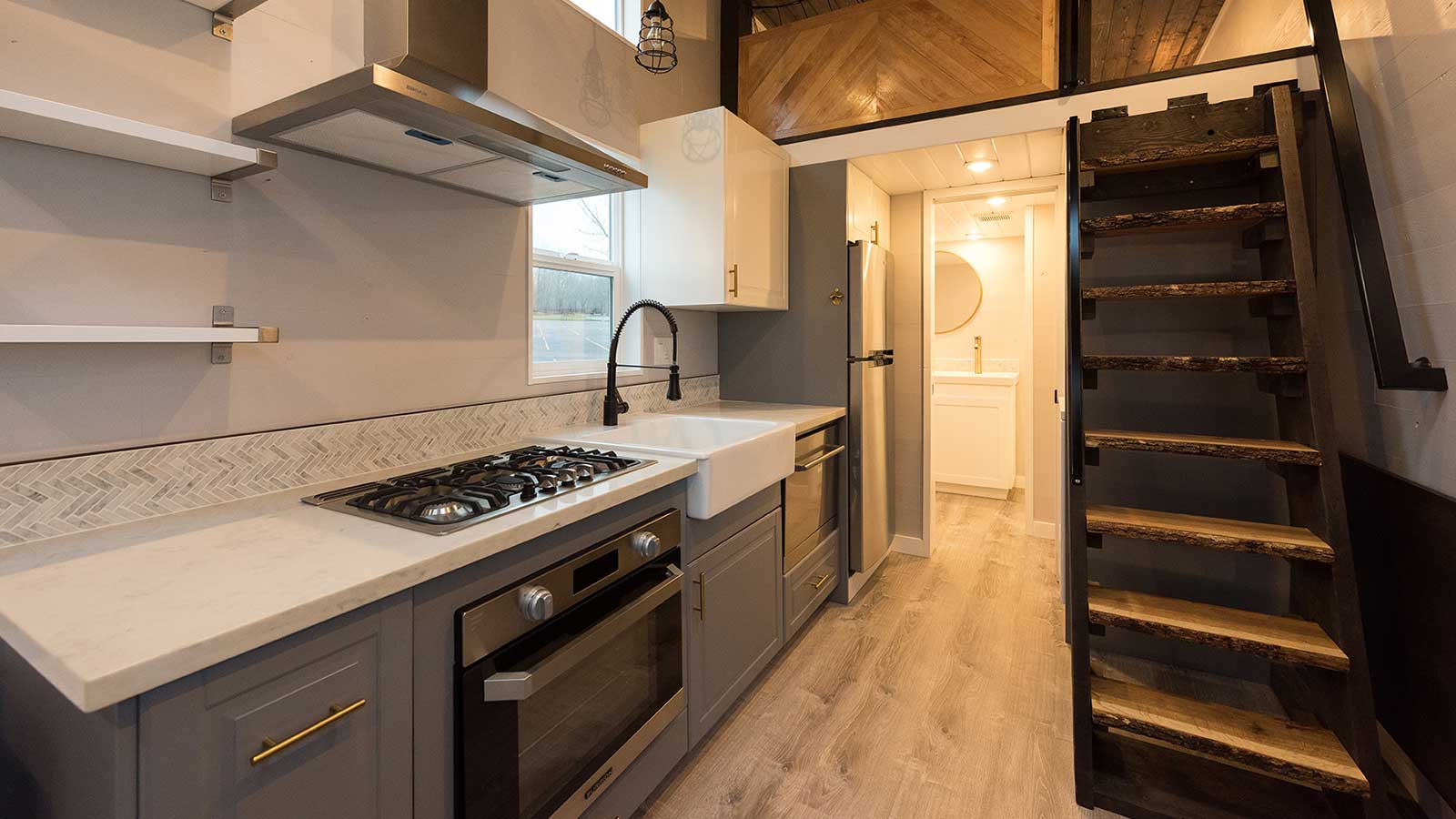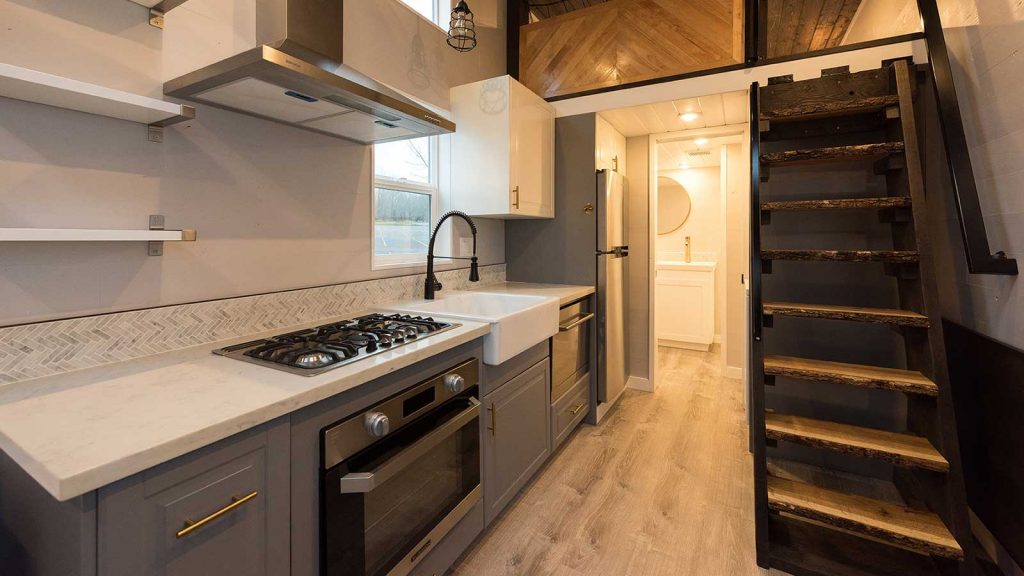 Tiny House Interior Designs 
Furniture is an important part of any home's interior design, but especially tiny homes. Because you don't have to buy nearly as much furniture as you would in order to fill a regular-sized home, you can really curate each piece and spend a little more money on individual pieces than you normally would. When picking out tiny house furniture, you also want to find pieces that are highly functional and practical. For example, maybe you'd want a bed with hidden storage compartments underneath it or a modular sofa that can be reconfigured into an extra sleeping space. Better yet, if you go with a custom tiny house, you can actually have custom furniture built into it! 
For more interior design inspiration, check out these seven creative tiny house interior design ideas.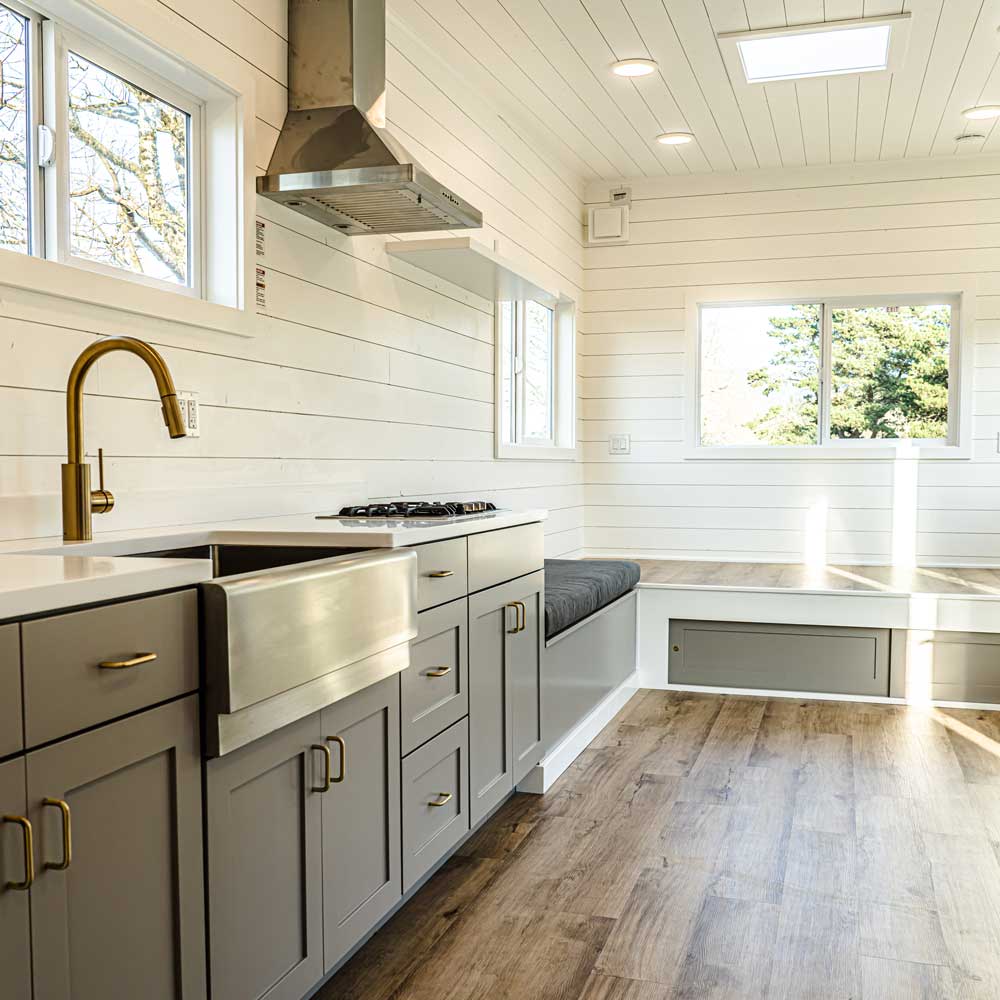 How to Design a Tiny House 
If you're ready to start working on your tiny house design, there are several different ways to go about it. You can go the do-it-yourself route or work with a professional tiny house designer. If you want professional help bringing your vision to life, yet still want to be intimately involved in the design process, you can go with a custom tiny house and handpick every last detail, from the rooftop to the floorboards. Our customization process is highly collaborative and personalized, so the result is a tiny house that's completely unique and special. If you prefer to leave the design to the professionals, you can choose a pre-designed tiny house instead, like the ones in our Signature Series, and then customize it to your liking.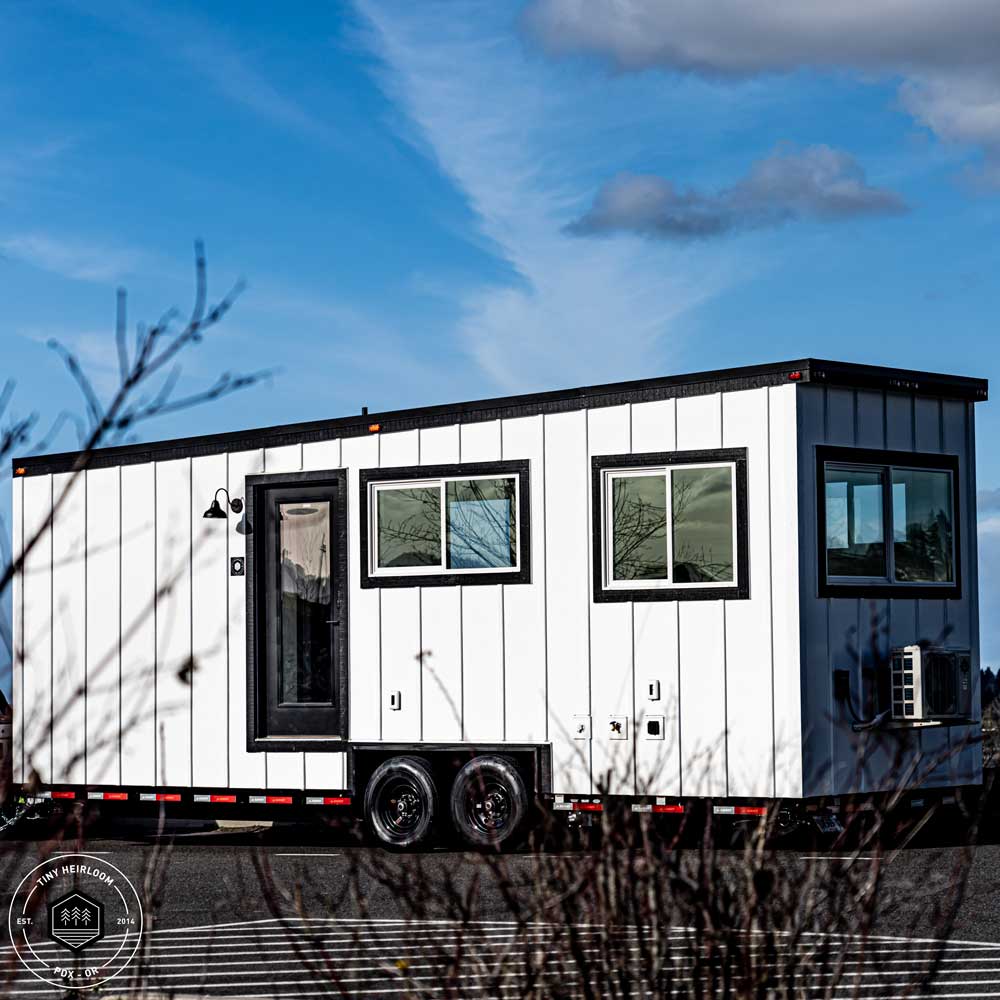 Looking for Professional Tiny House Designs? 
Whatever kind of tiny house design you have in mind, we'll apply our creativity and craftsmanship to make your dream a reality. We have decades of experience designing and building tiny houses of all shapes, sizes, and styles, and are always up for a challenge. When we sit down to start designing a new custom tiny home, we start with a blank page and assume anything is possible until proven otherwise. 
We can't wait to innovate with you! Start by sitting down with our experts for a free tiny house consultation and let's see where we go from there.